We receive free products and receive commissions through our links. See
disclosures page
.
Many people get into weight training for a variety of reasons and one of those reasons is to build their upper arms. There's a reason the flexed bicep emoji is so popular – the thought of bigger biceps can be inspiring.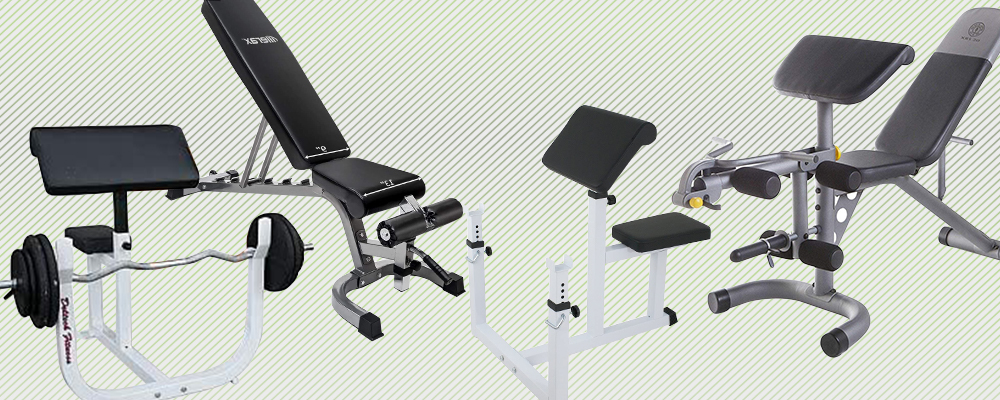 One exercise that can help you develop the biceps is the preacher curl. If you're really dedicated to training, then a preacher curl bench is a must. Consider adding one of these preacher curl benches to your training environment.
Most Versatile Choice
Many Movements on One Bench
Pros:
The removable handle provides a machine curl option for constant tension.
The holder will work for both standard and Olympic plates.
You can remove the preacher attachment and use this bench for leg exercises like leg curls and extensions.
Cons:
The weight limit on this bench is 600 pounds which may be an issue for athletes that lift heavy.
The length of the plate holder requires you to use larger plates if you want to lift heavy.
The back pad isn't very wide so it may be uncomfortable to lie on it while training.
Gold's Gym XRS 20 Olympic Bench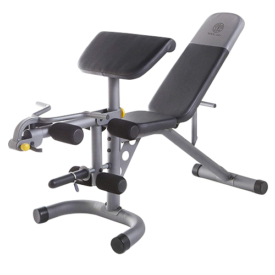 Gold's Gym XRS 20 Olympic Bench
This bench is a great choice for people who are putting together home gyms because you can use it for several exercises without taking up extra space. As for the preacher curl, you can use the attachment as a machine curl or remove it for exercises like barbell and dumbbell curls.
Better for Beginners
Iron Rookies Start Here
Pros:
You can perform several exercises on this bench that you can't on traditional versions.
There is an Olympic adapter that you can put on so the larger holed plates will stay in place.
The bench provides a low decline option for exercises like decline sit-ups and decline bench press.
Cons:
The weight limit on this bench is only 550 pounds.
The height of the bench may be an issue for athletes with shorter legs.
The curl attachment is designed to be permanent which some lifters may not prefer.
Merax Deluxe Foldable Utility Weight Bench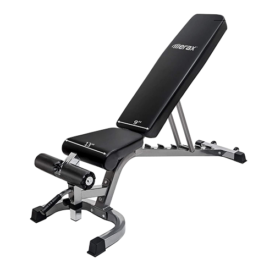 Merax Deluxe Foldable Utility Weight Bench
This bench is a great one to use as a starting point for people who are just starting. The wider back pad provides comfort and there is an option for you to perform low back extensions which is unique for benches like this.
One Size Fits Most
One Bench for Many Lifters
Pros:
The preacher pad and seat adjusts to several different heights for maximum comfort and use.
The 14 gauge steel tubing supports athletes training with more weight.
The J-hooks will support a barbell, cambered bar, or you can use dumbbells if you prefer.
Cons:
There is no way to use this for machine curls unless you use bands with dumbbells as anchors or you already have a cable station.
The 10 inch wide pad may be an issue for wider athletes when doing barbell curls.
The seat is narrow which some lifters may not find comfortable.
Deltech Fitness Preacher Curl Bench
Deltech Fitness Preacher Curl Bench
While this bench is designed only for preacher curls, it's adjustable so regardless of your arm length, you can use it. It's also designed for heavy lifting so stronger athletes can use this.
Space Saver
More Room for More Exercising
Pros:
At 33 pounds, it's a lighter bench which makes it easier to move when you're setting it up.
The 440 pound weight limit is suitable for a preacher curl station.
The pad is two inches thick which provides extra cushion for the lifter.
Cons:
While the pad and J-hooks are adjustable, the seat is not which some lifters may prefer.
The arms are not adjustable in relation of distance to the bench which can make racking the weight a challenge.
The back of the bench doesn't have extended feet. This could potentially affect stability.
F2C Arm Curl Weight Bench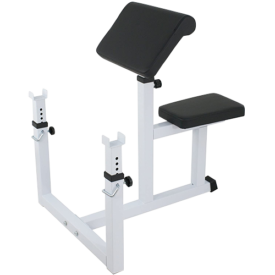 F2C Arm Curl Weight Bench
This bench doesn't take up much space which is great if you don't have a large training space. The J-hooks are adjustable so you won't have to reach down as far to reach the bar if you're opting for barbell curls.
Methodology
When selecting equipment for training, going with something on a whim is never a good idea. The benefit of research is you can have a better idea of how the choice will fit in your particular setting.
Width of the Pad
The pad that you will be resting your arms on need to be wide enough for you to feel comfortable while lifting. If you feel like you have to tuck your shoulders in, you'll potentially compromise your form which can be detrimental and increase the risk of injury.
Stability
You're going to be moving your arms but the rest of your body should be tight and stable. Your bench shouldn't be wobbling or moving while you're lifting. Wide feet that increase connection to the floor are a big solution for this issue.
Space
How much room do you have in your training area? Would it be better to have a preacher bench as a part of an overall bigger bench that you can do more exercises on? If so, are you willing to take the time to change out attachments or would you rather have one setup that you can simply go to and begin working?
Comfort, stability, durability, and size of the suggested option were all taken into consideration so you are informed before making your choice.
Things to Consider
The advantage of doing preacher curls is that the biceps are forced to work on their own with minimum to no recruitment of other muscle groups. A preacher bench shouldn't have a completely vertical angle but it should be pretty steep in order to perform this exercise correctly.
When you're considering the options above, you should think about the following.
What will suit your individual needs the most?
Are you developing a more advanced gym and want something primarily for biceps training or do you need a station for several exercises?
How heavy will you train?
Would having a machine-like option be beneficial?
How much space do you have to commit to your preacher station?
Conclusion
The preacher curl was first popularized by the first Mr. Olympia, Larry Scott in the 1960s but it has become a mainstay in arm training ever since. This exercise may appear to only benefit the biceps and be for bodybuilders but athletes that train for function or strength can also use direct biceps work and the preacher bench is a great option to add to your training arsenal.