We receive free products and receive commissions through our links. See
disclosures page
.
Barbell collars are essential for keeping heavy plates from sliding off your barbell during lifts. They're a simple tool you can slide onto any barbell to lock your plates in place. If you've ever felt a plate start to wobble in an overhead lift, you know how important this security can be. Throwing heavy weights on a bar without a barbell collar when cleaning or pressing unnecessarily risks your safety and balance.
There are now a huge number of different collars on the market and choosing the right one can be time consuming. We rounded up a selection of our favorite collars for different purposes and price points to ensure you have the lifting security you need once you click purchase.
Best Barbell Collars
Best Barbell Collars Overall
These collars slide on smooth and are as durable and sleek as the high end options, yet they go for half the cost.
Rogue USA Aluminum Collars
These solid aluminum collars aren't just nice to look at — their interior rubber lining and smooth lever locking mechanism keeps your plates firmly in place, virtually eliminating any stuffing from shifting plates. Surprisingly lightweight, this durable pair weighs only half a pound — some heavier pairs can weigh up to 5 pounds. Made from 6061 Aircraft Grade Billet Aluminum, you can be sure they're resilient, and the CNC machining ensures each collar is exquisitely crafted. We also appreciate Rogue giving them a hard anodized silver finish. This should keep wear and tear to a minimum under normal usage.
Rogue USA Aluminum Collars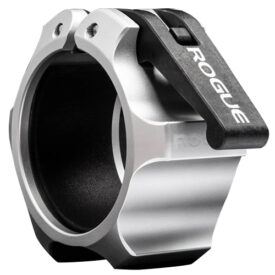 Rogue USA Aluminum Collars
Rogue USA Aluminum Collars are very robust, simple to use, and cost much less than expected. In terms of overall value, they're one of our top picks for collars.
Who Should Buy Rogue USA Aluminum Collars
Buyers who want a durable pair of collars for their lifting sessions.
Trainees looking for a lightweight pair of collars to keep weight calculations simple.
Lifters who like their equipment to perform well and look sleek in the process.
Who Shouldn't Buy Rogue USA Aluminum Collars
Competitors who need a pair of collars approved for use by the federation in which they compete.
Athletes who need collars that fit a smaller diameter bar.
An upgrade to the renowned HG collars, these Aluminum collars are fabulously durable and keep everything snatched in place. On top of this, they look quite modern — this combination of form and functionality is unusual to find in collars.
Best Barbell Collars On a Budget
Spring collars are wildly popular and for good reason. They keep your plates locked in at a reasonable price point, are very straightforward to use, and slide on and off quickly, making them great for transitions in a sport like CrossFit.
Rogue Spring Collars
This product's biggest selling point is its price. Since spring collars are a little less durable than other aluminum options, it's sometimes necessary to have more than one pair on hand. Luckily, this pick is so inexpensive that you can afford to buy two or three pairs for every single pair of a more expensive collar you may buy. We should also mention that Rogue doesn't short change you on quality even at this price. They make sure to use quality steel when manufacturing so you won't end up with a collar that breaks instantly. The last thing you may want to consider here is that these collars are approved for use in the Army Combat Fitness Test. If you're training in order to pass, these collars are the exact same ones you'll be using when it's go-time.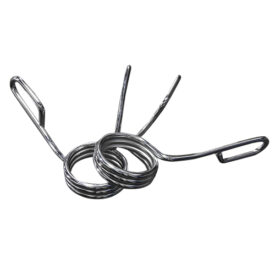 Rogue Spring Collars keep plates nicely in place for an incredibly affordable price. If you're on a budget, you'll struggle to find a better option.
Who Should Buy Rogue Spring Collars
Anyone who wants a great value pair of collars.
Gym owners who need durable collars that can endure heavy usage for years to come.
Customers looking for a collar that is very intuitive and easy to use.
Who Shouldn't Buy Rogue Spring Collars
Those who prefer collars with a more aesthetic design.
Lifters who want a set of collars that are more secure and won't move at all during training.
Folks looking for collars that come with a warranty.
They aren't going to win prizes for their appearance, but these spring collars are battle-tested. Hard-wearing and easy-to-use, their value for money is second to none if you're on a tight budget.
Best High-End Barbell Collars
These are the collars trusted by the Olympics, so you know they're going to be a solid pick. They aren't cheap, but they are arguably the best at keeping your plates firmly locked in place — or so say the pros.
Eleiko IWF Weightlifting Competition Collars
Weighing 2.5 kg each (5.5 lbs), these collars are carefully calibrated to within 10 grams of their stated weight, and have a specially designed lever locking system that provides great security — the only time you'll need to re-adjust is when you're adding or removing weight from the bar. These are made from precision-cast metal which gives them unrivaled strength and resilience. When you pick up a pair, you'll feel the difference. Add in a two-year warranty and you've got an all-around great product that delivers on its promises.
Eleiko IWF Weightlifting Competition Collars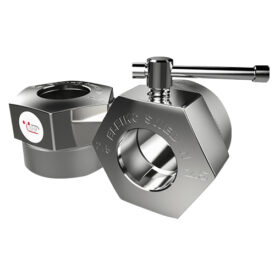 Eleiko IWF Weightlifting Competition Collars
Trusted by the pros, Eleiko IWF Weightlifting Competition Collars are pricey, but they are amazingly secure — this is considered by many to be the most reliable pair of collars on the market.
Who Should Buy Eleiko IWF Weightlifting Competition Collars
Olympic Weightlifting competitors looking to train the way they will compete.
Buyers who want the best quality collars out there.
Gym goers looking for a pair of collars with an excellent warranty.
Who Shouldn't Buy Eleiko IWF Weightlifting Competition Collars
Anyone who needs a more affordable option.
Trainees who prefer a collar that is quicker to adjust.
Lifters looking for a lighter pair of collars that won't add so much to the bar.
Since this is considered by many to be the creme de la creme of collars, it has a pretty eye-watering price tag. But you get what you pay for — incredible workmanship, a long-term warranty, and the knowledge that you're lifting with the same equipment Olympic champions use.
Best Speciality Barbell Collars
While all of the other collars on this list are designed for 50 mm sleeve barbells, there are plenty of specialty bars out there that have different diameters, and thus, require their own specially designed collars. For bars smaller than standard size, we love these PROLOC Strongman Collars.
PROLOC Strongman Collars
Made from durable 1.5-inch thick nylon, these collars have a high quality screw locking system that ensures once everything is tightened and locked in place, it stays that way — even on smaller barbells down to 1.9 inches diameter. Backed by a two year warranty, these collars and their extra security are the perfect choice for intense training that comes with the territory of strongmen. One thing we should note is that these will definitely not fit standard diameter bars, so if you are buying for use with those, then you'll want to make another choice.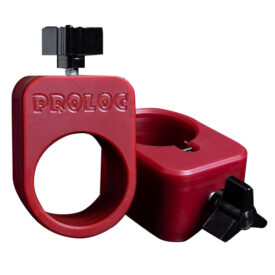 For anyone who likes to train unconventionally, PROLOC Strongman Collars are an ideal choice. Designed specifically for smaller diameter bars, they will keep your plates secure through any lift.
Who Should Buy PROLOC Strongman Collars
Anyone who uses irregular diameter bars in training.
Customers in need of a pair of collars with a mechanism.
People who want a lightweight pair of collars that still secure their plates.
Who Shouldn't Buy PROLOC Strongman Collars
Athletes who need collars that fit the standard 2-inch diameter bars.
Trainees looking for collars that are quicker to attach and remove from a bar.
Those who want collars that are approved for competition use.
More of a niche choice, these Strongman Collars may not be the right choice for everyone. However, if you do use axles, trap bars, or logs in your training, then you are definitely going to want a pair. Lightweight, low maintenance, and simple to attach, these are a great option for anyone using a smaller diameter barbell.
Best Lightweight Barbell Collar
Outside of competitions, you want your collars to keep your plates in place while adding as little weight as possible to the total — it just keeps the math simpler. This pair weighs less than one pound all together.
Rogue HG 2.0 Collars
We loved the original HG and the 2.0 has a series of upgrades that improve on the classic. Rogue has added a new patented locking mechanism with a spring tab for quick release, interior rubber padding that keeps the collars from slipping on the bar and stainless steel hardware that makes them more robust than before. Still very simple to lock into place, these collars only weigh 0.85 pounds per pair, while some others are hitting weights over 5 pounds. Constructed from nylon resin, Rogue is clearly confident in their durability as they have included a one year warranty with your purchase.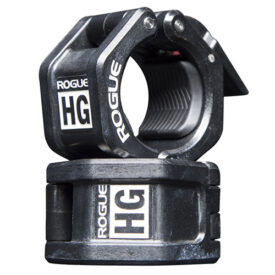 Quick, simple, and secure, the Rogue HG 2.0 Collars improve on an already classic design. Weighing next to nothing, they can keep your plates from sliding around no matter how heavy you lift.
Who Should Buy Rogue HG 2.0 Collars
Gym goers looking for a lightweight pair of collars for easy bar weight calculations.
People in need of an affordable but secure pair of collars.
Buyers who want a pair of collars that allows for quick transitions of weights.
Who Shouldn't Buy Rogue HG 2.0 Collars
Customers who are looking for more durable collars and would be better off with a metal option.
Athletes in need of collars that fit smaller diameter speciality bars.
A great value collar that has managed to squeeze a surprising number of smart upgrades into its second iteration, the HG 2.0 is the ideal collar for the everyday lifter.
Best Barbell Collars for Heavy Lifts
Approved for use in IPF powerlifting competitions, this collar is designed to keep some of the heaviest bars in the world loaded securely.
Eleiko IPF Powerlifting Competition Collars
When the weights get heavy — whether you're benching or squatting — you want to make sure your plates won't slide off while you're fully loaded. These collars have a ridged surface on their exterior to aid with grip. In combination with the quick turn screw system, this allows you to get the collars extra tight on the bar and keeps your plates firmly in place. Eleiko have also added a smart rubber insert to the interior that prevents the collar locking up when you want to get them off the bar. And if you needed even more assurance, these collars come with a two-year warranty. Carefully calibrated to within 10 grams of their stated weight, it's no wonder these have the IPF seal of approval.
Eleiko IWF Weightlifting Competition Collars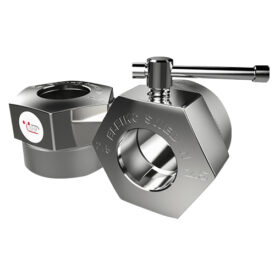 Eleiko IWF Weightlifting Competition Collars
Trusted by the pros, Eleiko IWF Weightlifting Competition Collars are pricey, but they are amazingly secure — this is considered by many to be the most reliable pair of collars on the market.
Who Should Buy Eleiko IPF Powerlifting Competition Collars
Powerlifters who want to practice their lifts in a setting as close to competition as possible.
Athletes who want a secure set of collars.
Consumers who appreciate having a two-year warranty on their collars.
Who Shouldn't Buy Eleiko IPF Powerlifting Competition Collars
Buyers in need of a lightweight pair of collars.
Lifters who need collars approved by other competitive federations.
Anyone who wants a collar that is quicker and easier to put on and remove between lifts.
These Competition Collars are designed specifically for powerlifting. Eleiko's products have an excellent reputation, and these collars have a two-year warranty to back it up.
What to Consider Before Buying Barbell Collars
Barbell collars can have a surprisingly large impact on your training. Before picking out a pair of your own, you should consider things like training, budget, and desired security — read on for a few extra tips.
Your Sport and Training Plan
If you are a competitor in any barbell sport, federation approved collars should probably be on your shortlist. For those who aren't competing, you have a little more flexibility when it comes to choosing a collar. However, you should consider the styles of lifting you practice most regularly and purchase a pair that best suits them. For example, collars for deadlifting don't need to be as secure as those used for snatching.
Price
For many, price is a deciding factor. There is over a $250 difference between the cheapest and the most expensive options on this list. While many people may brush off the more expensive options in lieu of a less expensive spring collar, you will need to factor safety into your purchase. While cheaper options still offer better security than going without a collar, the more money you pay for a pair, generally, the more secure and high-quality your pair will be.
Ease of Use and Security
None of these collars are complicated to use. However, some take a couple seconds to slide on or off, while others may take longer to maneuver. If you're training for a sport like CrossFit that requires quick transitions, you'll want something quick and easy. If you have more leisure while lifting, the barbell collar pool is your oyster.
Generally, the longer a collar takes to attach, the more secure it will be when lifting. This isn't always the case, but it is a good rule of thumb. For those who are performing more ballistic lifts for reps, this security will be key. Avoiding plates moving during lifts will keep both you and those around you safe.
Collar Weight
Some of the collars on this list weigh 11 pounds per pair. This can be irritating for some who don't like to adjust their weight calculations drastically to include the collars. For those who aren't competing and can choose from an array of barbell collars, lighter collars are always an option.
Durability
Oftentimes, if collars are properly cared for, they will last a lifetime. Unless you don't plan on keeping your collars in a salt water bath, any of the solid metal options are going to be incredibly durable. The plastic options will be less durable, but unless they're being used in multiple intense lifting sessions a day, they too should have a good lifespan. Spring collars are the least durable, but they are also the least expensive, so it isn't financially painful to have to buy a replacement.
How We Decide
At BarBend, we cover a variety of sports where barbell collars are key components for safety and stability. Security, durability, and versatility helped us choose some of our favorites.
Security
Security is pretty straight forward and entails how well the collar holds weight on the bar. Ideally, you want a barbell collar that doesn't slide or shift when executing any form of movement. For example, if you jerk a weight overhead and drop the bar, you don't want the plates sliding off at the end or shifting, as this can be problematic for efficiency or completing multiple reps.
To assess security, we check out the material that the muscle clamp is made out of and the locking mechanism it uses. A great collar should have construction that is heavier in nature, and an inner material that securely hugs a barbell. The locking mechanism should "lockdown" with no signs of becoming easily loose. Generally, great collars will have a lever that clicks in place when locked on a barbell. Most of the options on here fall into that category, and any that don't, we don't recommend using for overhead lifts.
Durability
On top of security, we also assess durability. While barbell collars might not be an incredibly pricey home gym item, you still want to ensure your investment will go the distance. After all, the last thing anyone wants are collars that break within a month of purchase.
Durability for collars comes down to the main material they're constructed with. To no surprise, metal collars will typically be best for durability, and heavier plastic collars will also be a good bet. Spring collars can be okay, but more prone to bending, though they are also the most cost efficient. We have options from many categories on here that can satisfy all needs and price points.
Versatility
Versatility ties durability and security together. For barbell collars, versatility entails how a collar can be used in different workouts. For example, if you need a collar for things like Olympic lifting, heavy squats, and routine accessory work, a strong release or bolted collar is key. If you're a fitness enthusiast who performs routine lifts where weight isn't being dropped, then quick release or spring collars will suffice. When we assess versatility, we rank clamps in a hierarchy based on how they'll be used more often for a variety of users.
Final Word
Collars are an afterthought for many, but you'd be surprised at how much they can influence your lifting. It's intensely frustrating having collars that constantly come loose, not only because you have to take the time to clip them back on tightly, but also because the movement of the plates can actually disrupt your lifts and cause concerns regarding safety. It is worth your time to do some research, and make sure that you get a pair of collars that is well-suited to accommodate your training. The assurance behind a good collar will hopefully translate into more consistent and high-quality training.
FAQs
Which are the best collars for a person who just wants to get fit?
If you really aren't concerned with anything other than getting in shape, then we would recommend spring collars. They're less expensive and simple to use. They aren't going to be as secure as other options, but if you aren't planning on pushing to heavier lifts, they are perfectly fine.
Can you use collars with different types of bars?
The collars we recommend in this review are all designed to fit around standard Olympic sized barbells, with the exception of the PROLOC Strongman collars. The other five collars can be used on any standard Olympic bar with a 50 mm diameter sleeve, but are unlikely to fit sizes bigger or smaller than this.
When using collars, can I drop the bar?
That will depend on the bar and the plates you're using. Olympic barbells and bumper plates are designed to be dropped. However, if you have solid metal plates, you won't be able to drop them safely without risking breakage. Many speciality bars also fall into this same category.