After Tom Stoltman's utter dominance during the Giant's Medley and the Titan's Turntable events, the third and last event of day oneof the 2021 World's Strongest Man (WSM) Final was the REIGN Keg Toss. Unlike the 2020 WSM Final Keg Toss event, which involved tossing a series of increasing heavy kegs over a single bar for time, this year's event was a keg toss for max height.
Each strongman was given up to three attempts to launch a 15-kilogram (33-pound) keg over the bar. Those who were successful advanced to the next round, where the bar was raised. Here were the heights:
Round One —

Six meters

Round Two —

6.75 meters

Round Three —

7.26 meters

Round Four —

7.5 meters

Round Five — 7.75 meters
According to WSM, the world record coming into the event with a keg of this weight was scored by four-time WSM champion Brian Shaw — a height of 7.25 meters in the 2016 WSM qualifying stage. At that same event, 2018 WSM champion Hafthor Björnsson scored a 7.15-meter keg toss.
2021 World's Strongest Man Keg Toss Results
6.00 Meters
6.75 Meters
Bobby Thompson
JF Caron
Adam Bishop
Luke Stoltman
Eythor Ingolfsson Melsted
7.26 Meters
7.5 Meters
Maxime Boudreault
Tom Stoltman
7.75 Meters
View this post on Instagram
[Related: What You Need to Know About How to Increase Strength]
Round One — Six Meters
It was implied by WSM event director Colin Bryce that the full roster was expected to advance through the first round.
The first hiccup came from Bobby Thompson, who still advanced, but his keg tapped the bar before clearing it. Additionally, JF Caron, whose left thigh was taped, was also able to advance despite his keg making contact with the bar. All 10 strongmen only needed one attempt in round one.
Round Two — 6.75 Meters
In round two, Thompson was first to toss and clear the bar in his first attempt. Janashia was the first strongman to need a second attempt, but he also advanced. Caron repeated his first-round performance with a successful first attempt that clipped the bar.
Adam Bishop's first toss lightly tapped the bar but was a successful attempt. Shaw, Eythor Ingolfsson Melsted, Tom Stoltman, and Maxime Boudreault's first attempts all cleared the bar.
Luke Stoltman missed his first attempt but advanced via his second attempt despite the keg colliding with the bar. Trey Mitchell was the first man unable to clear the bar and was eliminated from the event.
Round Three — 7.26 Meters
Thompson was up first to try and set a new world record height, but none of his attempts were close.
Konstantine Janashia stepped up and set a new world record on his first try.
Caron took all three attempts. Two of them collided with the bar, but none of them cleared it. All the attempts by Adam Bishop and Luke Stoltman hit the bar, but neither could match Janashia.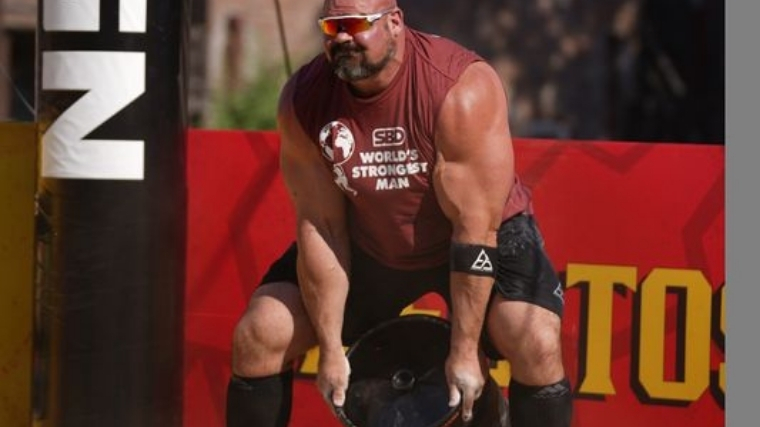 Brian Shaw's first attempt was blocked by the bar, and the keg actually hit his shoulder on the way back down. It only fired him up, though, as he launched his second attempt over the bar to put his name next to the world record height again.
Maxime Boudreault joined Shaw and Janashia to easily clear the bar, drawing large reactions from nearby spectators. Tom Stoltman decided he also wanted to match the world record and did so on his first attempt.
Ingolfsson Melsted had the crowd's hype behind him, but all three attempts were stopped by the bar.
Round Four — 7.5 Meters
Janashia's first attempt flew under the bar. His second attempt clashed with the bar. His third attempt was the closest, but not quite enough. He bowed out at 7.26 meters.
Shaw's first attempt missed. However, his second attempt cleared the bar without contact and he set the world record yet again.
Boudreault shocked the world (again), clearing the bar with ease on his first attempt. Tom Stoltman was last to toss. His first attempt went way under the bar, but as was the case with Shaw, Stoltman's second attempt clipped and cleared the bar.
Round Five — 7.75 Meters
Only three men made it to round five. Shaw was first to toss. His first attempt was buttery smooth and went over for another world record.
Boudreault finally missed an attempt on his first toss. His second and third toss also didn't clear the bar, but his third was extremely close.
Stoltman's first attempt was close and collided with the bar. His second and third attempts did not get the torque required and did not clear the bar.
Shaw stands alone with the event win and the keg toss world record of 7.75 meters.
History in the Making
Tom Stoltman had already made history for the largest lead (seven points) after two events in a WSM Final. The largest lead ever after three events in a WSM Final was also seven points — achieved twice by five-time WSM champion Mariusz Pudzianowski (2003, 2006).
Magnus ver Magnusson holds the record for the largest lead by a winner. He won his first WSM title in 1991 by 7.5 points.
Finals Day Two Ahead
There is still a full day of competition left to go that will see all 10 finalists compete in three more events. They are:
Feature image courtesy of World's Strongest Man