The 2021 World's Strongest Man (WSM) Finals have begun. With the nail-biter that was the elimination of the 2020 WSM champion Oleksii Novikov following the Pickaxe Hold event at the culmination of the qualifying stage, spectators were curious as to which athletes would aggressively attack Finals competition. The kick-off event of the Finals was the Giant's Medley which consisted of the following:
Super Yoke — 440 kilograms (970 pounds), 10 meters
Frame Carry — 350 kilograms (772 pounds), 15 meters
Time cap: one minute
As the event took place at 8 a.m. PST, the sun was still making its way to the center of the sky. The temperature was a clear-skied 73 degrees — a huge change from the triple-digit temperatures that plagued the qualifying stage.
Editor's Note: Results are from BarBend's reporter in Sacramento. These results should not be considered final until after the World's Strongest Man Facebook Live show, World's Strongest Man: BACKSTAGE LIVE, airs around 4:00 p.m. PST each day.
Related: 2021 World's Strongest Man Results and Leaderboard
2021 World's Strongest Man Giant's Medley Results
Tom Stoltman — 18.36 seconds
Konstantine Janashia — 20.31 seconds
Brian Shaw — 20.53 seconds
Luke Stoltman — 20.72 seconds
JF Caron — 21.31 seconds
Adam Bishop — 22.39 seconds
Bobby Thompson — 25.06 seconds
Maxime Boudreault — 31.43 seconds
Trey Mitchell — 45.61 seconds
Eythor Ingolfsson Melsted — 12.75 meters
Adam Bishop vs. Trey Mitchell
Bishop and Mitchell were the first to take the Finals stage. Bishop earned his spot in the Finals by beating Jerry Pritchett in the Stone Off. Mitchell had a breakthrough on day three to win Group Two.
Bishop breezed out the gate with a smooth yoke carry. He kept a fast pace through to the frame carry and won the heat with a time of 22.39. Mitchell moved a bit slower and had to drop the frame a couple of times, but he could cross the finish line in an official time of 45.61 seconds.
View this post on Instagram
[Related: What You Need to Know About How to Increase Strength]
Bobby Thompson vs. Maxime Boudreault
Thompson earned his spot in the Finals after a dramatic win in the Pickaxe Hold scored him a winning tiebreaker to rank first in Group Five. Boudreault advanced after winning a Stone Off against Aivars Smaukstelis in Group One.
It was clear that Thompson was more comfortable on the yoke than Boudreault. The American took it all the way down the track in one attempt and mirrored that in the frame carry. His official time was 25.06 seconds. Boudreault had to drop the yoke and reset, but he recovered well and held his own in the frame carry to score 31.43 seconds.
Eythor Ingolfsson Melsted vs. Konstantine Janashia
The third heat saw Ingolfsson Melsted battle aginst the Georgian, Janashia. Ingolfsson Melsted was responsible for Robert Oberst's elimination in the Stone Off. Janashia was the winner of Group Four. Janashia was an absolute maniac in this event.
It was as though he was in a full sprint from beginning to end and scored an incredible time of 20.31 seconds. Ingolfsson Melsted was shakier under the yoke but managed to get it over the line before bowing out of the event without moving the frame.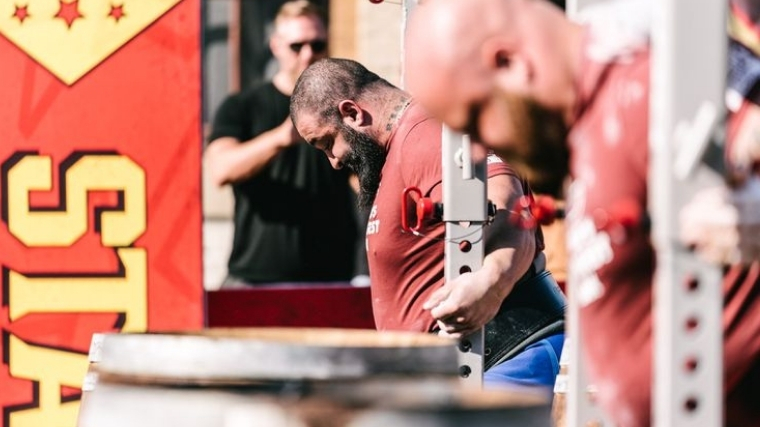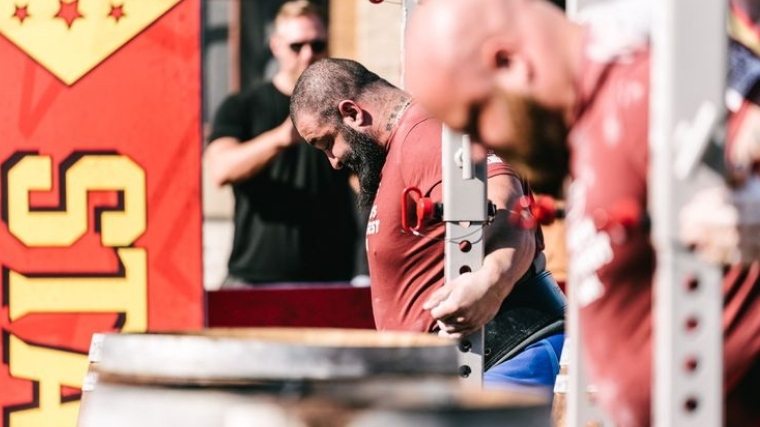 [Related: Best Weightlifting Belts for Squats, Deadlifts, and More]
Luke Stoltman vs. Tom Stoltman
It was a family affair in the Giant's Medley as the Scottish brothers went head to head. Luke Stoltman managed to secure a Finals spot by beating Kevin Faires in an epic Stone Off. Tom Stoltman also earned his Finals spot via a Stone Off against Mark Felix.
Both men were neck and neck in the yoke with a slight edge to Luke Stoltman. The frame carry was the difference maker as Tom Stoltman took it across the finish line in a single attempt and scored a remarkable time of 18.36 seconds. Even though Luke Stoltman had a slight stumble with the frame carry, his recovery still earned him an exceptional 20.72 seconds.
JF Caron vs. Brian Shaw
The penultimate heat of the Giant's Medley was between four-time WSM champion Brian Shaw, competing in his record 13th consecutive WSM Finals, and 2020 WSM bronze medalist JF Caron. Shaw was dominant in Group One of the qualifying stage, and the same could be said for Caron out of Group Three.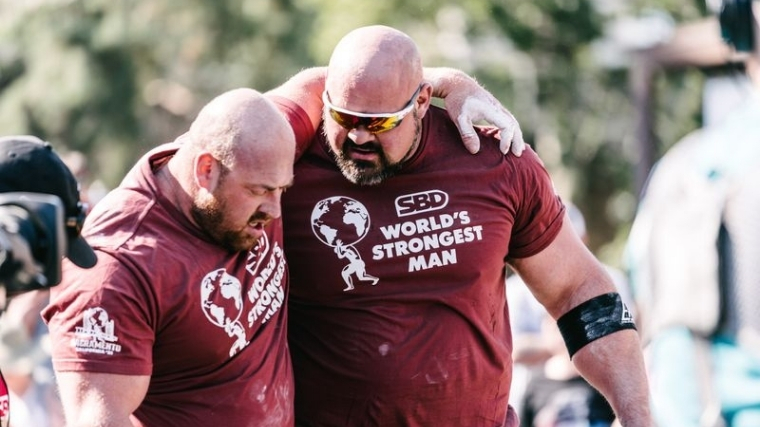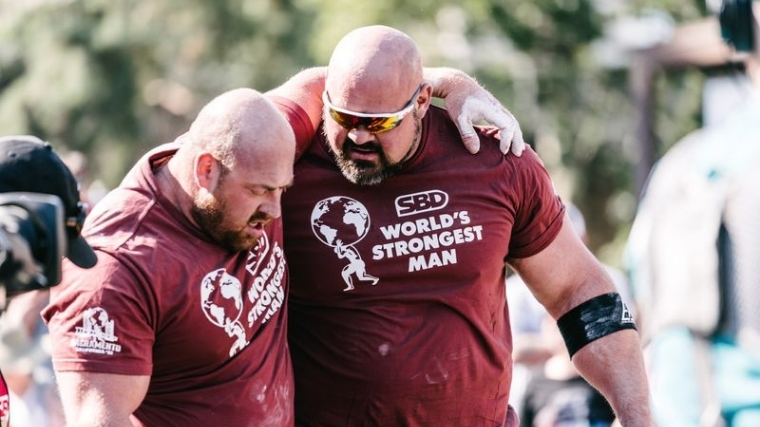 [Related: Best Barbells for CrossFit, Weightlifting, Powerlifting, Deadlifts, and More]
Shaw was the only athlete in the field to use a tape measure to ensure his yoke was positioned to the correct height. Both men stayed at each other's sides for the entire race. A slight head start by Caron went unnoticed, but he was otherwise flawless until the very last moment when he dropped the yoke and had to launch it across the finish line. His official time was 21.31 seconds. Shaw had a clean run from start to finish and added an extra jolt to the yoke to get it over the line just ahead of Caron. Shaw's time was 20.53 seconds.
More To Come
There are still five events left in the Finals, so the title of 2021 WSM is still very much up for grabs. Here are the events to look forward to:
Final — Day One (June 19, 2021)
Titan's Turntable
REIGN Keg Toss
Final — Day Two (June 20, 2021)
Log Lift
KNAACK Deadlift
Atlas Stones
Feature Image Courtesy of World's Strongest Man