We receive free products and receive commissions through our links. See
disclosures page
.
Percussive massage guns, like the Theragun Prime, are a great way to work out any soreness that you may have in your muscles from a long workout or just a long day in general. If you aren't familiar, a percussive massage consists of rapid and repetitive pressure from the attachment heads, which is mixed with vibrational therapy for a convenient, at-home massage. This form of massage can help loosen up your stiff muscles and get you back to feeling fresh.
The Theragun Prime features four different attachment heads and five different speeds that effectively generate more blood flow to your muscles. This extra blood flow can be beneficial for recovery after your training session, and help you warm up before a workout. It only weighs 2.2 pounds, the ergonomic handle allows for multiple grips, and the companion app provides guided routines on proper usage. We think anyone looking for a highly effective massage gun to toss in their gym bag should put the Theragun Prime on their shortlist.
Main Takeaways
The Theragun Prime has five speeds, and comes equipped with four different attachment heads that are softer than what most massage guns offer (which may make them more versatile).
The ergonomic handle makes this massage gun easy to hold, and you can even utilize a two-handed grip to use the massage gun on a friend.
The Therabody app is a great tool for all users. It's full of guided routines to work out any soreness, and even features routines for specific pain or ailments you may experience.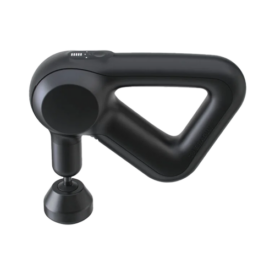 The Theragun Prime features four attachment heads that are more forgiving than hard plastic, five different percussive speeds, and a battery that lasts for two hours. 
Theragun Prime Video Review
Our Reviews Writer, Jake, tested the Theragun Prime for himself. In this video review, he walks you through its pros and cons, features, price, and more.
Theragun Prime Highlights
The beauty of massage guns like the Theragun Prime is that you don't have to work out to experience their benefits. There are routines for anyone with stiff muscles or carpal tunnel, and even those with trouble sleeping. You can find other routines to warm up for a workout, or speed up the recovery process and use it post-workout. The "For You" tab features routines based on your activities and any challenges you may be dealing with. Plus, the app can pair your Theragun Prime to your phone.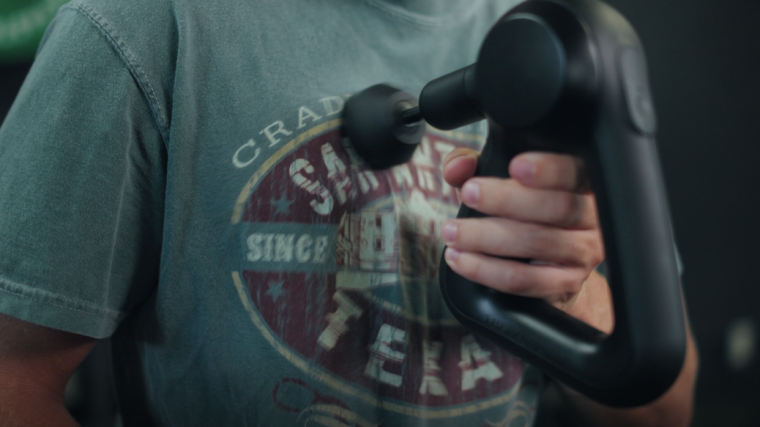 Since the attachments aren't made from a hard plastic, they might be more versatile and compatible with sensitive areas — like your hands, wrists, and neck. Our personal favorites are the dampener and cone attachments. The dampener is more of an all-around attachment, while the cone is meant for pinpointing specific areas. The Prime weighs 2.2 pounds, and the ergonomic handle makes it easy to reach around to massage your back. A slower first speed might be beneficial, and it's worth noting that it's a little bit loud when on the highest speed setting, but it's nothing you can't get used to.
Who Should Buy the Theragun Prime
Considering the $300 price tag, we think the Theragun Prime is meant for those who use it nearly daily.
If you're looking for a massage gun with attachments that won't hurt if they hit a bone, you may have found your match, as the attachments here are softer than others we have tried.
Anyone looking to learn how to use a massage gun will likely find a new best friend in the companion app.
Who Shouldn't Buy the Theragun Prime
If you don't plan on using the Theragun Prime multiple times a week, then you may be better off purchasing a cheaper massage gun.
While this product isn't necessarily big, there are some smaller massage guns on the market. So if you travel a lot, those smaller alternatives may be a better fit for you.
Anyone who wants a quiet massage gun may also want to consider other options. We don't necessarily think the Prime is loud, but some quieter models are available.
Price
Including shipping, the Theragun Prime is listed right around $300, and let's be honest — that's a big chunk of change for a massage gun. You can find other options on Amazon for around $75, but odds are those aren't as effective as the Prime. When you consider the versatile attachments, the effectiveness of the speed settings, and the ergonomic handle that makes it easy to hold — we think this is a solid value for those who plan on incorporating its usage into their recovery process a couple of times a week.
Therabody will allow you to finance your purchase through Affirm. This requires a soft credit check, but you'll have the option of making payments of around $75 every two weeks, or the option of monthly payments of either $50 or $25 until it's paid off. You can also purchase the Prime through Rogue (like we did), and on top of Affirm, you can also utilize PayLater from PayPal. This form of payment includes the option of four payments of around $80, or 12 payments of around $30.
Overall Build and Quality
The Theragun Prime is crafted with a durable hard plastic that feels as if it can handle any bumps and bruises that may occur over time. The handle has a rubber feel to it, which helps give you a solid grip — plus, it features an ergonomic design with multiple grips you can use.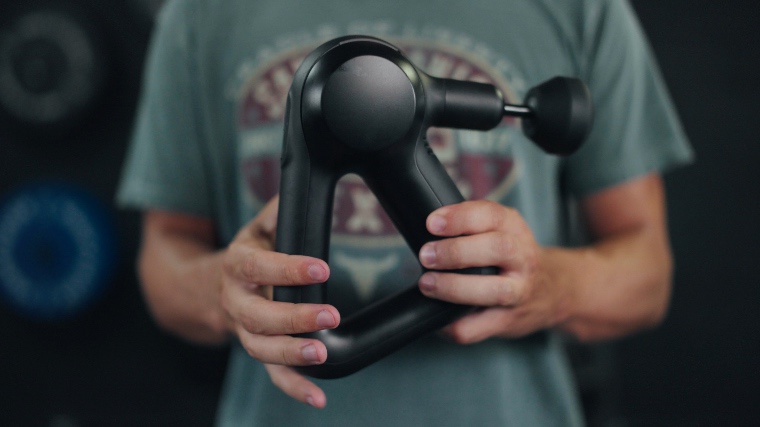 The attachments are some of the best ones we've used since they seem to be made of foam, making them more versatile and compatible with sensitive areas. However, they're still firm enough to work out any serious knots you may have. The front grip on the handle is a little over six inches in diameter, while the back and bottom grips are right around 4.5 inches in diameter. It's about eight inches tall, and nearly eight inches long with an attachment. The motor might be a little loud to use in public, but it's not that bad overall compared to other massage guns we've tested.
Features
One of our favorite features of the Theragun Prime is its attachment heads. They are more forgiving than some of the hard plastic ones that often come with other massage guns, but they can still relieve any stubborn knots you might have in your muscles. You have five different speed settings at your disposal, and you can easily cycle through them by pressing the up or down arrows that are above and below the power button.
Five LED lights signal which speed setting you're on, and an additional three lights above the top arrow signal how much battery life is left. The companion app is full of helpful routines for you to loosen up your muscles, and can control the gun once paired via Bluetooth. Once the Prime is paired, your speed setting will automatically set to the optimal speed for each specific muscle group. A force meter also shows you how hard you should press against your body to prevent further injury.
Attachments
The Theragun Prime features four awesome foam attachments that are more forgiving than hard plastic but still pack a punch. The dampener attachment is ideal for sensitive areas like your neck and will work well on your hands (or anywhere next to bones).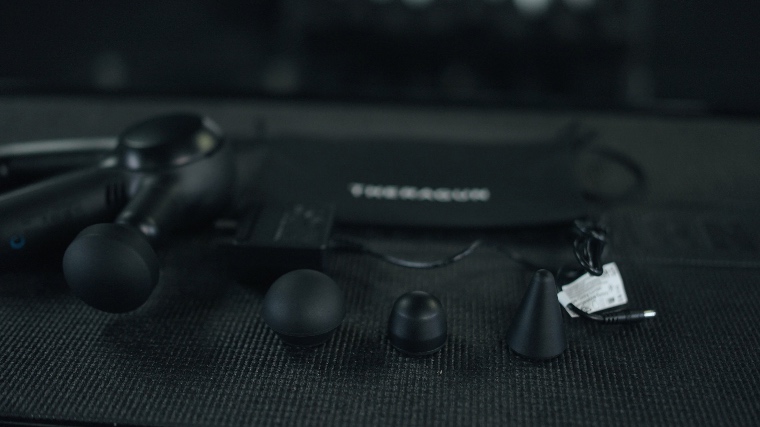 The standard ball is a general-purpose attachment that you can use pretty much everywhere. The thumb attachment is designed for your lower back and trigger point therapy, while the cone will be what you'll want to use for pinpointing specific knots in your muscles.
Speed Settings
The Theragun Prime features five different speed settings that you can use. To adjust the speed, simply press the up or down arrow, and the LED lights will signal which speed you're on. When the gun is paired with the app, you can adjust the speed from your phone.
Companion App
We're big fans of the Therabody app, and imagine you will be, too, once you begin using it. This will be a helpful tool for all users as it's full of guided routines and diagrams showing you in which direction you should move the massage gun. Once you download the app, you'll create a profile and select any activities you participate in.
The activities range from lifting weights to almost any sport you can imagine, and there's even an option for hardcore gamers. Plus, you can add any challenges you might be dealing with, such as pain in any body part, ailments such as shin splints, and even wellness challenges like poor sleep. If there are any routines that you find super helpful, you can always save them and find them in the "saved" tab for as long as you want them there. The "For You" tab will be full of suggestions based on your profile, and the Explore page consists of a wide range of routines you can choose from.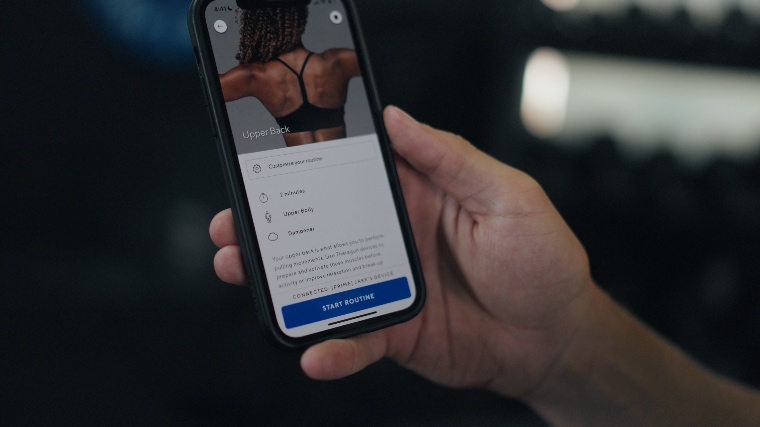 The Theragun Prime has Bluetooth capabilities, and the speed setting can be controlled through the app once paired. It's a pretty simple process to pair the two — make sure you have your Bluetooth enabled on your phone, open the app, turn on your massage gun, and click on the Bluetooth button at the bottom. It will pull up their list of products, and all you need to do is select the model that you have, and you're good to go.
Force Meter
A helpful feature within the Therabody companion app is the "force meter," which is exactly as it sounds. Like Ripley's — believe it or not, you can actually cause yourself harm by applying too much force to your muscles when using a massage gun. It's a little tricky to get it down at first, but while you're using the gun, you'll notice this meter right above the speed setting. As long as you're in the meter, you shouldn't cause any damage.
Product Specs
The Theragun Prime is one of our favorite massage guns on the market, and for good reason. The speed settings are highly effective, and the foam attachments feel softer than most other companies offer. The hard plastic build feels extremely durable in your hands and has a bit of a rubber feel to the handle.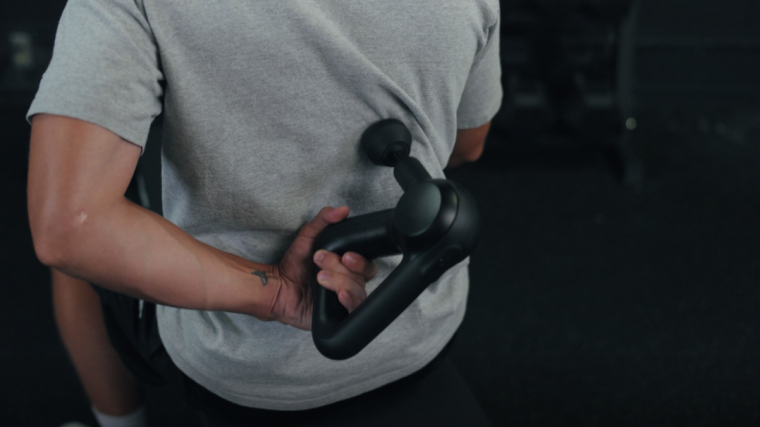 Since the handle has an ergonomic design, you can use multiple grips and even use two hands if you want to use it on a friend. Due to the size, it might not be the best option in terms of portability, but it only weighs 2.2 pounds, so you shouldn't experience too much hand or wrist fatigue during use.
Ergonomic Handle
It may look a little funky at first glance, but we have really grown to love the ergonomic handle on the Theragun Prime. It essentially features three different handles for you to use (thanks to its triangular shape) that vary in their diameter. The front handle is about six inches in diameter, while the other two are around 4.5 inches in diameter. It also features rubber on the outside of the handle to provide you with a really solid grip.
Materials
The Prime was crafted with a hard plastic that feels really durable in your hands. The attachments feel as if they're made from a high quality foam, and though they're easier on your muscles than plastic, they are still firm enough to give you a deep tissue massage.
Battery
The battery on the Theragun Prime is built to last for two hours, which is a solid amount of time. This could change though, depending on the speed setting you're using, and how much force you're applying to your body. A set of three LED lights are located just above the "up" arrow that increases your speed setting. If all three lights are lit up, your battery is fully charged. When your massage gun inevitably dies, you should expect it to take around an hour and a half to fully charge.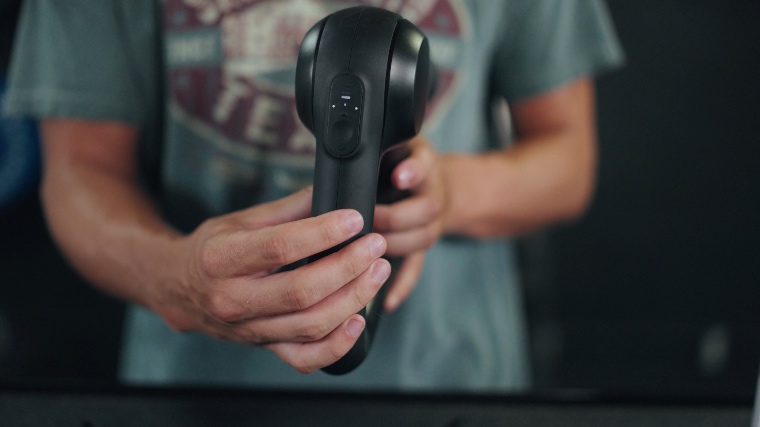 Some massage guns feature a battery that lasts longer, but two hours is still a really solid amount of time — especially since you don't need to use a percussive massage gun in one specific area for more than two minutes, or else you run the risk of injury. The charging port is located on the front grip of the handle, and uses a 15v charger.
Dimensions and Weight
The Theragun Prime is pretty lightweight, weighing in at just 2.2 pounds. But if you're looking for your massage gun to be highly portable, there are other options out there that are smaller and lighter. The Prime is right around eight inches tall, and is about seven inches from front to back with an attachment secured.
Warranties
The Theragun Prime comes with a one-year manufacturer warranty on the actual device and charger, and a 30-day warranty on the attachments. You also receive a 60-day risk-free trial when you purchase your massage gun through Therabody.
Places to Buy
You can purchase the Theragun Prime directly through the Therabody website, or from other fitness websites, such as Rogue.
Company Information
Since 2009, Therabody has stuck to their goal of providing people with effective solutions to take charge of their daily wellness. Founder Dr. Jason Wersland suffered a traumatic injury from a motorcycle accident, and crafted a makeshift tool that could relieve his pain, kickstarting the Therabody brand.
To find out more about their policies, you can contact their customer support team via phone at (866) 480-3526, or head over to their "Contact Us" page and live chat with someone.
Final Word
The beauty of percussive massage guns like the Theragun Prime is that people of all shapes and sizes can benefit from adding them into their daily routine, regardless of their workout habits. This form of massage therapy increases the blood flow to a specific area, and can help relieve the soreness we may experience. The four attachments and five speed settings offered with this massage gun provide you with a solid way to massage your entire body, from your neck to your feet.
Since this is a premium product, you will have to pay a premium price. We think this is going to be better suited for those who are dedicated to daily recovery. It may be more expensive up front than getting a massage, but the convenience and efficiency make it worth the money in our eyes — plus, you'll be saving money in the long run. We've experienced many benefits from this massage gun, and feel lighter after each use. If you're looking to relieve any stiffness and recover from home, we think the Theragun Prime is a top-notch purchase.
FAQs
What exactly are percussion massage guns like the Theragun Prime?
Percussive massage guns combine rapid and repetitive pressure using the massage heads, mixed in with the motor's vibrations. This is going to increase the blood flow to wherever you're using the machine, and can work out stiffness in your soft tissue, ultimately leading to improved mobility, and a faster muscle recovery process.
How many attachment heads does the Theragun Prime have?
The Prime comes with four different attachment heads for you to use, and we really enjoy the foam material they're made from. These attachments will be better than a hard plastic for sensitive areas near bones, but they're still firm enough to give you a deep tissue massage in your back or legs.
How much does the Theragun Prime cost?
This percussive massage gun is going to run you right around $300. That may seem like a lot for a "simple" massage gun, but to be honest, we think it's a pretty solid deal considering the potential benefits from consistent use. However, if you don't plan on using the Prime multiple times a week, you might be better off targeting a cheaper option out there. If you don't want to spend $300 upfront, there are various financing options you can choose from.