We receive free products and receive commissions through our links. See
disclosures page
.
As the fitness and tech worlds continue to collide, more and more companies are building products to accommodate for advancements being made in both. Tonal is a compact home gym that hangs on the wall and is tailored to individuals who want an interactive, guided, and tough workout on their own time. This adaptive piece of equipment adjusts to your body over time, and after completing a strength assessment, you never have to deal with loading or unloading weight plates on your own again.
This smart gym features two pulleys located on either side of the 24-inch touchscreen monitor that rely on electromagnetic resistance, and max out at 100 pounds each (200 pounds of total weighted resistance). While that may not seem like a lot for those of elite strength, these pulleys actually operate on a 1:1 ratio — meaning you have to have 100 pounds of force to move that weight. Although it's an expensive investment, if you're looking for a compact solution to accommodate your home gym training, and you have the money for it, Tonal is a great option to consider.
Main Takeaways
Tonal can accommodate a variety of athletes with its pulleys that provide weighted resistance up to 200 pounds.
Tonal can adjust your weight based on your struggle. If you don't seem challenged, it will automatically increase your weight, and on the other hand, if you're struggling, it will decrease your weight.
This is one of the most compact home gym options on the market for those who are willing and able to dish out the extra cash for it.
The Tonal is an interactive home gym that delivers up to 200 lbs of total electromagnetic resistance with the use of two maneuverable pulleys. What's most impressive is that it adapts as you progresses, which means you'll always be pushing closer to your fitness goals. 
Tonal Home Gym Video Review
Our reviews writer, Jake, puts this popular product to the test during his detailed video review. Follow along as he breaks down everything this smart gym has to offer (from the many features to the available workouts) as he helps you decide whether or not you should purchase one.
Tonal Home Gym Highlights
Tonal is an interactive home gym that adapts to your skill set and is a great option for those who are tight on space since you only need about seven square feet for your workouts. The 24-inch touchscreen monitor is loaded with thousands of trainer-led workouts for you to do in a live or on-demand fashion. The companion app is a great way to track your progression, and there's a monthly leaderboard that pins you head-to-head against the rest of the Tonal community. We also found the smart accessories to be one of the most unique features of this product. The smart handles feature a button that allows you to turn the digital weight on or off with a simple click, and the same goes for the clamp that can go on the barbell or rope attachment — acting like a spotter.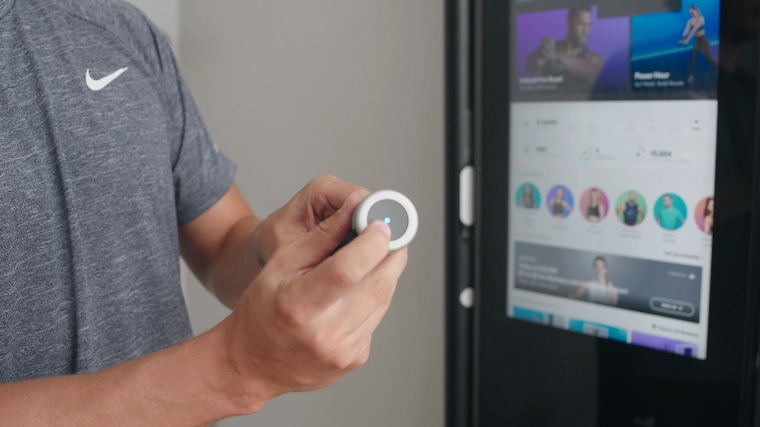 For many customers, Tonal can be used for your main workout to build strength, decrease body fat, and increase your overall fitness. However, serious athletes — powerlifters, weightlifters, or just elite athletes who need more than 200 pounds of resistance — might be better off using Tonal as a tool to progress in a calculated and strategic way, while also incorporating other weight lifting or exercise methods. With that being said, the pulleys still operate on a 1:1 ratio, meaning you'll find it much harder to lift 100 pounds with Tonal than you would on a cable machine that features a 2:1 ratio, so we still think it's a solid option for those who want to build strength in the comfort of their own home gym.
Who Should Buy the Tonal
Anyone who wants workout programs to follow on a weekly basis, along with single workouts. This offers a ton of variety for users, as well as an option to track steady progress over extended periods of time.
For those limited on space, the Tonal is a good option. Tonal recommends having a floor space of just 7′ x 7′ and a ceiling height of 7′ 10″.
Beginners who don't know where to start. The initial strength assessment takes some of the thought out of picking weights, which can be problematic for a new fitness enthusiast. And as you progress, Tonal can automatically progress with you by adjusting the weight when you need more of a challenge or less of a struggle.
Who Shouldn't Buy the Tonal
Customers who aren't looking to spend a lot of money can fill out an entire home gym for the same price as Tonal.
If you compete in strength sports or you're pushing a ton of weight, the 200 pounds of magnetic resistance may be a little limiting for you.
Price
The price of Tonal is not cheap by any means — the machine itself goes for about $3,500, you have to pay extra for the necessary attachments, and it's important to note that outside of the hardware, you have to subscribe to a Tonal subscription to get the most out of the machine. The latter cost comes out to about $49/month with a 12-month commitment. Below, we've laid out all of the price specs:
Tonal Device: $3,500.00 USD
Accessories: $495.00 USD
Subscription: $49/mo (12-month commitment)
Installment and Delivery: $300.00 USD
There's no beating around the bush here — this price is going to be a big turn-off for some customers. Tonal is not cheap, but you do have the option of splitting your purchase up into 24, 36, or 48 monthly payments through Affirm. If you went for the 48-month payment plan, you'll be looking at spending around $140 a month, the 36-month plan will have you spending around $170 a month, and the 24-month plan will be around $230 a month. This is definitely expensive, but you may also be saving money in the long run compared to paying for a gym membership and personal training each month. If you were to spend $50 a month on a gym, and $50 twice a week for personal training, you'd be spending about $450 a month, or around $5,400 a year.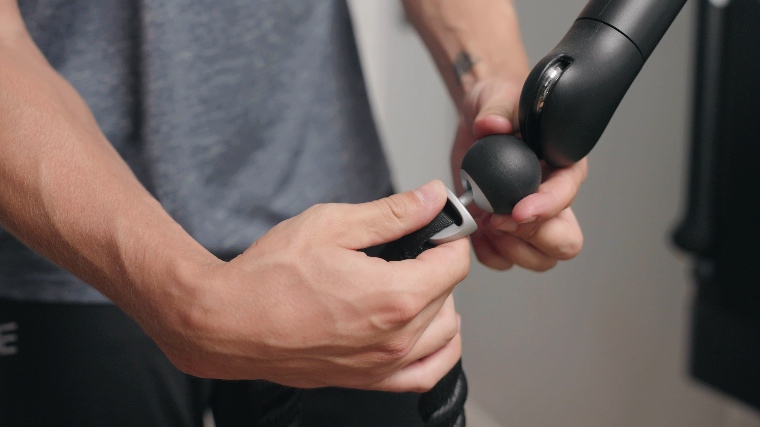 Now let's say you wanted a personal trainer to visit your home, those visits may be around $60 — add two visits a week on top of your gym membership, and you're looking at spending over $6,000 a year. With Tonal, you get the benefit of personal training, and weight resistance in the comfort of your home, and may end up spending less money long term. Plus, you can even try Tonal out in your home after purchase for 90 days, risk-free.
Overall Build and Quality
Tonal is one of the more compact home gym options on the market. It takes up just 7' by 7' of floor space, and needs a 7' 10" ceiling height. You can perform 200 moves with up to 200 pounds of weighted resistance on this one machine. An interactive coach can take you through workouts on the 24" touchscreen display, and Tonal will even adjust your weight automatically as you progress. While the touchscreen display is made of glass, the rest of the product feels pretty sturdy.
Features
Tonal's biggest pro is its technology. It offers up to 200 pounds of weighted resistance via pulleys that you can use for 200 different moves. While 200 pounds may not seem like enough for elite-level lifters, the pulleys operate on a 1:1 ratio, meaning if you have 200 pounds loaded, you will need 200 pounds of force to move the weight.
It adjusts your weight up and down as you progress or struggle, and you can even opt to use the chains and eccentric modes to increase the difficulty of your workout even further. Plus, before you start, the strength assessment enables your machine to know exactly how much weight to use in your first workout and adapts as you progress in strength.
Interactive Touchscreen
The major piece of the Tonal package lies within the 24-inch interactive touchscreen that allows you to customize nearly every detail when it comes to executing the thousands of trainer-led workouts. Tonal's coaches will instruct you on how to set up the machine, provide tips for movements, and lead you through warm-ups and cool-downs. This is also where you'll experience feedback regarding your form via prompts on the screen. This is a great tool for those who are new to a specific exercise and want to achieve perfect form.
Pulleys and Smart Handles
One of Tonal's perks is that it doesn't require you to have separate barbells, weight plates, dumbbells, or any other type of bulky equipment you typically need to complete a strength workout. The two pulleys are located on either side of Tonal's touchscreen display. Simply pull them out to use them, and slide them back up against the wall when you are done with your workout to save space. They can be maneuvered up and down, and have the ability to widen and narrow, providing users with an easy way to accommodate a variety of uses. Plus, the way you adjust the handles is pretty intuitive. Within the workouts, the coaches will also help instruct you as to where the handles should be set, plus you'll notice indicators that show you where the arms are currently positioned, and where they need to be.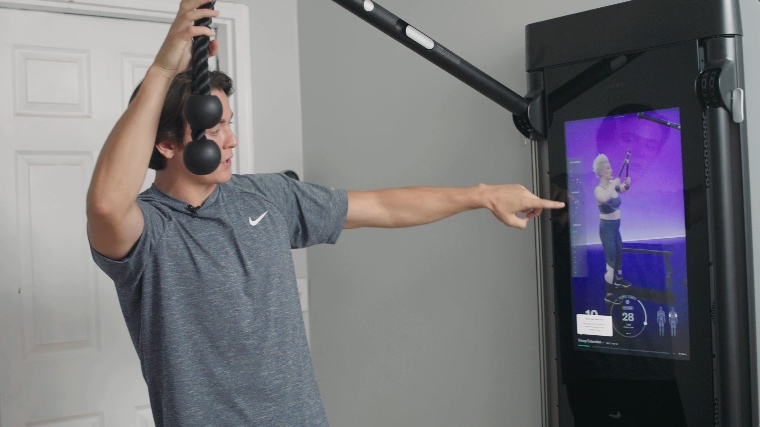 The Smart Handles have buttons on each side of them, which activate and deactivate the resistance. In our opinion, this is extremely useful because getting into some positions with resistance would be nearly impossible for most users. Since you have the ability to activate the resistance with a simple click on the handle, then you can truly get set up before starting the rep scheme. The Tonal bar also has a Smart clamp that can be attached for seamless activation and deactivation.
Technology
The tech side of Tonal is pretty remarkable, and we think it's unparalleled when it comes to adapting to someone's overall strength levels on a real-time basis. Compared to other tech-based home gyms, there are four things we really liked about Tonal's real-time technology.
Spotter Mode: The spotter feature lightens the load as it begins to feel you struggle, so as you work through a set and begin to slow down due to fatigue, Tonal will begin to decrease the load in an intuitive way that allows you to finish the set, but also get the work in.
Chains/Eccentric: The chains and eccentric mode are, in our opinion, a serious enthusiast's best friend. They're easy to turn on mid-workout and provide extra resistance on both the lowering (eccentric) and lifting (chains/concentric) portions of the movement.
Strength Assessment: Before beginning your journey with Tonal, you'll be asked to perform a strength assessment. This entails moving through an assessment exercise protocol for various reps that Tonal will then use to adjust weights accordingly for workouts. If you're brand new to strength training, then this is an awesome feature to get you started.
Continual Tracking: This feature is great for fitness enthusiasts who love data and tracking their progress. For every workout, Tonal tracks multiple variables including time under tension, reps, sets, load, volume, and range of motion. It's great for a beginner because it provides a broader understanding of their current training level, and it's great for advanced enthusiasts because it can provide intrinsic goals to chase.
There's a lot more that goes into Tonal, such as connecting your phone to play your own music, and feedback on your form, but these are the features that stood out to us the most.
User Experience
For us, if we're using a tech-heavy piece of workout gear, then we want to know how easy it is to use. The last thing you want in a workout is to be dealing with finicky technology — so what is Tonal's user experience really like?
The homepage on the interactive screen is easy to navigate and understand, which makes it super intuitive to use, even for the true beginner. Workouts are labeled by body parts and goals, so you can sift through options to perform that fit inside your current goals and program. The programs will flow in a format that relates to your initial setup/goals.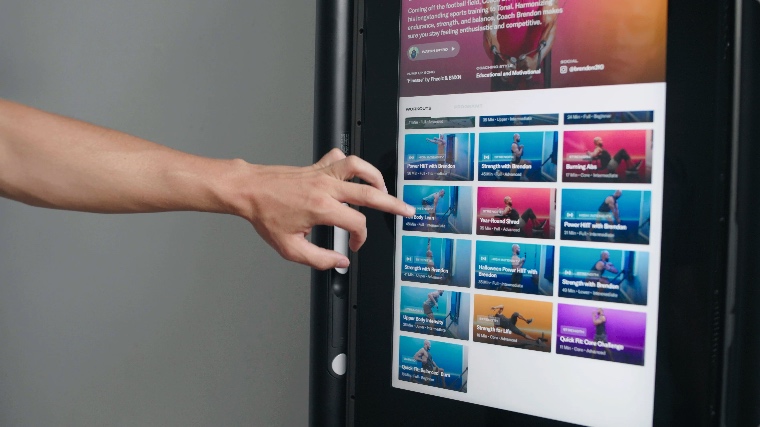 What's nice about Tonal is that they have programs that work on a progressive basis outside of one-off workouts. For example, instead of simply performing a workout and then randomly selecting another one the next time you use Tonal, you can follow a consistent program to track progress.
This is huge for user experience because it provides enthusiasts with a strategic means to progress. Additionally, the tech features mentioned above are easy to turn on mid-workout, so there's no delay in your workout time trying to configure the chains, spotter, and eccentric modes. From a user experience point of view, Tonal is calculated, easy to understand, and intuitive.
Companion App
The Tonal companion app is where each workout is tracked, and where you're able to see your results and progress over time with the progress tracker. Tonal will take your strength score from your assessment, and set a benchmark for your fitness journey. This is going to show your growing strength by muscle group and body region, and it will update in real-time.
While you can't stream classes from the app like you can with some other smart gyms, you can scroll through the workouts and see the description of the exercises, as well as the benefits of each. From here you can also see your rank among the Tonal community and even create your own custom workout programs.
Bluetooth Connectivity
With Tonal, you can connect a heart rate monitor or fitness tracker, as well as your phone via Bluetooth. This is also how you pair the handles and barbell to the device. Simply pull down from the top of the screen for easy connectivity.
Music
Tonal provides music that is preloaded onto the device for you to stream during your workouts. But, the beauty here is that you can also connect your Apple Music or Spotify subscription if you would rather listen to your own music. Once you have the app downloaded and your phone paired to Tonal, you can connect your music app, and your entire library will immediately be uploaded.
Electromagnetic Resistance
Tonal provides users with digital resistance that uses electromagnetic force compared to traditional weights' gravitational force. This keeps the resistance constant and smooth throughout full movements. Over time, Tonal can increase the weight resistance to ensure that you are progressively overloading your muscles.
The max resistance Tonal provides is 200 pounds (100 pounds for each side), which is more than likely plenty for most folks, but is slightly limiting for serious strength athletes like powerlifters.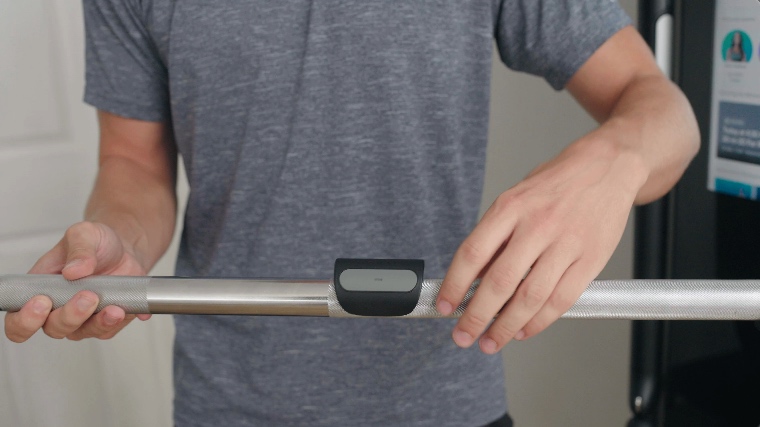 In our experience, the resistance was enough for unilateral work and most movements, but for compound movements, we could max the machine out. If you max out the machine and want to up the intensity, then we'd recommend using the chains and eccentric feature.
Workouts
You can try workouts that range from strength training to HIIT, dance cardio, yoga, mobility, pilates, barre, and meditation, all with a virtual instructor. Tonal offers these workouts in both a live and on-demand format.
Motion Sensing Technology
While working out, Tonal uses a set of sensors that will provide corrections in real-time that are focused on your form, range of motion, and pace. If you are doing something the wrong way, Tonal will provide suggestions on the monitor to correct you. The same goes for if you are too close to the arms — you will see a prompt on the screen telling you to take a step or two away.
We found this to be helpful in our time with the Tonal as it corrected us when we didn't realize our form was off. The only downside is that if you're doing a movement that requires your back to be to the screen, you will have to listen for the chime that occurs when Tonal provides an update, then turn around to see what you need to correct. Overall, this is an awesome feature that ensures you learn the proper technique for your workouts.
Leaderboard
Unlike some smart home gyms on the market, Tonal does not offer a daily leaderboard function for their live classes. However, they do offer a leaderboard that spans over 30 days and is based on your dedication to working out over that time. Your "rank" will change depending on the total number of workouts you complete, as well as how much time you have spent working out. This is a nice feature for those who thrive off competition and want to see an overview of their progress.
Product Specs
A massive plus for Tonal is its size. You only need 7' by 7' of floor space and 7' 10" of ceiling height to make use of this machine. It's mounted to the wall, and it doesn't require extra space to store bulky weights as you only need the smart gym's pulleys to complete your workout. While it's recommended you purchase Tonal's Smart Accessories to get full use of the machine, you can also use your own accessories if you buy a separate T-Lock through Tonal to attach them to the pulleys.
Accessories
Tonal sells its accessories in a Smart Accessories package you can opt in or out of. If you opt-in, you can use the Tonal pulleys with the smart handles, barbell, or rope attachment. You'll also get a bench, foam roller, and yoga mat to use throughout your Tonal workouts. Purchasing all of these is recommended, but it does cost around $500.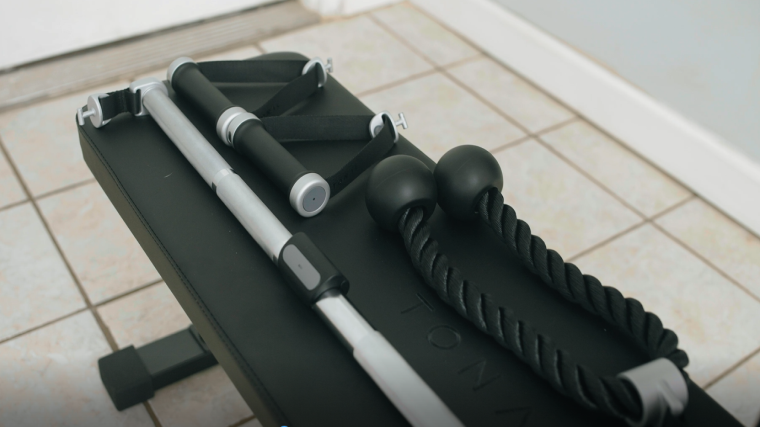 The handles are some of the most futuristic accessories in the game — they have a button that turns the weight on or off. The barbell is sturdy and the clamp that attaches to it also allows you to turn the weight on or off, but the knurling is a little bit underwhelming and isn't as "grippy" as a traditional barbell. The yoga mat and foam roller are pretty standard in practice, so it would be nice if there was a package without these two accessories in case you already have your own.
While the weight bench is both comfortable and sturdy, we wouldn't mind if it was adjustable. If you want to use your own accessories with the Tonal, you can buy a T-Lock adapter from Tonal that will allow the T-lock system on the pulleys to work with your handles.
Dimensions
The Tonal requires just 7' by 7' feet of floor space, and a ceiling height of 7' 10". This is one of the more compact home gyms on the market since you don't need room to store or use larger weights or weight plates.
Storage
On the Tonal website, you have the option of adding a storage shelf to your purchase, which is an additional $250. The shelf has three hooks that allow you to hang your smart handles, rope, and barbell, and it allows enough room to place your yoga mat and foam roller on top. But as of now, Tonal does not have a solution to store the weight bench, so you will need to get creative to find a spot to tuck it out of sight. Since this is already an expensive purchase, and the storage shelf is just going to tack onto that price tag, you may be better off coming up with a cheaper alternative since this is not entirely necessary.
Setup
The setup for Tonal is pretty straightforward and seamless. Once you've connected the Tonal to WiFi, you'll follow a few steps to help the machine learn and adapt to you.
These steps for setting up a new Tonal account include:
Sign-Up: Create an Account
Enter Height/Weight/Age
Personalize Your Goals
Select Your Level of Fitness
In our opinion, the setup on this machine is one of the easiest to work through for interactive home gyms. The best part about the setup is that the machine then recommends workouts based on your specific goals and needs. Plus, with the additional strength assessment, the machine will know exactly what weight you should be using.
Installment
One potential issue we could see enthusiasts having with Tonal is scheduling the installation. As opposed to buying a Tonal and setting it up on your own, you have to schedule an installation time for someone from Tonal's team to mount it for you. This can be problematic for some folks on a tight schedule, or who want to install the device on their own time. However, since you're having Tonal's team install the product, you can rest assured that it will be mounted correctly.
When making your order, you have to provide pictures of the room it will be mounted, as well as the wall material and stud spacings. Be sure to find the exact spacings, because Tonal requires them to be either 16 or 24 inches apart — anything wider or closer together will not work. Since their team is who installs the product, you need to be certain that you are choosing the right location, or else they will have to come back out and move it for you.
Warranty
Tonal provides users with a three-year limited warranty that covers product defects when the machine is purchased from an authorized United States retailer. There's also a 30-day no questions asked return policy if you're not happy with the Tonal.
Places to Buy
You can purchase Tonal directly through the Tonal website.
Company Information
After struggling with his weight since he was a child, Tonal founder Aly Orady strength-trained consistently for months and was able to lose 70 pounds. The only issue he found in training was convenience — he created Tonal to solve that problem. Its electromagnetic resistance saves space, and its size is great for home use, so you can have your own gym space at home and don't have to work your schedule around gym time. With Tonal, Orady wanted to ensure you wouldn't have to sacrifice other parts of your life to stay fit.
Final Word
Tonal is an intuitive tech-based home gym that delivers guided workouts with the use of two electromagnetic force pulleys. The smart handles, and clamp that attaches directly to the barbell act as a spotter, which is a great safety feature since they allow you to turn the weight on or off with the click of a button. Because of the companion app, you can easily access your records and track your progress over time.
Overall, Tonal does a solid job at providing instruction and guidance throughout workouts, and we think it will work for a majority of users who can afford the lofty price tag. There's no denying that this device is expensive and not accessible for everyone, but if you're looking for a compact and interactive smart home gym, Tonal is one of the best.
FAQs
How much does Tonal cost?
The actual Tonal itself is around $3,500, the accessories package is about $500, shipping and installation will run you around $300, and the monthly subscription fee is about $50. This is one of the most expensive smart home gyms on the market, but we also think it might be the best value considering its versatility, functionality, and small footprint.
Can you lift heavy with Tonal?
Yes and no. Tonal maxes out at 200 pounds of weighted resistance, which is a lot of weight for most recreational athletes. However, if you're a powerlifter or an elite athlete, Tonal may not provide enough weight for you.
What workouts can I do with Tonal?
The cool thing about Tonal is that there aren't too many limitations regarding the workouts you can do. There are thousands of classes available in a live or on-demand fashion, ranging from strength training to yoga, and even dance cardio.