We receive free products and receive commissions through our links. See
disclosures page
.
Anyone looking to build their own home gym knows how difficult it can be to find a true centerpiece. REP Fitness is making that easier on everyone with equipment like the PR-5000. This tank of a power rack can support up to 1,000 pounds of weight, and features uprights forged from 11-gauge steel. It can be 100 percent customized to meet your specific needs, too. Whether you want to add a landmine attachment, iso arms (jammers), dip handles, or REP's innovative Ares attachment, this rack can accommodate it all.
The customizations aren't limited to just attachments, though. REP has a "Rack Builder" feature on their website that allows you to choose the ideal height, depth, and even color scheme for this rack. On top of that, you can also decide whether or not you want built-in weight storage, your ideal type of pull-up bar, and the style of safety arms and J-cups you want. When customizing your rack, you'll notice the rack changing in real-time on your screen to give you an accurate depiction of what it will look like. If you're looking for one of the most functional and customizable power racks on the market to be the true centerpiece of your home gym, the PR-5000 may be the one for you.
Main Takeaways
The PR-5000 can be customized in every manner — from the size to the attachments and even the color scheme — to meet your specific needs.
This rack is made from 11-gauge steel and can support up to 1,000 pounds.
REP offers the option to build your rack around the Ares attachment, which unlocks the ability to perform cable exercises.
This rack features 11-gauge steel uprights that can hold up to 1,000 pounds. It can also be completely customized with two different height options, three options for the depth, your choice of 13 attachments, and even the color scheme.  
REP Fitness PR-5000 Video Review
Our Reviews Writer, Jake, dives into all of the details of the REP Fitness PR-5000 during his video review. Follow along as he breaks down everything there is to know about this power rack and demonstrates how to use REP's rack builder feature.
REP Fitness PR-5000 Highlights
Whether you're looking for a compact rack to squeeze into a tight space or you have enough room for the largest configuration, the PR-5000 has you covered. You have two options regarding height (80 or 93 inches), and three options regarding depth (16, 30, or 41 inches). This is pretty unique since most companies only offer their racks in one size. Since the PR-5000 also features 11-gauge steel uprights and can handle up to 1,000 pounds, this rack is built to last and can be used by weightlifters of all strength levels.
If you want to add more weight plates to your arsenal but don't have the means of storing them properly, you can tack on weight storage horns to your PR-5000 that will attach to the sides of the back uprights. Or, if you want to buy a new barbell, you can add a tube stand or dual barbell holder for proper storage. On top of that, you also have your choice of safety arms, pull-up bar style, J-cups, and 13 other attachments.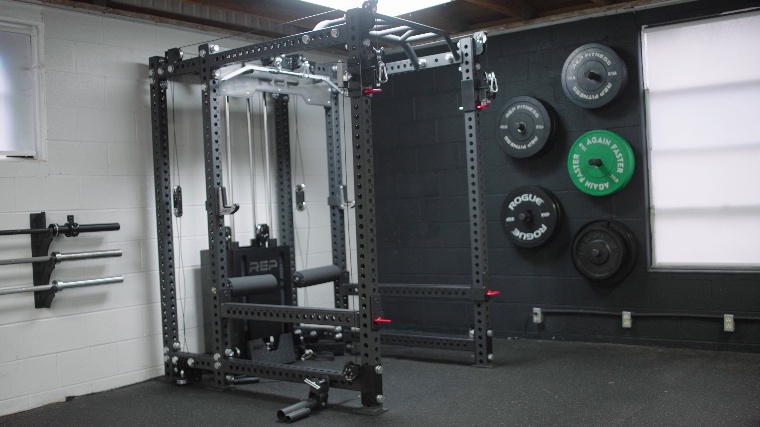 We can't forget to highlight the option to add the Ares attachment either. This attachment essentially combines a functional trainer — or cable machine — with your power rack, as it has two cables with weight stacks. The standard weight for each stack is 260 pounds (or 520 combined) — however, you can upgrade the stacks to 310 pounds a piece for a total weight resistance of 620 pounds. While you could wind up spending well over $6,000 on this rack with the Ares and other attachments, you could also spend under $1,500 — we think it's a huge perk that you can choose exactly what you want to include to fit your budget.
Who Should Buy the REP Fitness PR-5000
Anyone who wants a power rack that can be customized to fit into a tight space may want to consider the PR-5000, as it can be as shallow as 16 inches.
Athletes looking for a rack to be the centerpiece of their home gym will appreciate the attachment options here — you can add 13 different attachments to this rack to build it out to your liking.
Those who want a long-lasting rack that can handle solid weight will be happy with the high-quality 11-gauge steel and max weight capacity of 1,000 pounds.
Who Shouldn't Buy the REP Fitness PR-5000
Folks who want a moveable rack will want to look elsewhere. Once assembled, the PR-5000 is likely too heavy for one person to move, especially with the addition of the Ares.
Even though it can be customized to fit in some pretty tight spaces, the PR-5000 still might not be a good fit for those who are pretty cramped on space.

Your configuration determines the price, but the lowest price tag will still be over $1,000, which might be steep for some.
Price
The final price tag of the REP Fitness PR-5000 can be a little tricky to calculate since it's determined by the price of the attachments you choose. The cheapest option for those who just want the rack and no attachments will cost you around $1,100. On the other hand, if you have a large budget to work with and want to add on everything this rack offers, you will end up spending well over $6,000.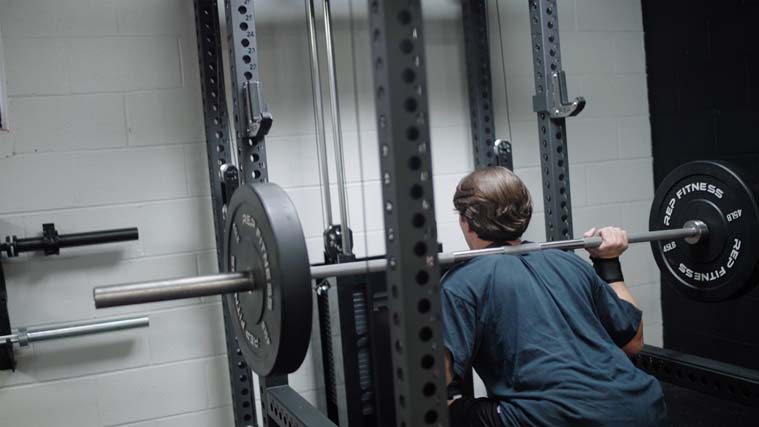 In addition, if you choose to have white glove assembly, that will cost you about $250 for the rack, and about $400 for the Ares. If you opt for both, you'll pay about $650 on top of the price of the rack. For some, that may seem like a lot just for assembly, but we think it's worth it since it took one of our team members around eight hours to assemble it by himself.
While the PR-5000 could end up being an extremely expensive purchase, it could also be one of the cheaper high-quality ones if you don't want to add on any attachments. So whether you want all the bells and whistles that REP has to offer, or you just want a rack for your squats and bench presses, REP provides an option for you with the PR-5000.
Overall Build and Quality
The PR-5000 is about as structurally sound as power racks come, thanks to its 11-gauge steel build. With the rack builder feature on the REP Fitness website, you can adjust the rack size to suit your space. Whether you want a depth of 16 or 41 inches, this rack can hold up to 1,000 pounds — which is plenty for most recreational weightlifters. You can also add up to 13 attachments to the PR-5000, allowing you to build it out to be a true home gym centerpiece.
Features
Versatility is a key component when it comes to purchasing any piece of gym equipment. The option to add 13 separate attachments and the Ares cable attachment when customizing your PR-5000 allows for a ton of versatility to take your workouts to the next level at home. You can add a lat pulldown attachment for your back days, a belt squat for your leg days, and a dip station for your chest and triceps development.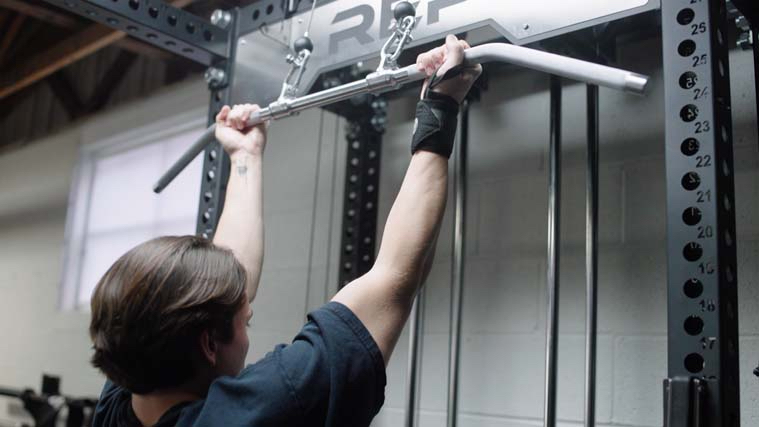 That's not all though — you can also add a leg roller, band pegs, iso arms, and even a wall ball target. The Ares comes with separate attachments, such as a lat pull-down bar, a low-row bar to go with the low-row foot plate, and two urethane D-handles for your favorite cable exercises.
Rack Builder
REP's rack builder is one of the most innovative features we've seen in the power rack space. Once you click on the rack builder tab, you'll see five different racks you can completely customize — including the PR-5000.
We decided to build the PR-5000 around the Ares attachment for our rack. As you're configuring your rack's height, depth, color scheme, and attachments, you'll notice the rack adjust in real time on your screen. They even have an option for you to use your camera on your phone to see what it would look like in your personal space.
Ares Attachment
Cable machines provide constant tension on your muscles while lifting, which can fatigue your muscles faster, potentially leading to greater gains. Plus, they offer more safety to your workouts during exercises like an overhead triceps extension since you won't need to hold a heavy dumbbell over your head.
The Ares provides the means to perform all of your favorite cable exercises with two pulleys that are attached to the uprights on the PR-5000. This attachment features dual weight stacks, and you have the choice to max your stacks out at 260 or 310 pounds individually. You can use each stack by itself for unilateral work, or connect the stacks together with the "banana" attachment for the max weight resistance.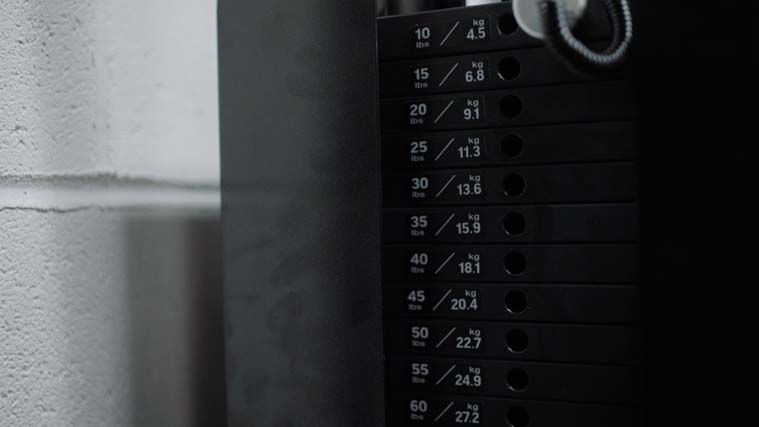 The cables operate on a 2:1 ratio, meaning the weight is actually half of what is selected. So 100 pounds will feel like 50 pounds. Plus, the cables are longer than those that operate on a 1:1 ratio. The trolleys feature a knurled handle and a pop-pin to make adjusting the positioning before your lift easy. They can also swivel 180 degrees to provide more angles when working out.
Pull-Up Bar
REP Fitness allows you to choose between five different pull-up bars — there are three different straight bar options, a multi-grip, or a globe grip option. The straight bars vary a bit. The 1.25-inch standard bar is made from 4.5mm steel, the 1.25-inch raw option is made from bare steel and features a textured grip, and the two-inch bar is made from 11-gauge steel.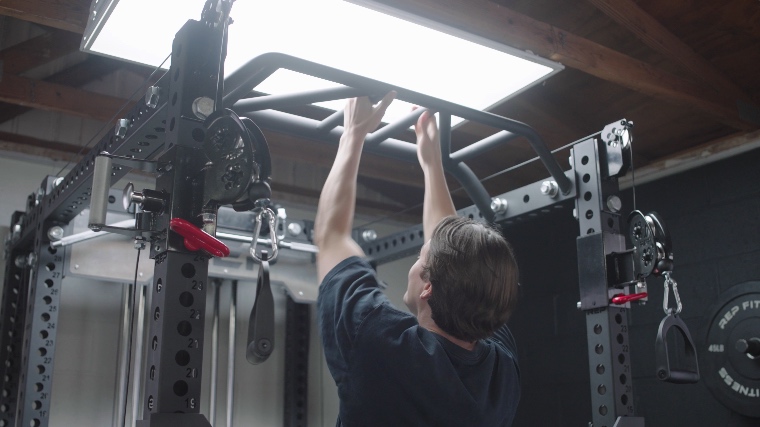 We chose the multi-grip bar since it is highly versatile. It features a 1.25-inch standard bar, 1.25-inch angled and neutral grips, and a two-inch bar. The cool thing about this option is that if you're working with a low ceiling, you can invert it during assembly to accommodate accordingly. The globe grip is also highly versatile, as it provides five different grips.
The "tubes" on this bar are each 1.3 inches in diameter, the smaller globes are 3.1 inches in diameter, and the larger globes are 4.1 inches in diameter. This may be the best option for those who want to increase their grip strength since the globes can make your pull-ups more challenging.
Numbered Uprights
The PR-5000 features laser-cut numbers on the uprights to make it easy to adjust your trolleys, safety arms, and J-cups when working out. This is superior to having the numbers etched into the uprights since these won't get worn down over time.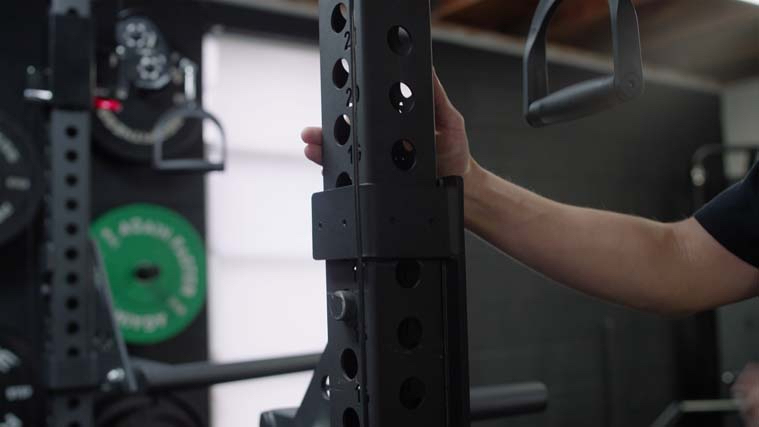 Each hole on this rack is one inch in diameter, and they're all two inches apart. So if you're looking for a rack with westside spacing, you'll need to keep looking — or just opt for the lowered J-cups, and you can mimic westside spacing.
Storage Attachments
On top of the many attachments you can add to ramp up your workouts, you can also add built-in storage attachments. If you have a barbell specifically for powerlifts and one for Olympic lifts, you can purchase a storage tube to properly store the one you aren't using, or select the dual barbell hanger if you have more than two barbells. You'll also have the option to include five weight horns on either side of the rack to store weight plates or bumpers plates.
Add-Ons
REP provides 13 attachment options to add to your PR-5000. You can add a dip station, landmine attachment, a pair of spotter arms to go outside of the rack, and a pair of front foot extensions for more stability. The leg roller can keep your legs down during your pulldowns and is great for split squats; a pair of iso arms can be ideal for explosive workouts; a belt squat offers variety on leg day, and a wall ball target can help for medicine ball throws.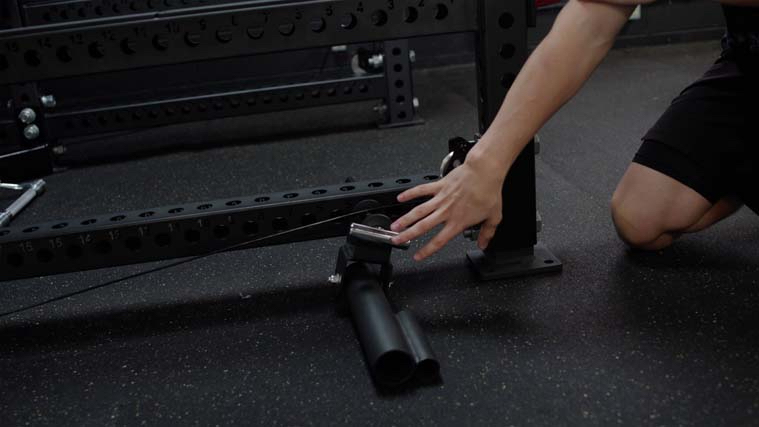 The utility horn can serve multiple purposes, acting as spotter arms and dip handles. The band pegs allow you to toss on some resistance bands to your bench press for added resistance when lifting. The lat pulldown is a cheaper alternative to the Ares attachment, although it's not as versatile since the only cable attached to it is in the middle of the cage. It also only comes with a lat pulldown bar and low-row bar, and requires weight plates for your resistance (rather than a stack).
Product Specs
The build of the PR-5000 will vary from person to person. The uprights are made from 11-gauge steel no matter what, so you'll have a max weight capacity of 1,000 pounds regardless of your configuration. You can set the height and depth to fit your needs, but the max height is 93 inches, and the max depth is 41 inches — we will dive a little deeper into these variations below.
Materials
REP Fitness used 11-gauge steel to forge the PR-5000, the same durable build you'll find in commercial gyms. A rack of this caliber will likely last you a lifetime, even with some bumps and bruises along the way. Even though you can bolt this rack in the ground if you want, we don't think you'll experience much wobble even without the bolts.
Dimensions
Thanks to the rack builder feature, you can customize the dimensions of this rack to meet your specific needs. You have two heights to choose from — 80 and 93 inches. You also have three different depths you can work with — 16, 30, and 41 inches. So if you don't want a rack with a cage, you can choose the 16-inch option to cut back on its footprint. Since our ceilings are about eight feet tall, we went with the 80" x 41" rack, and we feel it's spacious enough to accommodate all of our workout needs.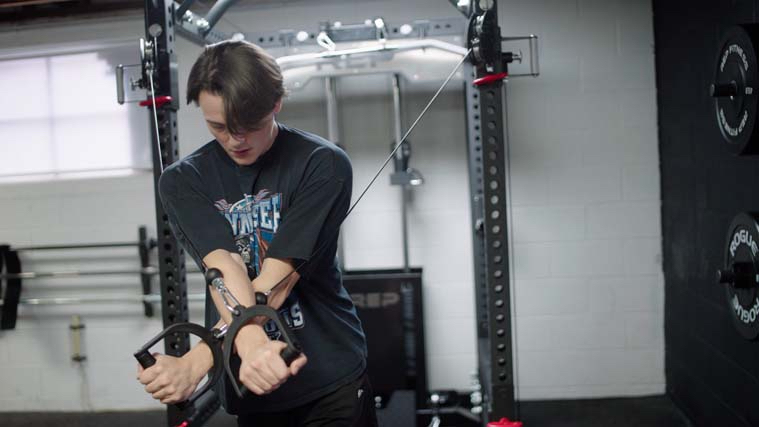 It's worth mentioning that if you plan on building around the Ares attachment, you can choose whether you want your rack to feature four or six uprights. This may be helpful for those who want to minimize the footprint of their rack.
Weight Capacity
The REP Fitness PR-5000 is rated to support up to 1,000 pounds of weight, including any weight plates you have stored on the storage horns (if you have them). So if you plan on attempting to set the new world record for squatting, you should store your plates elsewhere. But in general, this rack should be able to meet most athletes' needs, except those in the 99th percentile.
Warranties
REP Fitness offers a lifetime warranty on the frame of the rack and the structural welding of the attachments. However, they only include a one-year warranty on the pop-pins, pulleys, and cables.
Places to Buy
You can purchase the PR-5000 directly through the REP Fitness website.
Company Information
REP Fitness is quite popular for their at-home strength equipment. They offer a full refund on their products within 30 days (as long as they're still in usable condition). For more information on their operations, or if you want to talk to a customer service representative, you can email their support team at info@repfitness.com, or call 720-420-1731.
Final Word
The REP Fitness PR-5000 is completely customizable, making it one of the more versatile racks we have reviewed. If you're tight on space, you can go for the smallest configuration possible, or size up if you have the room. It's a true power rack, so you can rep out your squats and bench presses, but if you add on the Ares attachment, this rack can also act as a functional trainer with two cables.
Featuring 11-gauge steel uprights and a weight capacity of 1,000 pounds, this rack can accommodate athletes of nearly all fitness levels and will likely last a lifetime. The 13 attachments you can add also help to cover all of your lifting needs — from benching and squatting to cable exercises with the Ares attachment, you're able to target all of your muscle groups effectively. The price will vary depending on your attachment selections, but the durable build and versatile nature of this rack make it worth the (potentially intimidating) cost in our eyes.
FAQs
How much does the REP Fitness PR-5000 cost?
Due to the many possible configurations of the PR-5000, the final price tag varies. If you only want the basic rack with the cheapest "included" attachments, your price tag will be around $1,100. However, if you decide to add on the Ares, and all 13 attachments, you could spend over $6,000 before even thinking about white glove assembly.
What workouts can I do with the REP Fitness PR-5000?
Aside from benching, squatting, and repping some pull-ups, the workouts you can do with this rack will depend on your customized build. If you want to do cable exercises, like flyes and lateral raises, you can add on the Ares attachment. Or, if you like doing medicine ball throws, add the wall ball target. You can also add on a dip station, a landmine attachment for rotational barbell movements, and a leg roller for your split squats and even preacher curls.
Can I bolt the REP Fitness PR-5000 to the ground?
Yes, this rack can be bolted to the ground at the base of the uprights. However, this is not required, and we think the 11-gauge steel uprights make this rack stable enough to stand on its own without any issues.
What is the weight capacity of the REP Fitness PR-5000?
This rack can hold up to 1,000 pounds, which should satisfy the needs of most lifters, aside from those of the most elite class.