If you're looking for an indoor bike to add to your home gym, the NordicTrack Commercial S22i is definitely going to be one of the most modern bikes you'll find on the market. For those who aren't interested in added technology or coached cycling classes, there are cheaper options to choose from, but if you prefer your workouts coached and your features advanced, this bike will surely check most — if not all — of your boxes.
As with most NordicTrack equipment, you'll receive a free iFit membership for a full month with your purchase. That bonus alone allows you to take your workouts to the next level and utilize all the features on this machine — including its unique ability to replicate incline and decline. The price tag may be steep, but for those who love a studio vibe at home, it's worth it.
Main Takeaways
Your purchase comes with a free month of iFit, which transitions to a $39 per month membership once your first one is up. 

The 22" touchscreen display allows for an immersive studio-like experience from the comfort of your home.

You can adjust your incline up to 20 percent and your decline down to -10 percent.
NordicTrack Commercial S22i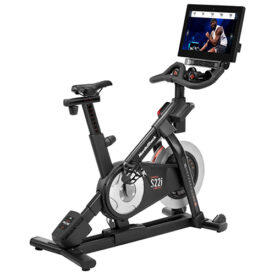 NordicTrack Commercial S22i
The NordicTrack Commercial S22i is high-tech and high quality, featuring both advancements like a 22" touchscreen display and a free year of iFit, and solid specs like 22 levels of quiet magnetic resistance.
NordicTrack Commercial S22i Bike Highlights​
Not everyone needs a NordicTrack Commercial S22i. It's high-tech, pricey and built for riders who love a coached session. If you find yourself not wanting to be bothered with technology, building your own workouts and just needing a little less fuss with your purchase overall, there are plenty of cheaper, less technology-based bikes out there. However, the price may be worth your while if you want a sleek bike that clearly competes with Peloton. Just make sure your priorities line up with what you find here.
Who Should Buy the NordicTrack Commercial S22i
Athletes who prefer to stream a workout class.
Bikers who like having a large touchscreen display to supplement their at-home workouts.
Customers who don't mind spending a little extra money for added technology.
Who Shouldn't Buy the NordicTrack Commercial S22i
Bikers who don't need to stream classes to get a good workout in.
Shoppers on a budget who are searching for a bike on the cheap.
Anyone who needs a low-profile piece of equipment for a small space.
Price​
This bike goes for $1,999, but it does come with a free month of iFit (a $39 value). The downside, however, is that after this free month is up, you will have to pay $39 per month to continue your membership. It's clear that this bike is a Peloton competitor, so if you're not sure Peloton is the brand for you, the NordicTrack S22i is certainly worth considering.
Overall Build and Quality​
When it comes to the NordicTrack Commercial S22i, you're definitely paying for its modern technology. It has a large touchscreen display, quiet magnetic resistance, a free iFit membership and both resistance and incline / decline options. It's a large build, so that's definitely something to consider if you are working with a small space, but there really aren't many downsides to this machine outside of its size. If it's technology and quality you're after, this is one of the best bikes on the market.
Features​
On this modernized piece of equipment, you'll find a 22" touchscreen display, solid stat tracking, a free month of iFit and Bluetooth connectivity. It's one of the most technologically advanced options though, so if that's not something you're interested in dishing out an extra buck for, this bike may not be for you. But if heart rate monitoring and class streaming is your favorite way to sweat, the NordicTrack Commercial S22i has you covered.
Stats Tracking and Metrics​
You can follow along with your incline and decline, calorie burn, heart rate, time, distance, pace and speed on the large display screen.
Display​
This bike features a 22" HD touchscreen display that creates an immersive studio feel for your iFit classes.
Included workouts​
There are no programmed workouts on this bike, but your purchase does come with a free one-month iFit membership, which gives you access to their library of over 16,000 live and on-demand classes.
Workout Apps, Compatibility​ and Subscription Options
This bike comes with a free month of iFit. iFit has a library full of live and on-demand cycling, running, rowing, strength and yoga classes. Some take place in a studio while others take you to destinations across the globe. As you take these classes, your incline and decline can automatically adjust for you following the instructor's directions. After your free month, a subscription costs $39 per month.
Ride Feel and Comfort
Similar to the feel of a road bike, this flywheel offers a solid, smooth ride due to its magnetic power.
Heart Rate Monitoring​
The NordicTrack Commercial S22i has wireless telemetry and grip sensors to track your heart rate throughout your ride.
Fans
This bike features a fan to keep you cool as you pedal through your workout.
Speakers
You'll find speakers included in this console to keep your iFit classes loud and clear no matter what's going on in your house around you.
Water Bottle, Cup Holders, Tablet and Phone Holders​
This bike has two water bottle holders but no accessory tray, so you'll have to stow your phone and keys elsewhere while you bike.
Bluetooth and Audio Options​
This bike features Bluetooth connectivity to sync both headphones and heart rate monitors for use throughout your sweat session.
HDMI, USB and Other Inputs​
You won't find any USB ports on this bike — but there's really no use for them when you have everything you need for streaming in your console.
Product Specs​
Not only does this bike have 22 levels of resistance, but it also has an electric movement feature that creates incline and decline. It comes with standard toe cages, but these can be swapped for clip-ins if you prefer. It's easily adjustable to all heights and has a quiet magnetic flywheel, making it a great option for home use.
Bike Type
This is an upright bike, which does not provide as much lower back support as a recumbent bike does.
Resistance
There are 22 levels of resistance within the NordicTrack's Commercial S22i's console, but what's unique about this bike is that it also features electric movement to create incline and decline that ranges from -10 to 20 percent.
Pedals
These pedals come with standard cages, but you can easily switch them out for a different pedal that would be compatible with your clips-ins if you prefer them to running shoes.
Seat and Handlebars
Both the seat and the handlebars are adjustable vertically and horizontally to accommodate all heights.
Dimensions
This bike measures 55″x 21.9″x 54.8″, which is a little bigger than normal for indoor bikes. If you have a small space, you can definitely find more compact options out there.
Weight Capacity​
The weight capacity is 350 pounds, which is above average for most indoor bikes.
Portability
You can easily move this bike around your gym space or house using its front wheels — just make sure you're wheeling it on a firm surface.
Electrical Requirements
You can utilize any average household plug to power this machine.
Warranties​
With your purchase, you'll get a lifetime warranty on the frame, three years on parts and one year on labor.
Noise
The NordicTrack Commercial S22i uses a quiet magnetic, inertia-enhanced flywheel system to create resistance, so you don't have to worry about making a lot of noise during your late night or early morning sessions — this is one of the quietest options on the market.
Places to Buy
You can buy this bike through NordicTrack.
Company Information​
NordicTrack has recently started to highlight their fitness class subscription, iFit, which features over 16,000 virtual live and on-demand classes. The company produces bikes, rowers, treadmills, ellipticals and strength equipment, all compatible with the service. Your purchase comes with a 30-day trial period, and if you aren't satisfied after a month, you can receive a full refund. For additional information, you can call their customer service line at 1-888-308-9616.
FAQs
Is buying the NordicTrack Commercial S22i worth it?
This is one of the most advanced bikes on the market because of it's touchscreen display, virtual classes, stat tracking, and incline and decline options. If this technology is something you're interested in, it's definitely worth the money.
Is it easy to move the NordicTrack Commercial S22i around?
If you have a firm hardwood floor, tile, concrete or hard carpet, the front wheels on this bike make portability super easy. The wheels are definitely more difficult to use on softer surfaces though, so just beware of that if you're trying to maneuver on grass or a plush carpet.
Is NordicTrack Commercial S22i comparable to Peloton?
Yes, absolutely. This bike is certainly a direct competitor. From classes to tech, the S22i is a good option for those who want a different interactive bike. In fact, because of its incline and decline settings, this bike might be a little more advanced than Peloton's equipment.