We receive free products and receive commissions through our links. See
disclosures page
.
The appeal of a home gym has grown exponentially in the past few decades, but it can be tough to fit all of the necessary equipment in one room. Companies like Speediance are looking to eliminate that problem through smart gyms. These technologically advanced pieces of equipment offer a wide array of workouts at your disposal and only require a minimal amount of space. From full body strength training to stretching and yoga, Speediance offers hundreds of workouts — and that list is growing even as you read this.
Unlike some of its competition, Speediance does not offer personal training, but they do provide guided videos for each exercise, and the Bluetooth accessories track your reps, so you can keep up with your total volume lifted over time. Thanks to its foldable platform, Speediance has a compact design that makes storage easy, but this machine can still pack a punch with up to 220 pounds of resistance. If you're looking to add a functional trainer to your home but don't have enough space for the real deal, Speediance may be the smart gym for you.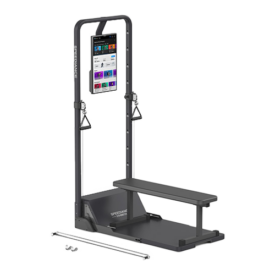 This smart gym features a pair of cables, and a foldable platform to perform your workouts. The small footprint makes it an ideal solution for those who are tight on space, but still want to get a solid workout in. 
Main Takeaways
Speediance has a foldable platform, so you can make the most of your available space and store it in the corner of a room.
Aside from assembling the weight bench and optional rowing bench, no assembly is required — just unbox your equipment, and you're good to go.
Speediance uses electromagnetic weight resistance in the form of two cable pulleys that offer a max resistance of 220 pounds.
Speediance Home Gym Video Review
Our Reviews Writer, Jake, tested the Speediance Home Gym for himself. In his in-depth video review, he walks you through the features, pros and cons, training options, and more.
Speediance Home Gym Highlights
Price: $2,700 for the most basic package
Weight: 85kg (about 190 pounds)
Materials: 304 steel frame, glass display
Dimensions: Six feet tall, 2.5 feet wide, and 1.1 feet long when folded (four feet long when unfolded)
There is plenty to like about the Speediance Home Gym, but the compact design really takes the cake here. The ability to fold the platform and roll it into the corner of a room is perfect for those who are tight on space; plus, it only weighs 190 pounds, so it's not too difficult to maneuver.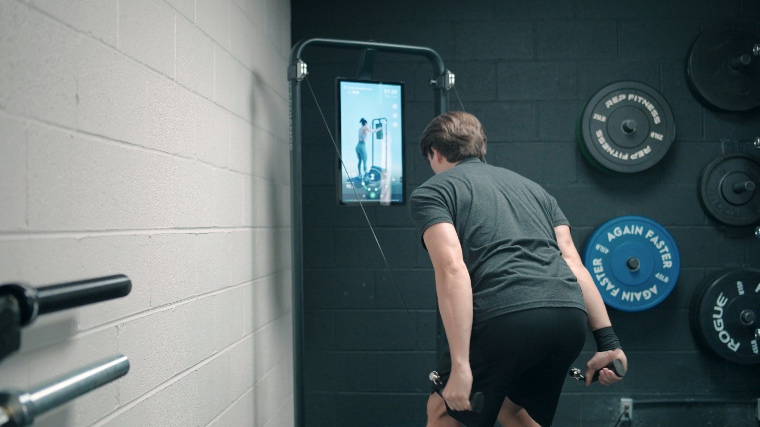 The 304 steel framework provides a stout feel, but you must always be careful with a glass touchscreen monitor. This is especially true here, we've actually had our barbell smack the display a few times when racking it, so you run the risk of cracking it. While you could spend nearly $4,000 on the most expensive package, the $2,700 price tag for the most basic option is a really solid value in our eyes.
Pros
The compact design is perfect for those who are tight on space.
The guided workouts are helpful for anyone new to fitness.
You can access a limited number of workouts without paying a monthly subscription fee.
Cons
With a price tag that ranges from $2,700 to $3,700, Speediance might not be within everyone's budget.
While 220 pounds of resistance is a pretty solid number, that might not be enough for more experienced athletes.
The catalog of workouts is less expensive than some other smart gyms.
Training With the Speediance Home Gym
We have been pretty pleased with Speediance during our time with it. The attachments feel durable in our hands; the unboxing process was extremely easy and required minimal assembly, but the most important thing here was that the cables felt smooth as we were working out — and it didn't hurt that the workouts were easy to follow along to, as well.
Classes
We love that there are hundreds of workouts for you to choose from at any moment of the day, but as of now, there are no live classes to join. Don't let that overshadow the fact that there are still many options available for you to improve your fitness. Whether that be HIIT workouts, bodyweight workouts, monthly programs, or even yoga classes, Speediance offers a ton of variety.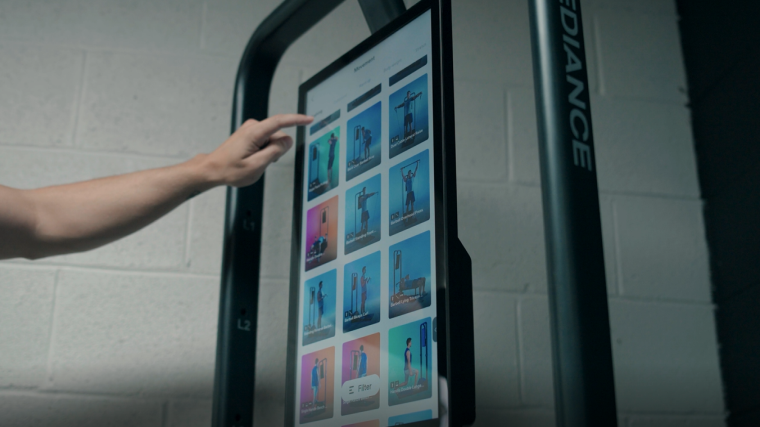 There are strength-specific workouts, such as those to hit your back muscles, shaping workouts that focus on high-volume, and even sport-specific workouts, such as CrossFit and golf. You can filter the workouts based on what muscles you want to focus on, such as your triceps or shoulders, and if you head to the 'Explore' tab, you'll find workouts broken down by experience level. More workouts are being added daily, so you're unlikely to run out of options.
Companion App
While the companion app may not be as immersive as some other companies' companion apps, it's still pretty helpful. You can browse all available workouts and save them for when you're ready to work out, create your own custom programs with your favorite exercises, and even track all of your past activity.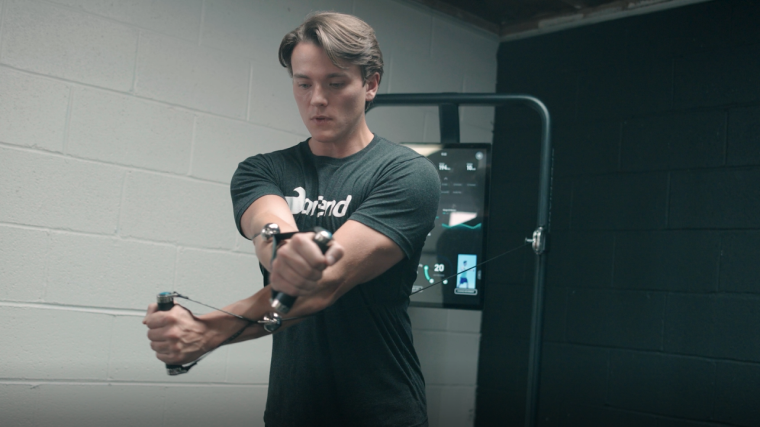 When browsing the available workouts, you'll notice that it provides a rundown of the muscles you'll work and how to perform the exercise properly. It was a bit surprising to us, though, that you can't stream any classes from your phone where you don't need the full gym (like a stretching class).
Delivery and Assembly
Upon delivery, you'll be happy to find just how easy it is to set up all of your gear. The actual Speediance itself does not require any assembly — you will have to assemble the weight bench and rowing bench, though. The weight bench just took a few minutes as you only have to attach the legs to the padding, but the rowing bench may take you around 30 minutes or so to assemble.
Bluetooth and Audio
Aside from the smart accessories, Speediance does not offer any Bluetooth capabilities for your phone or heart rate monitor. You have two 10-watt speakers located on the back of the frame, and each class plays music for you to listen to while lifting. Something worth mentioning is that the voice in the classes sounds a bit robotic. This isn't going to impact your actual workout negatively, but it's something worth noting.
Accessories
The Speediance accessories are crucial to your experience. The "Works" package includes a pair of smart handles, a clamp that attaches to the adjustable barbell to turn the digital weight on or off, a pad that fits onto your barbell, a rope attachment, two ski handle attachments, a weight bench, and two hooks to store your barbell.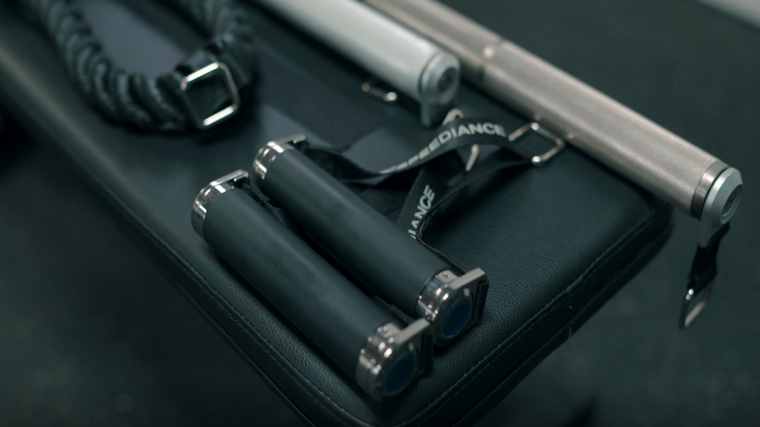 The "Family" package will toss in a rowing bench, a yoga mat, and an adjustable weight bench, which is pretty unique. The rowing bench isn't as impressive as a dedicated rower like the Hydrow Wave, but we've been impressed with all of the attachments. The nylon rope is pretty standard, but the barbell offers a grippy texture, the D handles are firm, and the ski handles offer versatility, as you can use them for exercises like overhead tricep extensions.
What to Consider Before Buying the Speediance Home Gym
There are plenty of things to consider when adding workout equipment to your personal space, and that's no different with a smart gym like Speediance. You always need to work within your budget and factor in the membership fee, but you must also ensure you have enough space for the equipment to go. Let's dig into some of these factors below.
Price
Pricing is pretty straightforward with Speediance, and there are six different packages available. The "Works" package is the cheapest, costing you around $2,700. This consists of the smart accessories, an adjustable barbell, a standard nylon rope attachment, two ankle cuff attachments, two ski handle attachments for ski erg workouts, a clamp that can also be used to turn the weight on or off, a pad for your barbell, and a weight bench.
The "Works Plus" package will cost you around $2,900 and consists of the same attachments, but you'll receive an adjustable weight bench instead of a flat one. The "Family" package is about $3,000 and also consists of all of the aforementioned attachments, but you'll receive an additional yoga mat and rowing bench, so you can participate in the various rowing workouts.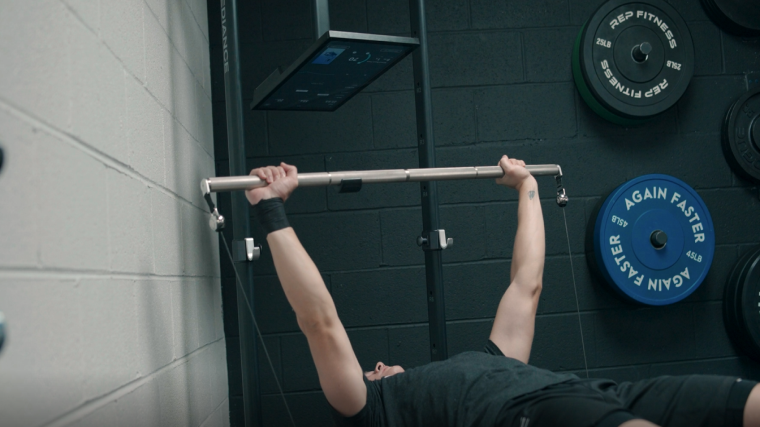 The "Works Plus Max" and "Family Plus Max" will cost you around $3,400 and $3,700, respectively, and the main difference here is that your Speediance will feature a 32-inch display rather than the standard 21.5-inch. While a larger screen may attract some athletes, you cannot tilt it like you can with the smaller version. The tilting feature is pretty useful in our eyes since you can track your reps and receive feedback without racking the bar and turning your head around.
Shipping is not free and will add about $225 to your total. We realize this is a pretty penny, but since this machine acts as a functional trainer, and you can hit every muscle group on your body, we think the price is justified for anyone who is tight on space and doesn't need more than 220 pounds of resistance. You can also expect to pay $29 monthly for the workout class subscription — but Speediance can also be used without a membership. The cool thing is that you can have up to five profiles under one account, so you can split the cost five ways if necessary. Speediance also offers the ability to finance your purchase through Klarna or PayLater.
Dimensions
One of the purposes of smart gyms like Speediance is to be an option for anyone who is tight on available space in their home. The folding platform is one of the most unique features we've seen, as it drastically cuts down on the space it occupies. The frame is about six feet tall, 2.5 feet wide, and four feet long when the platform is unfolded. However, when you fold it up, you'll notice the length is only slightly over a foot.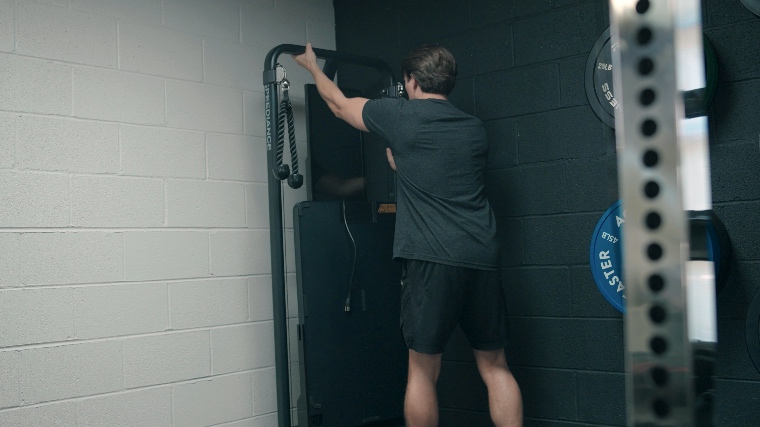 This may be the biggest selling point for some people since you don't have to keep it in one spot. You can simply fold it up after you're done lifting and move it out of the way to store it. When working out, we recommend giving yourself around 10 square feet of space.
Subscription
You can expect to spend $29 monthly for a membership to Speediance. This membership is crucial since it will give you access to the available workouts. The cool thing is that Speediance will allow you to add four additional profiles to your account, so you can split the cost up five ways, if you choose.
Speediance Home Gym Vs. The Competition
Like with any purchase, it never hurts to check out the rest of the market and weigh your options. In this instance, we'll compare Speediance to some popular smart gyms to see how it stacks up.
| | | | | |
| --- | --- | --- | --- | --- |
| | Speediance | Tonal | Tempo Studio | NordicTrack Vault |
| Price | $2,700 | $3,995 | $2,500 | $1,500 |
| Resistance Type | Electromagnetic | Electromagnetic | Free Weights | Free Weights |
| Membership Fee | $29/month (optional) | $60/month | $40/month | $40/month |
| Dimensions | 72" H x 27.6" W x 14" D | 50.9" H x 21.5" W x 5.25" D | 72" H x 26" W x 16" D | 72" H x 24" W x 14" D |
| Warranty | Two years on the gym itself, one-year on accessories | Three years | Three years on the frame, dumbbells, and barbell. One year for the display, bench, squat rack, weight plate holder, kettlebell, and heart rate monitor | 10 years for the frame, two years for parts, and one year for labor |
As you can see, the only smart gym that is similar to Speediance is Tonal, but Tonal is about $1,300 more expensive. Plus, the membership fee is twice the price, and unlike Speediance, you have to sign up for a membership. So if you're not wanting to purchase a bunch of free weights and are interested in electromagnetic resistance, Speediance is likely your best bet.
However, you eventually might max out the resistance with products like Tonal and Speediance, which is where products with free weights come into play — like Tempo and the NordicTrack Vault. The starter weights aren't very heavy for these products, but you always have the option to add more to match your strength requirements. Free weights also feel more natural for some athletes, so if that's your jam, we suggest sticking with what you know best.
If money is your driving factor, the NordicTrack Vault is going to be the best fit since it's by far the cheapest one on this chart. Thankfully, all of these smart gyms are compact and will work for most people who are tight on space. Regardless of your situation, we think focusing on these few factors will allow you to land on the best smart gym for you specifically.
Places to Buy
You can purchase the Speediance Home Gym directly through the Speediance website.
Warranties
Speediance offers a two-year warranty on the actual gym, and a one-year warranty on all of the accessories. This warranty will start the day you purchase your Speediance, but it does not cover any improper usage, or normal wear and tear.
Company Information
Speediance's goal is to make the world an energetic place by providing users with a safe, scientific, and reliable fitness lifestyle. To speak to someone on their support team, you can email them at [email protected].
In Conclusion
Working out from the comfort of your home is quite convenient, but space can sometimes be an issue. Speediance offers a great way to eliminate that problem with its innovative design. The platform you'll be conducting all of your workouts on folds into the framework, drastically reducing the footprint. Once you unbox your Speediance, just plug it into the wall, and you're ready to start lifting with the hundreds of available workouts.
The companion app is a great place to track your workout history and progress, create your own programs, and save workouts for the next time you're ready to chase a pump. The slew of available strength training workouts are a great way to gain muscle, but those with elite strength may need to stick to the traditional free weights (like dumbbells and weighted plates) since the max resistance here is 220 pounds. Speediance is a very easy product to use, and it only requires about 10 square feet of space to work out — plus, it has wheels, so you can move it out of the way when necessary. While this definitely is not a cheap piece of equipment, we think the compact design and the virtual classes make it well worth the money.
FAQs
How much does the Speediance Home Gym cost?
The final price tag depends on which package you purchase. The "Works" package will run you around $2,700, while the "Family Plus Max" package is about $3,700. On top of that, the membership fee is about $30 a month. While it certainly isn't cheap, Speediance could serve as the only necessary gym equipment for many users.
Do you need WiFi to work out with Speediance?
Yes, in order to browse the available classes on your Speediance, you will need to be connected to WiFi. However, you do have the option to save workouts and play them without an Internet connection.
What athlete is Speediance designed for?
The beauty of Speediance is that it's not tailored to one specific fitness level. Whether you're a newbie or a seasoned vet, you can obtain a solid workout with this smart gym. However, those of elite strength may not be able to push their muscles to the limit since the max weight resistance is 220 pounds.