Collagen is the most abundant type of protein found in mammals, found in skin, organs, bones, cartilage and other tissues (1). Research does suggest that collagen plays a role in skin health; as we age, our body naturally creates less collagen, leading to wrinkles and sagging skin (2). Additionally, some studies suggest that collagen may be beneficial toward relieving joint pain or for treating arthritis, though more research is needed (3).
In recent years, there's been a spate of collagen supplements hitting the market. Often referred to as collagen peptides, these are supplements that can be taken orally in the form of collagen hydrolysate. Collagen is often sourced from bovine or other animals, and produced in a variety of ways, including powders, liquid, and even chewables. As a result, this supplement may not be suitable for folks following vegetarian or vegan diets. Some research has shown that collagen peptides may help reduce wrinkles and dryness in skin (4). With so many collagen supplements available on the market, it's important to know how to distinguish between all the options out there.
Editors' Choice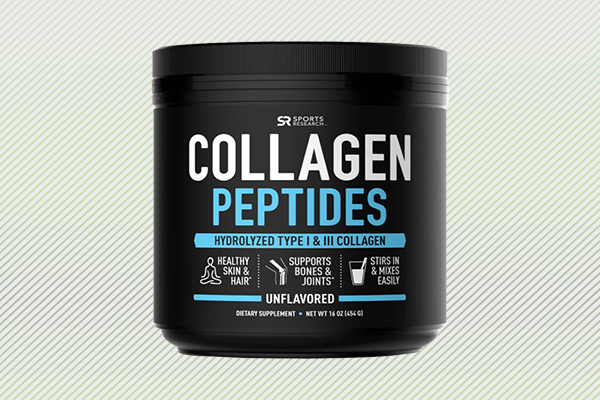 Sports Research Collagen Peptides Powder
Pros:
Each serving of Sports Research Collagen Peptides Powder contains 11g of collagen. With 41 servings per container, this is a very competitively priced item.

This tasteless powder can be mixed into room temperature or warm beverages, mixed in with food, or even used in baking.

The only ingredient in this supplement is hydrolyzed bovine collagen sourced from grass-fed, pasture raised beef.

Sports Research includes a 90 Day Satisfaction Guarantee, allowing you to return this for a full refund if you're not happy with the product.
Cons:
Though it goes well with hot or room temperature beverages, this powder does not mix well with cold water, instead clumping up in a less than ideal manner.
Contender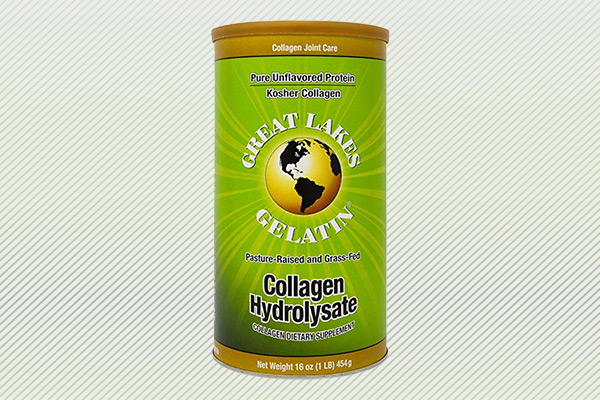 Great Lakes Gelatin Collagen Hydrolysate
Pros:
Great Lakes' powder is 100% collagen hydrolysate derived from grass fed and pastured raised bovine.

This product is Kosher as well as being Keto and Paleo friendly. 

Each serving contains 12g of collagen. 

Since there's no taste, you can mix this powder with a variety of beverages or foods.
Cons:
Each serving is 2 scoops, which may be a bit of an inconvenience for folks who are pressed for time.
Best For Digestion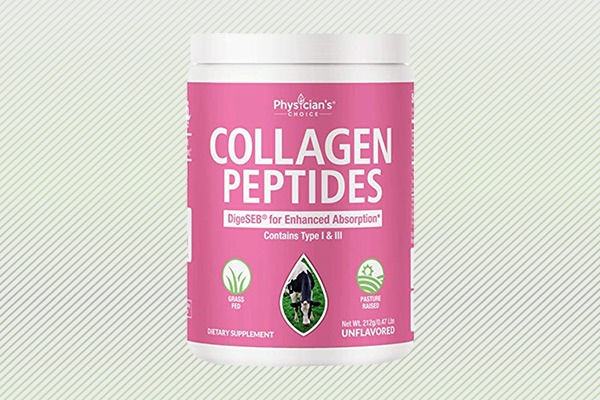 Physician's Choice Collagen Peptides Power
Pros:
Physician's Choice uses a proprietary digestive enzyme blend that they claim helps with digestion and to ensure that your body is able to absorb a great percentage of collagen.

Their collagen is sourced from grass-fed, pasture raised, hormone and antibiotic-free bovine from South America.

Though there's no third party research to back this up, Physician's Choice claims their collagen peptides powder can improve post-workout recovery. 

This is a very soluble powder, capable of being mixed with many things, including cold water.
Cons:
In terms of cost per serving, this collagen peptides powder checks in on the higher end of some of the options we checked out.
Most Collagen Per Serving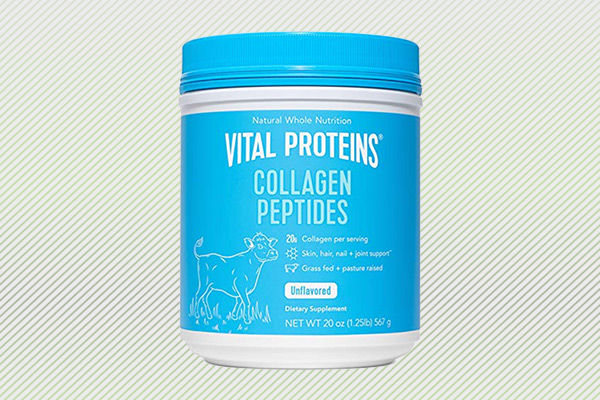 Vital Proteins Hydrolyzed Collagen Powder
Pros:
There's only one ingredient in this collagen powder, and it is collagen hydrolysate derived from grass-fed and pasture-raised bovine. 

Capable of being mixed into hot or cold liquids, which may be convenient for folks who like to bolt down their supplements as quickly as possible. 

At 20g of collagen per serving, this is one of the higher suggested serving amounts on the market. 

This powder is flavorless and odorless, making it an easy addition to any number of foods. 
Cons:
On a per suggested serving basis, this is one of the pricier collagen supplements we looked at. 

Each serving calls for two scoops. Depending on your supplement routine, that extra bit of work could be a bit of an inconvenience.
Best Value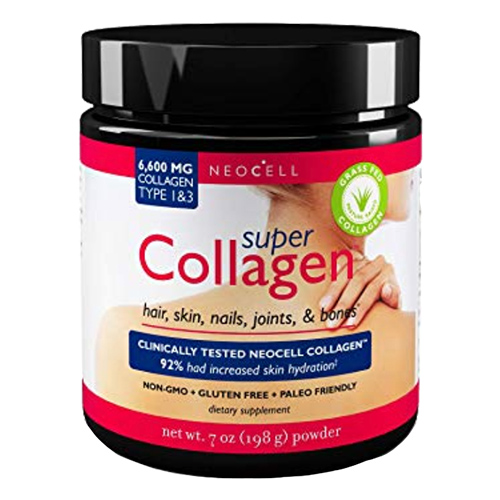 NeoCell Super Collagen Powder
Pros:
This is one of the most competitively priced collagen powders on the market. 

NeoCell uses a proprietary hydrolyzation process where they break down large collagen molecules into small peptides, which they claim makes the supplement more bioavailable. 

They claim to have clinically tested their collagen to ensure that it increases skin hydration.

This bovine collagen is paleo-friendly, grass-fed and GMO-free.
Cons:
At 6600mg per serving, this is among the lowest amount of collagen per serving of the supplements we compared.
Methodology
Some evidence exists to suggest that collagen peptide supplements may be a convenient and effective way to improve your skin and joint health. As the popularity of this natural supplement has increased in recent years, more and more manufacturers are producing their own collagen peptide powders. In order to determine which one is the best option for you, it's important to distinguish between a few key factors.
Extra Ingredients
As with any supplement, you'll want to check out the ingredients list to insure you know what you're putting in your body. You may want to steer clear of any artificial flavorings or extraneous additives.
Collagen Source
Many collagen peptide supplements are sourced from bovine. If you're following a vegetarian or vegan diet, these may not be ideal for you.
Collagen per serving
Different brands offer different levels of collagen per their suggested serving size. Some companies claim to have unique formulations that increase the level of bioavailability in their collagen.
Price
To figure out the cost per serving, divide the total cost of the supplement by the amount of servings listed. This will give you an idea of the value you're getting.
How's it mix?
Not all collagen peptide powders have the same solubility. Some will work better in warm liquids, while others break down just fine in cold liquids.
BarBend Tips
When looking at collagen peptides, consider how you intend to work them into your daily routine. If you're looking at a supplement that can only be mixed into hot liquids, but you start every morning with a cold brew, that may not be a great fit.

Whenever you're shopping for supplements, take a peak at the ingredients label to make sure there's no surprise additives you didn't know about.
Some research suggests that collagen peptides may be an effective means of combatting signs of aging and strengthening your joints. If you're looking to check out a collagen peptides supplement, make sure you consider the variables between different options.
References
Ricard-Blum S. The collagen family. Cold Spring Harbor perspectives in biology. 2011;3(1):a004978.
Asserin J, Lati E, Shioya T, Prawitt J. The effect of oral collagen peptide supplementation on skin moisture and the dermal collagen network: evidence from an ex vivo model and randomized, placebo-controlled clinical trials. Journal of cosmetic dermatology. 2015;14(4):291-301.
Bello AE, Oesser S. Collagen hydrolysate for the treatment of osteoarthritis and other joint disorders: a review of the literature. Current medical research and opinion. 2006;22(11):2221-2232.
Proksch E, Segger D, Degwert J, Schunck M, Zague V, Oesser S. Oral supplementation of specific collagen peptides has beneficial effects on human skin physiology: a double-blind, placebo-controlled study. Skin pharmacology and physiology. 2014;27(1):47-55.
‌