We receive free products and receive commissions through our links. See
disclosures page
.
While cold plunging has been around for hundreds of years, its popularity has grown in recent years, leading to a host of cold plunge tubs flooding the market. They come in various shapes and sizes, but one of our favorite cold plunges — and our top choice for small spaces — is the Redwood Outdoors Alaskan Cold Plunge. This barrel-shaped plunge consists of a Scandinavian Thermowood exterior with a plastic interior for insulation. The built-in seat allows you to relax while plunging, and the included steps make it easy to get in and out.
While the $2,000 price tag may be steep for some, this is about average for this type of cold plunge. Plus, there isn't any installation involved. Just unbox it, fill it with water and ice, and you're all set. If you're looking for a long-lasting, aesthetically pleasing, and easy-to-use cold plunge to add to your recovery routine, you may have found your match. Now, let's hop into this review.
Redwood Alaskan Cold Plunge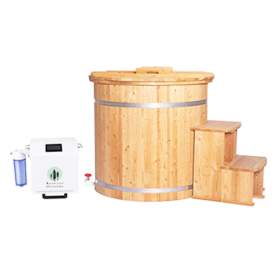 Redwood Alaskan Cold Plunge
This cold plunge is a great option for people who want a kit that has everything you need to start plunging. The chiller can drop the water to 37 degrees Fahrenheit and uses a standard outlet plug so you don't need special wiring. You can even control the settings from your phone and pre-cool your water.
Main Takeaways
The lack of electrical requirements with the Alaskan Cold Plunge is ideal for those who want the option of moving their plunging station around.
The built-in seat allows you to sit comfortably during your plunging sessions.
The compact design (40" H, 37" W) of the Alaskan Cold Plunge is perfect for those tight on space.
Redwood Outdoors Alaskan Cold Plunge Video Review
Our Reviews Writer, Jake, hops in the Alaskan Cold Plunge during his detailed video review. Follow along as he breaks down everything there is to know about this icy plunge, from the price to his pros and cons.
Redwood Outdoors Alaskan Cold Plunge Highlights
Price: $2,000
Temperature Control: Water and Ice
Materials: Scandinavian Thermowood exterior, plastic interior
Dimensions: 40" H, 37" W
The $2,000 price tag may not be in everyone's wheelhouse. You could argue that you can get the same effect with a trash can or a basic trough, but those won't be insulated like the Alaskan Cold Plunge is. While this is the average price for a dedicated cold plunge of this stature, it still may not be the best option money-wise for those who aren't going to use it more than once a week. And remember, you'll have to purchase multiple bags of ice for each individual plunge session, so you'll want to up your recycling game with the plastic bags the ice comes in — unless you're willing to shell out an extra $2,700 or so for a chiller to manage that for you.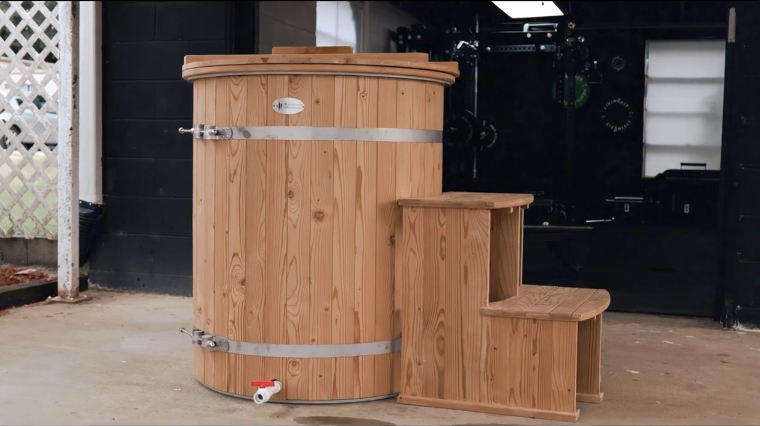 However, during the winter months, you likely won't need to put too much effort into controlling the temperature due to it being cold outside — unless you live in a tropical region where the weather stays warm. So, if you live in an area that gets really cold during the winter, this cold plunge may be perfect for you.
The Scandinavian Thermowood exterior is free from harsh chemicals and adds a sleek aesthetic that makes you feel like you're in the good old outdoors. However, unless you stain the wood, it will turn gray from sitting outside. The plastic interior provides insulation, and it's easy to clean — all you need to do is scrub it with soap and water. It may not save you as much space as a plunge that can deflate, but as far as stationary cold plunges go, this is a pretty compact option (it's shaped like a barrel, but a bit bigger), making it a solid choice for those cramped on available space.
Pros
The lack of electrical requirements is ideal for those worried about spiking their electrical bills.
There isn't any installation required; just unbox the plunge, and you're all set.
The built-in seat allows you to sit comfortably and relax while plunging.
Cons
Water temperature is affected by the outdoor temperature, and during the summer, it requires more ice than it will during the colder months.
$2,000 may be too expensive for some folks.
Having to buy ice every time you plunge could get real old, real fast.
Using The Redwood Outdoors Alaskan Cold Plunge
There has been plenty to like about the Alaskan Cold Plunge during our time with it. First, no installation is required — simply remove it from the wooden box, toss in a hose to fill it with water, add your ice, and plunge away.
Since you must manually control the temperature, be prepared for a challenge during the summer months. For example, when it's blistering hot outside, you can expect to purchase at least 60 to 70 pounds of ice to get the water temperature under 50 degrees Fahrenheit. The Thermowood exterior is durable and will look pretty sweet on your back patio, and the compact design means you shouldn't have to make special accommodations to house it.
Installation
Let's be honest: not everyone wants to take the time to assemble a product — especially a cold plunge — so Redwood Outdoors takes care of that for you. When you receive your Alaskan Cold Plunge, just pull it out of the box, and you're ready to fill it with water and ice.
Temperature Control
Remember, you are directly responsible for controlling the temperature of each individual cold plunge session by adding ice to your water. While this will likely be pretty easy during winter, this can be extremely difficult during summer.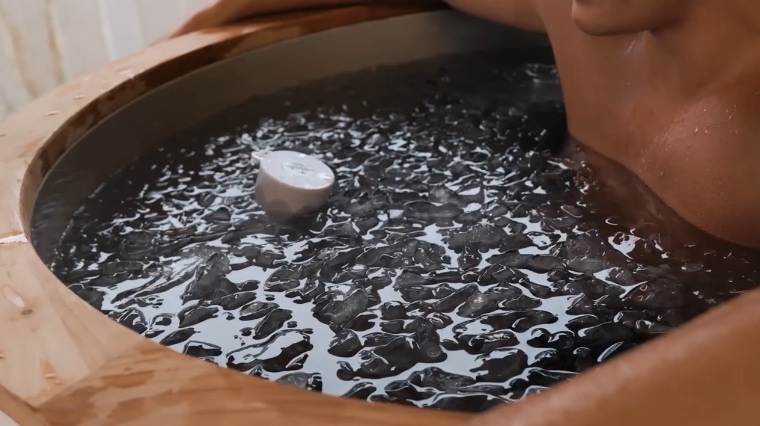 During one test day, we had to purchase 100 pounds of ice to replace the ice that melted. Another thing here is that the tub cover is not included in your purchase. While it's an additional $100, it's a good investment in keeping your tub cool.
Water Sanitation
The base version doesn't include a filtration system, but you do have the option of purchasing one of two water maintenance kits.
The SpaGuard Water Balancing Kit comes with an 18oz SpaGuard® pH Decreaser, a two-pound bottle of SpaGuard® Total Alkalinity Increaser, a 12oz bottle of SpaGuard® Calcium Hardness Increaser, and some AquaChek Test Strips. This $100 bundle consists of the three most important and commonly used water balancers, and it's recommended for those who purchase the optional chilling unit (especially the heating option) to avoid surface corrosion and damage to your equipment.
The SpaGuard Bromine Cleaning Kit consists of a 4.5-pound SpaGuard® Brominating Tablets, a six-pound bottle of SpaGuard® Enhanced Shock, some AquaChek Bromine Test Strips, and a five-inch floating bromine tab dispenser. This $250 bundle is also great for those with the deluxe chilling and heating unit, and bromine is a gentler alternative to chlorine. Simply add the bromine tablets to the floating dispenser (one tablet per 100 gallons of water), and use the shock once a week to remove any unwanted odors from your water.
While these kits can prevent you from having to drain your water after each use, we still recommend you change your water at least once a month to avoid bacterial buildup.
Materials
Once again, the Redwood Outdoors Alaskan Cold Plunge features a plastic interior and a Thermowood exterior. While the wood offers a top-notch aesthetic, you'll want to stain it to prevent it from turning gray. That said, it's not going to impact your plunging negatively.
Dimensions
This plunge is pretty compact, measuring 40 inches tall and 37 inches wide, but you'll have to take the 21-inch wide steps into account when finding the sweet spot for it to go. Regardless, this is a solid option for anyone tight on space. The interior dimensions are spacious enough for one person, but since the opening is only 31.5 inches wide, it's too tight for two people to fit.
What to Consider Before Buying The Redwood Outdoors Alaskan Cold Plunge
Similar to looking for some new dumbbells or a power rack, there are some factors you need to consider before you buy this cold plunge. Some things may not apply to you, but we always suggest working within your budget, as this is still an expensive purchase. You also need to consider if you're willing to put in the necessary effort to control the water temperature and whether or not the dimensions work for your current situation.
Price
Including shipping, the Redwood Outdoors Alaskan Cold Plunge has a base price tag of about $2,400. However, there are some variables that determine the final price tag increase. First are the $100 lid — which we suggest adding on to increase the chances of keeping the water temperature down — and the floating thermometer, which is about $30.
While it'll increase the price tag by about $2,700, the chiller might be worth it for those who want their water to always be icy for them. Plus, it might save you some cash in the long run compared to buying ice multiple times weekly. Now, if you want to take it up a notch, you can purchase the deluxe chiller and heater for about $3,700 to get your hot tubbin' on. So, while you could spend over $6,000 by going all in, the $2,400 price tag for the basic version is a pretty solid deal compared to similar plunges.
Temperature Control
Controlling the temperature for each single plunge session can be a bit of a chore without the chiller on the side of the tub. Plus, buying bags of ice a few times a week costs a lot of money. So, if you don't want to spend all that time, you might be better off snagging the chiller or chiller/heater combo to take care of that.
Dimensions
There might not be anything worse than buying a new product and realizing it won't fit in your available space.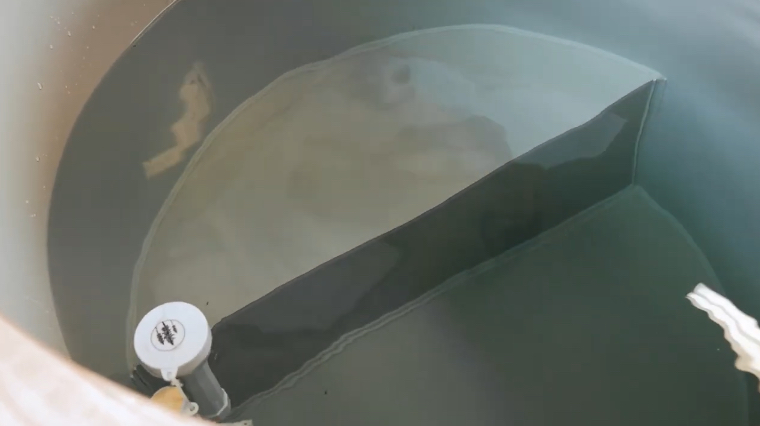 While the Alaskan Cold Plunge is our favorite for small spaces, that doesn't guarantee it'll fit everywhere. So be sure to map out where you want to house it and double-check that you can accommodate the footprint. While the height won't make a difference, the width, including the steps, is just under five feet — so keep that in mind.
Alaskan Cold Plunge Vs. Competitor Cold Plunges
We love pitting home gym essentials head to head, so why not do the same with a cold plunge? Below is a chart comparing the Alaskan Cold Plunge to some other popular plunges on the market.
| | | | | |
| --- | --- | --- | --- | --- |
| | Redwood Outdoors Alaskan Cold Plunge Tub | Ice Barrel 400 | Inergize Cold Plunge Tub | The Plunge Cold Plunge |
| Price | $2,000 (potentially over $6,000) | $1,200 | $4,990 | $5,000 |
| Temperature Control | Ice (optional chiller upgrade) | Ice | Chiller | Chiller |
| Dimensions | 40.5" H x 37" W | 42" H x 31" W | 51" L x 28" W x 30" H | 67" L x 43" W x 24" H |
| Materials | Scandinavian Thermowood | Plastic | Drop-stitch Polyester | Acrylic |
As you can see, these cold plunges are pretty different across the board. If you're strapped for
As you can see, these cold plunges are pretty different across the board. If you're strapped for cash and want the best possible deal, you might want to go after the Ice Barrel since it's only $1,200.
However, the thin plastic might not be the best in terms of insulation, which is where the Alaskan Cold Plunge comes into effect. It has a thicker lining, and the wood helps with insulation, so it's almost double-insulated, and the base price isn't much more expensive.
Now if you're really tight on space, then the inflatable Inergize Cold Plunge Tub might be calling your name. While it's about $5,000, the ability to deflate it and stash it in the included duffle bag may be a game-changer for those who need it. Plus, it means you can take it on a road trip if you want. One of the most popular cold plunges on the market is The Plunge Cold Plunge. It features a durable acrylic build, and the price tag is cheaper than the Alaskan Cold Plunge if you opt for the chiller. So, it's your best bet if you're looking for the most luxurious plunge on this list.
You can't go wrong with any of the plunges on this chart. Just do your homework and align your wants with your budget, and we're confident you'll land on the best fit for you specifically.
Warranties
Redwood Outdoors includes a one-year limited warranty on the Alaskan Cold Plunge.
Places to Buy
You can purchase the Alaskan Cold Plunge directly through the Redwood Outdoors website.
Company Information
Redwood Outdoors offers various saunas, cold plunges, and hot tubs. In addition to their one-year warranty, they offer a 30-day money-back guarantee on all of their products and financing options through Affirm. To speak to a team member, you can call them at 1-800-567-8036 or fill out a form on their Contact page, and someone will email you.
In Conclusion
The Redwood Outdoors Alaskan Cold Plunge made our short list of the best cold plunges for many reasons, its compact size being a standout. While you need to accommodate the steps' width, the actual tub itself is only a little over three feet wide. The Thermowood exterior is free from harsh chemicals and provides a rugged look, but it also reinforces the insulation that the plastic interior provides. We also love the built-in seat, which allows us to sit comfortably while we plunge. Controlling the temperature may be a bit difficult at times, and it will still cost you at least $2,000, but we think this is a great option for those looking for a dedicated cold plunge but are limited in space.
FAQs
How much does the Redwood Outdoors Alaskan Cold Plunge Cost?
This cold plunge has a base price tag of about $2,000, but the optional add-ons could bump your total to over $6,000. While this is still pretty pricey, these prices are also pretty average compared to the rest of the market.
What benefits can I expect from the Redwood Outdoors Alaskan Cold Plunge?
Spending a few short minutes in a cold plunge has many potential mental and physical benefits. In addition to speeding up muscle recovery, you may also experience a boost in your mood and overall mental clarity.
Can I fully submerge my body in the Redwood Outdoors Alaskan Cold Plunge?
Yes, you can. While the built-in seat may make it difficult to dunk your head in the water, we were able to do it without much trouble.