Runners know that they are at the whim of the elements as much as any athlete, if not more so. Professional runners and casual joggers alike will have to deal with a wide range of conditions based on sunlight, cloud coverage, rain, and fog. For those concerned with keeping their eyes safe and avoiding squinting under the sun, there are thankfully sunglasses specifically designed for runners.
These sunglasses come in a variety of styles, though many similar attributes will be seen from pair to pair. While the protective nature of the shades is important, the fit and comfort are also going to make a big difference in how much a person will like a pair of sunglasses. With all that in mind, we've identified our favorites to use while running. Here is how we got there: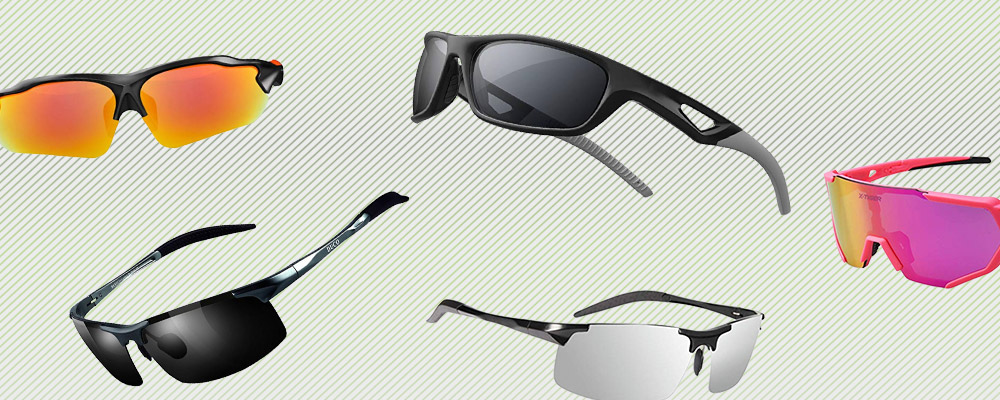 Editor's Choice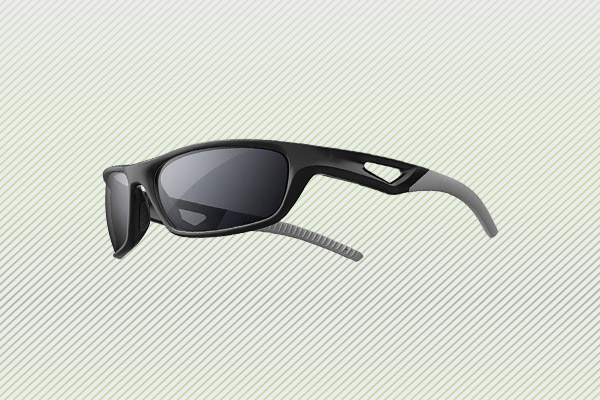 RIVBOS Polarized Sports Sunglasses
Pros: 
18 options. These sunglasses are available in 18 different colors, featuring several attractive combinations. Most options include some variation of black, white, gray, blue, and pink.

Night vision edition. While several of these sunglasses would be helpful in reducing glare and other bright lights while driving, the "Night Vision" edition from this brand might be best suited. It's lenses are a light yellow, a color that can help enhance contrast in one's vision.

Durable. These glasses are made of plastic. While that may not sound super fancy, the plastic these glasses are made of allows a great amount of flexibility, ensuring that the glasses are likely to keep their form and not have permanent bends in case of trauma.
Cons:
Sunscreen can damage coating. It is recommended to be careful when applying sunscreen while wearing these glasses. Some sunscreens have a tendency to damage the coating if put in contact with the lenses. 

Sticky rubber. The arms of the glasses (temples) have tips that are made of sticky rubber. Though the rubber does a good job of keeping the sunglasses on, it can also pull on the hair when taking off, so caution is advised for those with longer hair.
RIVBOS Polarized Sports Sunglasses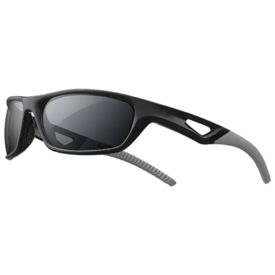 RIVBOS Polarized Sports Sunglasses
The RIVBOS Polarized Sports Sunglasses have all the credentials of nice polarized shades, with 100% UVA/UVB/UVC protection and protection against blue light. The frame and lense colors available make it one of the largest collections of polarized sports sunglasses that can be found.
The Contender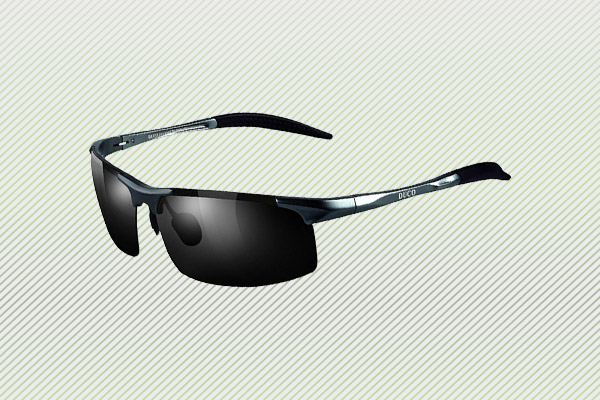 DUCO Sports Polarized Sunglasses
Pros: 
Metal alloy frame. The frames in this line of sunglasses are made of an aluminum-magnesium alloy. This allows the frames to be sturdy while still being lightweight.

Customizable. The frame and nose-piece on these sunglasses are meant to be flexible enough to be bent – and to stay in that shape. This is great for making sure the glasses fit perfectly.

7 types of shades. There are several different types of lenses that can be found in this line. Available are gray, green, orange, brown, gold, blue, and a mirror lens.
Cons:
Can be bent out of place. Because several components of these shades are made of a soft metal alloy, they are more apt to bend out of place than some other materials.

Smaller lenses. The lenses on these frames only measure about 2.5 inches across. Those who like the style of wider lenses might look elsewhere.
DUCO Sports Polarized Sunglasses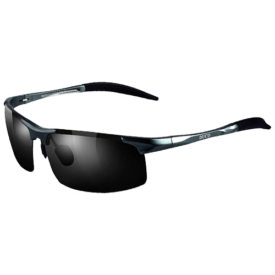 DUCO Sports Polarized Sunglasses
These sunglasses from DUCO are a handsomely-designed polarized product with a lightweight and malleable metal alloy frame. There are several fun lens colors to choose from.
Best for Peripheral Vision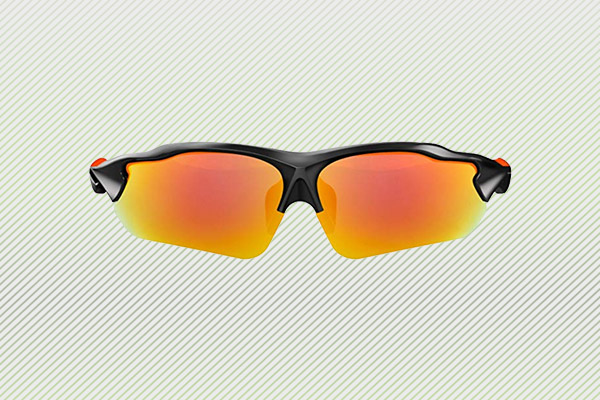 Hulislem Blade Sport Polarized Sunglasses
Pros:
Polycarbonate frame. The frames are made out of a lightweight polycarbonate. This material is known for being impact-resistant and durable for its weight.

Lens geometry. Each lens of these sunglasses is cut from a single piece of glass, called a toric shield. This type of cut, "called dual lens polaric ellipsoid geometry", is used to help with astigmatism and with these glasses provides depth and clarity.

Wrap-around. These glasses have a wide cut, with the lenses themselves a bit wider than normal sunglasses. This is helpful when running with the sun to the left or right.
Cons:
Might be too big. Though helpful at blocking out the sun from all angels, some people may not like the style of these wide glasses. 

Sit close to the face. These glasses sit rather close to the face, which is helpful for keeping them on while running. It can also lead the lenses to fog more often however.
Hulislem Blade Sport Polarized Sunglasses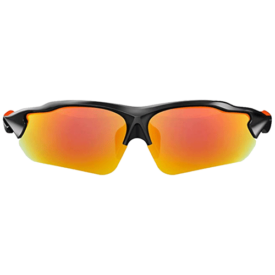 Hulislem Blade Sport Polarized Sunglasses
These polarized sunglasses from Hulislem offer a wide fit that curves to wrap around the contours of the face. This, combined with the cut of the lens, helps block sunlight and provide clarity for a wide range of vision.
Best for Any Time of Day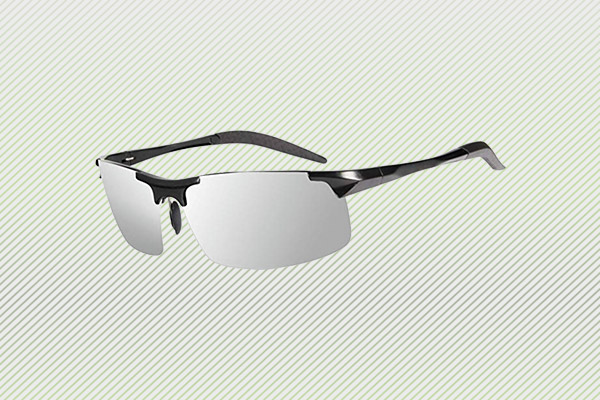 YIMI Polarized Photochromic Sunglasses
Pros: 
Photochromic lenses. The lenses used for this pair of sunglasses are considered photochromic. That means they are darker when it is brighter and lighter when it is darker out, making them perfect for jogging in any conditions.

Silicon nose bridge. The two pads that rest on the nose to hold up the frames can start feeling irritating with certain frames. These pads are made of a soft and comfortable silicon.

Sweat doesn't pool. The way these frames are designed means that the rim only goes along the top of the lenses. Sunglasses full rims can collect sweat in pools in the lower wiring; this won't happen with these glasses.
Cons: 
Not much variety. This set of sunglasses is only available in a few versions that all are of the same grayish-blue hue.

Not as durable. Because the lenses aren't as well protected by a full set of rim wiring, they may be more susceptible to breaking after impact.
YIMI Polarized Photochromic Sunglasses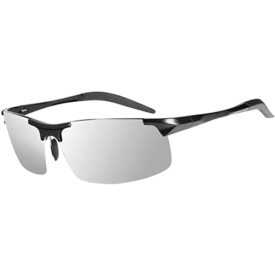 YIMI Polarized Photochromic Sunglasses
These photochromic sunglasses from YIMI have lenses that change shade to adjust with differences in brightness. With their sleek design that is meant to let sweat run off and the comfortable fit, these are great sunglasses to run with at any time of day.
Best Colors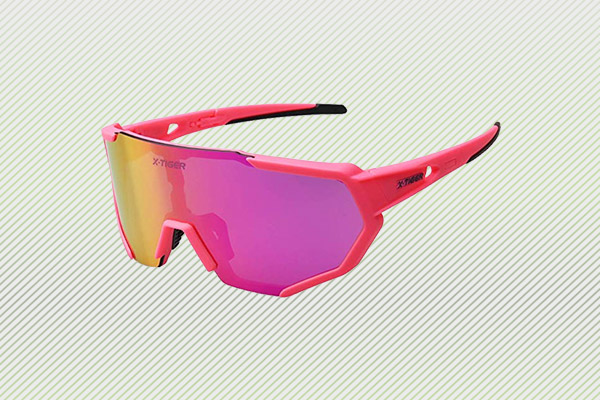 X-TIGER Polarized Sports Sunglasses
Pros: 
Interchangeable lenses. These sunglasses come with three sets of lenses that can be easily interchanged. One set is clear, one is black polarized, and the other is colored.

Myopia frames. Those that suffer from nearsightedness (myopia) can put their prescription lenses in the included myopia frames and insert those behind the shades.

Fun colors. These sunglasses can really stand out in a crowd! Aside from more neutral shades like black and white, there are several bright and fun color combinations to choose from.
Cons: 
Nose pads are not adjustable. The nose pads on the bridge of the frames cannot be adjusted. They may not sit comfortably on all faces.

Sweat can distort lenses. While some sunglasses will have some sort of coating that lets sweat slick off, sweat tends to sit on these lenses until wiped off.
X-TIGER Polarized Sports Sunglasses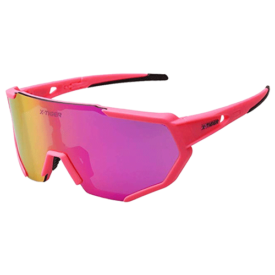 X-TIGER Polarized Sports Sunglasses
These fun sunglasses from X-TIGER are polarized, very lightweight, and flexible. Included are 3 sets of wide frames for various levels of light and a special frame for putting prescription lenses underneath the sunglasses.
How We Picked
Before making a decision on what sunglasses to get to aid you in running, it is important to identify what needs you have. Some glasses will fit more comfortably, while others may provide more of the protection needed for your eyes. To help weigh different alternatives, we've included a breakdown of how we approached the different options:
Frame
Running sunglasses need to be durable, flexible, and lightweight. A lot of this will be determined by the material and cut of the frames. Depending on what quality is most important to you, different styles of frame may be a better fit.
Metal frames are usually made of a soft metal alloy that can be easily bent and shaped to fit one's head. The flipside of this is that it may get bent out of shape if stretched too far. Plastic and polycarbonate frames can be more flexible and durable, but may not be as customizable.
Lenses
Perhaps the most important part of a pair of sunglasses – or any glasses – are the lenses. Sunglasses that are used primarily for running need to be able to help protect the eyes from harmful UVA,UVB, and UVC rays. Additionally, many also protect from a certain amount of blue light waves.
While many if not most sports sunglass lenses will meet a certain standard of eye protection, there are other factors that can make certain sets stand out. Polarizing lenses can help with reducing glare in bright settings and photochromic lenses can change shades based on the light environment you are in. It's also wise to consider the dimensions of the lenses and how much sun it can block out.
Color & design
Running sunglasses are available in quite a few styles. Among each style, there are typically several color options as well. That is to say there are tons of options to choose from.
Sports sunglasses tend to have a more "athletic" look, but how that is manifested can be very different. Some glasses have a look that meets their function; larger frames and lenses can be a style, but it can also help block more sun and rain. Since so many of the running sunglasses on the market meet a common standard of eye protection, more emphasis on style can be made when making a decision.
Tips
Not sure which running sunglasses are right for you? Here are some things to consider before making your purchase:
What climate do you live in?

If you run outside during the day in a hot climate, it is important to find glasses that block glare well and don't accumulate sweat.

Those running in a climate that has inclement weather may opt for photochromic lenses that change shade based on the light.

Do you already wear glasses?

Some glasses have frames that allow easy interchange of lenses. After finding a pair you like, you can always get prescription shaded lenses made.

There are also myopia frames that are included in some sets or can be purchased separately. These allow you to put a pair of lenses under the sunglasses.