Shopping for running socks can often feel like a difficult run with no end point. There are so many makers and styles on the market, it can be an overwhelming process to find the perfect pair.
Luckily, we've researched some of the top styles and brands on the web to provide some insight into five of our favorite running socks. We looked at socks that have a no-show design, ankle socks, and ones with higher cuts. We also paid close attention to the performance details like if the socks had additional cushion, moisture-wicking features, or were made with compression materials.
Check out five of our favorite picks for running socks.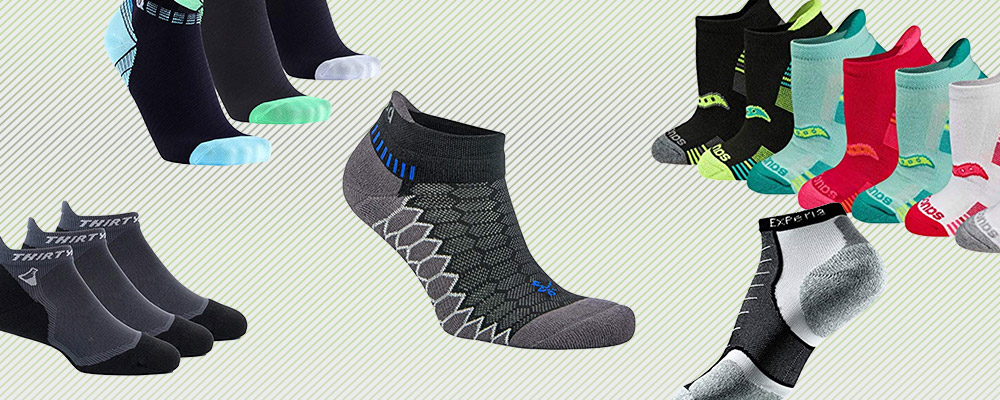 Editor's Choice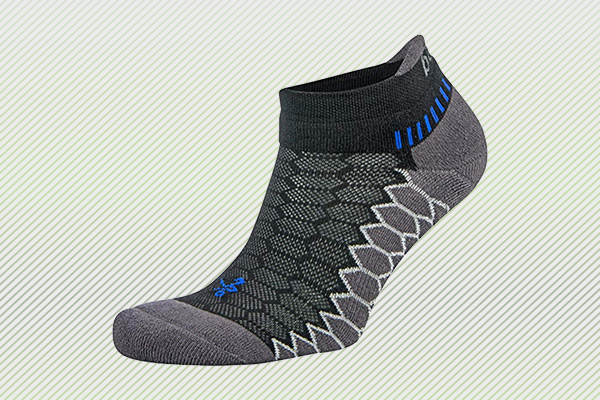 Balega Silver Antimicrobial No-Show Compression-Fit Running Socks for Men and Women
The Balega Silver socks show special attention to every detail with their compression fit, no-show look, and special antibacterial silver ions in the material to keep feet moisture and odor free. These socks are only offered as one pair, but it's a solid investment in a quality pair of socks that don't fall short in design, comfort, or appearance. 
Pros:
Design. These running socks have a strategic design made to provide different tension and compression. The blend offers support, but never feels constricting or uncomfortable.

Material. These socks are made out of primarily polyester, however also incorporate nylon and elastane for a snug and breathable feel.

Comfort. These socks do have cushioning, however it isn't too much or too little. There is added cushioning on the heel which feels supportive and comfortable.
Cons:
Package. These socks are only offered as one pair. Their quality is top notch, however if looking for a pack or enough socks to last a week, looking for a three to six-pair pack may be a better call.

Variety. There are four different color schemes offered: Black/Carbon, MidGrey/Neon Lime, White/Grey, and MidGrey/Aqua. If looking for just a simple pair of white or grey socks, these are not it. 
Best Value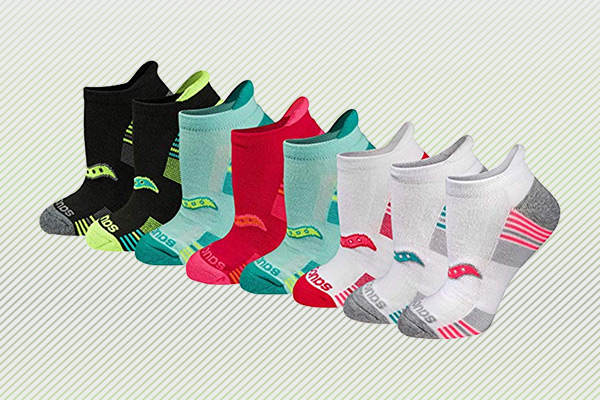 Saucony Women's 8-Pair Performance No-Show Sport Socks
In terms of quality socks, made with material suitable for running (polyester and spandex), Saucony's pack of eight pairs is one of the best values we've seen on the market. The price is incredibly affordable given this bundle will provide socks for more than a week.
Pros:
Cut. The no-show look is sleek, tasteful, and offers a nice change from the low-cut and high-cut style in a lot of running socks.

Price. For eight pairs of running socks, this is one of the best prices we've seen on the market. The quality is impressive too, which can sometimes lack in volume packs.

Variety. The bundles are offered in a variety of colors. There are black, white, grey, and some special bundles like "grey fashion" which includes a base of grey with different colored graphic designs. 
Cons:
Volume. A pack of eight pairs of runnings socks may not be necessary is running isn't an everyday activity.

Style. If looking for a pack of socks with different cuts, like low-cut, mid-cut, and high-cut, these socks are only offered in this bundle as super low-cut, meaning no-show when slipped into a running shoe.
Best Variety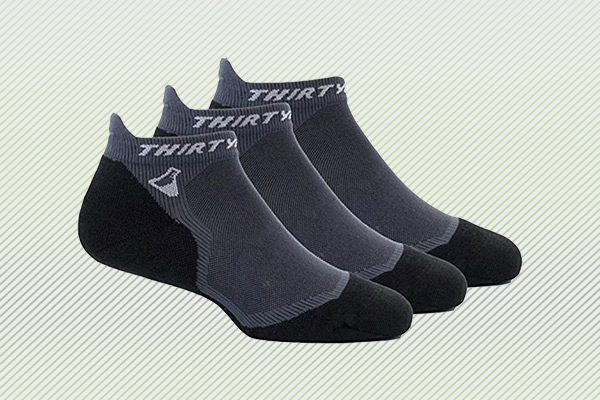 Thirty48 Ultralight Athletic Running Socks for Men and Women
The Thirty48 Ultralight Athletic Running Socks comes in a bundle of three pairs. These socks are designed with three-dimensional modeling, meaning they are made to be comfortable. The material is a combination of nylon and lycra spandex, which makes the fit light, stretchy, and breathable. These socks also come in bundles of a variety of colors, making them a unique purchase and suitable for people with all kinds of color preferences. 
Pros:
Color. These running socks are offered in a variety of colors including: Green, blue, grey, orange, pink, purple, and black.

Detail. For a variety pack these socks don't lack in quality, in fact they go so far to include a three-dimensional design which provides a comfortable and secure fit. 

Price. For a pack of three pairs of socks, the price is very affordable compared to the other products we've reviewed on the market. 
Cons:
Availability. These socks are also offered in single pairs, however not all of the colors are listed as available. 

Price. When selecting these running socks, keep in mind that the single pair and bundle of three pairs are different prices. Both are affordable, however the three-pack is a better deal. 
Best Performance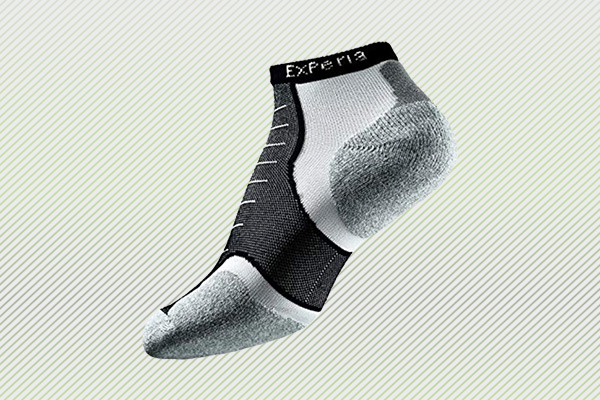 Thorlos Experia XCCU Thin Cushion Running Low Cut Sock
These running socks are designed with a special Thorlo cushion which is made to provide comfort and support in all the right places. These socks are made with Thor-WICK COOL fibers which guarantee dryness and help prevent blisters. They are offered in several colors, and there are even options to purchase bundles of three pairs. 
Pros:
Comfort. The Thorlo cushion is a non-bulky addition to the socks that provide added support. 

Material. These running socks are made primarily out of the Thor-Wick COOL polyester, They also are made with nylon, polyester, and elastic which are a combination of materials that are breathable and comfortable.

Performance. The design is made with added ventilation panels which keeps a runner's feet dry and cool even during the longest and hottest runs. 
Cons:
Price. The price can vary pretty significantly depending on color or the package. These socks are offered in single pairs, or as bundles of three pairs. 

Cut. All of these socks are offered as low-cut. If this isn't a prefered style this is something to keep in mind.
Best Compression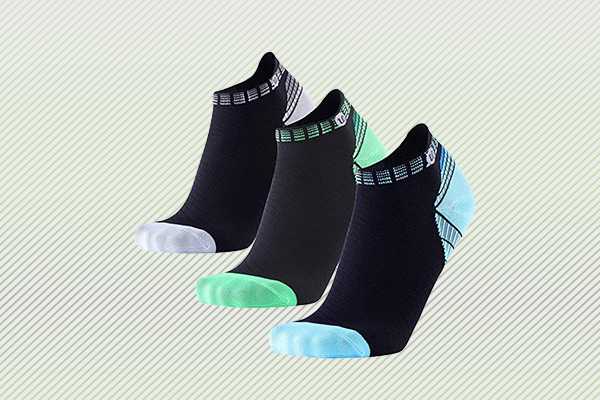 Compression Running Socks Athletic Anti-Blister No Show Low Cut Ankle for Men and Women
These socks are comfortable because of their quality stitching, extra cushioning in areas that will feel impact, and light material. They are made out of a breathable fabric which includes Elastane and Copper Yarn. The compression is form fitting, but never felt too tight or unbreathable.
Pros:
Comfort. These socks offer compression all over the foot, but there is also extra padding on the toe and heel area. 

Durability. These are the kind of socks that can be worn, washed, and put through tough challenges and will remain good as new after a quick wash. The stitching is top quality and they are designed to last.

Price. These runnings socks are offered in packs of three pairs, and this is an incredibly affordable deal considering the top quality of this product.
Cons:
Cut. All of these socks are offered as low-cut. If this isn't a prefered style this is something to keep in mind.

Fit. These socks are compression, so if this isn't a priority or wanted, perhaps opt for a pair of running socks with less of an emphasis on compression.
How We Picked
When selecting our favorite running socks, we paid close attention to the performance details of the socks. We've established several differences in regular socks vs. socks designed for running. When it comes to shopping for running socks, it is important to look for material that is moisture wicking to withstand long runs and changing temperatures. It is also vital to look for socks that have some compression to them to add support and also feel comfortable. Below we've provided our methodology for selecting the five best running socks.
Performance.

The socks had to be designed for a running specific activity. We looked at ways that different makers interpreted the best running performance socks, which had a lot to do with breathable material and fit.

Material.

We found that running socks made out of a combination of nylon, polyester, and even some spandex were the best for comfort and supporting performance goals.

Design.

We looked at running socks that are designed in ways to support feet in their natural form. This means they go as far to include a heel tab to avoid blisters, or even extra cushion on the heel to provide extra support.

Durability.

Good running socks need to be built in a way that can handle long runs and imperfect weather conditions. We looked at socks that are made with moisture wicking and breathable material, but also some products that include anti-bacterial material with deodorant.

Price.

We looked at running socks that were sold in bundles of eight, but also products that were sold as one pair. We looked at various prices, but ended up choosing the most affordable socks that never compromised their quality.
BarBend Tips
At BarBend we have experience sporting low-cut socks, high-cut socks, running socks, and even compression socks. We've certainly tried out and tested a lot of socks here at the office, but when it comes to running socks we have a few tips that may be useful to keep in mind when beginning the shopping process.
Move.

If finding running socks is the goal, make sure to test out lots of different running socks, which means running in them. The easiest way to judge whether or not you like a pair of running sneakers is to run in them, so the same should be done with socks.

Style.

There are a lot of different styles on the market for running socks. Determine if it is low-cut you prefer, or perhaps high-cut. There are even some designs that are no-show

Value.

Running socks are frequently sold in bundles, and this is a great way to get the most for your dollar. Don't compromise quality, but look for makers that include more than just one pair of running socks, especially if wearing them is going to be an everyday thing.

Material.

Especially with an activity like running, it's important to find products that can withstand all different temperatures and weather conditions. Look for breathable fabrics that can handle some sweat, or an unexpected rain storm.
Wrapping Up
Now that we've rundown five of our favorite running socks on the web, we hope you're feeling more prepared than ever to get shopping and then get running. From various designs, styles, prices, and materials, we hope that there's one pair in here that will get you off to the races.