We receive free products and receive commissions through our links. See
disclosures page
.
Dumbbells may be the most utilitarian piece of equipment in your home gym. You can incorporate them into lighter yoga flows, or use them for heavy lifts on their own. Having a variety of weights is key if you want to mix up your training, and adjustable dumbbells are a great option if you're strapped for cash and space. The Bowflex SelectTech Adjustable Dumbbells offer up to 52.5 pounds of weight each, which is equal to 15 separate pairs of dumbbells.
Another selling point: From five pounds up to 20 pounds, you can actually adjust these dumbbells in increments of 2.5 pounds — most adjustable dumbbells only scale five pounds at a time. This allows you to progress with more precision and at a slower rate. While the up-front cost may send you into sticker shock, you'll save a fair amount of money over time (and certainly more than if you were to buy the 15 pairs of dumbbells all at once). Plus, it's hard to beat the convenience — select your weight, rep out some curls and chest presses, and then neatly stow the dumbbells away. If you're looking for a reasonably priced set of adjustable dumbbells that can save you money and space, the Bowflex SelectTech 552's may be your answer.
Main Takeaways
These dumbbells range from five to 52.5 pounds each, which offers a wide range of weight options.
The Bowflex SelectTech 552 Adjustable Dumbbells offer 2.5-pound weight increments (rather than only five pounds). They replace 15 separate pairs of dumbbells.
Adjusting the weight is a simple process, just twist the knob on each end of the dumbbell, and you're ready to go.
Bowflex SelectTech 552 Adjustable Dumbbells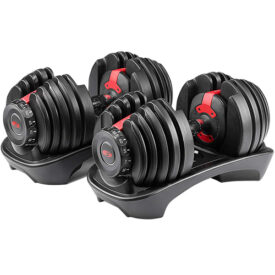 Bowflex SelectTech 552 Adjustable Dumbbells
This pair of dumbbells range from five to 52.5 pounds and adjust at the turn of a dial. With the right amount of weight, ease of use, and sleek design, these dumbbells are just right for any workout enthusiast. 
Bowflex SelectTech 552 Adjustable Dumbbell Video Review
Our reviews writer, Jake, puts these adjustable dumbbells to the test during his detailed video review. Tag along as he walks you through everything you need to know including the pros and cons, and who should add these to their home gym.
Bowflex SelectTech 552 Adjustable Dumbbells Highlights
To adjust the weight of these dumbbells, you twist the dial to your desired number, and the correct weight will pop out of the tray. Having such a wide range of weights at your disposal is especially useful if you like to lift both light and heavy and/or you implement muscle-building techniques such as drop sets and supersets. Plus, not many adjustable dumbbells adjust in 2.5-pound increments, offering you more opportunities for progressive overload.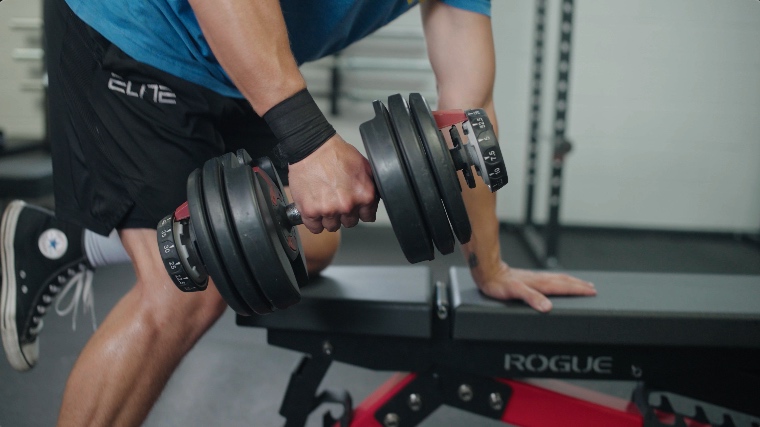 We've had our pair of 552's for quite a while, so they tend to get stuck in the cradle frequently, as does the adjustment mechanism to select the weight. It's also worth noting that a lot of plastic is used to make these dumbbells, so you don't want to drop them while lifting. Still, once you consider the price, the space these dumbbells leave you to work with, and the amount of work you can get in with them, we think they could be a solid purchase for the average home gym owner.
Who Should Buy the Bowflex SelectTech 552 Adjustable Dumbbells
Anyone who wants to save space. These dumbbells replace 15 separate pairs of weights.
Fitness enthusiasts who are building a home gym from scratch may find that these dumbbells will save them money compared to purchasing a full set of dumbbells.
Folks who want more flexibility with their weight increments will appreciate that these dumbbells offer some 2.5-pound increments rather than only going up in five-pound increments.
Who Shouldn't Buy the Bowflex SelectTech 552 Adjustable Dumbbells
Athletes who need more than 52.5 pounds to get a good workout in will need to consider other options.
Anyone who already owns a few separate pairs of dumbbells may be better off just filling out their stash with the weights they still need rather than purchasing these.
Since the length of the dumbbell doesn't change, it may be tough for those who are working with lighter weights to perform some exercises properly.
Price
You can purchase the Bowflex Selecttech 552 Adjustable Dumbbells on the Bowflex website for around $430. The only financing option is signing up for a Bowflex credit card with which you can make monthly payments over 18 months. Considering these are about half of what some competitors charge for their adjustable dumbbells though, it's a pretty solid deal. You can also get a lot of good work in with these dumbbells, even though they cap out at 52.5 pounds.
Overall Build and Quality
Besides the steel handle, the steel plate inserts, and some steel mixed in for the adjustment mechanism, the Bowflex Selecttech 552 adjustable dumbbells are mostly made from plastic. This doesn't mean they will break the first time you drop them. But, you definitely want to be careful because you obviously run that risk. The same goes for when you are storing the bells since the cradles are also made from plastic.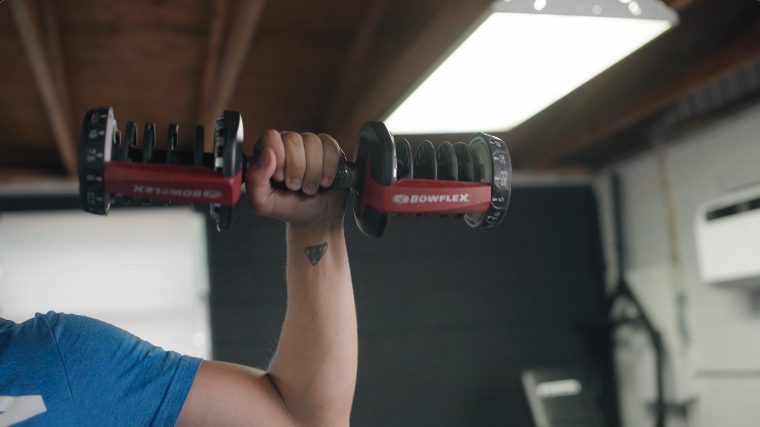 The handles are ergonomically shaped, so they're thicker in the middle than on the sides, and instead of a knurling pattern, there's a rubber grip in the middle. We haven't had much of an issue with the grip, but we also understand why some people would since knurling definitely provides a better overall grasp on the handle. The concept of how you adjust the weight is pretty simple, but there are times when the mechanism sticks, and the same goes for when you go to remove the dumbbells from the cradle. This could be from the years of usage our dumbbells have already provided though — fresh out of the box and for the first years of use, we suspect there isn't as much sticking.
Features
These dumbbells can be set to a weight as low as five pounds, and as heavy as 52.5 pounds with the simple twist of the knob located on each dumbbell head. Each dumbbell has a cradle it sits in that houses the five plates on each end. Once you select your weight, pick them up, and the correct plates will be removed. Due to the design, the length of the dumbbells does not change regardless of the weight you're using. The handle is ergonomically shaped with a rubber grip, and the weight plates resemble a horseshoe in their design.
Adjustability
There is a dial on the outside of each dumbbell, and all you have to do is twist that dial to your desired number, and your weight will pop out with the correct number of plates. As long as the mechanism doesn't get stuck on you (which may happen after many years of use and wear on the bells), you can switch between the lightest and heaviest weight in just a few seconds.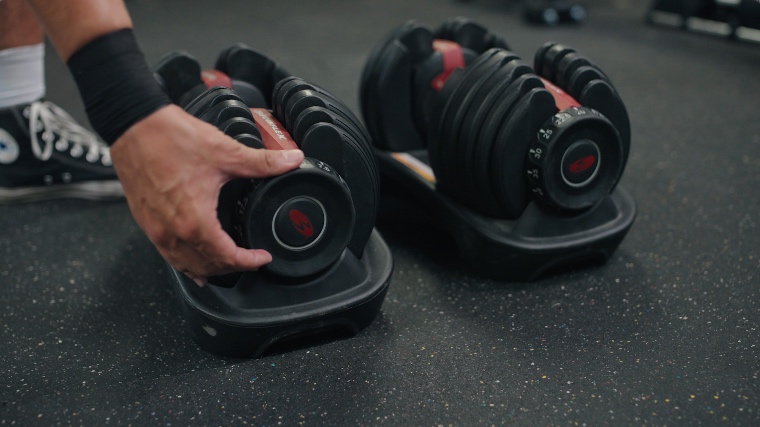 Another reason the knob may stick is from not storing your dumbbells properly. Once stored the right way (fully secured in the cradle), you should be able to adjust the weight just fine. Once you select your weight and remove the dumbbells from the cradle, the knob is locked, so you don't have to worry about the plates falling out while lifting.
Weight Options
These dumbbells offer weights ranging from five pounds up to 52.5 pounds. From five pounds to 20 pounds, you'll notice 2.5-pound increments (which is really nice when it comes to dumbbells), after that you'll have five-pound increments to work with. While 52.5 pounds may be plenty for some people, we realize many advanced athletes require heavier weights for their workouts. So these may be better suited for beginners, or those who don't lift heavy often. This is a pretty common max weight for adjustable dumbbells though, aside from a few outliers.
Handle Grip and Comfort
The handles are wide, contoured, and textured with rubber grips. While the thicker grip (compared to more standard dumbbells you may find at a commercial gym) is comfortable, these dumbbells are not knurled — the crosshatch pattern engraved into many metal-handled dumbbells — like traditional dumbbells, so they don't provide the same grip many users may be used to.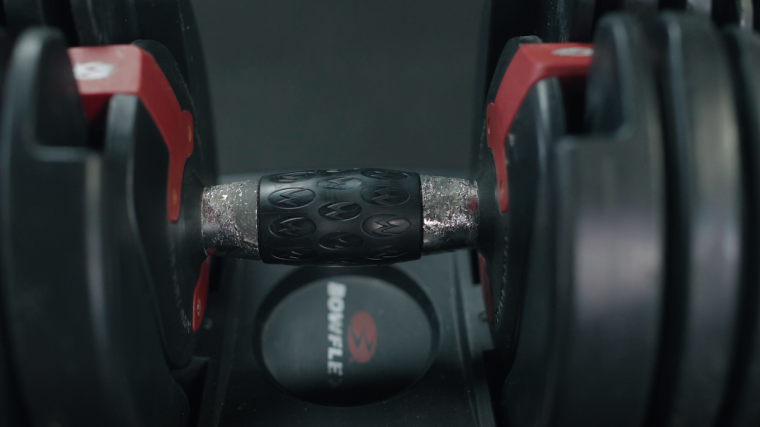 Knurling is most likely not a make-it-or-break-it factor for many lifters, but a consideration for some.
Weight Plate Design
The plates on these dumbbells are coated in plastic to help prevent the metal cores from rusting. This also makes maneuvering the weights quieter, and smoother, which is beneficial when you're adjusting often. Since the plates are coated in plastic, you want to be careful when working out, and when storing them. We don't think you need to treat them like a porcelain doll, but there is a chance they'll crack if you're really careless.
Base
Each dumbbell comes with a base. Though some brands do make you purchase the base separately if you want a designated place to store your dumbbells, this is a pretty standard feature across the market.
Product Specs
Each of these dumbbells weighs 55.6 pounds when assembled and in the base. And each dumbbell only takes up about 16.9″ x 8.3″ x 9″ of space, which makes these ideal for small home gyms. Plus, you get a free one-year JRNY membership (see below), which offers on-demand trainer-led workouts to help you make use of your dumbbells properly.
Dumbbell Type
Since these are adjustable dumbbells, you can quickly switch the weight to your liking. All this requires is a twist of the knob (that's located on the ends of the dumbbell heads) to the weight increment that you desire. Adjustable dumbbells like these serve an important purpose for a lot of home gym owners — they open up space for other equipment.
Portability
While each of these weights weighs 55.6 pounds with the base, since they are only two pieces each (one big dumbbell and a base), it's fairly easy to move them around. Instead of having to pick up and move 15 individual sets of dumbbells, you just have to move two heavier weights, which is a pretty good trade-off.
Size and Dimensions
Each of these dumbbells measures 16.9″ x 8.3″ x 9″ (including the base) — this is about the size of a large shoe box.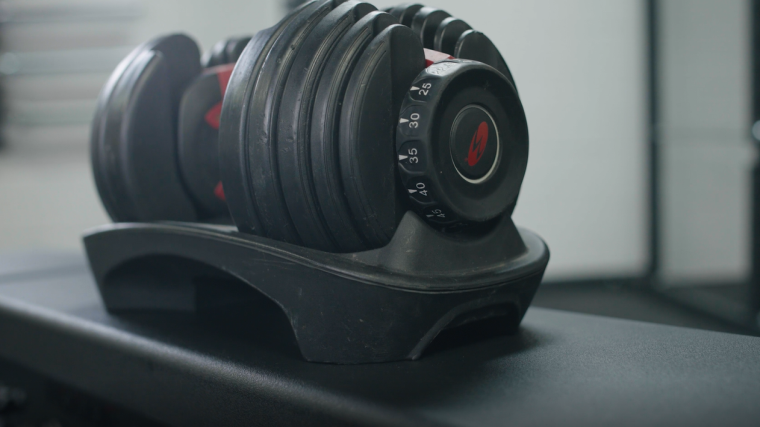 If you picture how much space 15 individual sets of dumbbells would consume, this could be a huge space saver for, say, apartment dwellers, where every inch of space counts.
Workout Apps and Compatibility
If you purchase this set of weights, you'll also receive a free one-year membership to JRNY, which is a virtual training platform from Bowflex that offers on-demand strength, yoga, and pilates classes with trainers. The strength classes are specifically designed to work with your SelectTech 552 dumbbells. This is a $149 value.
Warranty
Bowflex offers a two-year warranty on parts for its adjustable dumbbells, which you'll find is about average across the market.
Places to Buy
You can buy these weights through Bowflex directly, or you can find them on Amazon Marketplace.
Company Information
Bowflex has been around for over 30 years, and is one of the main players in the home fitness game. They offer bikes, ellipticals, home gyms, weights, benches, treadmills, and even online classes on their platform JRNY. You can call 1-800-605-3369 for customer service, or email them through their website.
Final Word
The Bowflex Selecttech 552 Adjustable Dumbbells are a great alternative for anyone who is looking to reap the many benefits that come from dumbbells, at a fraction of the price and space. Ranging from five to 52.5 pounds, beginner to intermediate weight lifters can get really solid usage out of these dumbbells without having to commit to the most expensive option online, and without sacrificing utility. One pair of these dumbbells can replace 15 pairs at a fraction of the required space.
While they may be made mostly from plastic, and the overall size is larger than a traditional dumbbell, the 552's still allow you to get a solid workout in without leaving the comfort of your home. While more advanced athletes may want to look elsewhere, we still believe these could be a great, compact option for anyone new to the weightlifting scene to add to their home gym — especially with their affordable price tag.
FAQs
Are the Bowflex SelectTech 552 Adjustable Dumbbells easy to use?
Yes. All you have to do is twist the dial to your desired weight. Plus, the plastic coating on the plates makes it super easy to slide the weights in and out of their base.
Can the SelectTech 552 dumbbells replace standard dumbbells?
For the most part, yes. These adjustable dumbbells can replace 15 pairs of individual dumbbells. However, it's worth noting that as you go higher in weight, they may feel a bit clunkier than standard dumbbells, as there will be multiple plates on each weight.
Are the Bowflex SelectTech 552's worth the cost?
For anyone starting from scratch, absolutely. Though the upfront price of $430 may seem high, it's actually much cheaper than buying 15 separate pairs of dumbbells. If you've already purchased a few pairs of dumbbells or you don't use dumbbells all that often, this may not be the best purchase for you, though.