CrossFit HQ has notified Phil Toon that he failed a drug test following his second-place finish at the 2022 Granite Games. Toon publicly announced the news in a series of Instagram Stories posted on June 11, 2022.
At the time of this article's publication, CrossFit hasn't released news about the drug test. According to a screenshot on Toon's Story, he's provisionally suspended (see below).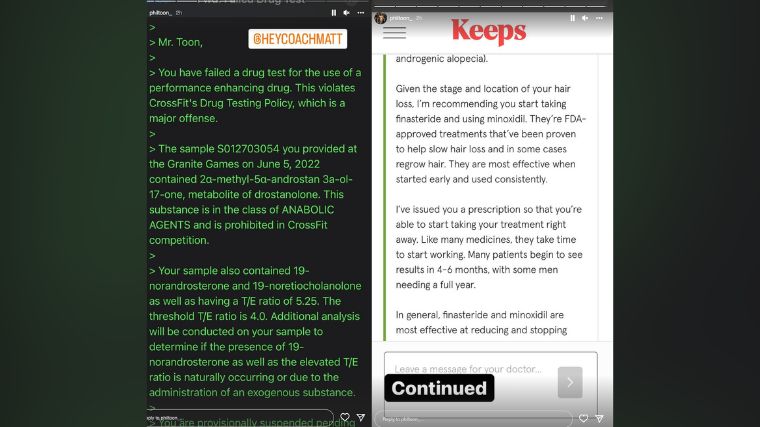 [Related: The Best Kettlebells for Beginners, CrossFit, and More]
The email states that Toon's sample showed traces of 2a-Methyl-5a-Androstan 3a-ol-17-one, a metabolite of drostanolone, and traces of 19-norandrosterone and 19-noretiocholanolone, which are both metabolites of nandrolone. Drostanolone and nandrolone are classified as Anabolic Agents according to CrossFit's 2022 Drug Testing Program and are prohibited in competition.
The email above also states that Toon's T/E ratio — a measurement of the athlete's testosterone to epitestosterone ratio, used as an indicator of exogenous drug use — was over CrossFit's threshold for what's acceptable.
In his Instagram Story, Toon implies that a prescription medicine called Finasteride (Propecia, Proscar) is to blame for his failed drug test. Toon posted a screenshot of a message from his doctor on the popular hair loss treatment site, Keeps. In the message, the doctor recommends that Toon take Finasteride.
"I've been taking one milligram of Finasteride for eight to 10 months," Toon says in his Instagram Story. "I do take ownership of this, but I don't believe a penalty should be asserted for this since it has no performance enhancement."
CrossFit has yet to comment publicly on Toon's case. Finasteride was not mentioned in the visible portion of CrossFit's email to Toon, nor is the substance listed in their 2022 Drug Testing Program or the
World Anti-Doping Agency's index
of prohibited substances. (Finasteride was banned by WADA from 2005-2009.)
It's unclear whether Toon is appealing the failed test, or if he'll be allowed to compete at the 2022 CrossFit Games.
About Phil Toon
At 24 years old, Toon is a relatively young CrossFit competitor. Still, the American athlete has racked up an impressive competitive resume. According to CrossFit's website, Toon has steadily climbed the Open ladder, placing 143rd in 2020, 26th in
2021
, and fifth in
2022
.
View this post on Instagram
[Related: The Best Home Gyms for the Money, Bodybuilding, and More]
He placed 33rd in the 2021 Quarterfinals and 10th in 2022. In the Semifinal round, Toon placed ninth at the 2021 Atlas Games and sixth at the Last-Chance Qualifier. In 2022, he came in second to Canadian Brent Fikowski, who placed third at the 2021 CrossFit Games, at the Granite Games.
The 2022 NOBULL CrossFit Games would be Toon's first-ever Games appearance. If and when CrossFit formally announces Toon's suspension from the Games, he will be the second qualified athlete to be withdrawn from the competition after Nycolas Joyal.
According to CrossFit's website, Joyal tested positive for metabolites of banned substances GW1516 and ostarine. Joyal opted not to appeal the finding and serve a four-year ban starting on June 12, 2022.
This is a developing story. BarBend will update this article as more information becomes available.
Featured Image: @philtoon_ on Instagram