Everything changed for Sopita Tanasan in Rio de Janeiro.
While the then 21-year-old had been competing internationally in weightlifting for years — she had medaled at four World Weightlifting Championships, three Junior World Championships, and three Junior Asian Championships — Rio wasn't just her first Olympics. It was her first time competing in the 48kg class.
The gamble paid off: she won Thailand's first gold medal of the 2016 Summer Olympics with a 92kg (202.8lb) snatch and a 108kg (238lb) clean & jerk, totaling 200 kilograms (440.9 pounds) in a tight race with Indonesia's Sri Wahyuni Agustiani. According to The Bangkok Post, the medal also earned her hundreds of thousands of dollars in financial rewards from the Thai private sector, and to top it off she won the IWF's award for female weightlifter of the year.
Since then, Tanasan hasn't done much media (she tries to avoid it to focus on her training) but BarBend's Thai correspondent Satanan Vechviboonsom recently caught up with her for her for a rare interview. (Note that Vechviboonsom translated this interview from Thai.)
BarBend: So, what have you been up to since you came home from Rio?
Sopita Tanasan: Some things have changed, like the sudden fame, but for the most part it's remained remained pretty much the same, nothing special. I don't do a lot of media. I just constantly go to the gym and work hard on training, that part of my life hasn't changed.
My friends and family were super proud of me when I got back, they're really supportive people. Honestly, my hope was to to be a role model for all Thais, for everyone. I worked so hard for that medal — it was just wake up, eat, train, eat, rest, sleep, and repeat.
As a 48kg athlete, you lifted a total of 200kg at Rio, but your biggest competition total was as a 53kg athlete at the World Weightlifting Championships in 2015, when you snatched 95kg and clean & jerked 115kg. Do you have any plans to compete in that weight class again?
Definitely, yes. I'd like to, but it really depends on my coach and my team and what works well for them.
When you compare the two weight classes you've competed in, what are the biggest differences in how you train and recover?
Honestly, there weren't a lot of big differences. I can change my body's weight pretty easily, I can drop a few kilos and my training, rest, and recovery will remain consistent.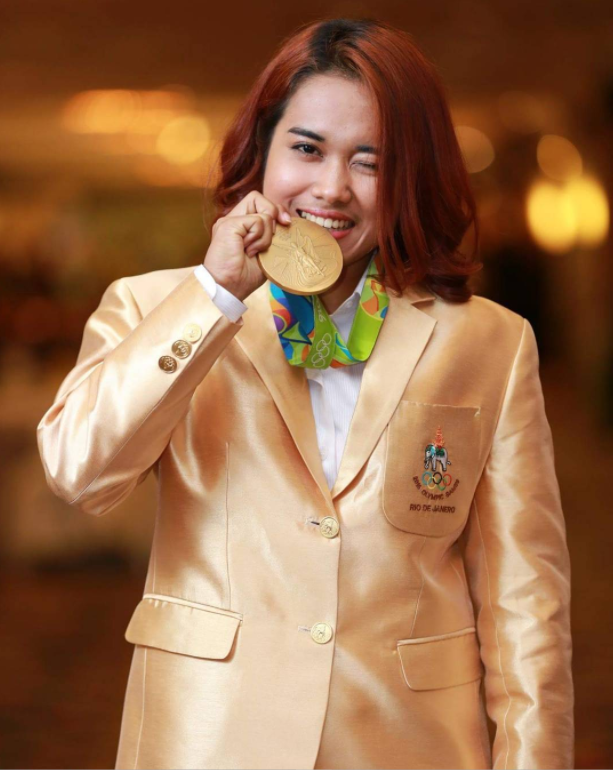 Image courtesy of Sopita Tanasan
Thailand's national sport is kickboxing (Muay Thai). I read in The Bangkok Post that you come from a family of boxers and that your father competed nationally — how did you make the decision to become a weightlifter?
That's actually not true, my dad was just a really big fan of Muay Thai. I did want to be a female boxer but at that time, there weren't any female boxing gyms in my village — in Sawi District in Southern Thailand — which was quite small.
The main reason I started lifting is because I didn't want to be bored at home doing nothing! (laughs) To be honest, my dad would have preferred that I stay home and learn to cook and find a housekeeping job like the other girls in my area. That was a big difference between our ways of thinking. He cared for me like any father would, but if I wanted to excel at weightlifting, I'd have to leave home and train far away, so that concerned him. But he has always been my biggest supporter.
At that time, I was really unsure of myself because I didn't know what the outside world was like. But I was curious. One day I was watching the 2004 Olympics and I saw (weightlifter) Pawina Thongsuk win a gold medal for Thailand. I told myself, "I want to be like her." That's when I made the decision — it was a really big decision!
Back then, I didn't know what the national team was, I only wished to be a role model for other people just like Pawina. So I started training, entered some youth competitions, and I joined the local team.
When I was about 15 or 16, I started earning money and I was able to support my family through weightlifting. I was really proud. I was even able to pay my own way through school.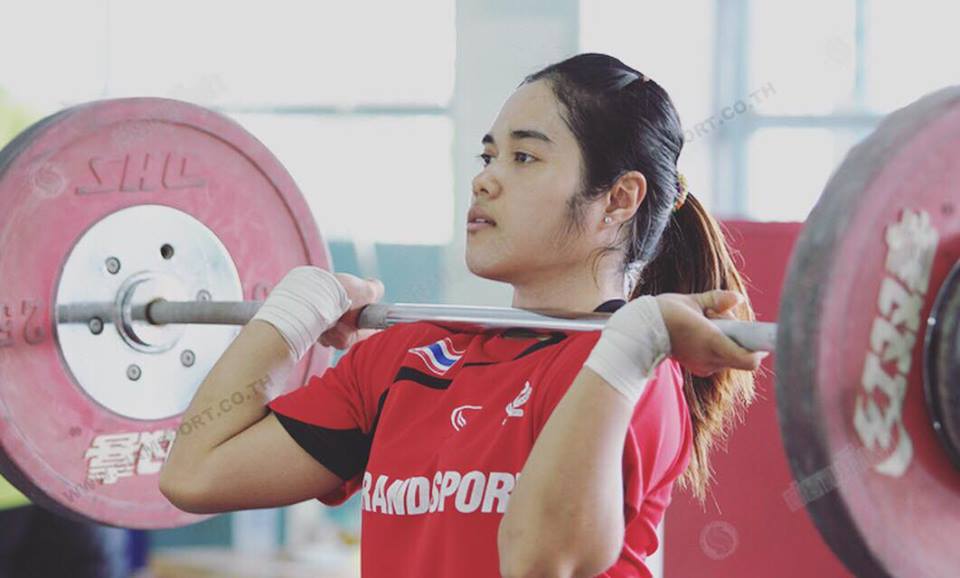 Image courtesy of Sopita Tanasan
You were very calm on stage at Rio, and we noticed that you were meditating before you made your heaviest lift – is meditating before you lift a common routine for you?
Yes. Mentally, Rio was really hard. I had to use a lot of energy and concentration. On my first day there, I cried a lot because of all the pressure. To be honest, athletes are quite sensitive. It's another reason a good coach is a must. But yes, I meditate every time before I go on stage.
What kind of meditation do you do? Do you count breaths, use a mantra, some other kind?
I meditate approximately ten minutes every day after dinner. I use (the Buddhist practice of) Anapanasati, which involves focusing on my breathing patterns.
Do you have any other tips to keep calm and aware during a lift?
Just keep breathing, or try counting your breaths, that's all. Nothing special.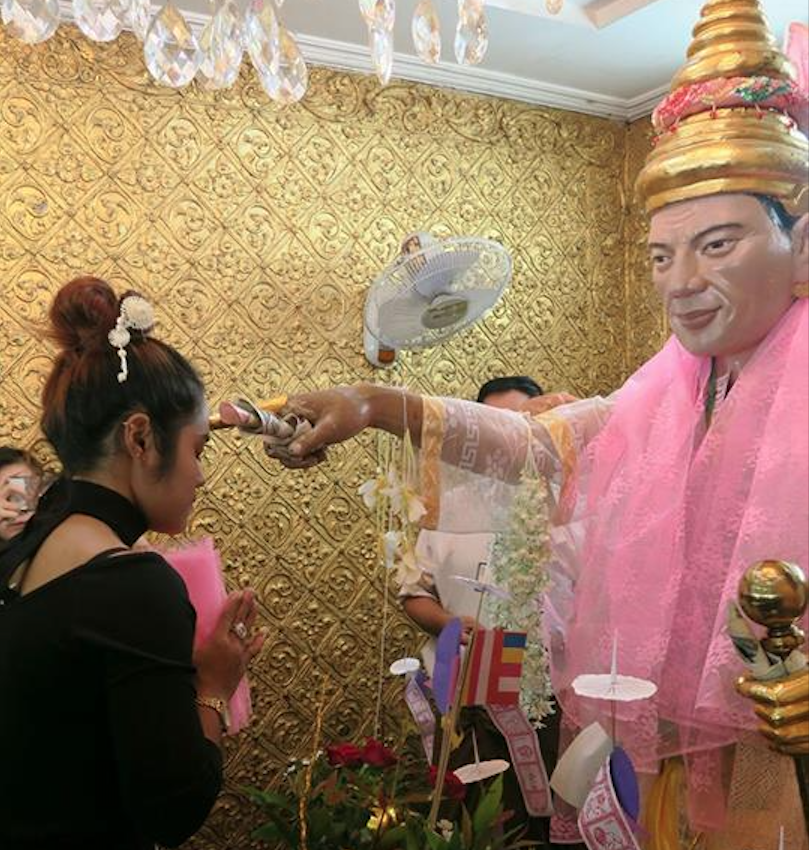 Image via Sopita Tanasan on Facebook
What's a piece of advice you would have for other young women who want to start weightlifting?
I want to give some advice to other female athletes: work hard, find motivation, and don't give up no matter how hard things get. We can do it, there is nothing that we can't do. You just need to set a goal. Nobody is born an expert, everyone starts from the same place. In the end, it's all about practice. I really believe anyone can do it.
Is there anything else you'd like to tell your English-speaking fans?
I just want to thank all my fans around the world. I would love to answer everyone who writes to me online, but I can't because of the language barrier. I wish I could learn every language so that I could reply to everyone. Until then, I just want to thank all my fans once again.
Featured image courtesy of Sopita Tanasan.