Imagine having your next six years of workouts planned out for you. Well, it's not a pipe dream. Chris Gale, the owner of CrossFit Kenko in Sunbury, Victoria, Australia, authored the book 1600 WODs: 7 Years of Tried and Tested Functional Fitness Programming. In it, he outlines the 1,659 WODs (workouts of the day) he's programmed since the day he opened his box in 2013. Getting to this point, however, wasn't an easy journey for Gale.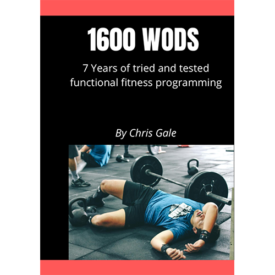 This book is packed with over 1,600 CrossFit WODs to keep you busy for about six years (or less if you're a workout fanatic).
Editor's note: The content on BarBend is meant to be informative in nature, but it shouldn't take the place of advice and/or supervision from a medical professional. The opinions and articles on this site are not intended for use as diagnosis, prevention, and/or treatment of health problems or injuries. Speak with your physician if you have any concerns.
Love at First WOD
The year was 2010. Boxing coach Chris Gale was on the hunt for new workouts to put his clients through. His go-to option for finding those workouts were fitness magazines. When flipping through the pages for his next sweat-inducing training session, he stumbled upon a write-up of the 2010 CrossFit Games — the year Graham Holmberg and Kristan Clever won the individual men's and individual women's competitions, respectively.
In that write-up was a sample WOD — "Cindy." It consists of the following:
As many rounds as possible (AMRAP) in 20 minutes:
Gale presumed it would be easy. However, after cranking out approximately 22 rounds, he was "humbled." Then he was on the prowl for the next WOD.
The Setback
One night while out to dinner with his friends, Gale realized he couldn't swallow his food — his tongue felt paralyzed. He visited three doctors and was run through a multitude of tests. It turns out Gale had what's called a Chiari malformation, which is when the brain tissue extends into your spinal canal. It caused his brain to tilt slightly and leak cerebral flood into his spinal cord, causing a syrinx (a fluid-filled cavity similar to a cyst), which crushed the nerves responsible for his tongue. Doctors told him he needed brain surgery.
However, Gale already planned a trip to Brisbane to obtain his Level 1 (L1) CrossFit® certification. When he asked his doctors if he could still make the trip, they looked at him dumbfounded.
"Stubborn me still flew to Brisbane to do the course," Gale tells BarBend. "I was the most unfit and weakest I had been in years. It was tough, but I stuck it out."
Gale got the surgery just a week later and, as a result, was bedridden for two months. The surgery also left Gale with repercussions (which he still experiences today). His ability to lift heavy weights overhead is limited, and he experiences dizzy spells that are exacerbated by hard workouts. Still, none of that stopped Gale from achieving his goal of helping others achieve their goals. A few months after being bed-bound, Gale opened CrossFit Kenko.
The Origin of 1600 WODs
"From day one at my affiliate, I would always save my programming," Gale says. "I have always loved the creativity of programming WODs especially the more I learned. I would spend hours researching different strength and conditioning practices, applying it to myself then onto my affiliate."
View this post on Instagram
[Related: This Study Tried To See If CrossFit Endurance Stacks Up To Traditional Training]
However, Gale's new book was born more out of necessity than passion. CrossFit Kenko was one of the many gyms forced to close due to COVID-19. Not one to roll over, Gale was determined to make rent. He took a course to teach him how to take his training offerings online. A friend in the same course suggested to Gale that he give away some of his workouts to try and draw in new clients. Gale compiled 300 of his WODs into a PDF and offered it up — free of charge — in a small Facebook group, "Australian CrossFitters."
"I think I broke the internet that day," Gale says. "I ended up direct messaging over 400 people that wanted the PDF. People loved it. That's when I had the idea to get it published into a paperback book."
All the WODs in the book are collated in chronological order from the first one he programmed back in 2013 to now. Due to the side effects of his surgery, Gale hasn't completed all 1,659 WODs in the book, but he has come "bloody close." However, if there is a WOD he hasn't done, one of the CrossFit Kenko coaches probably has — Gale recruits them to test how long the workouts take to complete.
The WODs aren't just a random smattering of high-volume exercise either. While Gale says that there's nothing wrong with opening the book to any page and picking a random WOD, he suggests sticking with a section for five to six weeks to get the most out of a cycle.
"[The WODs] have a strength component followed by a metcon piece (conditioning)," Gale explains. "The strength component is programmed to progress the athlete. Picking random days is going to hinder the progressive overload."
Do one WOD a day, with two weekly rest days, and Gale figures you can get about six years' worth of training out of it. "This book is great for the at-home garage CrossFit enthusiast, to the next aspiring affiliate opener that is struggling with their own programming," Gale adds.
Check Out 1600 WODs
In addition to penning 1600 WODs: 7 Years of Tried and Tested Functional Fitness Programming (available as an e-book and paperback), Gale has also released the e-book Mastering The Pull-Up and Overhead Mobility Manual. You can check out his full collection of works at CrossFit Kenko's online collection.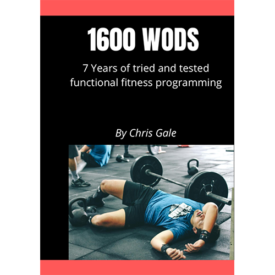 This book is packed with over 1,600 CrossFit WODs to keep you busy for about six years (or less if you're a workout fanatic).
Featured image: @1600wods on Instagram