The 11th weight category to compete at the rescheduled 2020 Tokyo Olympic Games was the Women's 87-kilogram weight class. Groups B competed on Sunday, Aug. 1, 2021, at 10:50 p.m. EST. Group A competed on Monday, Aug. 2, 2021, at 2:50 a.m. EST.
It was Wang Zhouyu of China who had the heaviest lifts coming into the contest and she delivered on them to win the gold. She went for an Olympic record in the clean & jerk after the gold was secured but could not score it. Tamara Yajaira Salazar Arce had the standout performance as the only lifter in Group A to successfully hit all six attempts — she earned silver.
Women's 87-Kilogram Results
Wang Zhouyu (China) — 270 (120/150)
Tamara Yajaira Salazar Arce (Ecuador) — 263 (113/150)
Crismery Dominga Santana Peguero (Dominican Republic) — 256 (116/140)
Note: the above stats are structured as — Total (Snatch/Clean & Jerk)
[Related: The Full 2020 Tokyo Olympic Games Weightlifting Roster]
2020 Tokyo Olympic Games — Women's 87KG
Here are the fourteen athletes in the Women's 87-kilogram category who competed in Tokyo:
87-Kilogram Roster
Group A
Maria Fernanda Valdes Paris — Chile
Wang Zhouyu — China
Crismery Dominga Santana Peguero — Dominican Republic
Tamara Yajaira Salazar Arce — Ecuador
Gaelle Verlaine Nayo Ketchanke — France
Elena Cilcic — Moldova
Ankhtsetseg Munkhjantsan — Mongolia
Naryury Alexandra Perez Reveron — Venezuela
Group B
Lydia Valentin Perez — Spain
Clementine Meukeugni Noumbissi — Cameroon
Jaqueline Antonia Ferrerira — Brazil
Yeounhee Kang — South Korea
Kanah Shenelle Andrews-Nahu — New Zealand
Valentin was a returning medalist from the 2016 Rio Olympic Games, earning the bronze in the 75-kilogram class (new weightlifting categories were approved by the IWF in 2018). Heading into the Games, none of the world record standards in this weight class have yet to be achieved.
87-Kilogram World Record Standards
Snatch — 132 kilograms (291 pounds)
Clean & Jerk — 164 kilograms (361.6 pounds)
Total — 294 kilograms (648.2 pounds)
Session Recap
Here's a play-by-play of the action on the platform.
Snatch
Nayo Ketchanke opened up the event for Group A with a successful 103-kilogram snatch. Perez Reveron and Cilcic both followed with 105-kilogram lifts to get on the board. A flurry of adjustments to opening weights backstage led to Nayo Ketchanke stepping back on the platform for a successful 106-kilogram second attempt.
Rogers's first appearance on the stage was alongside a 108-kilogram opener and it went smoothly overhead. Salazar matched that weight, and Nayo Ketchanke scored her third attempt at that weight. Perez Reveron moved her weight up by four kilograms — everyone was flawless thus far.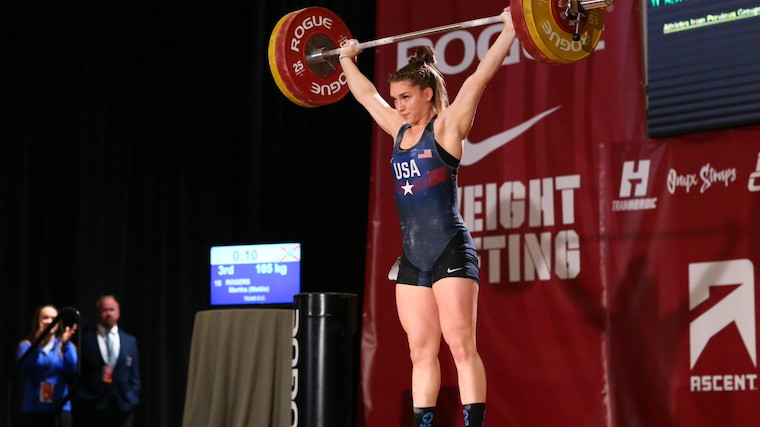 Cilcic recorded the first missed attempt of the group on her 109-kilogram second attempt. She walked in a circle and was back to the stage a minute later to miss the weight again. Munkhjantsan opened at 110-kilograms and missed despite entering with an audible roar. She came back a minute later, roared again, and scored the same weight. She upped to 112 kilograms but could not sustain it.
Rogers was back with 111-kilograms on her second attempt, but it was no good. Salazar stayed at the same weight as Rogers but got her attempt up clean. Santana took the stage for the first time with 112 kilograms on the barbell and launched it overhead to get on the board. Perez Reveron successfully closed her snatch portion of the competition at the same weight.
Rogers came back with 112 kilograms as well. It appeared to be a good lift, but it went to jury review and was ruled no lift — slight press out with the left elbow. Salazar posted 113 kilograms and made it look easy — she went three for three. Wang finally entered the competition at 115 kilograms but could not stand up with the weight overhead. Her second attempt at that weight went up easy.
Santana hit 116 kilograms on her second attempt and there was suddenly a battle for the lead. A change in weight by Wang put Santana back on the platform with 119 kilograms, which she could not secure. Wang claimed the overall lead with a successful 120 kilograms to head into the clean & jerk portion of the contest.
View this post on Instagram
Clean & Jerk
Cilcic and Nayo Ketchanke made the first splash in the clean & jerk portion with 135-kilogram lifts. This cause a range of weight changes backstage, including Rogers, who was in sixth position overall, to move up to a 138-kilogram opener. She lost it at the bottom rolling back on her heels. She used the majority of her two minutes to regain her composure but her second attempt was a mirror image of her first.
After a changing of the barbell, Rogers made a third attempt of 138 kilograms and hit it to post a total of 244 kilograms. Nayo Ketchanke eclipsed that total on a following 139-kilogram lift to match her personal best. Santana scored her opening 140-kilogram lift with ease, but could not maintain her following two attempts at 144 kilograms. Salazar continued her perfect run with a 144-kilogram opener of her own.
Wang opened at 145 kilograms and made quick work of it. Salazar guaranteed herself a medal with a 147-kilogram clean & jerk on her second attempt.
The Games Continue
The next two sessions will feature Women's +87-kilogram and Men's 109-kilogram categories. Group B for the Women's +87-kilogram class competed on Sunday, Aug. 1, 2021, at 10:50 p.m. EST. Group A for the Women's +87-kilogram class will compete on Monday, Aug. 2, 2021, at 6:50 a.m. EST. Groups B and A for the Men's 109-kilogram class will compete on Tuesday, Aug. 3, 2021, at 12:50 a.m. EST and 6:50 a.m. EST, respectively.
Feature image: Frame Art/Shutterstock