It happens to the best of us. Sprained ankles, bruised feet, heel spurs, plantar fasciitis; these are all afflictions that can happen at any moment. Feet are one of the most critical body parts for functioning day-to-day because of the stress people put on them to get from place to place, let alone participate in any sort of physical endeavor. Whether recovering from an injury or trying to prevent a new one, ankle sleeves are an affordable tool for protecting feet. (If you are experiencing ankle pain or suffered an injury, it is heavily advised to go seek the advice of a medical professional to see your care options).
Because foot injuries are all too common, most people will probably have a brush with an ankle support product at some point. Casual athletes can hurt their foot playing almost any sport while those who have sprained ankles have reinjured them while dancing at a wedding. Ankle sleeves are not all made the same; they feature different designs and levels of security. We have examined some of the leading offerings to figure out what they have to offer.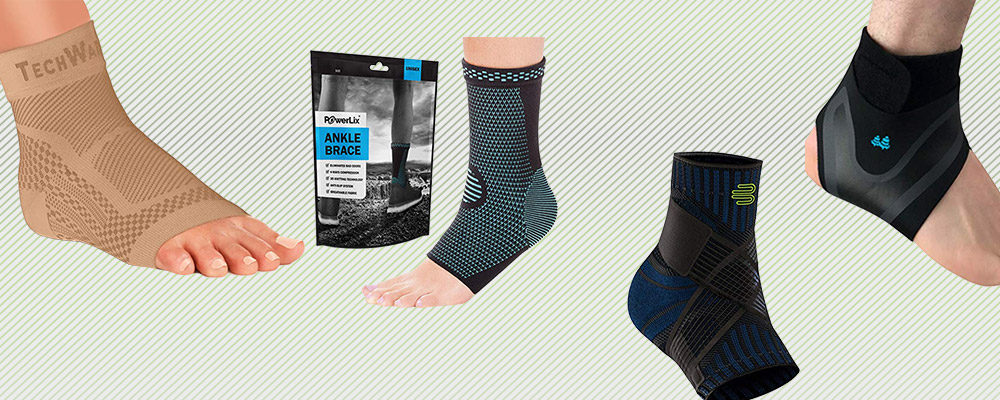 Most Fashionable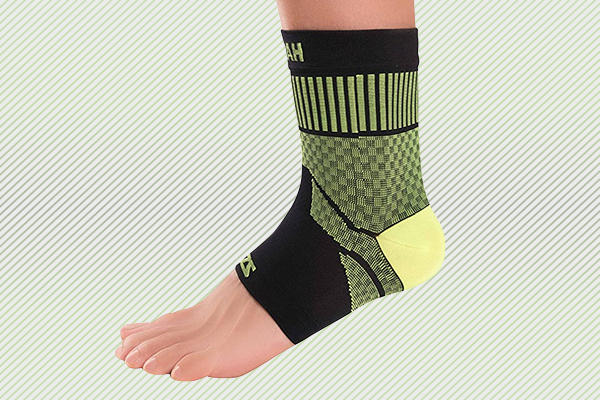 Lots of fun colors.
Pros:
These sleeves come in black, beige, grey, neon yellow, and neon pink.
Many find the material more lightweight and breathable than competitors.
They can be bought one or two at a time.
The heel is made with heavy duty spandex to resist wear.
Cons:
The range of colors is a plus, but not everyone likes the big "Zensah" across the shin.
It offers great compression, but some find it not rigid enough for serious sports.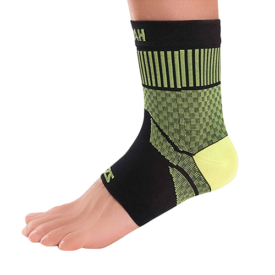 These ankle sleeves come in a huge variety of colors and are made of three quarters nylon and one quarter spandex. They manufactured to be lightweight and moisture wicking without compromising mobility. Each color combination is machine washable.
Runner Up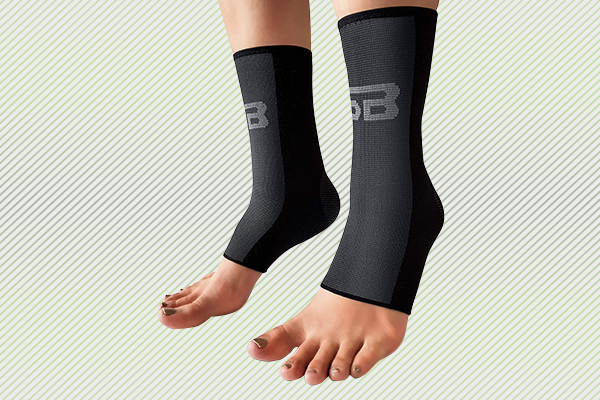 Great for mobility.
Pros:
These sleeves are made with moisture wicking fabric to help minimize sweaty, soaking ankles.
The cuffs are anti slip so they stay in place on your toes and above your ankle.
The product comes in three colors.
Cons:
While it's clear where the heel should be placed, the product isn't heel shaped.
The product might not be great for hypermobile ankles, as it can pull the foot forward.
SB SOX Compression Ankle Brace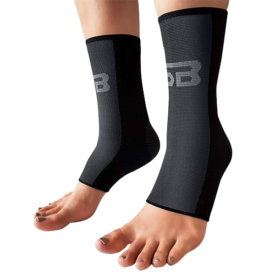 SB SOX Compression Ankle Brace
A moisture wicking sleeve that stays in place due to its anti-slip top and bottom cuffs. The form fitting design can offer additional support during physical activity without sacrificing ankle mobility. It is offered in black, beige, and gray. 
Editor's Choice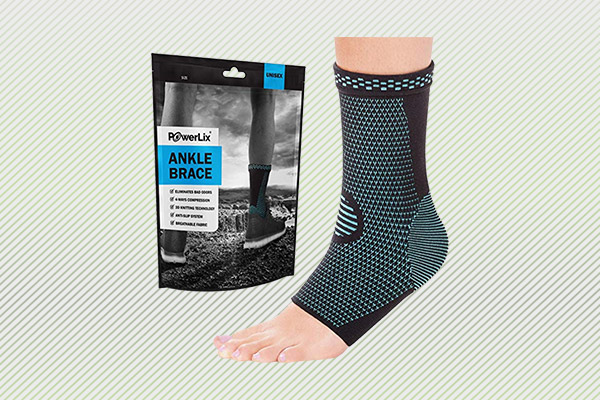 Thin and flexible.
Pros: 
Knit pattern. The knit pattern designed for this line of ankle sleeve is meant to give extra flexibility at the heel and the top of the foot. Regardless of the size of the wearer's foot or ankle, this sleeve is meant to provide flexibility even as it applies pressure.

Wide accommodation range. These ankle sleeves can fit a wide range of feet, even within each size option. The sleeves can expand up to 60 percent above their listed circumferences, perfect for those who have temporarily sprained or swollen body parts.

Thin fabric. This POWERLIX ankle sleeve is made out of a very thin material, thin enough for users to wear their normal socks over them. They also fit better into shoes than other types of ankle braces.
Cons: 
Only one layer of support. While some ankle sleeve products have multiple layers of support, this line of sleeves only has the one compression layer and no straps. Those looking for heavier-duty support might need to look elsewhere.

Can be difficult to put on. These sleeves have a snug fit, so some users may have some difficulty putting them on, especially those with hand injuries or arthritis.
POWERLIX Ankle Brace Compression Support Sleeve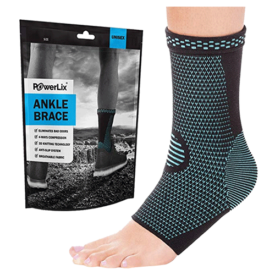 POWERLIX Ankle Brace Compression Support Sleeve
This compression sleeve offers a tight fit and flexibility in the ankle joint. It provides even pressure throughout the area it covers, making it ideal for helping deal with injuries and to give shakey or recovering joints a consistent layer of assistance.
The Contender
Moisture wicking in 7 colors.
Pros:
Moisture wicking. The fabric of this ankle sleeve is designed to guide the body's sweat and other moisture to the outside of the brace. This is helpful for those in humid climates.

Heel pressure. This ankle sleeve has fabric that wraps around the heel, which is ideal for those suffering from plantar fasciitis and other heel ailments. Many competitors have ankle braces that wrap around the heel but do not cover it.

7 colors. This brand of ankle sleeve has among the most amount of color varieties available to choose from. Customers can pick between beige, green, blue/black, green/black, pink/black, gray/black, and pink.
Cons:
Top of sleeve not as tight. This sleeve offers ample compression around the ankle and heel but is a bit looser around the upper ankle and may slide down a bit. Those looking for support, after say a high-ankle sprain, may need to look for alternate ankle support.

Only 3 sizes. While most customers will probably find that their feet fit fine, with only three sizes offered, some customers may find the sleeves either a bit tight or too loose. The sizes are small/medium, large/extra-large, extra-extra-large.
TechWare Pro Ankle Brace Compression Sleeve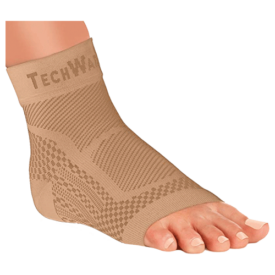 TechWare Pro Ankle Brace Compression Sleeve
These compression sleeves are designed to fit snugly around the foot and heel, providing great support for ankle soreness. With seven colors offered, multiple pairs can be bought to keep customers' feet and style fresh.
Best Bargain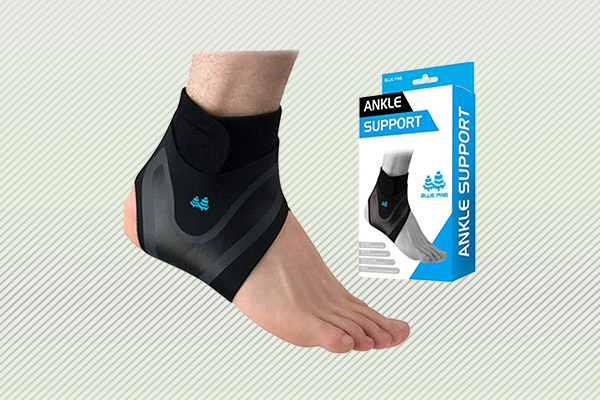 Inexpensive and adjustable.
Pros: 
Adjustable. This ankle sleeve is not put on like a sock, like most other ankle sleeves. This one wrap around the foot and is secured with velcro on both front and back of the ankle, allowing the user to adjust the level of tightness and fit.

Allows circulation. The fabric of this sleeve from Blue Pine is perforated in the interlayer, allowing the foot to have air flow. The SBR (styrene-butadiene rubber) material is soft and durable.

Cost. This ankle brace can typically be purchased for less than the cost of a handful of bills. A great option for those shopping on a budget.
Cons: 
Velcro tabs can rub ankles. Because of the location of the velcro straps, the velcro can actually rub uncomfortably against the ankle. This will all depend on the shoe and the thickness of the socks being worn.

May not fit. While most compression socks will easily slip on and fit, because this is more of a butterfly shape that needs to be secured, it may not fit all feet.
Blue Pine Adjustable Ankle Sleeve
Blue Pine Adjustable Ankle Sleeve
This adjustable ankle sleeve from Blue Pine allows users to adjust the tightness and fit of the ankle sleeve. This allows users to make this soft and flexible brace as tight as they need for their specific injury or sport.
Most Ankle Coverage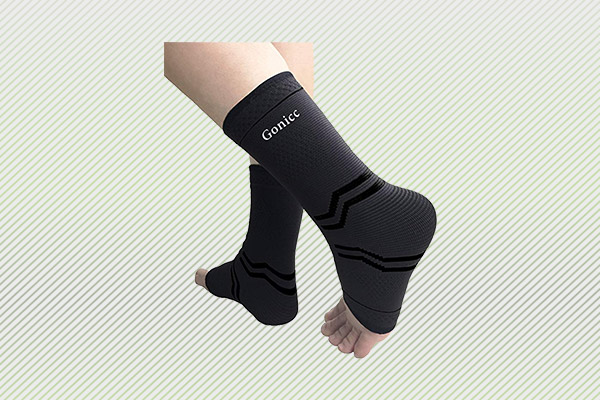 Tall design, soft feel.
Pros: 
Tall design. This foot sleeve from gonicc features a tall design, reaching upwards almost halfway up the tibia and fibula. This can provide extra compression and support for those with concerns or injuries in that region of their leg.

Soft feel. Because of its nylon fabric and the way it is utilized as the material for this sleeve, the fit feels soft to the touch. Some competing ankle braces offer more scratchy and abrasive fits.

Lifetime guarantee. The manufacturer is so confident in its product that they offer a lifetime satisfaction guarantee. Any malfunctions or defects are promised to be refunded or replaced.
Cons: 
Velcro doesn't always line up. Though the velcro straps are designed to fit on their matching end pads upon wrapping, sometimes the loop (soft side) or hook (rough side) can accidentally fasten themselves to the fabric of the sleeve itself. This can pull out fibers and degrade the sleeve or any socks the user is wearing.

Gets looser with use.

As this product is worn over time, it can lose some of its firmness and offer less compression.
gonicc Professional Foot Sleeve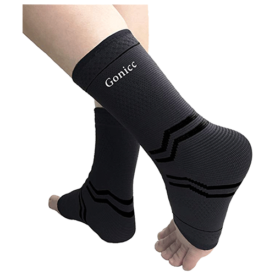 gonicc Professional Foot Sleeve
This sleeve combines the idea of a compression sleeve with the added support of ankle wraps. This tall and soft sleeve is meant to provide a comfortable and comprehensive wrap around a large portion of users feet and ankles.
Best Sleeve with Straps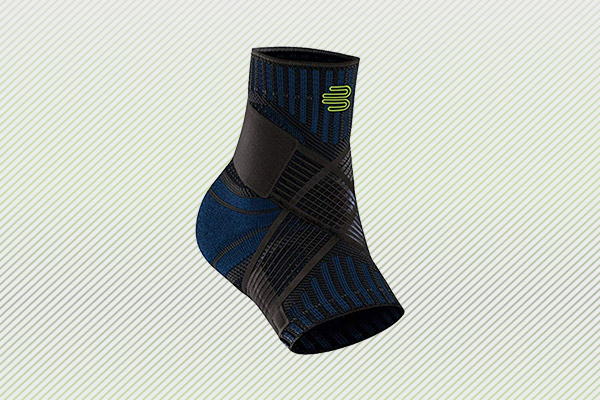 6 size options, fun patterns.
Pros: 
Six size options. The ankle brace from Bauerfeind has six sizes, more than most of its competitors. It is offered in extra-small, small, medium, large, extra-large, and extra-extra-large.

Fun patterns. This line of ankle braces is offered in three diverse sets of colors. The "Rivera" version features a light and dark blue base with neon green lattices. The "Pink" version features a maroon, pink, and yellow base with dark blue lattices. There is also a more subtle black and dark blue option.

Elastic straps. This Bauerfeind ankle brace has elastic straps that can secure a tight fit on the affected ankle while still allowing flexibility during use. The product features two straps that wrap around the foot in opposite directions.
Cons:
Left and right versions. Though some may see this specialization as a positive, others may be perturbed that these braces have a left and right version. For those who sprain their ankles often, they will have to buy both options.

Cost. These German-made ankle braces are not cheap. A single brace can cost more than many people spend on shoes.
Bauerfeind Sports Ankle Support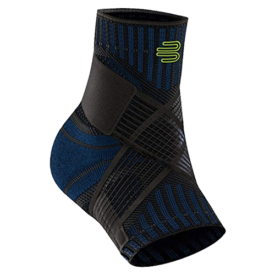 Bauerfeind Sports Ankle Support
This ankle support brace is a colorful and flexible option for supporting injured or injury-prone ankles. It comes in six sizes so customers should be able to find a snug fit.
How We Picked
Ankle sleeves need to provide support and compression for both preventing injuries and to help those already injured to recover. That being said, they should also be comfortable and be able to slip into the patterns of everyday life as seamlessly as possible. Because foot injuries can be so debilitating, it is important to find the right ankle sleeve for each situation. We used a few different key categories to measure some of the top braces against each other. This is what we looked at:
Compression
Ankle sleeves not only provide preventative support, but they can help with injury recovery through the use of compression. Ankle sleeves are typically designed in sleeve form so they can offer an even amount of compression along their entire length and width. This can make them difficult to put on depending on how tight they are, however, and can even make mobility more difficult.
The ankle sleeves with straps offer compression as well but it is not spread as evenly across a foot as it is with sleeves without. The straps can be adjusted to be as tight as the user requires or that is medically necessary. The velcro that is typically used to secure these straps may make the sleeve less comfortable, however.
How easy is it to put on
Again, the big distinction here is between standalone sleeve braces and the type of sleeves that have straps. The compression sleeve ankle braces can typically be put on in one action; just simply adjusting the sleeve so it is in the right position and then pulling it over the toes and up the ankle until it is in place. However, these sleeves are designed to be taught, and for some users, it may be quite difficult to slip them on. If the size is too small or if the user has a hand injury or ailment, such as arthritis, it may prove very difficult.
The strap type of ankle sleeve has extra steps before it is properly secured. There are a few types of straps – the figure-six style and the butterfly-version. The figure-six-style straps need to each be wrapped around the body of the foot, and secured using velcro. The butterfly-style straps require precise placement around the bottom of the foot before securing the velcro on either side of the ankle. This allows a tighter fit but can be applied incorrectly and cause discomfort.
Comfort
While it is of utmost importance for ankle sleeves to offer security and compression in order to allow injuries to heal and to prevent new ones, if the brace isn't comfortable, customers may not even wear them. Some compression sleeves have a thin profile, meaning they are easy to wear with socks over them and to slip into shoes. Often times they are made of only one material, and that material is often designed to be soft, as it will be abutting naked skin.
The sleeves that include straps can be bulkier and made out of several different materials, most uncomfortable of which is velcro. These thicker braces can be difficult to put into some shoes; it may take a little wrangling and even a shoe horn. The layers of component straps can just prove too thick in the wrong place. Users that opt for the sleeves that are attached using velcro often will wear socks underneath to protect the skin against the abrasiveness of the velcro.
Tips:
Not sure which ankle sleeve is right for you? Here are some tips that can help make this decision easier:
Do you need extra compression?

Some users may be simply using an ankle sleeve to prevent injury or to provide a modest amount of support. For these users, the increase in compression from no ankle sleeve to a compression sleeve will be more than enough. However, this compression can sometimes decline over time or might not simply provide enough support.

Those who are recovering from an injury or have a chronic history of foot injuries may be looking for something that can function more as a bespoke ankle brace. The customizable nature of straps and the tightness they can provide allow users to really make sure the sleeve is supporting their needs.

Get medical advice.

Athletes, both casual and more serious, can easily sprain an ankle or tweak an existing injury with one bad step. It is strongly advised to seek medical advice before continuing play or deciding which course of action to take in terms of recovery. Heel pain, for example, could be stemming from a lower foot injury like plantar fasciitis. This is something that should be diagnosed by a doctor.

Physical therapy is often a recommended path to take to aid in recovery. Medical professionals will often suggest doing balance exercises to help rebuild the strength of the foot as the injured tissue recovers. Again, this is something that should be discussed with a medical professional before proceeding.