We receive free products and receive commissions through our links. See
disclosures page
.
For a lot of folks, mountain biking is an excellent way to get in a cardio workout while taking in some scenery. It's not exactly revolutionary to say that it's important to maintain a weekly cardio regimen; benefits include greater heart health, stamina and leg strength. But if running is rough on your joints and the stationary bike is rough on your attention span, heading out on a mountain bike trail might be the solution you never knew you were looking for.
Whether you intend to bike recreationally or turn it into a full-fledged workout routine, you'll need your own mountain bike. With so many styles and features to consider, shopping can be overwhelming. Fortunately, we've distilled all you need to know when shopping for an entry-level mountain bike.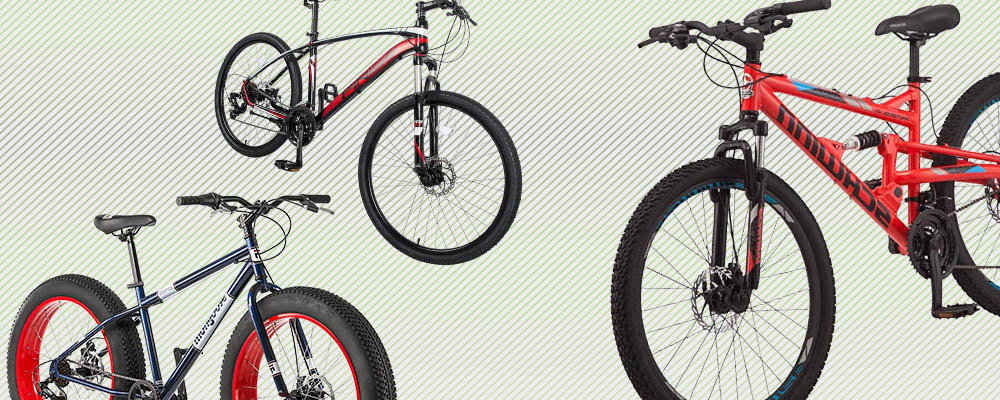 Best Fat Tire Bike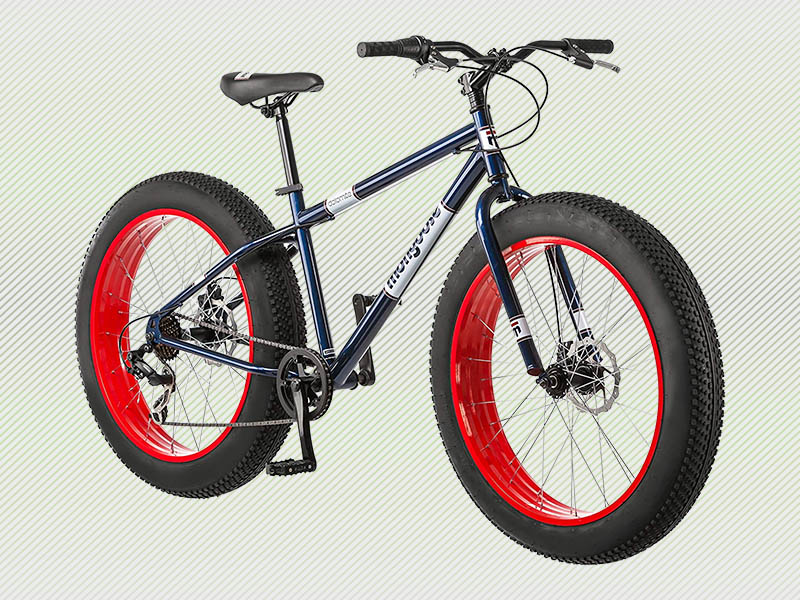 Mongoose Dolomite Fat Tire Mountain Bike
Pros:
Super-sized, 4 inch-wide tires absorb a lot of the shocks you'll encounter while riding, whether on a trail, sand, or even snow. 

The Dolomite has a single drivetrain with seven speeds and is equipped with twisting shifters on the handlebar, making it easy to change gears.

With the fat tires taking the brunt of the impact, the Dolomite has a rigid frame as opposed to a suspension system, potentially requiring less maintenance. 
Con:
Steel frame makes this bike sturdy, but also weighs it down a bit, which will give you an extra workout when scaling hills. 
Mongoose Dolomite Fat Tire Mountain Bike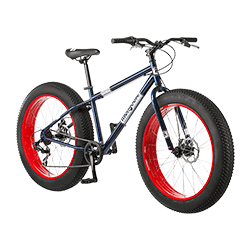 Mongoose Dolomite Fat Tire Mountain Bike
The distinguishing feature of a Fat Tire mountain bike is right there in the name: fat tires. These oversized rollers provide extra traction when you're riding on trails. Mongoose's fat tire offering comes with 26 inch wheels designed to be taken off-road.
Best Hardtail Bike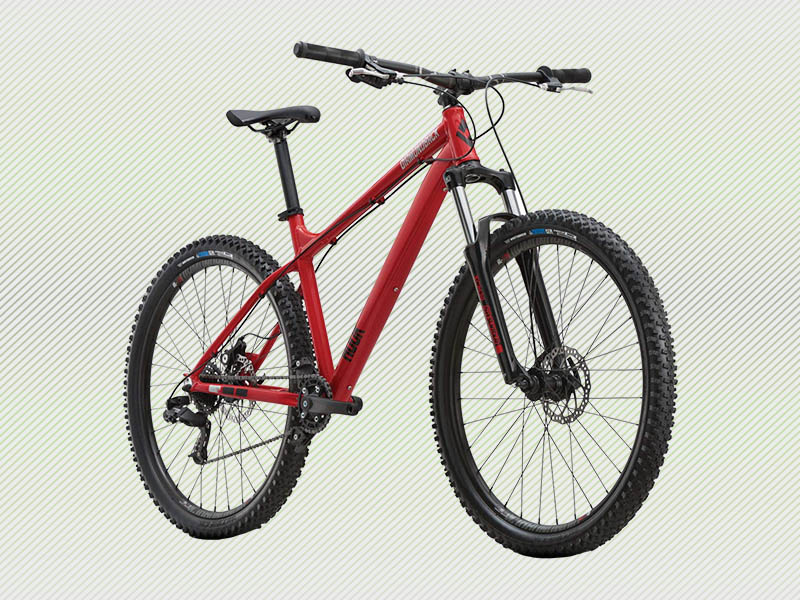 Diamondback Hook Hardtail Mountain Bike
Pros:
The Hook features hardtail suspension, meaning that the suspension is located on the front wheel. So if you hit a bumpy trail, the suspension should absorb a lot of the stinging and give you a smoother ride. 

27.5 inch tires split the difference between the easy-to-handle 26 inch models and long-distance-designed 29ers.

A single ring drivetrain helps keep the weight of the bike low, makes for simpler shifting, and should cut down on maintenance down the road.
Con:
 This is the most expensive model on our list, and maybe a bit steep for an entry model. 
Diamondback Hook Hardtail Mountain Bike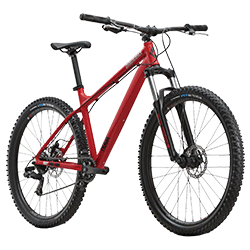 Diamondback Hook Hardtail Mountain Bike
Diamondback's Hook model is built with aluminium framing, making for a lighter ride than some of the other offerings on this list. Built by a trusted name in mountain biking, this is a very solid, if not cheap, entry-level mountain bike. 
Full-Suspension Model
Schwinn Protocol Dual-Suspension Mountain Bike
Pros:
The 26 inch wheels are designed to help you dart around tricky trails. 

An aluminium frame with alloy rims make for a sturdy, yet light mountain bike. 

The dual-suspension system is designed to offer cushioning for the bumps you hit in the front and the back. 

24-speed shifters offer an ample range of gears to navigate between. 
Con: 
While dual-suspension bikes are great for navigating tough trails, they can come with increased maintenance costs.
Schwinn Protocol Dual-Suspension Mountain Bike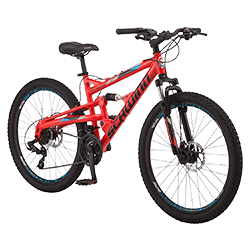 Schwinn Protocol Dual-Suspension Mountain Bike
With suspension on the front and rear end designed to cushion your ride, Schwinn's Protocol makes for a great option for those looking to ride rougher trails. 
Best For Teens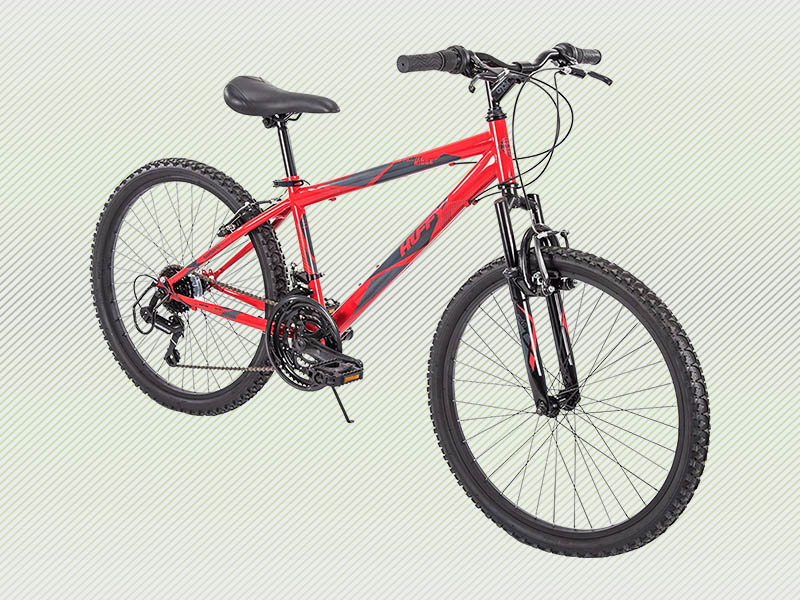 Huffy Hardtail Mountain Bike
Pros:
The front-end suspension system is designed to dampen the shocks felt when riding over bumps. Let the bike take the bumps instead of your shoulders.

This is an imminently affordable option for a lot of folks. 

Built with 21 speeds to allow for easier uphill riding and smooth downhill riding, the Huffy gives you a variety of shifting options. 

Includes an easy-to-follow assembly video.
Con:
As this bike is on the smaller end, it may not work for most adult consumers.
Huffy Hardtail Mountain Bike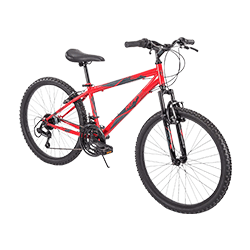 Huffy Hardtail Mountain Bike
Huffy's 24 inch wheel hardtail mountain bike is specifically designed for teenage riders. However, it may be a great option to check out as an entry-level bike for riders under 5'10". 
Best Overall Value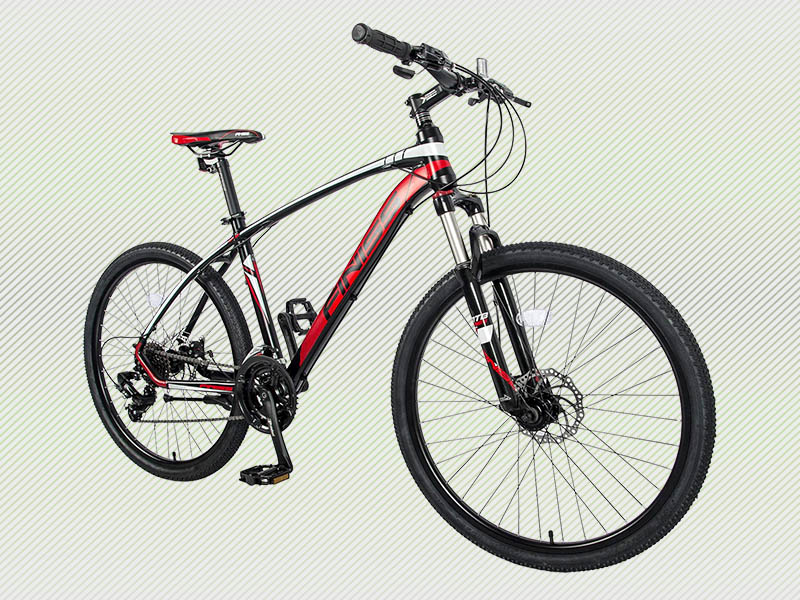 Merax Mountain Bicycle
Pros: 
The Merax offers dual disc-brakes, designed to give the rider a ton of control regardless of the conditions. 

Shimano 24 speed shifters allow you to ride in a number of conditions. 

Designed to accommodate users up to 330 pounds.

Competitively priced entry level mountain bike. 
A potential drawback of the Merax could be the design. It features some futuristic-looking lines that may not be everyone's cup of tea, or, ahem, style of trail mix.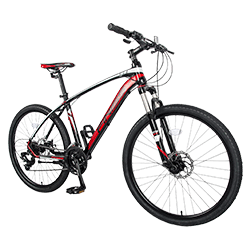 Merax's entry-level bike sports 26 inch tires, an aluminium frame, and a front suspension system, making it a great option for folks looking to tackle trails. Its competitive price point makes it a great value option for those starting out in the mountain biking game. 
Methodology
With so many mountain bikes on the market in a variety of styles, it's really important to know how to distinguish one from another. In comparing mountain bikes, you're going to want to pay attention to a few key categories.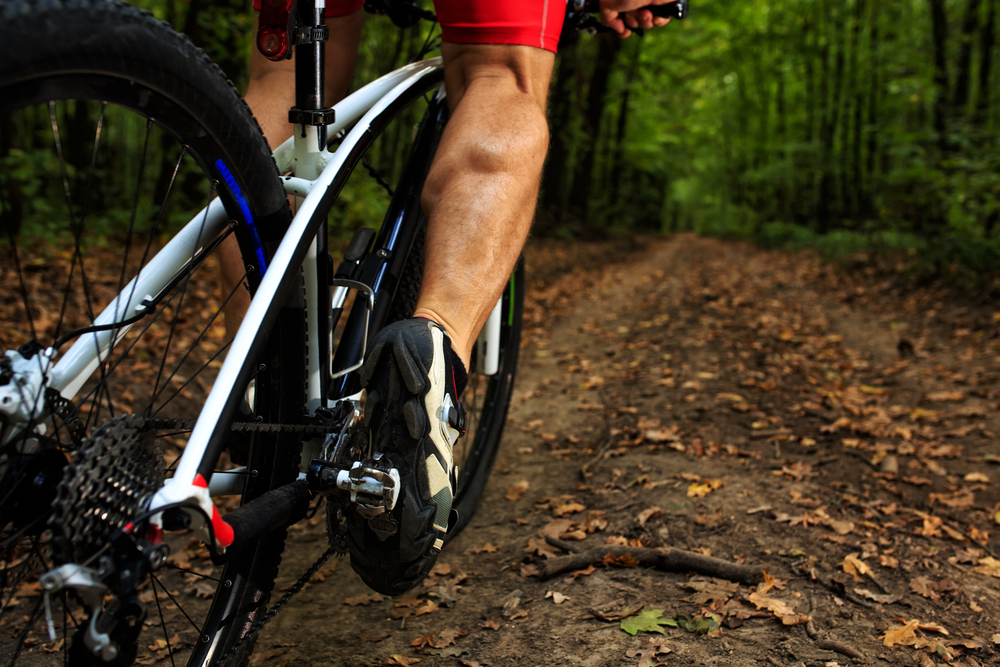 Suspension
What is a suspension system? Put simply, it's the bike's way of absorbing shocks from uneven terrain so that you don't have to. The two main styles are hardtail, which features suspension in the front-end only, or full-suspension, sometimes called dual-suspension, which covers both the front and the back.
While full-suspension will theoretically give you a smoother ride over a wider range of terrain, it often comes with greater maintenance costs, since there's twice the hardware as in a hardtail system. For most beginning mountain bikers, a hardtail suspension system should be enough to handle the average trail.
Most fat tire bikes have a rigid frame, meaning they do not have any suspension system. Instead, these bikes utilize fat tires to absorb bumps and bruises during your ride. The fat tire is definitely a unique look and may not be for everybody, but not having a suspension system could decrease your maintenance costs.
Wheel Size
The most common mountain bike tire size is 26 inches, designed to give you an ability to decipher trails and move deftly over terrain. You may come across mountain bikes with 29 inch tires, designed for longer, cross-country trips. Recently, a 27.5 inch wheel has become popular, effectively splitting the difference between the two. For most people starting out, the 26 inch models are sufficient.
Gears/Speeds
As a refresher, the number of speeds on a bike is determined by multiplying the number of chainrings on the front by the number of sprockets on the back. So a 24 speed bike has three chainrings on the front, and 8 sprockets on the back, giving you a wide array of resistances to choose between. Generally, the more speeds, the easier it'll be to deal with hills. If you live in a particularly hilly area and struggle climbing them, opting for a greater number of speeds may be a wiser choice. However, a single chainring, or drivetrain, makes for a lighter ride and simple shifting.
Weight
There are definitely advantages to having a lighter bike, particularly if you travel it in your car to and from the trails, or haul it up the stairs of your walk-up apartment building. A lighter bike may also be easier to ride up hills. However, when looking at mountain bikes, it's more important to consider the strength of the bike more than its weight. At an entry-level price point, you'll see either steel or aluminium bikes. Steel is heavier, but stronger. If you're looking to enter races, you may invest in a lighter aluminium model. At a much higher price point, you'll find the even lighter carbon fiber models, but let's worry about those when you're ready to make a more serious purchase.
BarBend Buying Tips
Before you invest in a mountain bike of your own, try testing out some models. See if you can rent a mountain bike and take it out for a day, and look for the variances in shifters and suspension types.
Know your own level of fitness before choosing a gear style. If you're already a strong cyclist, you may not need all 24 speeds, and can probably opt for a 1x drivetrain.
This may seem obvious, but scout out your local trail scene. If it turns out there's no place near you to ride, you may regret dropping a couple of hundred bucks on something that will become a uniquely shaped coat rack.
Mountain biking is a popular, fun and challenging means of exercise for a lot of folks. Riding trails can test your body and your focus, particularly if you're on unfamiliar terrain. However, if you're about to jump on a bike for the first time since you learned to ride as a kid, be sure to start slow: riding a mountain bike is not as easy as riding a bike.