We receive free products and receive commissions through our links. See
disclosures page
.
Research has shown that compression arm sleeves can help increase precision and sensitivity around the elbow and wrist joints during physical activity (1). What does that mean? It means that compression arm sleeves may improve your athletic performance by promoting better blood circulation.
The follow up question, of course, is which arm sleeves should you invest in? After all, the market has a lot of options. Well, get your vests ready, because below is the breakdown of our top picks for compression arm sleeves.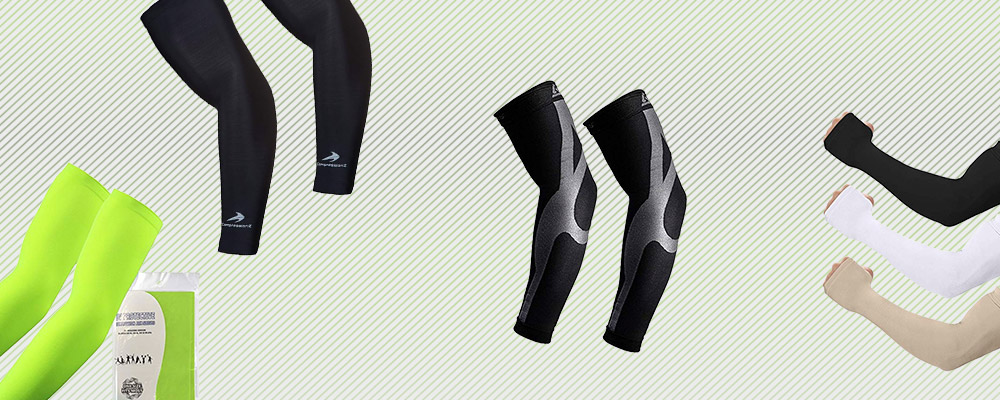 Editor's Pick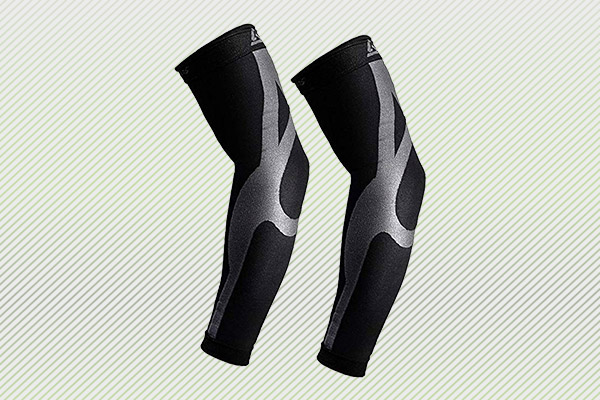 B-Driven Sports Enhanced Graduated Compression Arm Sleeve
Pros:
Excels in elbow support and potential for reducing elbow pain. 

May help reduce inflammation from burns.

More stylish design than most other options on the market.
Cons:
Sizing tends to run small.

On the pricier side of the market.
B-Driven Sports Enhanced Graduated Compression Arm Sleeve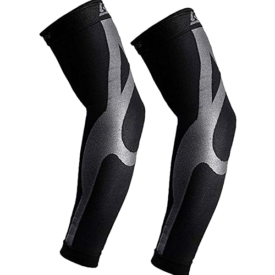 B-Driven Sports Enhanced Graduated Compression Arm Sleeve
B-Driven Sports Compression Arm Sleeve uses medical grade compression. Made of three parts nylon and one part spandex, these sleeves have a design across the sleeve reminiscent of kinesiology tape.
Contender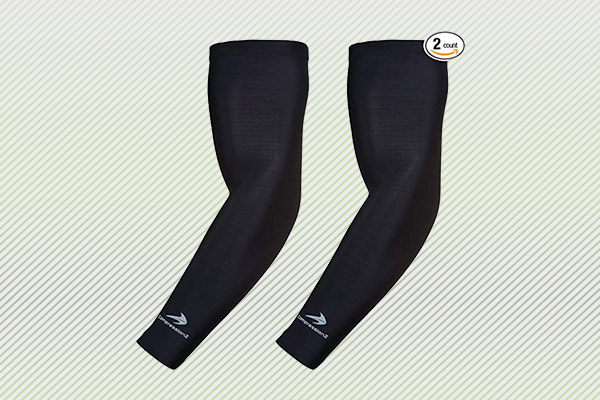 CompressionZ Compression Arm Sleeves
Pros:
Secure cuff at the top of the sleeve offers a secure fit to prevent bunching during activity.

Retains compression over time even after being laundered.

Blocks UV rays.
Cons:
Taper in the sizing may not be compatible for athletes whose upper arms are the same size as their forearms.
The inner seam may cause discomfort for those with lymphedema.
CompressionZ Compression Arm Sleeves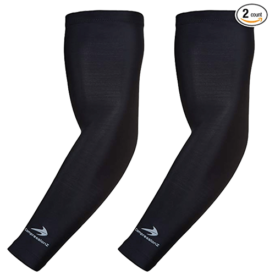 CompressionZ Compression Arm Sleeves
CompressionZ's Compression Arm Sleeves are moisture wicking, UV protective, and can keep muscles and joints in the arm warm. They cover the forearm, elbow, and upper arm. Five different colors options are offered. 
Best on a Budget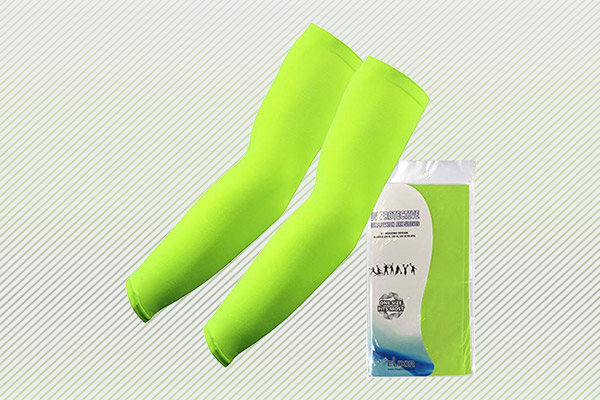 Elixir Arm Cooler Cooling Sleeves UV Protective Compression Arm Sleeves
Pros:
Good elastic material can offer better flexibility.

Cooling design may be better for athletes who compete in warmer weather.

On the more affordable end of the market.
Cons:
Must be washed and dried by hand.

May not work for athletes who prefer a thicker compression sleeve.
Elixir Arm Cooler Cooling Sleeves UV Protective Compression Arm Sleeves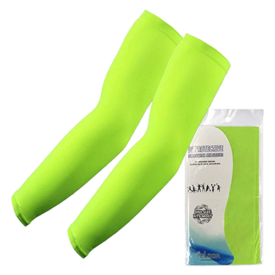 Elixir Arm Cooler Cooling Sleeves UV Protective Compression Arm Sleeves
The Elixir Arm Compression Sleeves utilize an ergonomic "3D" design that wraps around the arm and releases sweat in a way that aims to keep the arm cool even while sweating. They are made of 88% polyamide fiber, 12% spandex and are offered in ten different color options.
Most Unique Design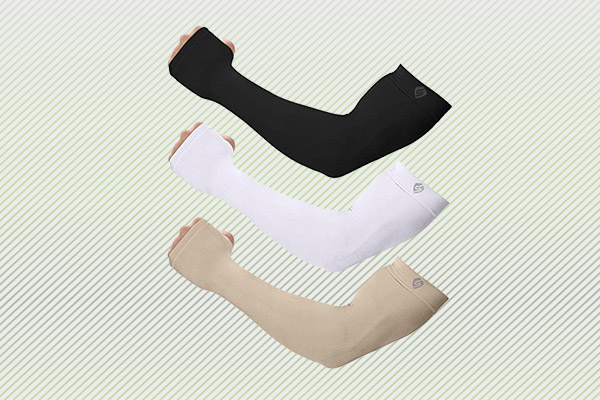 SHINYMOD Arm Sleeves
Pros:
The section of the sleeve that covers the wrist and palm can be folded back comfortably to the base of the wrist (so it wears as most standard compression sleeves do from the bicep down over the forearm).

No seams parallel to the arm might it more comfortable over long periods of time.

Can stretch comfortably to 44 inches ensuring good flexibility.
Cons:
May tend to fray if not properly washed and maintained.

Sizing tends to run small.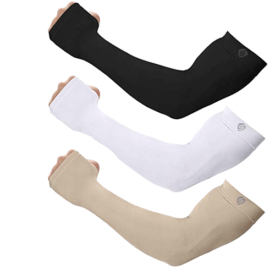 The SHINYMOD Arm Sleeves stick out from the crowd for the way they cover the entire arm as most options on the market, but also extend over the wrist and cover the palm. There are three basic color options of black, white, and beige.
Methodology
Compression and Fit
The level of compression of a sleeve is not only going to determine how effective it is likely to be at reducing inflammation, soreness, etc. but how comfortable it will feel on an athlete's arm. The standard for most compression sleeves is a range between 20 to 30mmHg. If you're unsure of the level of compression you need, it is always safest to consult your physician before making a purchase. If you do know the level you need, most sellers will highlight what mmHg their sleeves are. Too much compression will make the sleeve feel uncomfortable and tight. Too little compression will make the sleeve feel baggy and lack the benefits of compression. Make sure to find sleeves compatible with your compression preferences.
Material
Choosing the correct material for you is a nod to comfort but also a consideration for the sport you intend to use the sleeves for. Some sleeves can block UV light, potentially making them better for outdoor athletes. Others are made of breathable material to help prevent sweating. Having a sense of the sport or activity you intend to do before choosing a compression arm sleeve will help access which material is best for you and help to narrow down the best options.
Additional Utility
Not every compression arm sleeve will have any additional benefits and that's totally fine. After all, a compression arm sleeve should focus on giving you the correct amount of compression while remaining comfortable to wear. Some sleeves do have added utility though, and it doesn't hurt to be on the lookout for them. For example, there are compression sleeves on the market that extend over the hand and/or wrist. That might be useful for someone who would have also considered investing in a compression sleeve for their hands and wrists. Another example is additional elbow support. Not every athlete will need or even want any extra focus on their elbow, but for those that do, it might be the smarter option to go with. No matter what, we'd recommend putting function, comfort, and safety above all else. But if the extra added value is there, it makes sense to take it into consideration.
Wrapping Up
Compression arm sleeves promote better blood flow which has a bevy of benefits, from potentially reducing inflammation to pain relief. It even has the proven scientific backing to show for it. They are a great addition to your fitness gear for both indoor and outdoor sports as well as passive day-to-day activity.
FAQs
What is a compression arm sleeve?
A compression arm sleeve is used for the compression they provide which research has shown can improve blood circulation. They usually cover from the bicep down to the base of the wrist and can help with muscle recovery, increased performance, and joint support.
What is the right amount of compression?
Always consult your physician if you are unsure which amount of compression is right for you. Most compression sleeves will fall between the 20-30mmHg range but there are options above and below available.
References
Barss TS, et al. Effects of a compression garment on sensory feedback transmission in the human upper limb. J Neurophysiol. 2018 Jul 1;120(1):186-195.