Wrist braces, or sometimes sleeves, wrap around or cover the wrist joint for support. Examples of support can be maintaining alignment or alleviating pressure when bearing weight. They can differ in design and the level of support they offer.
Whether you need the additional support or an alleviation of pressure, wrist braces have shown to be beneficial when used consistently. (1) So let's strap in and find the best wrist brace option for your needs.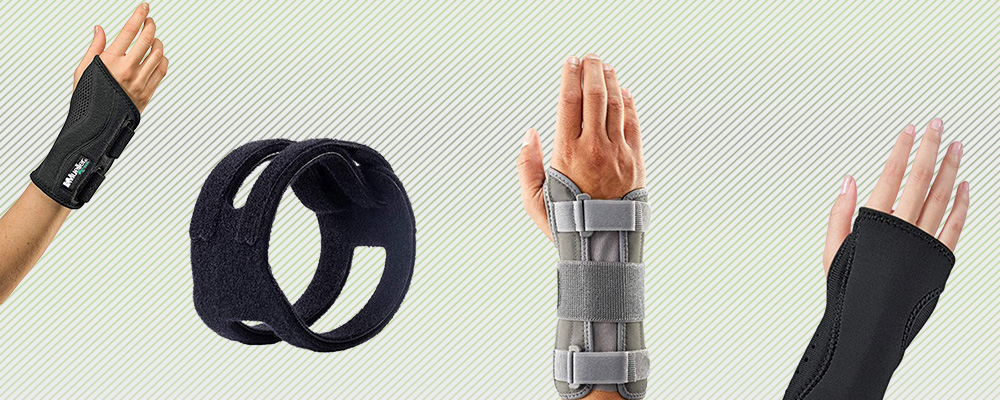 Editor's Pick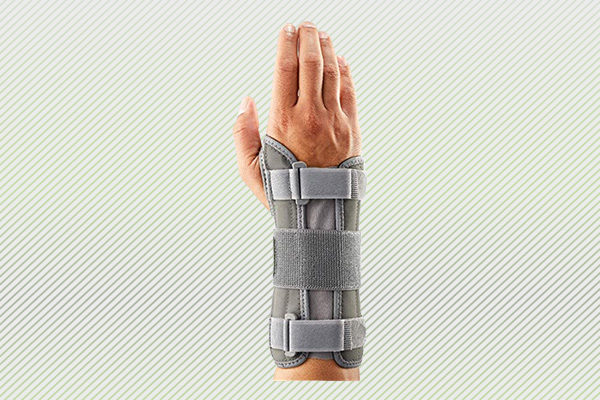 ACE Deluxe Wrist Stabilizer
Pros:
Lightweight at only four ounces.

Easy to wash.

Adjustable straps offer control over the level of stiffness.

Softer brace version available.
Cons:
Can get uncomfortable if worn for a long continuous period of time.

May pull at the thumbs of people who have very large hands.
ACE Deluxe Wrist Stabilizer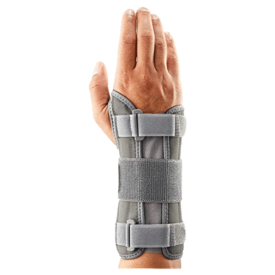 ACE Deluxe Wrist Stabilizer
The ACE Deluxe Wrist Stabilizer is a memory foam cushioned brace that specifically targets carpal tunnel utilizing three stabilizers straps. It wraps around the base of the thumb and extends down the forearm while allowing free movement of the fingers.
Contender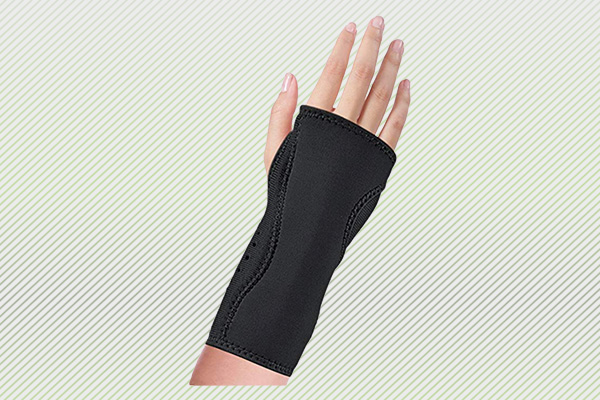 Night Wrist Sleep Support Brace
Pros:
Made of breathable material that doesn't hold moisture.

Might make for a good transition brace after the removal of a cast.

Utilizes cushioned beads for added comfort.
Cons:
Can create a tingling feeling in the fingers when worn while sleeping.

Not machine washable; cannot be tumble dried.

A bit pricier than comparable options.
ComfyBrace Night Wrist Sleep Support Brace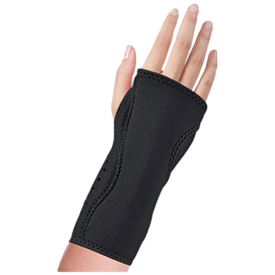 ComfyBrace Night Wrist Sleep Support Brace
The Night Wrist Sleep Support Brace is a one size fits all splint. It slips over the hand before fitting snug on the wrist rather than employing straps and fasteners. The ambidextrous design allows for one brace to work on either the left or right wrist.
Also Consider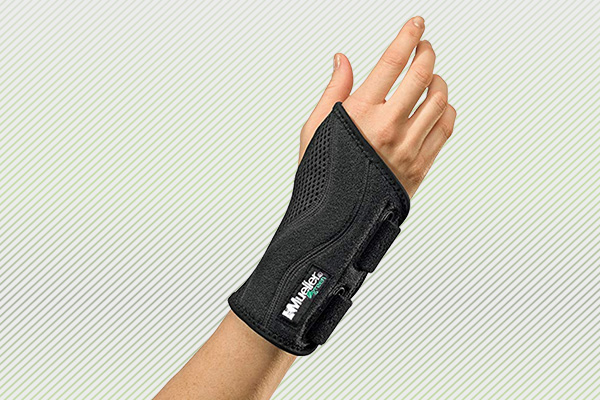 Mueller Green Fitted Wrist Brace
Pros:
Made from mostly recycled non-petroleum based materials.

Padded contour support on the bottom side of the wrist makes for easier all-day use.

Parallel stays along the forearm help maintain neutral alignment of the wrist.

On the more affordable end of the market.
Cons:
Straps might make it difficult to put on with only one hand.

Sizing tends to run tight.

Thumb opening is cut lower than what may be comfortable for people with wider hands.
Mueller Green Fitted Wrist Brace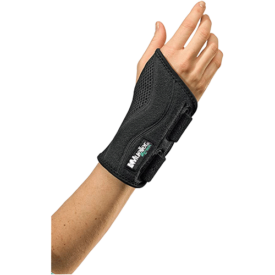 Mueller Green Fitted Wrist Brace
The Mueller Green Fitted Wrist Brace wraps over the forearm, wrist, and base of the hand. It uses two adjustable straps on the outside of the arm and is offered for those with wrists up to ten inches in circumference. 
Best For Ulnar Support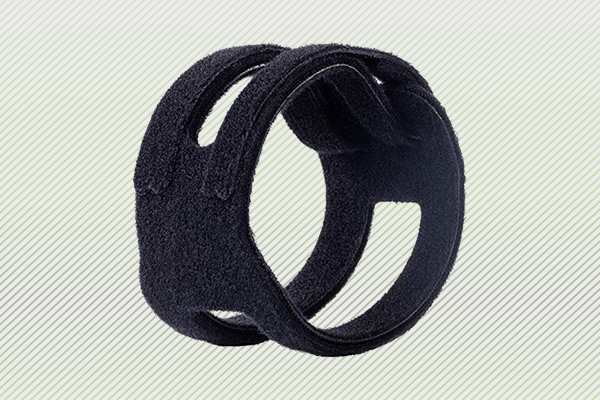 WristWidget Adjustable Support Wrist Brace
Pros:
Adjustable velcro straps can increase or decrease stiffness as needed.

Can offer more accurate fitting by executing a weight bearing test.

May be effective for athletes who use wrist flicking movements; baseball pitchers, bowlers, etc.
Cons:
May need to reinforce the straps if used often.

Unlikely to provide a more supported range of motion.

Less compatible for people who have narrow wrists.
WristWidget Adjustable Support Wrist Brace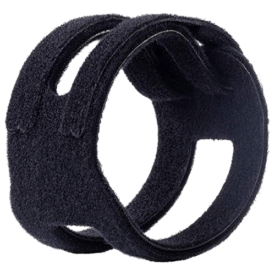 WristWidget Adjustable Support Wrist Brace
The WristWidget Adjustable Support Wrist Brace is a small circular brace that wraps around only the wrist. It is primarily designed to provide support to the triangular fibrocartilage ligaments (attached to the ulnar bone in the forearm on the opposite side of the tumb) so that the corresponding wrist can bear more weight.
Methodology
Fitting and Stiffness
How the brace fits will obviously have influence over comfort levels and how effective the provided support can be. The main features to focus on when trying to determine which braces will fit better are whether or not the brace utilizes straps. If a brace does not use straps, it will most often be a slip-on brace that has a different tightening feature to control rigidity.
When choosing between braces with straps, first be sure that all of them are adjustable. Adjustable straps can offer a wider range of stiffness. If they're are multiple adjustable straps, then the stiffness may also be adjustable in the specific range of one strap in particular.
Support Specific
If you are someone who needs a particular type of wrist support and you've been instructed by a medical professional that a brace might be useful for you, then acquiring a brace that provides that specific kind of support you need should be a priority. Most braces can provide a range of support.
Wrapping Up
A proper wrist support brace can help offer you relief. There is a lot of variety in the marketplace so the proper wrist support brace is likely out there for you.
References
De Angelis MV, et al. Efficacy of a soft hand brace and a wrist splint for carpal tunnel syndrome: a randomized controlled study. Acta Neurol Scand. 2009 Jan;119(1):68-74. Epub 2008 Jul 13.