This weekend, almost 400 of the best weightlifters in the United States will be invading Chicago for the 2017 USA Weightlifting (USAW) National Championships. That means there will be over twenty thousand members of USAW, and even more weightlifting fans around the world, not competing this weekend. With a live webcast that will be providing all of the lifts, available for free, why not get a group of friends together and compete in Fantasy Weightlifting!
Fantasy Weightlifting?
Yes, just like American Football and Baseball, a group of weightlifters from the Houndwood Weightlifting Team in New Jersey have devised a way to compete against each other with an imaginary team based on actual results. These teams compete based on the statistical performance of the real weightlifters in actual competition. This performance is converted into points that are compiled and totaled according to a roster selected by each fantasy team's manager. With over 56 million people in the United States already playing fantasy sports, it was only a matter of time until someone developed the game to be revolved around weightlifting.
Fantasy Weightlifting was developed by Chris Hernandez, Domenic Aversa, Christian Wagner and Joe Wagner, prior to the 2015 World Championships in Houston, Texas. In discussing the origins of the game with Aversa, he told me, "Initially it was pretty basic. Scoring was based on medals won and there were only a few of us from the gym. Now there are a lot more people into the game and we have a big draft party before large competitions, we really get into it."
How Do I Play?
It is pretty simple really. The main requirements are:
Download this Scoring Spreadsheet
Ability to follow results from USAW National Championships
A group of friends to compete against (optional)
The scoring spreadsheet is where the statistical performance is tracked. It was originally created by the weightlifters from Houndwood and has been re-engineered by a guy from corporate America to make it as user friendly as possible.
It is currently created for up to five teams to compete against each other. Each team is comprised of 8 men and 8 women. If you want all your men in the 56KG weight category and all your women in the 90KG+ category that is fine; or mix and match your team as you wish.
Every athlete lifting in an A session (as of the May 5th start list) has been populated into the spreadsheet as an option to select onto your team. It is very possible an athlete in another session will win a medal, however with all due respect, it was a lot of data entry and we had to draw the line somewhere. Cells B2 through B9 have drop down boxes for the men, and cells B12 through B19 have drop down boxes for the women. When a team selects an athlete, their entry total and Weight category will automatically appear in the spreadsheet.
Athlete selection is encouraged to be in a traditional fantasy format where the team that selects first in the 1st round will select last in the 2nd round and 1st again in the 3rd round. The below graph illustrates this, with Team 1 making the 1st, 10th and 11th overall selections in this example: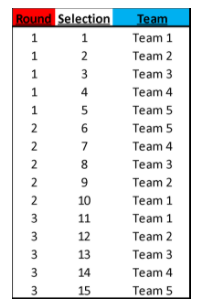 How Does Scoring Work?
There are 5 potential ways an athlete can earn (or lose) points for your team.
Top 6 place finish will earn points on an escalating scale from 1 to 6 points. On the flip side, if an athlete bombs out, they lose your team 3 points.
If they earn a medal in the snatch, they can earn points on an escalating scale from 1 to 3 points.
If they earn a medal in the clean and jerk, they can earn points on an escalating scale from 1 to 3 points.
If they set a new American Record (any age category) – they will earn 2 bonus points per kilo. So if Colin Burns sets a new record in the snatch by 1 kilo, his fantasy team will earn 2 more points.
If the athlete successfully makes all six attempts, they earn bonus points for their fantasy team.
All these fields need to be entered via drop-down selections based on the actual results. However the scoring is automatic and the scoreboard sheet will give a points comparison based on the data entered and show how many athletes each team has to go.
Good luck to everyone lifting in Chicago and everyone following along at home! Let us know in the comments below who is on your fantasy team this year? Who do you think will score the most points for their fantasy team? Who are some sleeper picks that everyone needs to know about?
Featured image: @roblympian on Instagram