Martha Stewart may be the queen of crafts, cooking, and home decoration, but is her meal delivery service comparable to what's on the market?
Potentially, yes. Martha and Marley Spoon looks like it could give anyone the tools to get cooking like Stewart with hardly any effort. The service promises to give you thousands of different recipes from Stewart's archive, perfectly portioned meals, fresh ingredients and seasonal produce. It's hard not to get excited about all of that, especially if you're into cooking like me.
However, before I give in to the hype, I think it's best I try this service out for myself and how it compares to some of the best on the market. In this Martha and Marley Spoon review, I will evaluate everything from the freshness of the produce, cooking experience, taste, nutrition and more.
After all's said and done, you'll be able to decide whether Martha and Marley is for you.
Save $60!
Martha & Marley Spoon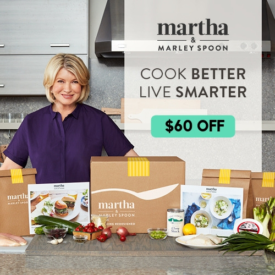 Meal delivery service focusing on fresh ingredients and recipes from Martha Stewart's kitchen, offering 10 new recipes per week. Save $15 off each of your first four orders ($60 total) at the link below.
Martha and Marley Spoon Company Background
In the beginning, Martha and Marley Spoon didn't have Martha at all. The company, originally named "Marley Spoon", was founded in Australia in 2014 before they partnered with Stewart and rebranded in 2016. In that same year, Martha and Marley Spoon expanded to the U.S. and they now operate in the Netherlands, Belgium, Germany, and Austria.
This home meal delivery service claims to focus on creating perfectly portioned meals with seasonal ingredients from "the finest purveyors". According to Martha and Marley, you can look forward to eating grass-fed beef, artisanal vinegars, Berkshire pork, American-caught shrimp, artisanal cheeses, and much more from sustainable small food businesses.
Knowing that, I was really curious to click around their website and see what I could sink my teeth into.
Martha and Marley Spoon Website and Ordering Experience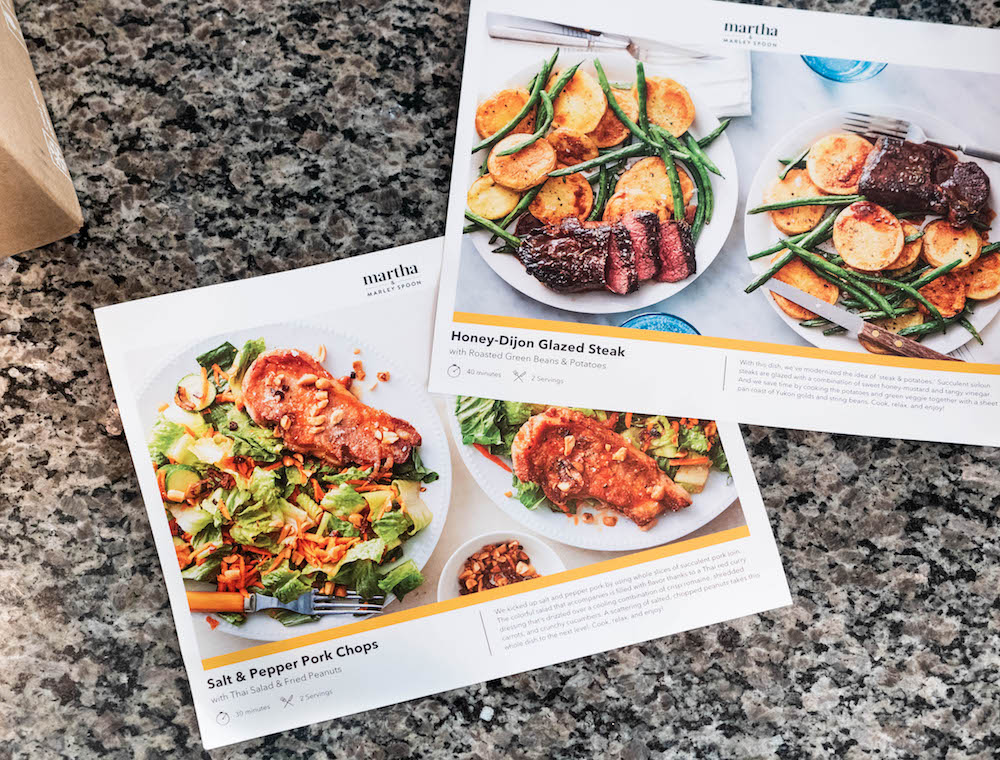 Martha and Marley Spoon's website is simple and easy to navigate. I love the bright and detailed photos the include with each recipe. Each recipe page also details the cooking difficulty, nutritional information (which I'll get into deeper detail later), macro counts and step-by-step instructions with photos.
Heck, they give so much information on the website that if you were a good enough chef and you had all of the ingredients on hand, you wouldn't need to order from Martha and Marley at all.
While all that was cool, I didn't love the fact that I couldn't customize my searches according to my dietary preferences. Many other meal services allow you to click through filters like "Paleo", "Low-carb", "Low-calorie", "Meat" or "Seafood". Martha and Marley only allow you to filter through gluten-free and vegetarian options, which is great but nonetheless limited. You can set up a taste profile by ticking boxes for things that you like and leaving out things you do not. For instance, if you're a vegetarian Marley Spoon will send you meal options in line with that request. At the very least, Martha and Marley only offer 10 meals a week so you can scan through each meal pretty quickly to check for other dietary specifications. I still consider that too much work, however.
All of Martha and Marley's 10 dishes are for dinner. There are no desert, snack or lunch options like I've seen with other meal services so I have to deduct points for that. (Sorry Martha!)
When it came to ordering my delivery, I loved the flexibility of the scheduling. I could plan my meals up to five weeks in advance and I can change my delivery day week to week. If I ever decide to skip town, I can easily pause my subscription for the time I'm gone.
I can choose between a plan that offers two servings per meal 2-4 nights a week, or a plan that serves four servings a meal 2-4 nights a week. I kind of wished that there was an option to get three servings per meal because not everyone wants that extra serving that comes with the second plan. Maybe Martha and Marley would consider adding that option in the future.
The best part about my Marley Spoon ordering experience is that they offer free shipping on weekdays. I thought that was a nice perk.
Americans would be glad to know that Marley Spoon ships to most states in the U.S. If you are not sure, you have to select a plan, enter your zip code and email to figure out your delivery options. I'm not a big fan of having to hand over that information just to see if they can ship to my door. I don't need more newsletters in my inbox, you know?
But since I'm genuinely curious about Marley Spoon (and since I'm doing this review), I signed up and discovered that they do indeed ship to my place in Austin.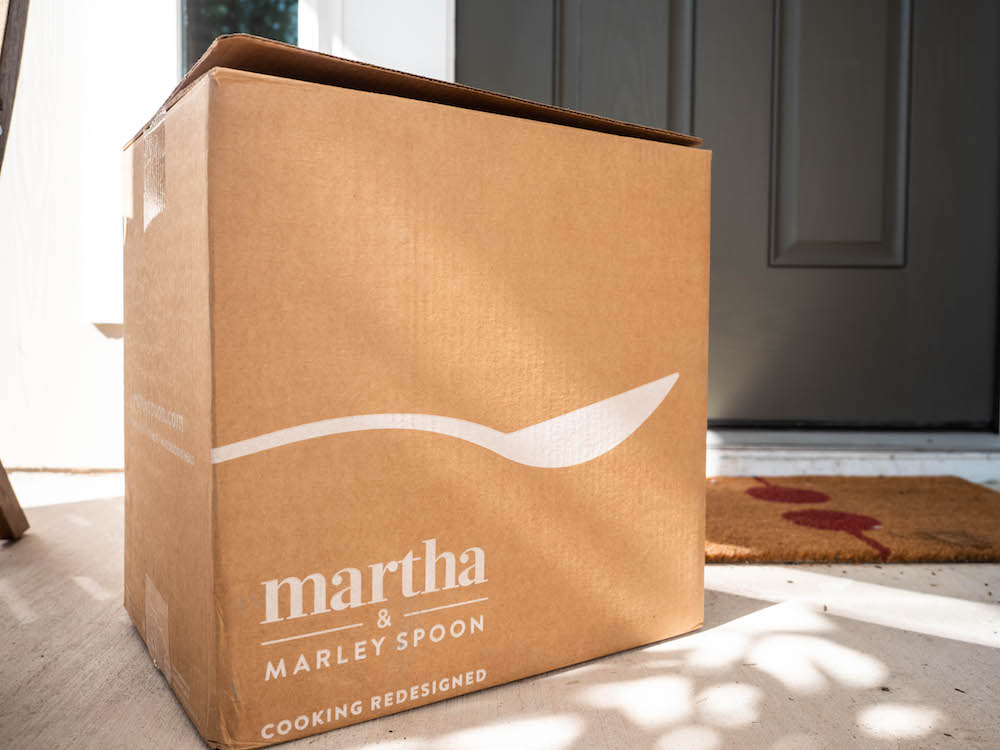 There.
I at least spared some Austinites from doing the research.
What's in the Box?
I'm happy to say that my Marley Spoon delivery arrived right when I expected it. I opened the door and find a box that was securely sealed without any dents or holes.
The packaging within the box was also great. Everything was parceled up in true Martha Stewart fashion which each of the meals sorted into those classic brown paper lunch bags. Each bag had a label telling us what was what so I wasn't confused as to which ingredients belonged to which dish. The produce was very fresh; they looked as if I had just picked them up from the grocery store. (The cold packs at the bottom of the box probably helped to keep them nice and chilled.)
All of the ingredients were separately packaged. Nothing was jumbled together, which I really appreciated. I especially loved the fact that the meats came in their own vacuumed sealed packaging as to not to contaminate the other fresh ingredients. The meat was nicely cut in ready-to-use portions.
Besides the food, I received two large, brightly colored recipe cards which cover everything from step-by-step written instructions and photos, ingredient list, utensils, serving size, and the marco/calorie breakdown for each dish. The latter feature is great for those who are counting their calories and macronutrients. I will go over nutrition in greater detail later on in this review.
Next to the recipe cards I also found a pamphlet with in-depth information on Marley Spoon, the creators, mission with helpful tips on meal planning, and pantry essentials you'll need if you are going to consistently order from Martha and friends. They even included details about where your ingredients were sourced, which I thought was a nice perk.
Finally, I'd like to give Marley Spoon high marks for using 100% recyclable materials for all of their packaging. And yes, that includes the cold packs, too! Straight A' in this department.
Here's the specific details of what ingredients I received for each meal.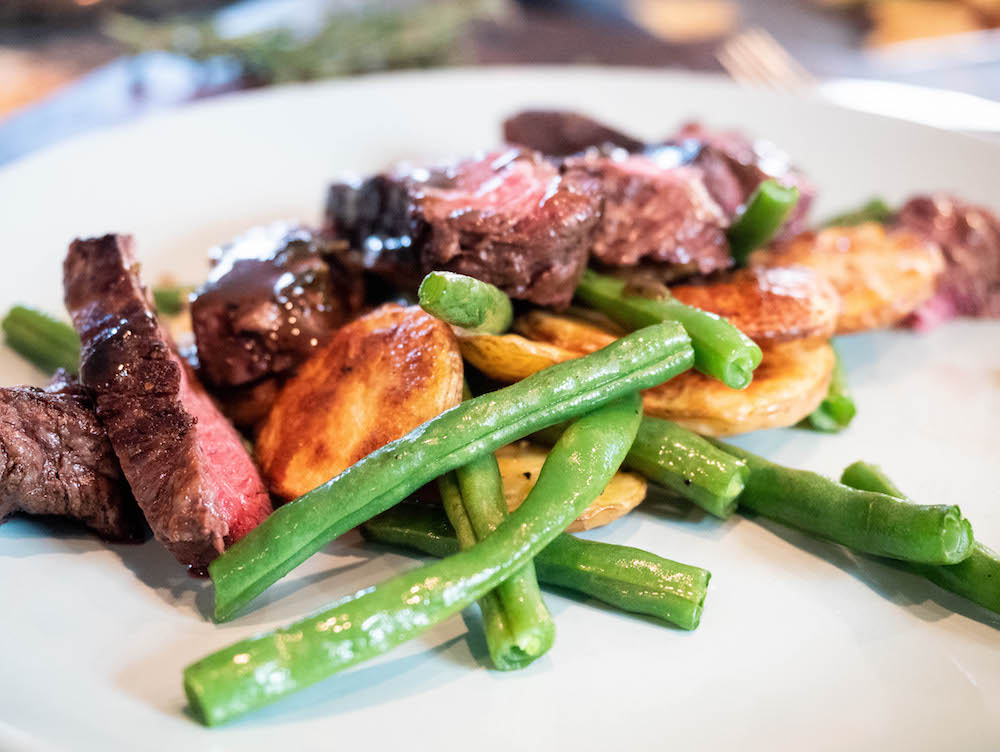 Honey Dijon Glazed Steak with Roasted Green Beans and Potatoes
Potatoes
Green beans
Thyme
Honey
Dijon mustard
2 sirloin steaks
Necessary extras: Olive oil, salt, pepper, balsamic vinaigrette or red wine vinegar.
Salt and Pepper Pork Chops with Thai Salad and Fried Peanuts
1 shallot
Peanuts
1 lime
Carrot
Red curry paste
2 Boneless pork chops
1 Romaine heart
3 cucumbers
Necessary extras: Sugar, salt, pepper, neutral oil (olive oil, vegetable oil), box grater and a medium skillet.
Just a heads up: it's common for meal delivery services not to include all of the ingredients you need for each dish. So it's always important to check each recipe to see what you need to bring to the table before you have to start cooking.
Martha and Marley Spoon Cooking Experience
After looking at all of those bright photos of delicious-looking food, I was really excited to start cooking and actually taste what I had ordered. I wanted to see if this meal kit lived up to the expectation they beautifully laid out recipe cards.
But first, let's talk about my cooking experience for each of the meals.
Honey Dijon Glazed Steak with Roasted Green Beans and Potatoes
Prep: Heat the oven to 450ºF, chop up the potatoes and trim the green beans.
Cook: In a medium bowl, toss potatoes with tablespoons oil, salt, and pepper. Add to sheet pan in an even layer. Roast on upper rack until tender and lightly browned. Chop ½ teaspoon thyme leaves. Toss green beans with remaining whole thyme sprigs, oil, and salt and pepper. In a small bowl, whisk together chopped thyme, honey, mustard, balsamic vinegar (or red wine or cider vinegar), and 2 tablespoons water. Once potatoes have been in oven for 15-20 minutes, add green beans. Return to oven and roast until potatoes are browned and crisp, and green beans are tender.
Pat steaks dry, pound to an even ¾-inch thickness. Season steaks with salt and pepper. Heat oil in a medium skillet over medium-high. Add steaks and cook until well browned. Transfer to a cutting board to rest.Remove skillet from heat, then add honey-mustard-vinegar mixture to skillet. Cook over medium heat, scraping up any browned bits, until sauce is thick and glossy. Season to taste with salt and pepper.
Very thinly slice steaks across the grain. Add any juices from cutting board to pan sauce in skillet. Serve steaks alongside roasted green beans and potatoes with sauce spooned over steak. Enjoy!
This dish was really easy to make and the instructions were pretty simple. None of the ingredients were particularly difficult to handle. The recipe card said that this meal would take me about 30 to 40 minutes. I'd say that estimate was accurate although it took me around 40 minutes to finish.
I cooked two servings in less than an hour, which I thought was a reasonable time to spend in the kitchen. While it's not the quickest meal I've ever made, I do think it's a great fit for those who want to take some time to learn how to sear a steak, make a sauce, and practice their chopping skills.
Salt and Pepper Pork Chops with Thai Salad and Fried Peanuts
Prep: Wash and chop all of the produce, shred carrots and let marinate in the dressing for 6-7 minutes.
Cook: Heat oil in a medium skillet over medium-high until shimmering. Add shallots. Cook, stirring, until shallots begin to brown. Add peanuts. Cook until just toasted. Remove skillet from heat. Transfer peanuts and shallots to a paper towel-lined plate. Season with salt. Wipe out skillet.
Trim excess fat from pork chops to ¼-inch if necessary, then pat dry. Pound to an even thickness if necessary. Season all over with salt and pepper. Heat oil in reserved skillet. Transfer pork chops to skillet. Cook until deep golden brown on one side. Flip, and cook until browned on the other side, about 2 minutes.
Toss romaine, cucumbers, and half of each fried shallots and peanuts to bowl with carrots. Transfer chopped pork chops to plates, and drizzle with reserved dressing. Serve with salad and garnish with remaining shallots and peanuts.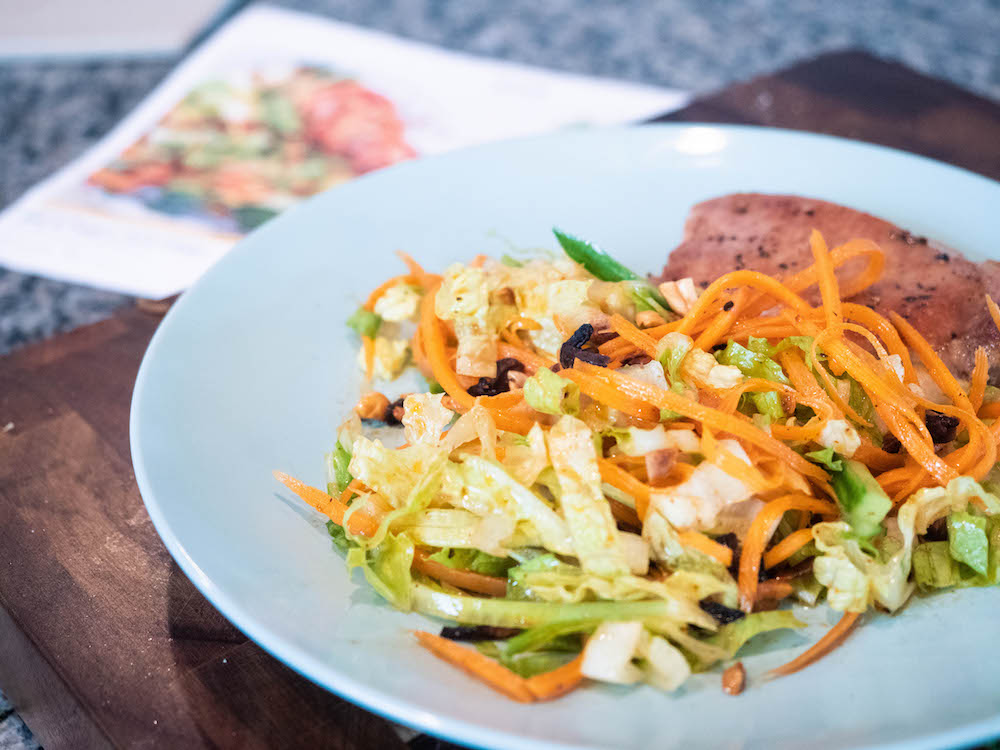 As you can see, this one was more intense with the prep and less intense on the cooking side. My recipe card said this dish was going to be easy and that it would take me 30 minutes. Once again, Marley Spoon was right on the money. It was easy and I had my food plated after 29 minutes. I think this dish would be a great one for those who either don't have time or don't wish to spend much time cooking dinner every night.
Taste
It's time for my favorite part of these reviews: The Taste Test! I mean who doesn't want to eat (hopefully) good food for a living?
Here's what I thought about each meal:
Honey Dijon Glazed Steak with Roasted Green Beans and Potatoes
I thought the ingredients of this dish married really well. The veggies were hearty and fresh, the steaks were tender and flavorful, and the sauce gave everything a tangy, rich flavor. The green beans were a bright spot on the plate; they broke up some of the richness of the meat and added a snappy bite.
Overall, I really enjoyed everything, but I tend to lean a bit more toward a clean eating style. Dishes with sauce aren't usually my go-to choices. I want to be able to taste the freshness and natural flavor in the food. That being said, my one criticism about this meal would be that the sauce was too overpowering for me.
If you are a clean-eater like myself, may want to leave the sauce out of this dish and go a bit lighter on the salt and oil than the recipe calls for. The nice thing those are ingredients that are completely in your control.
Salt and Pepper Pork Chops with Thai Salad and Fried Peanuts
This dish was crunchy and spicy, but it was also a bit on the salty and saucy side for my particular taste.
The fresh ingredients in the salad made the dish feel healthy, and when you look at the vibrant recipe card, it appears as if you're about to eat something that will have you feeling real light and energized.
But after pouring all that heavy dressing over my salad, things didn't look (or taste) so healthy anymore. It did, however, load the plate with a great combo of ingredients. The pork was juicy and the sauce was spicy. There were a lot of good textures, but I'd put this recipe in my book for fun eats, not clean eats.
Nutrition
As someone who is super conscious of what she's putting into her body, I'm always checking these meal delivery services to see how much nutritional info they provide. It's not only helpful for me, but for others who might be clean eaters, calorie-watchers, macro-counters, athletes, dieters, or people who are just curious about food.
First off, I want to give credit to Martha and Marley for putting the calories and macronutrient breakdown on each recipe card. Some of these meal services don't provide this information upfront. There have been times where I had to fish around the website to find it, which wasn't very fun.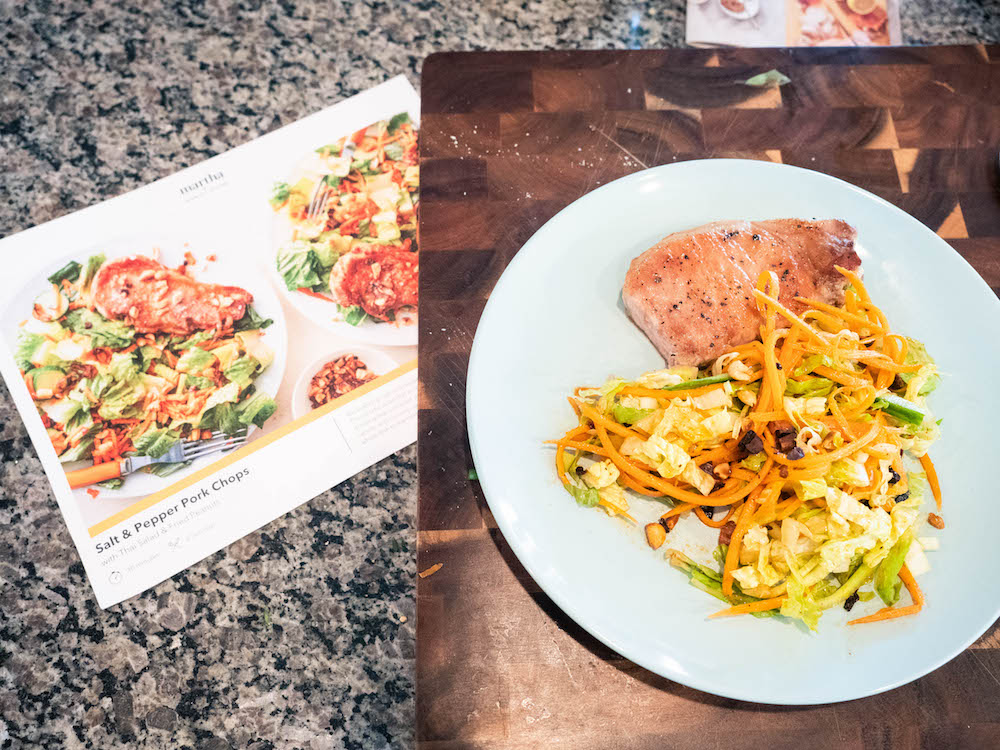 But for anyone who is counting calories or macros, don't you worry. Marley Spoon makes all of that information easily accessible. You can find it on the recipe cards, the website and the app.
However, Martha and Marley have failed to provide some other information that could be extremely useful: Nutritional values. There is no info on the amount of sodium, vitamin or mineral content in each meal, which is a bummer.
Sodium is one of those things you should aim to keep low in your diet, and it's also one of the biggest challenges when you talk about eating outside of your home — particularly at fast food places. I don't view these services as any differently than I would your average restaurant because you don't have full control of what you are eating. But at least having a list of nutritional values will help you to be aware of what you're putting in your body.
So if you're a clean eater, following a diet plan or counting macros, you may have to do a little extra work to make sure that the dishes you are ordering are in line with your nutritional goals or restrictions. However, be aware that you might not have all of the information you need, especially if you are on a low sodium diet.
Here's the caloric and macro breakdown for each of the meals I prepared:
Honey Dijon Glazed Steak with Roasted Green Beans and Potatoes
Calories: 748kCal
Fat: 40g
Protein: 37g
Carbs: 67.5g
Who's it good for?: I think this dish was a bit high on calories so I don't recommend it to anyone who is eating on a calorie deficit or is just looking to reduce the amount of calories they consume. This dish is best for those looking for an easy meal that's high in protein and fat.
Salt and Pepper Pork Chops with Thai Salad and Fried Peanuts
Calories: 767kCal
Fat: 54.5g
Proteins: 46g
Carbs: 27g
Who's it good for?: Again, this one is really high on the calorie side so I don't recommend anyone who is trying to cut. Due to the heavy sauce, I'd also suggest that clean eaters stay away from this meal. But I do think this dish is great for someone who wants a fun, spicy meal that is high in fat and protein.
Is Martha and Marley Spoon Good for Weight Loss?
So even though Martha and Marley Spoon provided more nutritional information up front than I've seen with some other services, I can tell their meals were not created with weight loss in mind. The two meals I've tried relied on heavy sauces for flavor and so I don't think Marley Spoon is the friendliest for clean eaters, specifically.
Additionally, the fact that I cannot search through the menus to look for low-calorie or low-carb options makes me think that people who are trying to lose weight are going to have to do a bit of work to find something that works for them. They'll have to click on each recipe and sift through limited nutritional info, which I think is unfortunate.
While I know many people have different approaches to weight loss, I know that understanding what is in your food is key for improving overall health. Avoiding too much fat or meals with high sodium counts will go a long way to help clean up your diet, aid in weight loss and help you feel better overall. Without that information, you just don't know what you are putting into your body and you could potentially set yourself back.
Overall, I think Marley Spoon is likely an unreliable choice for folks interested in a weight loss plan.
Martha and Marley Spoon Price
So I got two meals in my box with two servings, and each serving came at about $12 each. Is that cheap? No. (I've seen servings that cost below $5.) But it isn't the most expensive either. And considering I ordered one steak dinner, which could cost me around $25-30 living here in Austin, I thought the price was pretty reasonable. Ordering from Marley Spoon was convenient, the portion sizes were satisfactory, and I got to skip going to the grocery store altogether. (Phew!)
Here are some things you need to know about Marley Spoon's subscription plans:
You can choose plans that offer anything from 2 to 4 meals a week and select 2 to 4 servings per night.
You can select whether or not you only want vegetarian and gluten free meal options.
They offer free weekday delivery!
You can change your delivery day week to week.
Marley Spoon ships to most US States, but you must enter your zip code and email first to find out. (That I don't love.)
You can plan your meals up to five weeks in advance.
You can easily skip weeks up to seven weeks in advance if you are out of town or just want a break.
Who Is It Good For?
On their website, Marley Spoon doesn't necessarily target specific population other than those who might be devout followers of Martha Stewart. But judging from my experience, I would say that Marley Spoon works best for people who:
Want to cook fun and flavorful meals with friends
Are not on any particular diet
Are new to cooking
Want to learn simple cooking skills such as chopping, sauteing, baking and mixing.
Like different textures in their meals.
This service is probably not as good for those who eat paleo, vegan, low-carb, low-calorie, low-sodium, or clean diets. Marley Spoon is also not the most convenient for those who are looking to lose weight or for athletes who are counting their macros.
Martha and Marley Spoon Pros
Who knew cooking like Martha could be so simple and fun? I didn't until I tried Marley Spoon so I have to give them props for that. I think this meal delivery service did some things very well, but I know that my needs are specific to me. So be aware we might disagree on preferences:
Free weekday delivery. I always like when I get to save money.
Delivery arrived on time, intact and organized. I really loved the Martha Stewart "brown bagged lunch" look.
Meat and produce looked very fresh when it arrived. The ingredients were really some of the best I have seen with these delivery services.
Ingredients that are sourced locally when possible. I like to support the businesses around me and locally sourced food means I'm probably eating something that's nutrient quality is still at its peak.
Easy to follow cooking instructions. I was never confused about what I was doing.
Cooking difficulty level and cooking times were accurate. I felt I could trust Marley Spoon's information.
Macros and calorie counts are included on recipe cards. I liked that I didn't have to dig for this information.
Bright and bold flavors. My tongue was never bored.
Martha and Marley Spoon Cons
While I thought Marley Spoon did many things well, I felt like they dropped the ball in many categories. For example:
They only offer dinner options. If you're looking for breakfast, lunch, desert and/or snacks, you are out of luck.
You can't filter through the menus according to specific preferences. While they do give you the chance to pick between their regular, gluten-free and vegetarian options, Marley Spoon is lacking filters for low-carb, low-calorie, paleo, vegan and low-sodium options.
There's no in-depth info for those looking to lose weight or follow a certain diet plan. This service is not the best for those with specific dietary needs or just want to know what's in their food.
Dishes are heavy on sauce, salt and oil. Since I'm a clean eater, that's a big no-no.
Wrapping Up
Save $60!
Martha & Marley Spoon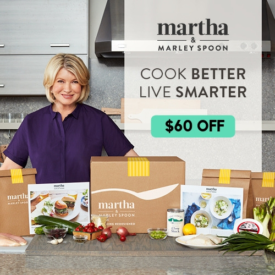 Meal delivery service focusing on fresh ingredients and recipes from Martha Stewart's kitchen, offering 10 new recipes per week. Save $15 off each of your first four orders ($60 total) at the link below.
In general, I had a decent experience cooking with Martha and Marley Spoon. I got my box on time. Everything was extremely fresh. I got to try two really exciting-looking meals, which I sort of enjoyed.
If I were to do it all again, I would definitely have not followed the cooking instructions to a T. I would have skimped on some of the oil and the salts they asked me to add. All that sauce just didn't mesh well with my diet. It all was a bit too overwhelming and I'm someone who really likes to taste the natural flavor of each ingredient.
Knowing that, I wouldn't recommend Marley Spoon to anyone who is trying to eat clean or follow a specific diet plan. Marley Spoon, I think, is more for people who want to have some fun in the kitchen and taste something that really packs a punch. It's mainly for people who aren't so much concerned about their calorie intake or their macro count at the end of the day.
So if you are looking to have a small dinner party and entertain some people with a ease-to-make, Martha Stewart-inspired dish, Marley Spoon could be a great fit for you! Whether you are an experienced cook or not, your guests might leave thinking you are quite the talented chef.