The Start List has officially been published for this week's Pan American Championships in Colombia. For the USA Woman's team, this will be for bragging rights of who is the best in the Western Hemisphere. For the USA Men's team there is far more at stake: an Olympic Spot for the country and potentially themselves.
Based on finishing 27th place as a team in points scored between the 2014 & 2015 World Championships, America did not earn any Olympic spots for men in the Olympic Games. Without knowing further details on drug test results, the only way America will earn 1 men's spot to the Olympics is to place in the top 7 teams of all men's teams who do not already own an Olympic Spot. The host country Colombia is not a threat as they already own 5 men's Olympic Spots, along with Olympic Games host country Brazil, which owns 3 Olympic Spots. Another key factor is that their athletes will not score points themselves, only win medals. For example, if Alex Lee places 2nd behind a Brazilian athlete, he will score 1st place points. While if Caine Wilkes places 2nd behind a Canadian athlete, he will score 2nd place points.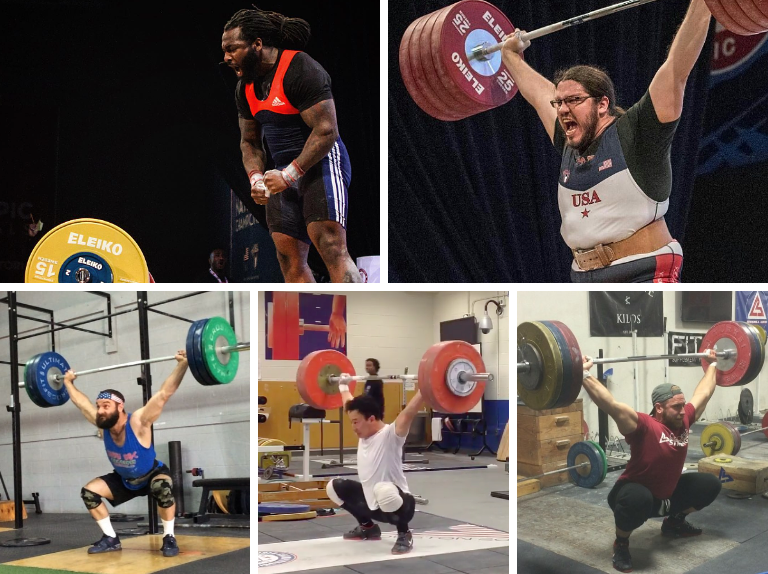 This will not be an easy competition, as top weightlifting countries such as Canada, Cuba, Ecuador, and Venezuela also do not have an Olympic Spot and will send top athletes to earn 1 Olympic Spot for their countries as well. If the US finishes top 7, the athlete who scores the most team points (places the highest) at the Pan American Championships will be the 2016 male Olympian for USA Weightlifting.
Below is a projected analysis of how each member of Team USA will do if they are able to compete to their abilities. We wish the men and woman's teams the best of luck this week.
Alex Lee – 69KG (June 8th – 5PM EST)
Entry Total: 310 (Tied for the 3rd highest)
Competition: 69KG is a tough field in this competition, as several athletes have won medals at the Senior and Junior World Championships. Colombia entered the defending Pan American Champion and two time Junior World Champion Luis Mosquera with a 320KG entry total. Mexico entered Bredni Roque, a medalist in the 2010 World Championships with a 325 entry total.
Projection: It is tough to favor Lee over one or both of these athletes. At the 2015 World Championships, Lee had the competition of his life and still lost to Roque by 16 kilos. If he competes to his abilities, Lee probably will place 3rd overall and score 2nd place team points.
Travis Cooper – 77KG (June 9th – 6PM EST)
Entry Total: 320 (Tied for the 5th highest)
Competition: Cuba has entered the defending Pan American Champion Addriel Lao with a 330KG entry total. Colombia also has two athletes entered with 330KG entry totals. Last year's silver medalist from Venezuela, Junior Sanchez is entered with a 325 entry total.
Projection: This is difficult to predict. At the 2015 World Championships Lao totaled 331 and Cooper totaled 329. However at last year's Pan Am Games, Lao won with a 338 total. If Cooper can put together a competition where he totals over 330KGs (145/185 is easy to imagine) he is a contender to win a medal. The most likely scenario, to me at least, is a top 5 place finish. Which could translate into a top 3 place finish for valuable points.
James Tatum – 85KG (June 10th – 5PM EST)
Entry Total: 340 (2nd highest)
Competition: On paper, the start list appears favorable for Tatum, and Team USA can score big points here. The top athlete is Cuba's Yoelmis Hernandez, last year's Pan American Games Champion with a 370 total. After him, the field is wide open and a silver medal is within reach for Tatum. The Dominican Republic has a junior aged lifter entered with a 335KG entry total, who is capable of challenging for a medal.
Projection: Tatum has looked very good at his last competitions where he competed as an 85KG athlete. At the USA National Championships, he pressed out 160KG in the snatch, and he has talked adamantly about that as a goal of his in competition. If he makes lifts, he probably will place 2nd or 3rd and win a medal, scoring big team points in the process.
Entry Total: Both at 365 (Highest entry total by 20KGs)
Competition: On paper, it appears 8 other athletes will take their attempts then the real competition will start between America's top two athletes. Barring any unforeseen circumstances, the winner of the 94KG weight class will most likely win the 1 Olympic Spot. Also entered in this weight class is Sohrab Moradi, an extra lifter from Iran who has been allowed to use this event towards Olympic eligibility. He may lift or he may not lift, but what is noteworthy is that one of his coaches with him set new world records last week.
Projection: It is anyone's guess who will win between Norik and Kendrick. My assumption is that Farris' strategy will be to make 3 snatches and put enough weight on the bar in the clean and jerk to win. That worked at the National Championships and it may work here. Vardanian most likely will make an attempt at a new American Record in the snatch, then attempt to distance himself in the clean and jerk with Farris. My only question: Where is NBC for the real Olympic Trials?
Entry Total: Both at 360, (Tied for 4th highest)
Competition: The 105KG weight class has several former champions on the start list, including Jesus Gonzalez (Venezuela) with the highest entry total of 375KG. Last year, he won with a 385KG total, and Brazil's Mateus Gregorio was 2nd with a 377KG total. Another former champion, Jorge Arroyo (Ecuador) was 3rd with a 375KG total.
Projection: Kitts, a former member of the New York Rhinos of the GRID League, has shown a lot of improvement over the last several months while training with Coach David Spitz at California Strength. At last month's national championships, he narrowly beat Ford (a more seasoned weightlifter) by 2 kilos. If both men are capable of snatching in the 165-170Kg range, and performing a clean and jerk of 200-205KG, they most likely will place 4th and 5th, respectively. This would translate into 3rd and 4th team points.
Caine Wilkes – 105+KG (June 11th – 3:00PM EST)
Entry Total: 404, (Highest by 34KGs)
Competition: With Brazil already having a team in the Olympics, perennial top 10 heavyweight Fernando Reis has not been entered for this competition. Leaving the field wide open for Caine Wilkes to win and secure maximized team points for the USA. Basically the competition should be won with his openers, allowing four additional attempts to strategize himself to jump in ranking over the top 94KG athlete. A personal favorite of mine is George Kobaladze of Canada, who at 40 years young is still one of the premier athletes for Canada, and probably will be making his last run towards the Olympics.
Projection: Wilkes should win gold and score first place team points. If Farris or Vardanian match the 377KG total from Salt Lake City, Wilkes would need a 419 total to surpass them. However if they total lower, Wilkes needs less to surpass. To my knowledge his best total in competition was 416KGs from the 2015 National Championships.
My expectation is that the US Male Olympian will not be known until the final attempt of the competition.
Editors note: This article is an op-ed. The views expressed herein are the authors and don't necessarily reflect the views of BarBend. Claims, assertions, opinions, and quotes have been sourced exclusively by the author.