A list of the world's strongest famous people usually turns up the Schwarzeneggers, Stallones, and Johnsons. We wanted to know about the people you wouldn't expect—the politicians, celebrities, and academics who are the last people you'd think to find in the squat rack. And we were pretty surprised by what we found.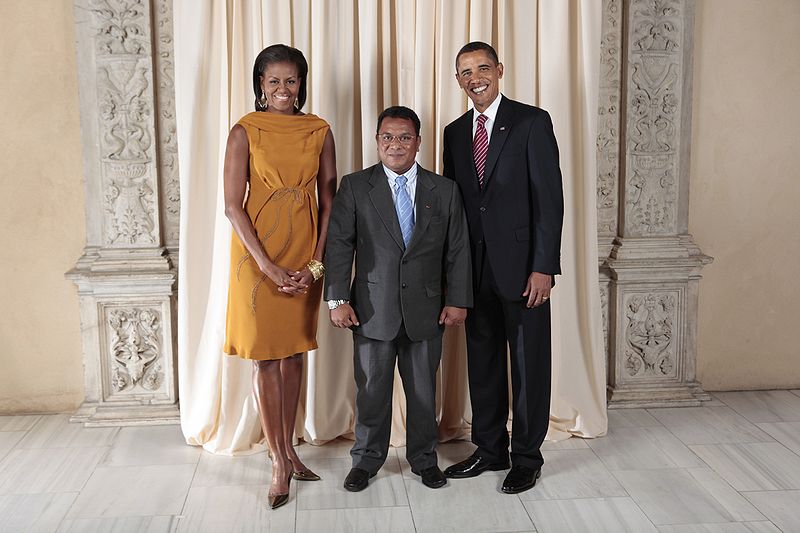 1. Marcus Stephen
The former President of the tiny island nation of Nauru, Stephen represented his country in weightlifting at the Summer Olympics and the Commonwealth Games between 1990 and 2002, ultimately winning seven Commonwealth gold medals and a silver at the Weightlifting World Championships in 1999. With a population of just ten thousand, Nauru actually has a proud history of strength sports, producing athletes like Jezza Uepa and coming in second to Papua New Guinea in powerlifting at the most recent Pacific Games.
2. Henry Rollins
The prolific musician, actor, writer, and comedian has always had a love affair with lifting weights and waxing philosophical. "The iron never lies to you," he has said. "You can walk outside and listen to all kinds of talk, get told that you're a god or a total bastard. The Iron will always kick you the real deal."
In a recent podcast, he revealed that he damaged his sciatic nerve by routinely back squatting close to 500 pounds. This guy was not messing around.
3. Mark-Paul Gosselaar
The man best known as Zack Morris is today balancing his acting career with competitive CrossFit. Also an ambassador for Onnit, Gosselaar doesn't post a lot of his numbers, but we do know that his muscle-ups PR is fourteen unbroken. Not bad for a man in his forties.
4. Oliver Sacks
The British neurologist, naturalist, and author wrote numerous bestselling books on brain disorders and was called "the poet laureate of contemporary medicine" by the New York Times. Robin Williams portrayed him in a 1990 film about his life, but few people know about his past as a powerlifter: he once broke the California squat record with a 600-pound back squat. He likened breaking the record to publishing an academic paper.
"Training intensely, even obsessively, I worked up to doing five sets of five reps at 550 pounds every fifth day," he wrote in his autobiography. "The simplicity of this pleased me, but caused amusement at the gym. 'Sacks and his fives.'"
5. Bruce Oreck
The former U.S. ambassador to Finland became world famous in 2015 when his habit of sharing unusually provocative holiday photos went viral. Oreck has authored several books on taxation and was one of the major contributors to Barack Obama's 2008 campaign, but we probably know him best as the most jacked politician we've ever seen: Oreck is an amateur bodybuilder and benched 286 pounds for three reps at 60 years of age.
6. Dan Gilbert
The majority owner of the Cleveland Cavaliers, chairman of JACK Entertainment and the operator of Quicken Loans Arena in Cleveland, Ohio, Dan Gilbert is better known for his business smarts and billions of dollars than his physical strength. In a Forbes profile this year, it was reported that Gilbert is dedicated to singlehandedly breaking Michigan's steroid-free bench-press record. We'll definitely report it if it happens.
7. Barack Obama
Fitness and the presidency seem to go hand-in-hand, but commanders-in-chief usually stick to classic workouts like running, rowing, horseback riding, boxing, and swimming. (John Quincy Adams would swim naked in the Potomac every day.) Max bench press is seldom listed among Presidential accomplishments, but thankfully, someone asked Obama the tough question: his max bench is 200 pounds. Not bad for a deskbound world leader whose preferred sport is basketball.
8. Christopher Langan
Often described as the smartest man in America, Christopher Langan has an IQ between 195 and 210 and is known for his Cognitive-Theoretic Model of the Universe, which he claims can prove that the universe is both physical and mental in nature.
Langan grew up in an abusive home and turned to weight training to feel empowered. So while he believes he can prove the existence of God, the soul, and an afterlife using mathematics, he can also bench 500 pounds, according to a 2001 interview in Muscle and Fitness.
9. Matt McGorry
The Orange Is the New Black actor is better known for his political activism and his proudly feminist identity than for his lifting, but McGorry spent the better part of his twenties as a strength coach, bodybuilder, and powerlifter.
He worked for three years at one of New York's premier fitness facilities, Peak Performance, and holds the NY State Raw Deadlift record in the USA Powerlifting federation with a lift of 550lbs in the 198lb weight class.
10. Dick Costolo
As the CEO of Twitter from 2010 to 2015, Costolo had his hands pretty full, but the man always made time for his CrossFit. He's been spotted completing WODs of a hundred burpees and five sets of squats at 150 pounds. He's not going to the Games any time soon, but in his mid-50s, he's unusually strong and committed to his fitness.
His next project? A fitness startup that he hopes will help people to push and motivate others through their workouts from anywhere on Earth.
Can you think of any other strangely strong people who aren't professional athletes? Sound off in the comments below and we might add 'em to the list!
Featured image via @mpgosselaar on Instagram.