After another outstanding performance in event eight, the Bike Repeater, Toomey and Fraser lead their respective divisions by 245 and 390 points going into the final event of the day. However, Fraser was trailed closely by Canadian Jeffrey Adler, who almost cost the reigning champ his first loss of the day. So far, Fraser and Toomey have won every event of day two of the Games Finals — which were the Toes To Bar/Lunge and Snatch Speed Triple.
The Bike Repeater, which was held in Morgan Hills, CA, and tasked the athletes with the following:
Ten rounds:
440-meter bike sprint
One legless rope climb — 15 feet
Stats of the bike:
Model — Trek Dual Sport 4
Type — Hybrid Bike
Tires — 28 inches, one and ⅝ inches thick
Weight — 27.5 pounds
Bike Repeater Women's Results
Tia-Clair Toomey, 14:37.51
Haley Adams, 14:53.61
Kari Pearce, 15:14.92
Katrin Tanja Davíðsdóttir, 15:36.02
Brooke Wells, 16:39.54
Bike Repeater Men's Results
Mathew Fraser, 12:54.76
Jeffrey Adler, 13:07.10
Justin Medeiros, 13:20.52
Samuel Kwant, 13:39.95
Noah Ohlsen,14:20.82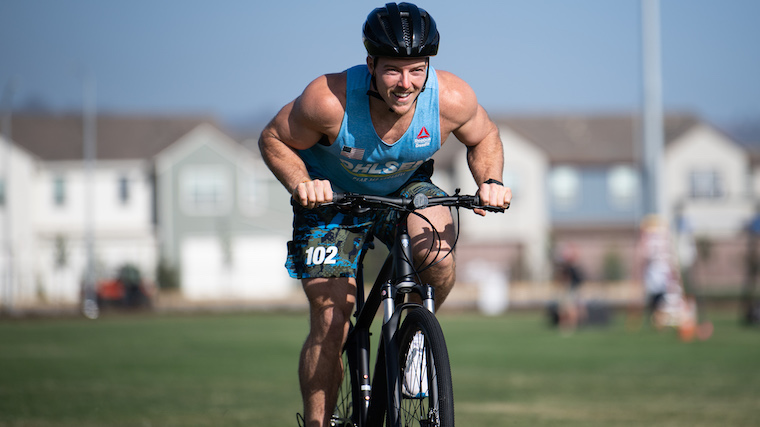 Bike Repeater Event Highlights
The women mounted their bikes first to race 220 meters on grass, dismount, turn around, remount, and ride the 220 meters back towards their ropes. Toomey and Katrín Tanja Davíðsdóttir got out to an early neck-and-neck lead after the first round. By the second round, Kari Pearce caught up to Davíðsdóttir as Toomey pulled away.
By round four, Pearce assumed the second position. Haley Adams was on the heels of Davíðsdóttir, who was in third place, and Brooke Wells fell behind. Barreling into round six, Toomey remained far ahead, Wells remained far behind, and the remaining three were bouncing back and forth between second through fourth place. By round eight, Adams pulled into second place and Davíðsdóttir faded into fourth. Each of them maintained their places until the end.
View this post on Instagram
In the men's division, Justin Medeiros brought the heat in round one with Noah Ohlsen and Fraser in sync on his heels. In round two, Fraser and Medeiros traded first position as Ohlsen fell to the back of the pack. By round three, Fraser was ahead of Medeiros, Jeffrey Adler, Samuel Kwant, and Ohlsen in that order.
By round eight, Adler caught up to Medeiros and the fight for second place was on. A round later, Adler edged out Medeiros and started putting some pressure on the reigning champ. He actually claimed the lead. Fraser wasn't having it, however, and effortlessly reclaimed the lead in the back half of the final 220 meters, to win his seventh event of the Finals.
On to the Next Event
The next event is a surprise additional event, the details of which have not yet been announced.
You can read more about the events the athletes will have to endure today and be sure to check out our leaderboard and results page to track all of the action.
Featured image: Michael Valentin/CrossFit Games