Coming into event six — the first event on day two of the Finals — both division's leaderboards were extremely tight aside from reigning champion Mat Fraser's huge lead of 220 points. The rest of the men's division were separated by just 35 points. For the women's side, defending champion Tia-Clair Toomey was on top by 75 points to start the day, but each event has the potential for an 85 point swing.
Here is what the athletes were tasked with in the toes-to-bar/lunge:
30-20-10 reps for time:
Toes-to-bar
Kettlebell lunge (yards)
Women 24-kilogram kettlebells / Men 32-kilogram kettlebells
The women took the field first and it was Katrín Tanja Davíðsdóttir who set the pace, but in the final stretch, Toomey was able to capture the lead and the win to claim her fourth event win of the Finals. The game-changer was a strategic maneuver: Rather than place the kettlebells down at the lunge start line, Toomey dropped them on the rig underneath her. This meant she would have to walk to the line with the kettlebells after completing the toes-to-bar, but it saved some critical steps (and time).
Davíðsdóttir came in a close second, with Brooke Wells taking third. Kari Pearce and Haley Adams finished in fourth and fifth place respectively.
| Rank | Country | Name | Points |
| --- | --- | --- | --- |
| 1 | | Tia-Clair Toomey | 1025 |
| 2 | | Katrin Tanja Davidsdottir | 665 |
| 3 | | Kari Pearce | 585 |
| 4 | | Haley Adams | 560 |
| 5 | | Brooke Wells | 525 |
[Related: Toomey and Fraser Lead After Day 1 Of The 2020 CrossFit Games Finals]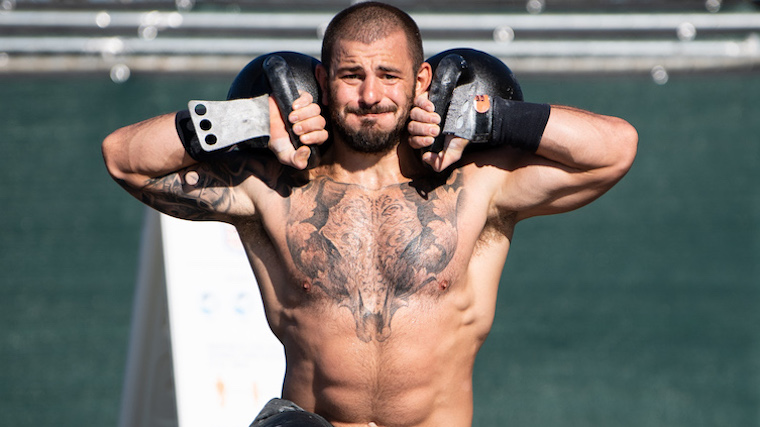 In the men's division, it looked like Noah Ohlsen was in his element with extremely tight toes-to-bar that propelled him to an early lead that he maintained until the final stretch. Justin Medeiros and Fraser were right on his heals hauling those massive 70.5-pound kettlebells (in each hand).
Fraser utilized Toomey's strategy of kettlebell placement in the racks, and it appeared to save him time as well. Ohlsen and Medeiros followed suit in the back half of the race. In the end, Fraser tightened up his final 10 toes-to-bar and capitalized on a slight stumble from Ohlsen to claim his fifth even win of the Finals.
Toes-To-Bar/Lunge Women's Results:
Tia-Clair Toomey — 3:33.63
Katrín Tanja Davíðsdóttir — 3:37.03
Brooke Wells — 3:51.05
Kari Pearce — 4:13.36
Haley Adams — 4:21.20
Toes-To-Bar/Lunge Men's Results:
Mathew Fraser — 3:04.77
Noah Ohlsen — 3:11.49
Justin Medeiros — 3:18.51
Samuel Kwant — 3:39.23
Jeffrey Adler — 4:03.03
The next event coming up — event seven — is the snatch speed triple.
Feature image via Michael Valentin/CrossFit Games