Editors Note: The 2021 NOBULL CrossFit Games are live. Check out the latest results and scores from the Games here.
On day one of the 2020 CrossFit Games Finals, neither Tia-Clair Toomey nor Mat Fraser showed any interest in letting another athlete touch their crown. They were absolutely dominant in their respective divisions, with Toomey winning three out of five events and Fraser placing first in all but one event, where he finished second.
Here are the overall standings after day one of the Finals:

Shop Here & Get 15% Off with BARBEND15
| Rank | Country | Name | Points |
| --- | --- | --- | --- |
| 1 | | Tia-Clair Toomey | 1025 |
| 2 | | Katrin Tanja Davidsdottir | 665 |
| 3 | | Kari Pearce | 585 |
| 4 | | Haley Adams | 560 |
| 5 | | Brooke Wells | 525 |
Watch the Day One Recap Video
Stay in the know about the 2020 CrossFit Games Finals by checking out our short (yet informative) video below.
In the women's division, Brooke Wells battled her way back after coming in last place in the first two events with a second-place finish in event three and a huge win in event four. It was a valiant effort; however, a mistake in event five landed her in fifth place overall.
Haley Adams, the youngest athlete in the Games at 19 years old, excelled in the non-strength based events. Katrin Davidsdottir struggled in the opening event and in the CrossFit total but had a huge win in the final event to tie with Adams for second place overall. Kari Pearce stayed in the middle of the pack throughout the day and landed in third place after five events.
The men's division was all Mat Fraser all day long. His only blemish of the day was a second-place finish in the CrossFit Total event. Jeffrey Adler out-lifted Fraser by just seven pounds. Justin Medeiros had a huge showing with three second-place finishes across five events to secure second overall. Noah Ohlsen is in third, and Adler and Samuel Kwant round out fourth and fifth place, respectively.
2007 Reloaded Results
For time:
Then five rounds of:
Women: 145 pounds / Men: 235 pounds
Toomey wasted no time proving why she is the reigning champion with a big win in event one. She was eight reps ahead of Adams going into the last round and used that gap to gauge how long she could rest.
Fraser set the pace and never let up. The youngest male athlete in the field, 21-year-old Medeiros, showed that he shouldn't be taken lightly as a CrossFit Games rookie by securing a second-place finish — just six seconds behind Fraser.
2007 Reload Men's Results:
Mathew Fraser — 13:07
Justin Medeiros —13:15
Samuel Kwant — 13:38
Jeffrey Adler —14:03
Noah Ohlsen — 16:48
2007 Reload Women's Results:
Tia-Clair Toomey — 12:47
Haley Adams — 13:17
Kari Pearce — 13:59
Katrín Tanja Davíðsdóttir —15:16
Brooke Wells — 15:45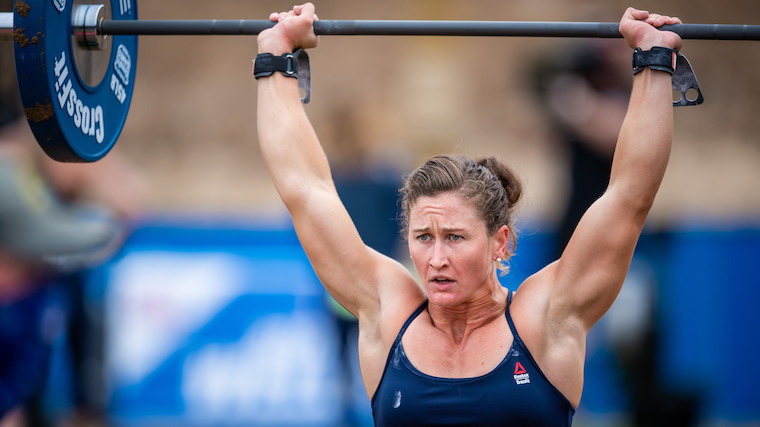 Corn Sack Sprint Results
For time:
320-meter hill sprint with a corn sack
Women: 30-pound sack / Men: 50-pound sack
Toomey took the lead after the second hill and never let it go. Wells was on pace with Toomey for most of the sprint but slowed down more and more until she found herself in the back of the pack. Davíðsdóttir improved upon her lackluster event-one performance and finished in second place.
The action came between Adams and Pearce in the final hill before the finish line when Adams dropped her corn sack. Fortunately for her, she recovered and squeezed through a pair of tree trunks to capture third place, leaving Pearce to claim fourth.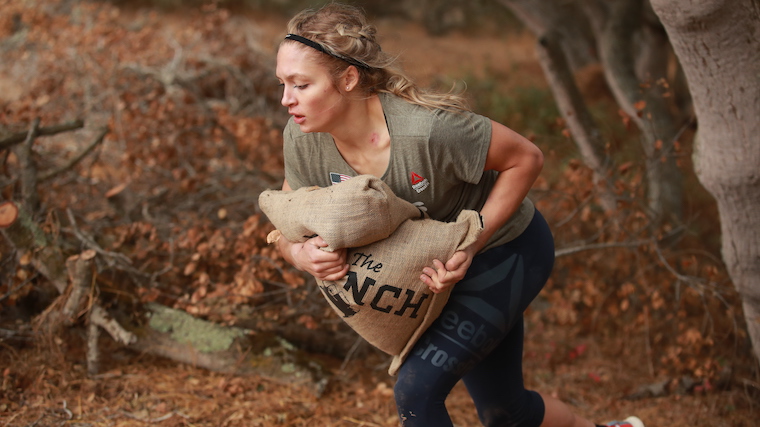 Fraser scored his second event win after taking the lead the same way Toomey did. Kwant maintained his second-place position all the way to the end, finishing 16 seconds behind Fraser and nine seconds ahead of Ohlsen.
There was a huge moment right at the finish line when it looked like Medeiros would come in fourth. However, Medeiros took his foot off the gas as he came over the final hill before the finish line. Adler took advantage by blitzing Medeiros to beat him to the finish line by a third of a second for fourth place. The commentary team called Medeiros' weak finish a "rookie mistake."
Corn Sack Sprint Men's Results
Mathew Fraser — 2:51.54
Samuel Kwant — 3:07.09
Noah Ohlsen — 3:18.24
Jeffrey Adler — 3:20.87
Justin Medeiros — 3:21.09
Corn Sack Sprint Women's Results
Tia-Clair Toomey — 3:05.55
Katrín Tanja Davíðsdóttir — 3:13.18
Haley Adams — 3:24.49
Kari Pearce — 3:28.17
Brooke Wells — 3:35.02
CrossFit Total Results
For total load:
1-rep-max back squat
1-rep-max shoulder press
1-rep-max deadlift
Each athlete went in turn order, starting with whoever was in last place on the leaderboard and moving up sequentially. This meant that Fraser and Toomey had the advantage in event three as they would be the last to go on each lift and could adjust their weight accordingly.
As they head into the deadlift, there was a clear division among the five athletes for positioning. Toomey and Wells were in battling for first; Pearce was comfortably in third, and Adams and Davíðsdóttir were competing for fourth.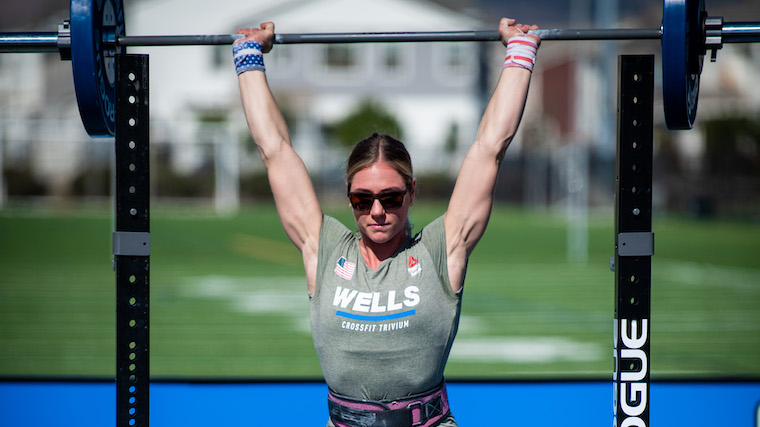 Wells needed to push past her barriers in the deadlift as she was 23 pounds behind Toomey — and that is exactly what she did. Her second and third attempts were absolute grinders, and she scored the competition best deadlift of 432 pounds. However, it was not enough to stop Toomey from claiming the event win as she knew exactly how much weight she needed to deadlift to best Wells and did just that.
For the men, Adler put on an absolute clinic, out lifting Fraser by seven pounds to claim first and setting a personal record in every lift — including a 567-pound deadlift.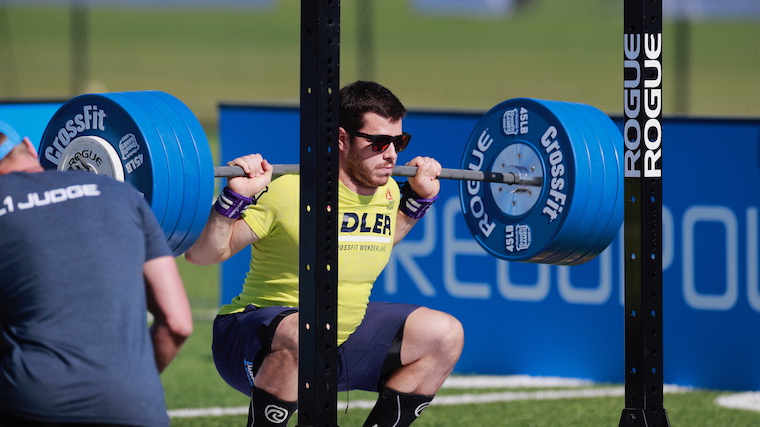 Ohlsen was able to claim third place with his 1,200 pound total that bested Kwant's by four pounds. Medeiros was a beast in the squat but struggled in the shoulder press. He couldn't make up for it in the deadlift and had to settle for last place.
CrossFit Total Men's Results
Jeffrey Adler — 1,244 pounds
Mathew Fraser — 1,237 pounds
Noah Ohlsen — 1,200 pounds
Samuel Kwant — 1,196 pounds
Justin Medeiros — 1,192 pounds
CrossFit Total Women's Results
Tia-Clair Toomey — 890 pounds
Brooke Wells — 884 pounds
Kari Pearce — 764 pounds
Haley Adams — 712 pounds
Katrín Tanja Davíðsdóttir — 701 pounds
Handstand Sprint Results
For time:
Women's Division
This was an absolute nail-biter between Wells, Pearce, and Adams. They finished in that order with only three seconds total separating first through third place. Davíðsdóttir claimed fourth 16 seconds after Adams crossed the finish line leaving Toomey to bring up the rear 25 seconds later. This was Toomey's first event loss of the day.
Fraser claimed his third event win of day one after walking the entire 100 yards with only one break. Medeiros earned his second runner-up finish on the day with the complete opposite strategy — he broke nearly every five yards down the field. It was a close race with Fraser besting Medeiros by just six seconds.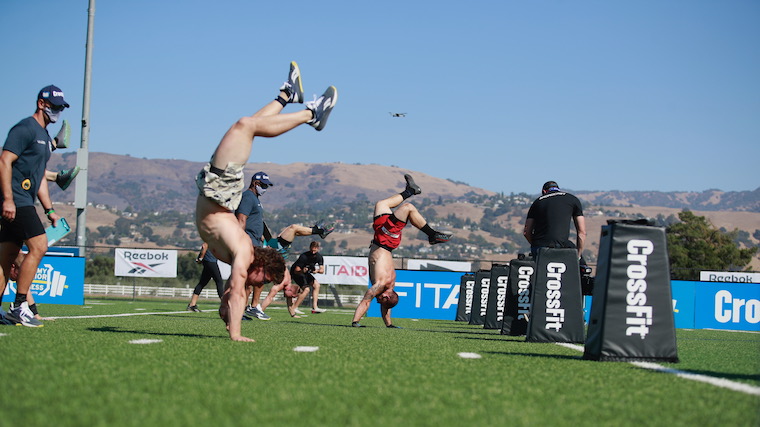 Ohlsen mirrored his finish in events two and three, taking third place with a time 13 seconds behind Medeiros. This left Kwant to claim fourth and Adler to take last.
Handstand Sprint Men's Results
Mathew Fraser — 1:20.85
Justin Medeiros — 1:26.19
Noah Ohlsen — 1:39.45
Samuel Kwant — 1:43.77
Jeffrey Adler — 1:54.39
Handstand Spring Women's Results
Brooke Wells — 1:21.22
Haley Adams — 1:23.32
Kari Pearce — 1:24.25
Katrín Tanja Davíðsdóttir — 1:40
Tia-Clair Toomey — 2:05.67
Ranch Loop Results
For time:
Run 10-kilometers (six-miles)
Time cap: none
CrossFit Games Director Dave Castro surprised the athletes at the end of the loop by telling them that they had to run the entire course again in reverse.
Here were the stats of the course the competitor's ran:
Highest elevation — 770 degrees
Lowest elevation — 230 degrees
Steepest grade — 55 percent
Average grade — 14 percent
Longest ascent — Three-quarters of a mile
Weather — 70 degrees and sunny
Toomey took the lead early on amongst the women and sustained it for the majority of the first half of the run. Adams caught up to her and held that position through the front half. Davíðsdóttir and Pearce held third and fourth, respectively, through the front half. Wells fell far behind the pack after accidentally running in the wrong direction.
The surprise twist was a blessing for Davíðsdóttir, who scored her first event win of the Finals. Adams bookended her day one with a second-place finish as the defending champ finished in the middle of the pack. Pearce was unable to overtake Toomey in the back half to earn a fourth-place finish. Wells was unable to make up for her early mistake and scored her third last-place finish of the Finals.
When Castro told Fraser what the twist was, Fraser didn't believe him at first and jokingly flipped him off. Fraser and Medeiros ran as a pair until the very last section when Fraser made the last push to win the event.
Ohlsen used the back half of the run to retake the third position and finish the run there. It marked his third event in a row finishing in third place. Adler claimed his third fourth-place finish on the day, leaving Kwant in last place.
Ranch Loop Men's Results
Mathew Fraser — 57:47.45
Justin Medeiros — 58:17.48
Noah Ohlsen — 59:11.00
Jeffrey Adler — 1:00:17.95
Samuel Kwant — 1:10:11.27
Ranch Loop Women's Results
Katrín Tanja Davíðsdóttir, 1:00:53.98
Haley Adams, 1:02:16.23
Tia-Clair Toomey, 1:06:09.10
Kari Pearce,1:07:07.07
Brooke Wells, 1:14:34.89
Heading Into Day Two
The defending champions sit atop the leaderboard. Toomey with a 75 point lead over Haley Adams. Fraser holds a towering 220 point lead over the rest of the men's field. Medeiros is in second place, and Kwant, who is in fifth, trails Adler by just five points.
There are still two days of competition, though, so don't place your bets just yet. Although Fraser is set up for a record fifth title, every event has the potential for an 85 point swing with such a small field. At this point in the competition, any of the athletes could finish on the podium.
Feature image: CrossFit