CrossFit athlete Samuel Kwant first qualified for Regionals in 2014, after having just turned 18 years old. He made fast work of it then, making it to the CrossFit Games at twenty-years-old, the youngest individual male to compete in 2016. Kwant did it again, qualifying for the Games once more in 2017, placing 20th, but in 2018 a knee injury took him out of Games contention. Kwant is 24-years-old now and has racked up three top 20 finishes at the Games and four top 20 finishes worldwide in the open.
He's also racked up a few other things: A wife and a baby.
Sam met his wife, Alyse, running high school Cross Country. The two married and welcomed a baby boy, Layton, in November. Since then, Kwant hasn't competed in any major events, but that didn't stop him from earning his way to 4th place in the 2020 CrossFit Games Stage One.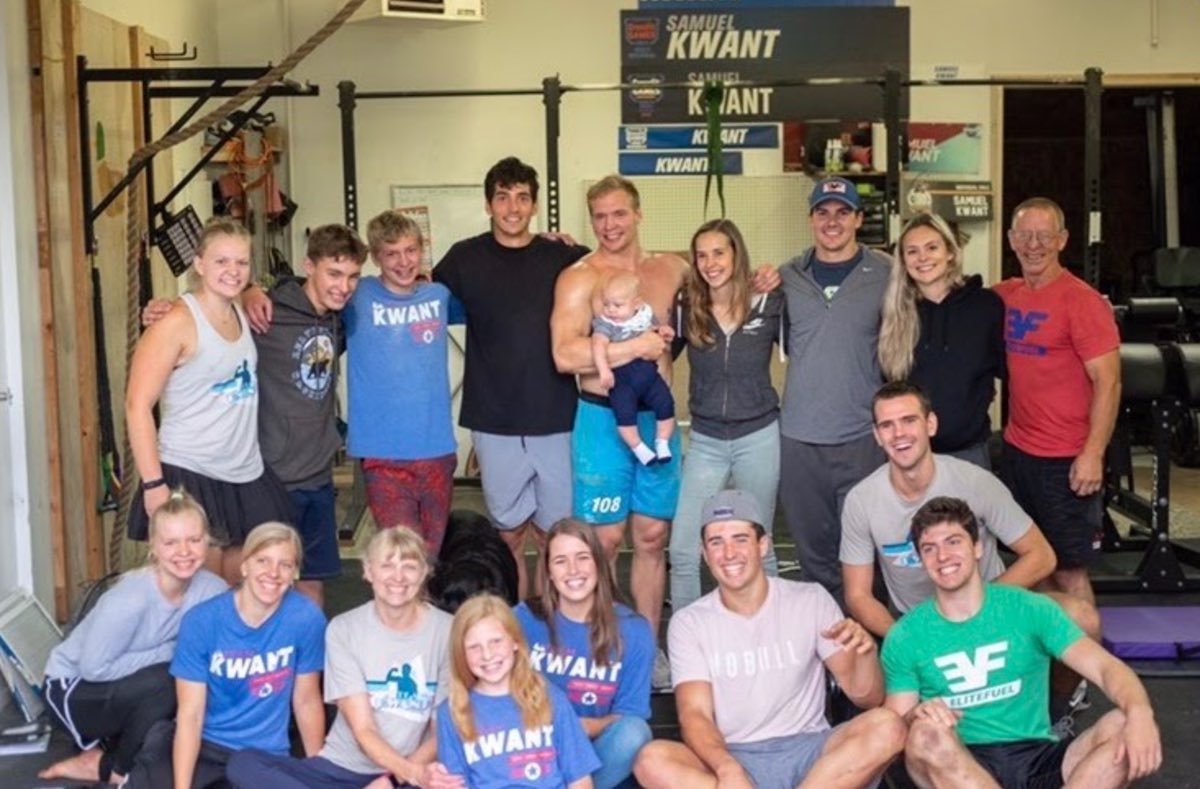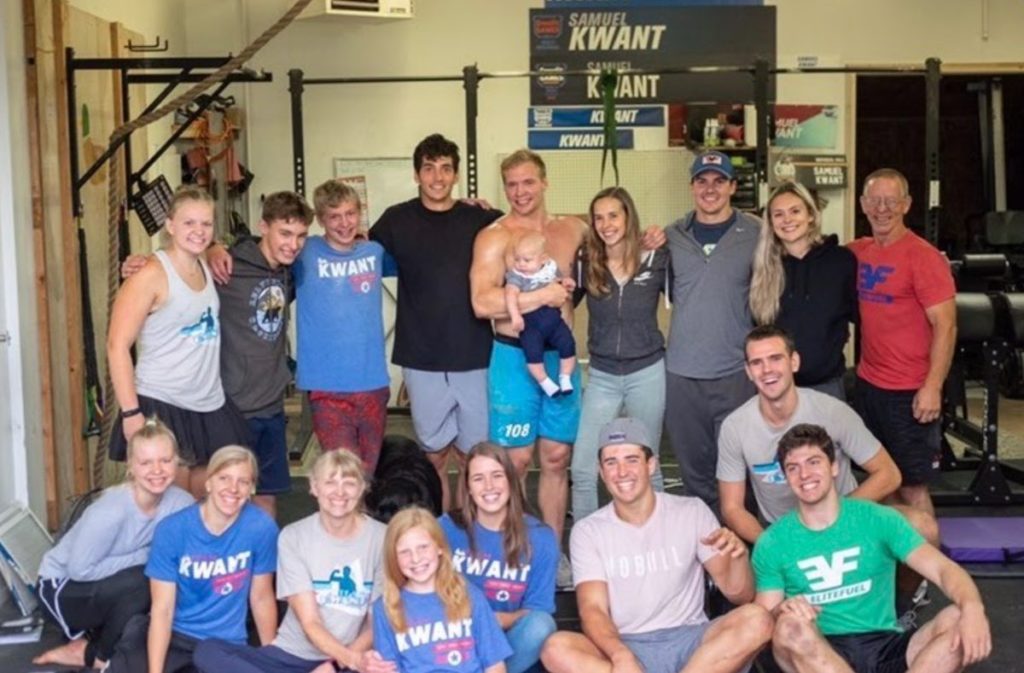 "I'm happy overall with fourth. I'm disappointed in a few of my finishes, the Fran one and the HSPU one. For that Fran one, I didn't have the best game plan going into it. My coach tried to change my mind, and I just didn't listen to him so that's on me," Kwant told me on a phone call, his wife joining in behind him.
A CompTrain athlete, Kwant's coach is Harry Palley, which is great because Kwant only trains at home now. Well, kind of.
"My home gym is actually my parent's home gym," Kwant told me.
Samuel Kwant's Training Routine
Every day, with the exception of the one day that he coaches at Mallard CrossFit, Kwant packs up and heads out to his parent's home to train. In the morning, one or two of Kwant's six siblings join him. Then Kwant goes home to eat, rest, and recover. He returns in the afternoon, where for round two Kwant works out with his parents.
"I have six siblings, so there's seven of us in total. Four of them do CrossFit and there is always someone to jump in on a WOD with me. Then, later in the day, it's my mom and dad," Kwant said. Kwant's wife, Alyse, joins in on the fun too, bringing the baby to the garage. "Someone will take him and watch him, or he just hangs out."
In fact, Layton was there all weekend while Dad worked his way to yet another Games invite. At the end of the weekend, Kwant found himself with 449 points, a comfortable fourth-place finish above Jeffrey Adler, by 29 points, and earning him a $50,000 payout.
Right there in his parent's garage, Kwant took third in the 1,000-meter row, finishing in 2:53:30, and third again in the handstand hold with a time of 1:32, just three seconds shy of matching Mat Fraser.
But Kwant wasn't out there alone. All weekend long, Kwant had a cheering section. His parents, his siblings, his wife, and of course, Layton, were out there cheering him on.
"Alyse is always there. She's a huge support. Whether she's working out with me, or just cheering me on, mentally, or just supporting me, she's huge," Kwant told me. But Kwant knows that not everyone sees him the way his wife sees him.
"When I first came to CrossFit, the big thing was how young I was. It felt kind of nice because no one is impressed. You're the young kid there. There wasn't really any pressure to perform. If you do good, okay. If you do bad, it's whatever. And that's kind of nice," Kwant remembered.
But now, with a few years of Games under his belt, a handful of top ten finished, and a little boy looking up at him, Kwant doesn't see it exactly the same way.
"It feels good to get to where I am now. Now I gotta get on the podium, that's my focus now is to get on that stage," he said. "That's it. That's my goal. Go to the podium. No reason why I shouldn't be on it."
Samuel Kwant's 2020 CrossFit Finals Performance
Event One — 2007 Reloaded
For time:
Then five rounds of:
10 bar muscle-ups
7 shoulder-to-overheads — 235 pounds
In the opening event, Kwant maintained a steady pace. He never quite contended for a lead — which was steadily held by Mat Fraser following the row — but Kwant maintained his spot in the middle of the five-man heat. He claimed third place in event one, finishing behind Fraser and Justin Medeiros and ahead of Jeffrey Adler and Noah Ohlsen.
Event Two — Corn Sack Sprint
For time:
320-meter hill sprint with a corn sack — 50 pounds
Kwant kept his consistency alive in event two with a solid run that culminated in a second-place finish with a time of 3:07.90. He was the only athlete aside from Fraser, who won the corn sack sprint, to place in the top three in the first two events. Medeiros converted a fourth-place finish after a slick move at the finish line by Adler to sneak into third.
Event Three — CrossFit Total
For total load:
1-rep-max back squat
1-rep-max shoulder press
1-rep-max deadlift
Kwant looked very strong in this event and his lifts were so smooth that the commentary team even questioned if he was lifting as heavy as he could. He ultimately landed in the fourth position in the event with a 1,196-pound total:
Squat — 460 pounds
Shoulder Press — 207 pounds
Deadlift — 529 pounds
Event Four — Handstand Sprint
For time:
100-yard handstand walk
As the tallest athlete in the Finals field, the handstand walk was a fairly tall order (no pun intended) for Kwant. He managed to maintain a steady pace finishing in 1:43.77, but it was outmatched by Fraser's blistering, nearly unbroken sprint, Medeiros' tactics of breaking every five or so yards, and was barely bested by Ohlsen, who completed just four seconds ahead. A fourth-place finish for Kwant in event four.
Event Five — Ranch Loop
Run along 3-mile± course through varying terrain
This proved to be a difficult event for Kwant. He fell into last position amongst the men early on and never recovered. He finished fifth in the event, dropping his overall standing from second to fifth at the end of day one.
Event Six — Toes-To-Bar/Lunge
30-20-10 reps for time:
Toes-to-bar
Kettlebell lunge (yards) — 32 kilogram kettlebells
As Kwant was the largest athlete in the field, the events combining traveling with weight proved to be a weakness for him compared to the athletes with more compact physiques. He was able to score a fourth-place finish in this event.
Event Seven — Snatch Speed Triple
For time:
One snatch at each bar
Quarterfinal — 225-235-245 pounds
Semifinal — 245-255-265 pounds
Final — 265-275-285 pounds
Kwant powered his way to a third-place finish in this event. He was bested only by Jeffrey Adler and Mat Fraser.
Event Eight — Bike Repeater
10 rounds:
440-meter bike sprint
One legless rope climb — 15 feet
The battle for first between Fraser and Adler stole the show during this event. Kwant was able to score a fourth-place finish, besting Noah Ohlsen, with an official time of 13:39.95.
Event Nine — Happy Star
Four rounds:
200- to 300-meter hill run
5-7-9-11 reps of:
Burpee
Thruster — 135-145-155-165-pounds
This seemed to be a turning for Kwant where he really turned up the heat. He scored a second-place finish to close out Day Two, losing only to Fraser by 15 seconds.
Event Ten — Swim 'N' Stuff
Four rounds, each for time:
Air bike calories (10 | 15)
50-meter swim
10 GHD sit-ups
10 ball slams — 60 pounds
Rest
Begin a new round every four minutes
*Rounds two and four performed in reverse
In what was the only definitive defeat of Fraser all Finals long, Kwant scored his first event win with an official time of 8:29.66.
Event Eleven — Sprint Sled Sprint
100-yard sprint
100-yard sled push — 105-pound sled
100-yard sprint
Continuing a stellar third day of the Finals, Kwant lost out on another first-place finish to Fraser by just four-tenths of a second. A second-place finish propelled him up the leaderboard and clinched a podium finish regardless of the outcome of the final event.
Event Twelve — Atalanta
For time while wearing a 20-pound vest:
One-mile run
100 handstand push-ups
200 pistol squats
300 pull-ups
One-mile run
Kwant was the last to make it through the pistol squat, the last through the pull-ups, and ultimately the last of the 10 athletes to finish the event. However, due to Ohlsen and Medeiros coming in second and third, respectively, Kwant earned a second-place finish at the Games.
Did Kwant's runner-up performance at the Games surprise you? Let us know what you think in the comments!