Tia-Clair Toomey and Mathew Fraser had the momentum coming into event seven after big wins in event six — the toes-to-bar/lunge. Second-place through fifth in both divisions were still tightly packed with any one event having the potential to significantly shake up the standings.
Here is what the athletes were tasked with in the Snatch Speed Triple event:
For time:
One snatch at each bar — last place competitor eliminated each round:
Quarterfinal: Women 145-150-155 pounds / Men 225-235-245 pounds
Semifinal: Women 160-165-170 pounds / Men 245-255-265 pounds
Final: Women 175-180-185 pounds / Men 265-275-285 pounds
The times listed below are per snatch block. quarterfinal/semifinal/final. "OUT" means the athlete did not make it to the next round.
Snatch Speed Triple Women's Results:
Tia-Clair Toomey, 21.24 / 23.82 / 30.06
Brooke Wells, 23.70 /25.65 / 36.55
Katrín Tanja Davíðsdóttir, 23.45 / 25.97 / 1:28.00
Kari Pearce, 22.97 / 47.61 / OUT
Haley Adams, 58.95 / OUT
Snatch Speed Triple Men's Results:
Mathew Fraser, 21.04 / 25.47 / 44.05
Jeffrey Adler, 21.17 / 55.52 / 2:22.32
Samuel Kwant, 23.56 / 52.64 / 2:55.89
Noah Ohlsen, 27.41 / 1;01.08 / OUT
Justin Medeiros, 28.62 / OUT
Snatch Speed Triple Recap Video
Miss the stream? Don't sweat it — check out our highlights of the Snatch Speed Triple event of the Games Finals.
Snatch Speed Triple Event Highlights
The women took the field first with a clipped pace that left the 19-year-old Haley Adams in the dust. The youngest Games competitor did not make it to the next round. In the semis, it was Toomey out front, with Brooke Wells, Katrín Tanja Davíðsdóttir, and Kari Pearce in a dead heat. In the final snatch, Pearce had to bail her attempt and it cost her a spot in the final round.
The finals snatch round saw Toomey steal the show all over again. She came out fast, hit her lifts, and crossed the finish line first for her second event win of day two. Wells and Davíðsdóttir both took a slower, more measured approach. The results saw Wells securing the second position and Davíðsdóttir in third.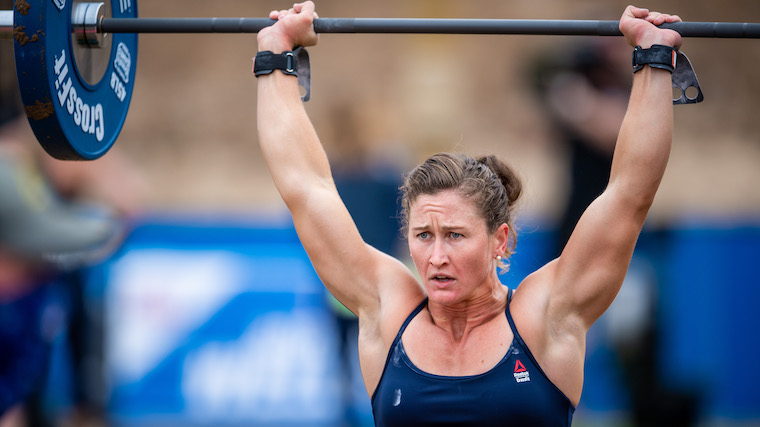 Justin Medeiros and Noah Ohlsen came into this event tied for second place overall. This caused some tension in the final snatch of round one when both Ohlsen and Medeiros missed their attempts. Ohlsen recovered more quickly and was the fourth man to cross the finish line. Jeffrey Adler and Fraser lead the pack in round one with Samuel Kwant right behind them.
In the semifinals, it was Fraser out to an early lead. He hit all three attempts cleanly and crossed the finish line first. Kwant, Ohlsen, and Adler all failed attempts in their third snatches of the round causing the pace to slow down. Kwant got his barbell up first, with Adler not too far behind. Ohlsen was unable to get his barbell overhead, and eventually crossed the finish line without successfully hitting his final snatch once he saw he was eliminated.

The tempo of the final round was much slower as the weights were noticeably heavier. Fraser led the pack again. He missed his first rep of the final 285-pound snatch, but promptly recovered and crossed the finish line in 44 seconds for another event win. Adler had to bail his final attempt and actually waited for Kwant to hit his second lift, as Adler would claim second if time were to expire. Kwant did hit his second lift, and Adler met the moment to claim second place. Kwant didn't have to complete his third lift but did so anyway.
On to the Next Event
The next event up is the Bike Repeater, which will test the athlete's conditioning and coordination. You can read more about the events the athletes will have to endure today. And be sure to check out our leaderboard and results page to track all of the action.
Featured image: CrossFit