The second event of Saturday's full tilt of the 2022 Dubai Fitness Championship (DFC) action continued with races that came down to who could hold on to their barbell and deal with the most extended workout of the day.
Event Three Results — "Get A Grip"
The event was initially programmed with rowing but was later substituted with the ski erg to test further the athletes' grip strength and mental fortitude on a 22-minute cap workout.
The reps remained the same for both the ski erg and toes-to-bars, while the progressively shorter reps on the snatches proved to be a trap for some athletes as the weight saw an increase, including a 70-pound jump in the final 10 repetitions for the men and 60 pounds for the women.
Athletes saved their grip if they stuck with fast singles in the second round and protected their shoulders from further stress from the final round of toes-to-bars and ski erg.
Men's Results
Luka Đukić – 15:06.72
Giorgos Karavis – 15:28.37
Brent Fikowski – 15:31.62
Lazar Đukić – 15:31.96
Moritz Fiebig – 15:42.25
Briant Guillaume– 15:44.63
Alex Kotoulas – 15:47.87
Victor Hoffer – 15:51.71
Jonne Koski – 16:04.44
Fabian Beneito Selles – 16:24.09
Nikita Yundov – 16:44.53
Javier Gonzalez – 16:45.42
Aniol Ekai – 17:29.69
Khan Porter – 17:41.19
Vladimir Sechin – 17:52.63
Luka Vunjak – 17:58.65
Damián Martínez Satorres – 18:51.63
Reggie Fasa – 18:57.60
Michal Wesolowski – 20:38.59
Simon Mäntylä – WD
Women's Results
Karin Freyova – 16:01.87
Andrea Solberg – 16:15.00
Jamie Simmonds – 16:45.38
Oihana Moya – 16:50.00
Emily Rolfe – 17:07.69
Freya Moosbrugger – 17:22.00
Matilde Garnes – 17:23.72
Manon Angonese – 17:43.60
Hanna Karlsson – 17:44.47
Ella Wunger – 18:03.35
Tayla Howe – 18:43.42
Dana Paran – 18:48.22
Aoife Burke – 19:13.25
Lena Richter – 19:18.12
Claudia Gluck – 19:19.71
Seher Kaya – 19:43.48
Valentina Magalotti – 20:22.03
Maria Längfors – 21:01.00
Valentina Rangel – 21:18.32
Aimee Cringle – 21:35.44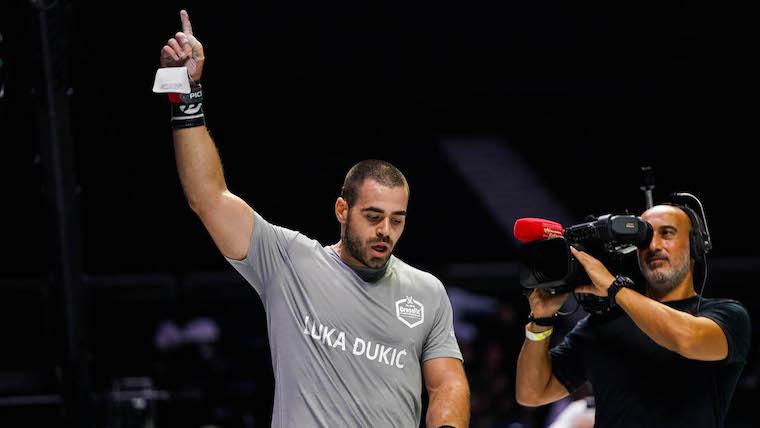 Event Three Workout
Buy-in each round of:
Row — Men: 40 calories | Women: 30 calories
40 Toes-to-bar
Followed by:
Barbell snatches

Men: 40 reps of 75 pounds in round one, 20 reps of 115 pounds in round two, and 10 reps of 185 pounds in round three.
Women: 40 reps of 55 pounds in round one, 20 reps of 75 pounds in round two, and 10 reps of 135 pounds in round three.
There is a 22-minute time cap.
Event Three Highlights
Luka Đukić had the unfortunate distinction of setting the time to beat in the opening heat, but his blistering time held for his first career event win at the DFC and a $3,000 bonus. His time of 15:06.72 was faster than runner-up Giorgos Karavis and third-place finisher Brent Fikowski. Karavis finished with a time of 15:28.37, just over three seconds faster than the 2019 DFC champion.
Older brother Lazar Đukić battled Luka and Karavis early in the event. Karavis used fast single reps in his snatches to gain a slight lead over the Đukić brothers in the second round. Luka pulled away in the final set, while Lazar placed third in the heat and fourth overall.
Moritz Fiebig placed second behind Fikowski in the second heat and fifth overall.
Unlike the men's field, the women's top-five finishers came from the second heat of athletes. Karin Freyova won her second-straight event — coincidently, her first two event wins in Dubai in her third season competing at the premiere event.
Andrea Solberg gave Freyova a push in the final set, using fast, scoop-kips to pull even with her at the last set of 10 snatches at 135 pounds. However, Freyova power snatched all 10 reps with little difficulty. Solberg had to squat snatch all 10 leading to the nearly 13-second difference in their time.
Adopted local favorite Jamie Simmonds, who used to train out of nearby CrossFit Yas in Abu Dhabi, placed third. She was followed by Oihana Moya in fourth and Emily Rolfe in fifth in both the heat and the event. Rolfe knocked out fellow Canadian Freya Moosbrugger, who won the first heat out of the top five.
Up Next at the 2022 Dubai Fitness Championship
The second day of competition comes to a conclusion from Coca-Cola Arena with the elimination event, "Ride Or Die."
The competition will be live-streamed on the Dubai Fitness Championship YouTube channel. Stay tuned to BarBend's event coverage and results page to keep up-to-date on the happenings of the 2022 Dubai Fitness Championship.
Featured image via Patrick Clark.