Saturday is "Moving Day" at the 2022 Rogue Invitational, as athletes are jockeying for spots up the leaderboard all day at Dell Diamond in Round Rock, TX.
And the day started with a quick workout for the 40 athletes — an event dubbed "The Turtle", which was seemingly designed to test how well they recovered from the previous day's workouts.
[Related: Check out BarBend's live leaderboard for complete coverage of the 2022 Rogue Invitational]
Event Five Workout — "The Turtle"
For time:
Axle Bar Lunge — Men: 155 pounds | Women: 105 pounds
Monkey Bar Traverse
Hill Run Bag Pull — Men: 155 pounds | Women: 105 pounds
Monkey Bar Traverse
Axle Bar Lunge — Men: 155 pounds | Women: 105 pounds
Event Five Results
The lunges proved to be the difference-maker in this fast-paced event as athletes showed the wear and tear from the heavy squats and Echo bike during the last two workouts of Friday, Oct. 28. In five of the eight heats, whoever was first off the first set of lunges ended up winning their heat.
Rogue did debut the "Turtle", a weighted bag similar to a sandbag with handles that could be outfitted with a rope for pulling.
The monkey bars used in both the 2017 and 2018 CrossFit games for the obstacle course were taken out of storage for the event as well.
Each division featured four heats.
Men's Results
Samuel Kwant — 2:34.53
Patrick Vellner — 2:35.57
Henrik Haapalainen — 2:36.74
Jeffrey Adler — 2:37.82
Noah Ohlsen — 2:42.56
Jayson Hopper — 2:43.39
Roman Khrennikov — 2:46.79
Jonne Koski — 2:49.14
Jack Farlow — 2:50.62
Saxon Panchik — 2:53.65
Ricky Garard — 2:57.19
Justin Medeiros — 2:58.81
Tim Paulson — 2:59.39
Björgvin Guðmundsson — 3:00.43
Jorge Fernandez — 3:03.08
Chandler Smith — 3:04.88
Nick Mathew — 3:09.31
Cole Sager — 3:13.67
Lazar Dukic — 3:15.24
Scott Tetlow — 3:21.33
Women's Results
Laura Horvath — 2:49.40
Annie Thorisdottir — 2:55
Danielle Brandon — 2:56.01
Gabriela Migała — 3:00.95
Amanda Barnhart — 3:02.12
Alexis Raptis — 3:03.18
Matilde Garnes — 3:05.79
Ellie Turner — 3:06.51
Emma Lawson — 3:07.66
Arielle Loewen — 3:07.71
Kara Saunders — 3:08.06
Dani Speegle — 3:12.98
Bailey Rogers — 3:22.26
Olivia Kerstetter — 3:22.71
Carolyne Prevost — 3:25.77
Manon Angonese — 3:27.07
Emma McQuaid — 3:28.02
Jacqueline Dahlstrøm — 3:34.67
Andrea Solberg — 3:46.14
Anikha Greer — 4:08.78
Women's Event Five Highlights
Horvath continued to make her case as the second best women's athlete currently competing in CrossFit. She recorded her third-straight event win with a time of 2:49.40 finishing ahead of two-time Fittest Woman on Earth® Annie Thorisdottir who finished with a time of 2:55.00.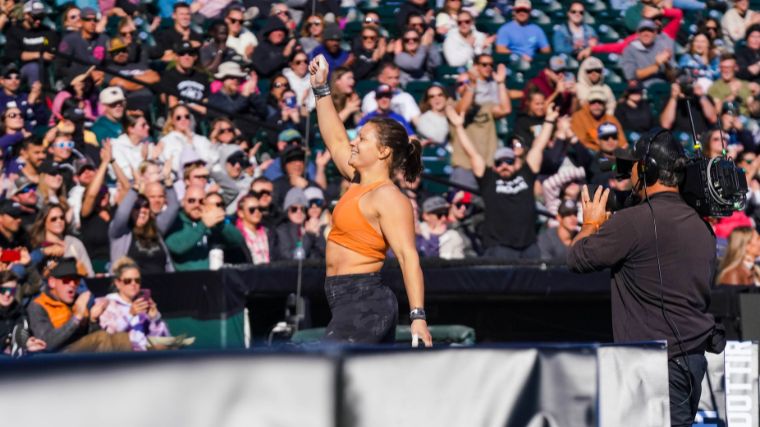 [Read: The Best Kettlebells for Beginners, CrossFit, Cardio, and More]
Amanda Barnhart was the leader in the final heat off the first set of lunges. However, Horvath used her past experience as a rock-climber to make short work of the monkey bars to take the lead before further distancing herself on the Turtle pul. She earned 100 points.
Danielle Brandon placed third overall after winning her heat with a time of 2:56.01.
Gabriela Migała and Barnhart rounded out the top 5.
Men's Event Five Highlights
The quiet and unassuming Kwant continued to make his move up the leaderboard this time with his first event win of the competition. This past year's fourth Fittest Man on Earth® and 2020 Games runner-up won his heat and saw his time of 2:34.53 hold. The difference maker for Kwant was his short and quick pulls on the "Turtle".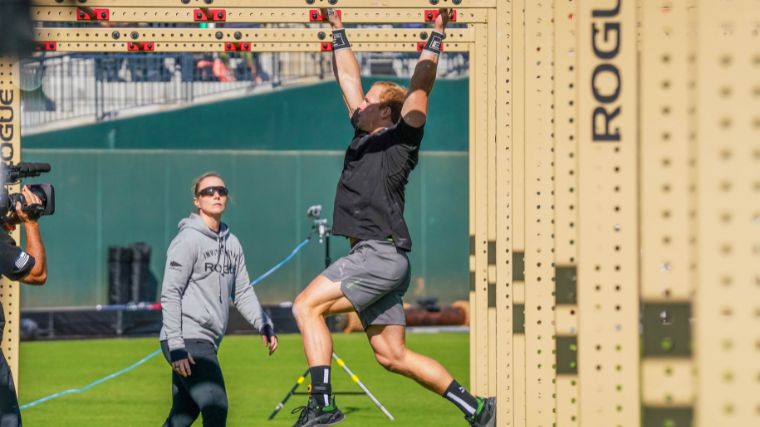 [Read: The Best Cross-Training Shoes for Agility, CrossFit, and More]
Patrick Vellner won the final heat stacked with heavy hitters taking advantage of a costly no-rep to Justin Medeiros on his first set of lunges. Vellner's time of 2:35.57 gave him second place overall.
Henrik Haapalainen won the second heat with a time of 2:36.74 securing him his first top-three finish of the competition.
Jeffrey Adler placed fourth overall, his third top-5 finish of the competition, and was followed by Noah Ohlsen in fifth place.
Up Next at the 2022 Rogue Invitational
Event 6, "The Duel II" was announced the morning of Oct. 29th. It features an elimination-style format similar to what Rogue programmed as their final event last year in the first iteration of the Duel. Start time for that event is 12:40 p.m. CST/1:40 p.m. EST.
The competition will be livestreamed on the Rogue YouTube channel. Stay tuned to BarBend's event coverage and results page to keep up-to-date on the happenings of the 2022 Rogue Invitational.
Featured Image: Patrick Clark / Athlete's Eye Photography