It was 2011: Joe Micco was 27 and had his whole life ahead of him.
A former college and professional football player, Micco had just accepted a coaching position in the Arena Football League, and was set to become the youngest coach in the league.
Then one night, he was in a devastating motorcycle crash in Georgia that left him in a coma for three months. The brain injury he suffered still limits the functionality of the right side of his body, especially his right arm.
"The accident is a weird subject for me. I have no memory from 2010 to 2014. I don't even remember ever riding a motorcycle," said Micco, now 37.
At the time of his accident, doctors didn't think he would survive the night. If he did, they were prepared to diagnose him "to be a vegetable," he said.
In the last nine years, Micco has done more than prove them wrong.
Today, Micco is committed to using fitness and nutrition to help him regain function. He trains at home and also works at a gym with coach Kelly Rosado, who he calls "my guardian angel."
Not only can Micco walk and talk again, but he can do things like bodyweight lunges and step-ups and hanging L-sits and planks. He still doesn't have function in his right arm, but he can do push-ups and burpees with one arm.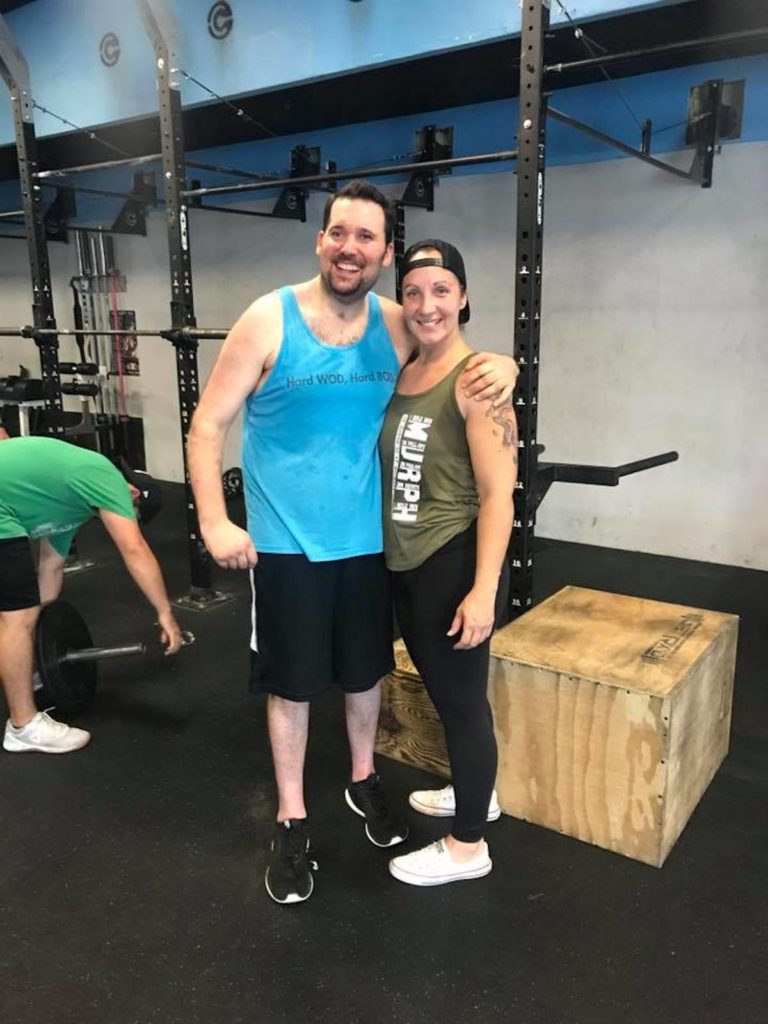 "Sometimes I fall into the mindset of how my body used to be. I don't remember the accident so much as I remember I was a professional athlete," said Micco, who used to be able to bench press 500 pounds.
Having this mindset has helped him exceed expectations as to what is possible, "but the drawback is that I often have unrealistic expectations of myself," he admitted.
He credits much of his success to Rosado's coaching.
Coaching isn't just about saying, "Here, do this,'" he explained. "Verbally instructing requires more knowledge of technique, safety and the intended stimulus. Kelly's verbal skills are unparalleled," he added.
Rosado replied humbly: "All I've done with Joe is observed where his limitations are and come up with a plan to better his movement. Joe and I consistently reevaluate his goals. It's simple. We figure out what he's not capable of doing and we come up with a plan to make him better," she said.
Some of the things Rosado has helped him with include sitting and standing without support, improving his balance, walking without assistance, running, and just "putting dishes away, preparing his breakfast, and moving his arms over his head," she explained.
She added: "He has made so much progress this year."
As a result, even better than being able to do lunges and ring rows is the fact that "everyday tasks no longer present a challenge," Micco said.
Better than being able to do lunges and ring rows, however, is the fact that "everyday tasks no longer present a challenge," Micco said.
On top of being committed to his own health and fitness, Micco is also passionate about helping other adaptive athletes become educated on how they can regain functionality. Because of this, he founded Adaptive Alliance, an organization that seeks to enrich the community of adaptive athletes by sharing information.
He's still in the process of building Adaptive Alliance, but so far it has proven to be a valuable place for personal networking, he explained. He hopes it will continue to grow so it can eventually reach a much wider audience.
Micco's message: Don't just accept your prognosis.
"You're always going to be told the worst case scenario by medical professionals. Don't believe them," Micco said.
He added: "I'd love to see if whoever decided that could even do Fran, let alone get close to my time."