One of the biggest decisions a home gym owner can make is what type of barbell they'd like to use on a regular basis. For many lifters, a barbell is a barbell in the gym setting, but for those who are building out their own space, it's a good idea to spend some time researching all of the available barbell options out there before sinking money into something that won't stand the test of time, or fit your needs.
Rogue Fitness is one of the more prominent lifting equipment companies based in the United States that offer a wide variety of barbells. Their barbells have continued to grow in popularity for a couple reasons.
Below, we've grouped popular Rogue Fitness barbells in separate categories based off of their specifications and ideal usages. Can these barbells work interchangeably? Yes, but below are some of our top picks for specific categories.
The Best Rogue Fitness Barbells
Best Powerlifting Barbell

Rogue Ohio Power Bar

A great barbell for powerlifting that has "no whip" and aggressive knurling for squats and deadlifts.

Best Oly Barbell

Rogue Olympic WL Bar

This bar matches all of the IWF's approved barbell dimensions and comes with smooth moving bearings for quick rotation.

Best All-Around Bar

The Ohio Bar

A durable barbell that is cost efficient, versatile, and comes with a lifetime warranty to bending.

Best Women's Barbell

Bella Bar 2.0

This barbell is perfect for women seeking a versatile and durable for their workouts.

Best Priced Barbell

Rogue Ohio Power Bar

A great barbell for powerlifting that has "no whip" and aggressive knurling for squats and deadlifts.

Best Deadlift Bar

Rogue Ohio Deadlift Bar

This barbell has aggressive knurling and great whip for maximizing leverage in deadlifts.

Best CrossFit Barbell

Rogue 28mm Training Bar

This barbell is ideal for anyone performing compound and Olympic movements all in one workout.

Best Durable Barbell

Rogue Ohio Bar — Cerakote

Rogue Ohio Bar — Cerakote

A versatile barbell with exceptional tensile strength and a cerakote finish for durability and heavy lifting.

Best Barbell for Price

Rogue Echo 2.0

This barbell is extremely durable and comes at a very competitive price compared to the large market.
What Makes Up a Rogue Fitness Barbell?
Before diving into our specific barbell categories, it's a good idea to learn about what specifications are worth looking at when shopping for your perfect barbell. In this round-up, we'll go over five major barbell characteristics and these will all shift in importance based off your sport and needs.
Tensile Strength
Tensile strength is a dynamic test for a barbell's strength that is measured in pounds per square inch (PSI). Imagine this as how much force and poundage it would take to physically pull the bar apart. The higher end bars will have a much higher tensile strength rating and anything over 180,000 PSI tends to be classified as relatively very strong.
For the average gym-goers, weightlifter, and powerlifter, a tensile strength of that level will fair just fine and the chance of the bar bending/breaking is relatively small barring any manufacturing defects.
Knurling
Another important construction characteristic is the knurling used on the bar. For Rogue Fitness, they rate their knurling simply with classifications like "aggressive" and "standard". Powerlifters will generally want a barbell with a little more aggressive knurling for gripping purposes, while the recreational lifter will be fine with using standard knurling.
Plus, an aggressive knurling can be rough on the hands for those who don't necessarily need a strong and sharper knurl. A bar's knurling should be based off of one's strength sport and need.


Additionally, the way a barbell's knurling is patterned will make a big difference in terms of performance. Some bars have bands to mark their sides for things like powerlifting, while other bars lack a middle knurling to avoid scratching the neck in movements like the clean & jerk and front squat.
Whip
Whip is an interesting barbell classification and is often overlooked by the newer athlete. A barbell with a bit more whip will have a couple performance differences than a bar with none. Rogue Fitness makes it easy to figure out what their bars offer by breaking them into "good whip", "great whip", and "no whip" categories.
Weightlifters and powerlifters can both benefit with a bar with some whip to it, as it will be a bit more advantageous in Oly movements and heavier deadlifts (the longer time each side of the barbell will spend on the ground). Although, a stiffer bar will benefit those who are moving extremely heavy weight (whip can cause mis-grooves in movements like the squat), or compete with stiff bars.
The F-Scale
The F-Scale is an extremely important characteristic Rogue Fitness uses to classify their barbell's durability. This is a system and rating scale they use to divide their barbells into categories based off their resistance to durability issues when being dropped.
Their scale ranges from F1 (least resistant) to F8-R (most resistant) and each bar will be slightly different based of their material and finish. Rogue Fitness has also developed a patent pending process classified as Rogue Work Hardening (RWH), which is a proprietary means of making their barbells last longer when being repeatedly dropped. F-Scale ratings with an "R" symbolize the treatment with Rogue Work Hardening.
Oxidation Rate
The oxidation rate of a barbell is based on the type of steel and finish used. This is basically how fast the barbell will show signs of decreased durability over time without regular upkeep. Rogue Fitness rates their bars on a scale of long-term resistance and has grouped different materials/finishes onto a scale of oxidation.


Best Barbell for Women

Bella Bar 2.0
The Bella Bar 2.0 earns our top spot for barbells designed specifically for women. This barbell makes our top pick because it contains all of the construction features of Rogue's top barbells, but all of the dimensions designed for women athletes who compete, or lift recreationally and prefer a 35 lb bar over the normal 45lb/20kg barbell.
Standard knurling with an F6-R Scale rating, and a "good whip" classification.
Bar weight of 35 lbs and 25mm diameter, so it matches most recreational competitive weightlifting environments.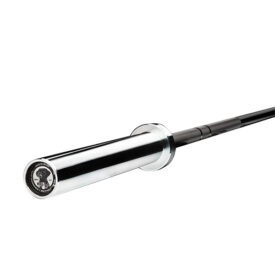 The Bella Bar 2.0 is perfect for women seeking a versatile and durable barbell for their workouts.With a slightly smaller diameter and an E-Coat finish, people with smaller hands should find this bar easier to grip. 
Best Barbell for Deadlifts

Rogue Ohio Deadlift Bar
We have to start our best deadlift section with the specialized Rogue Ohio Deadlift Bar. This barbell is designed specifically for deadlifts, so anyone who competes in federations that use deadlift bars, or just simply enjoy training on them, then this barbell is a good bet. It's designed with increased whip to prolong the period where plates are on the floor to allow more force to be produced, thus making it deadlift specialized.
The barbell has a "great whip" rating and aggressive knurling to ensure grip is great.
Tensile Strength of 190k and a 27mm diameter to ensure all hand sizes can pull on it.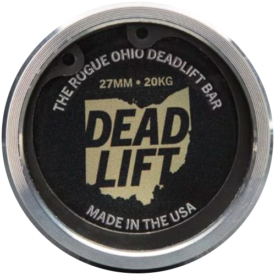 The Rogue Ohio Deadlift barbell has aggressive knurling and great whip for maximizing leverage in deadlifts. If you're primarily deadlifting and pulling from the floor, this bar can't be beat. 
Best Barbell for CrossFit

Rogue 28mm Training Bar
In our opinion, the Rogue 28mm Training Bar is one of the better bars Rogue makes if you're looking for CrossFit style workouts. This barbell shadows a Rogue WL Bar, but comes at a decreased price and has an F8-R Scale rating cerakote coating, which makes it an extremely durable option. If you're someone who is training Olympic movements, and may compete one day, then this bar is a good option.
Standard knurling with a "good whip" rating to provide versatility in workouts.
Similarly sized to IWF approved bars, but at a much more cost efficient price.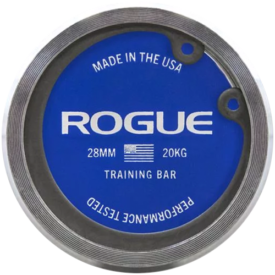 This barbell is ideal for anyone performing compound and Olympic movements all in one workout.
Best Barbell for Durability

The Ohio Bar — Cerakote
Our top pick for durability is The Ohio Bar that has the Cerakote finish. Cerakote is a metal finish that is often used when creating things like weaponry that need to not only last, but stand the test of time and be tough in all conditions. The Cerakote finish allows this bar to last an extremely long time, and that's with minimal upkeep (although, we always recommend taking good care of your barbell). 
Cerakote finish that earns this bar an F8-R Scale rating and is resistant to corrosion.
Lifetime warranty against bending, so any damage caused by heavy lifting or dropping overhead should be covered, but the warranty doesn't cover misuse/negligence. 
Rogue Ohio Bar — Cerakote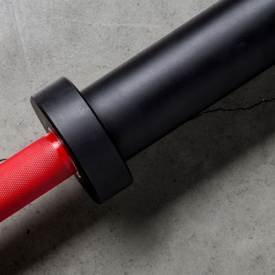 Rogue Ohio Bar — Cerakote
A versatile barbell with exceptional tensile strength and a cerakote finish for durability and heavy lifting.
Best Rogue Fitness Barbell for the Price
When it comes to price, Rogue Fitness as a whole does a pretty good job at being competitive with other companies on the market. They tend to strike a balance between some of the higher end bars from companies like Eleiko and Uesaka, and then some of the lower commercial barbells you find in big box gyms. What we like about Rogue Fitness and their barbell prices is how descriptive they are with each product.
Every barbell's page has ample details about its construction, which can then help you decide if the barbell is worth it for your needs and wants. For example, if you have a home gym and train ALL of the time and slam bars, then The Ohio Bar — Cerakote is a decent option for the price, and conversely, if you train rarely, then something like The Ohio Bar — Bare Steel will fit your needs well.
What we're trying to say is that Rogue Fitness does an adequate job at trying to provide variety for what you might invest in. Below, we've included our top four barbells for the money that we felt were fair for what the barbells have to offer.
What Coaches Say About Rogue Fitness Barbells
James Wright: Co-Owner Prospect Heights CrossFit
At our gym, we have two B&R Barbells (a barbell inspired by strength coaches Mike Burgener and Mark Rippetoe) and a Froning Bar, the rest are beater bars.
The B&R barbell and the Rogue Olympic WL Barbells all have their own feeling. The Rogue Olympic WL Bar has an ease of spin that makes the bar snap into place very easily. While the B&R barbell has better whip at lighter weights, which is an excellent training tool for newer lifters. The Olympic WL Bar has a slightly more aggressive knurling than the B&R, but that's really up to a lifter's preference at the end of the day.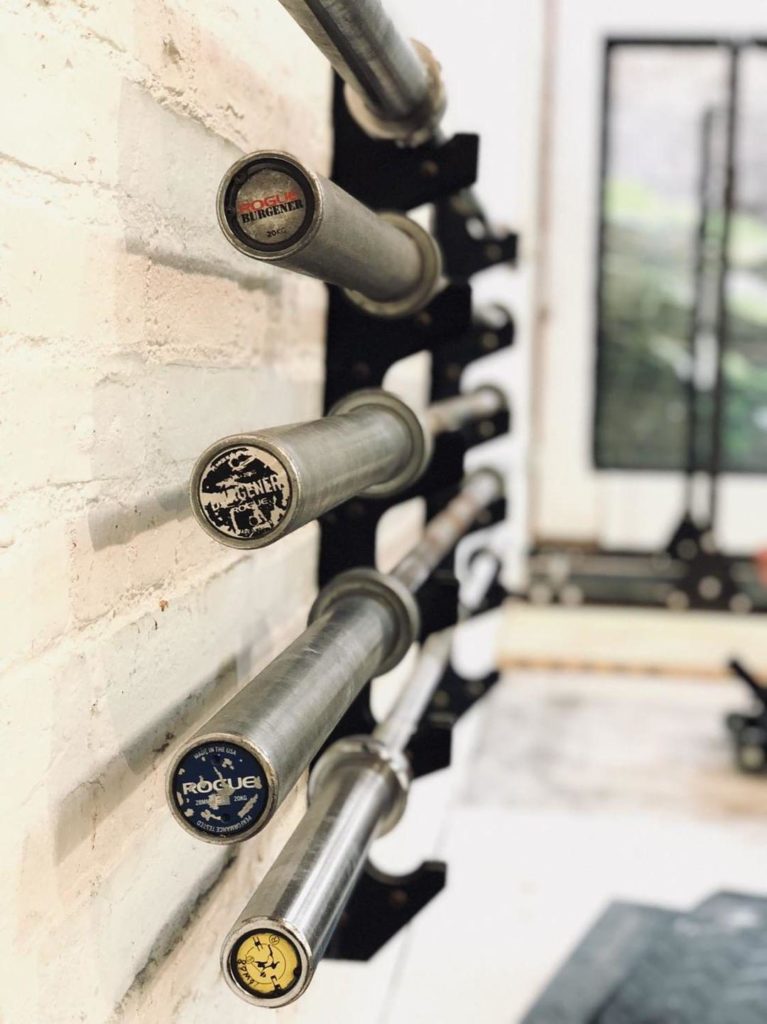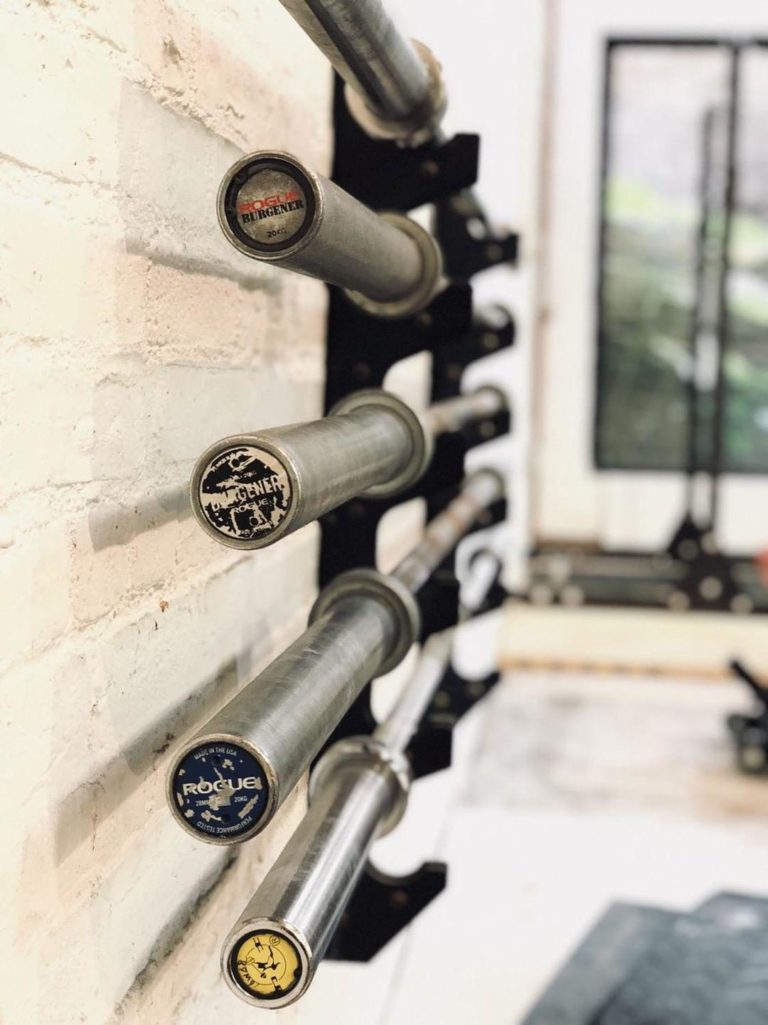 As for the other bars we use I can say that they definitely take a beating (including the Froning Bar), and the spin somewhat fades fast and they need constant maintenance if you want them in great condition. So far, the Olympic WL Bars have been great, although, I have my lifters brush them after every session and I keep them greased for consistency.
Manny Prieto: USAPL Coach & Powerlifter
I use the Rogue Ohio Power Bar for training and Squats & Science [my gym] used it for their meet in March. I like this barbell a lot. The aggressive knurling really helps keep the bar on my back during squat and in my hands during deadlifts. I used to have to chalk my back all the time when squatting with commercial gym bars, but haven't needed to with the Rogue Ohio Power Bar.
Adam Kant: Owner of Intrepid Gym
The Rogue Barbells (Ohio Power Bars) were the first barbells I bought [when starting the gym]. I bought them without knowing the market too well and Rogue Fitness is very proud about their bars and they looked well-made. They are stiff with little flex and the sleeves barely spin. They're not ideal for weightlifting or HIIT workouts, and most of the attendees in my gym don't like them for that.
They have however held up really well and the knurling is precise. I have weighed them to check their accuracy, and they do weigh 45 lbs on the dot, as some other bars are a little lighter.
Author's Note: Most of the barbells below come in men's and women's editions, sans the separate "Best Barbells for Women" category!
Wrapping Up
Rogue Fitness may not be everyone's go-to when it comes to barbells, but there's no denying they make an exceptional effort to deliver variety and descriptive information about their bars. With barbells offering lifetime warranties to bending, and utilizing the best practices for durability, then it's easy to see why more strength-focused gyms are turning to their equipment.
Rogue Fitness Barbell FAQs
Why are Rogue Fitness barbells fantastic?
Generally speaking, Rogue Fitness barbells are often considered great because of their construction, warranty, and thoughtful testing. Rogue Fitness manufactures in the US and tests their barbells to match specific needs.
Does Rogue Fitness offer warranties?
Yes! We suggest checking out Rogue Fitness' warranty page for a full rundown about which products are covered and in which instances you can utilize their warranty policy.
What types of barbells does Rogue Fitness sell?
Rogue Fitness sells a variety of barbells for every strength sport. They sell weightlifting, powerlifting, and deadlift specific barbells, along with barbells that are fantastic for garage and client facing gyms.
Does Rogue Fitness charge shipping?
Yes. Rogue Fitness charges shipping on barbells and the rate will depend on where you reside and what type of shipping you select.
Feature image(s) from Roguefitness.com.