Tomorrow the Canadian Weightlifting Federation (CWF) will host their 2017 Junior National Championships in the city of Brossard, Quebec, just outside of Montreal. Unfortunately, for currently undisclosed reasons, a previously scheduled webcast of the event has been cancelled. However, BarBend has been provided with a start list and schedule of the competition, and we anticipate obtaining video and results after they happen.
This event will showcase 81 of the top junior aged weightlifters in Canada. If Canada chooses to send a team to any of the below international competitions, this will serve as a qualification event for:
2017 Senior Pan American Championships in Miami, Florida USA
2017 FISU World University Games in Taipei, Taiwan
2017 Junior World Championships in Tokyo, Japan
2017 Junior Pan American Championships in Guayaquil, Ecuador
2017 Youth World Championships in Bangkok, Thailand
In addition, it will be a qualification event for the 2017 Canadian Senior National Championships, which will be held May 20-21 in La Prairie, Quebec.
A Full schedule of tomorrow's weight categories and sessions is as follows: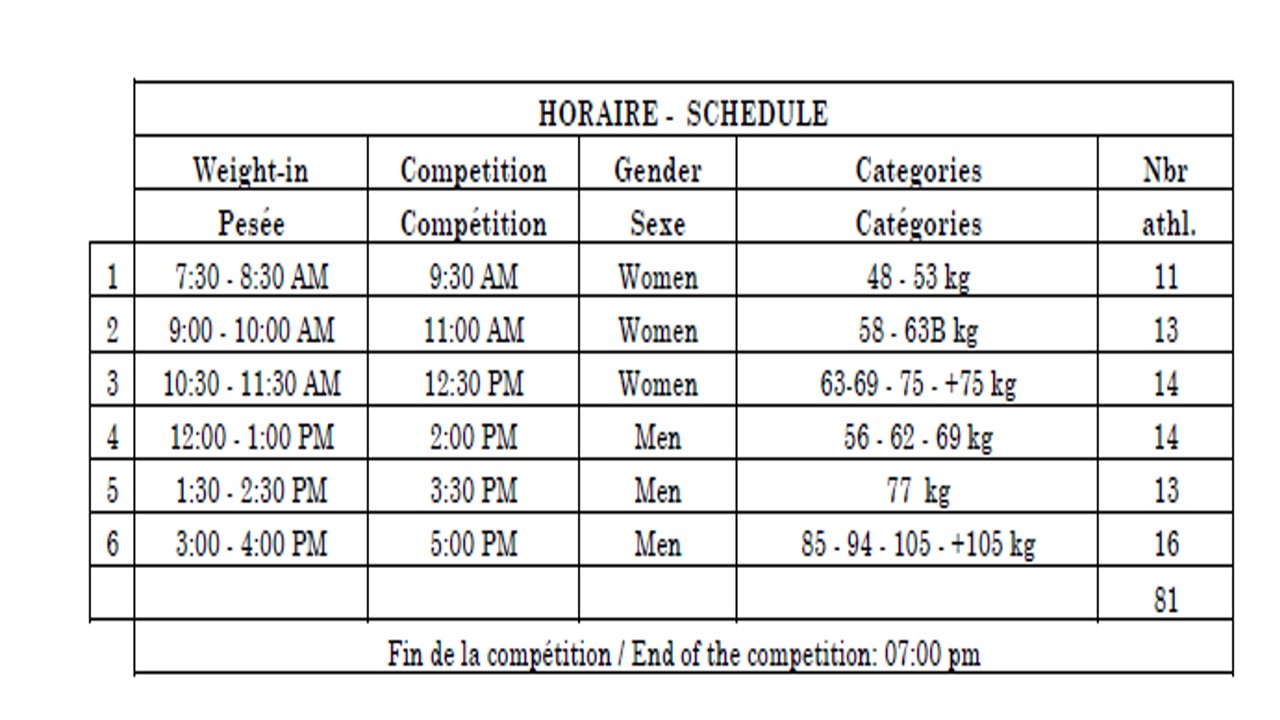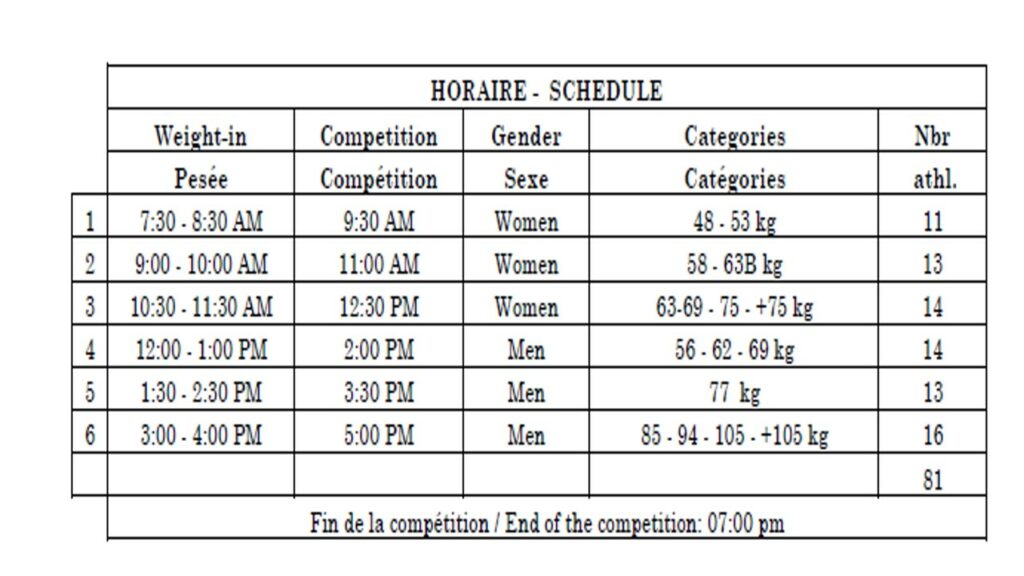 The 2016 top male and female athletes based on Sinclair total will both be competing and aiming to repeat their success.
On the men's side, Boady Santavy will be aiming for his 4th Junior National Championship and 3rd Most Outstanding Lifter award. This past year he has moved up to the 94KG category, and he has already set new Junior National records this past November when he lifted 155KG (341lb) in the snatch and 183KG (403lb) in the Clean and Jerk for a 338KG (744lb) total; all records. He has a great change to set a new Senior Record in the snatch if he can successfully lift 158KG (348lb). The current record was set in 2005 by Sacha Amédé He recently has been successful with 160KG (352lb) in training.
On the women's side, Tali Darsigny is entered in the 58KG category with a 168KG (370lb) total. This past December she placed 6th at the FISU World University Championships in Mexico, where she totaled 193KG (425lb), an international competition Personal Record for her. She also placed 8th overall at the 2016 Junior World Championships with a 190KG (418lb) total. Recently she has jerked 121KG (266lb) off the rack, with the potential for a lot more weight. She currently owns the 58KG Junior records in the snatch (87KG) and the total (193KG) – if she lifts to her abilities there could be three new records set tomorrow.
Featured image: @canadianweightlifting on Instagram