Breaking news out of Canada, the qualifying totals for the 2017 Canadian Senior National Championships for 2017 have been released, and they have increased over the 2016 Totals. (Click here to download a PDF containing the totals.)
The below chart represents the qualifying standards that have been validated for the next two years, which means that qualifying totals will not change until 2019 at the earliest.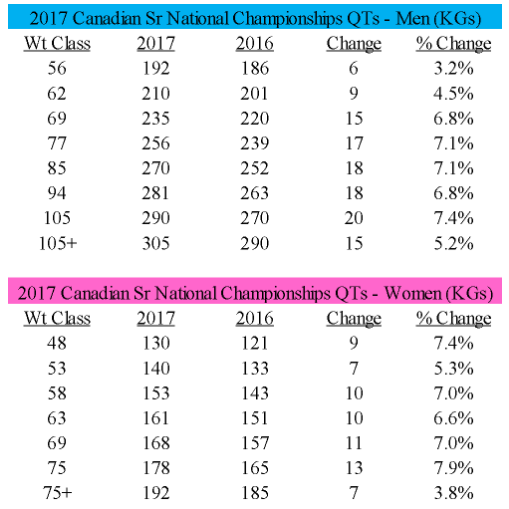 At the 2016 Canadian Senior National Championships in Vancouver, British Colombia, 67 women and 104 men comprised the 171 athletes who competed over the course of the weekend. This was lower than the 191 athletes who competed at the 2015 National Championships in Mississauga, Ontario; however, it's significantly higher than the 111 athletes who lifted weights at the 2014 National Championships in Saskatoon, Saskatchewon.
The 2017 Canadian Senior National Championships are scheduled to be held the weekend of May 20-21, 2017 in La Prairie, Quebec, roughly 30 minutes south of the beautiful city of Montreal. This will be the same venue as the 2012 Olympic Team Trials where Christine Girard snatched 103KG (227lb) and clean and jerked 130KG (286lb) on her way to a 233KG (513lb) total.
This was a crucial step on Girard's way to becoming the first woman from Canada to win an Olympic medal in weightlifting. Her Bronze medal from the 2012 Olympic Games in London was upgraded to a Gold medal this year after the two athletes ahead of her failed a re-analysis of their drug tests. It's also likely she'll become a two-time Olympic medalist if suspensions following Beijing doping retests are upheld; she originally finished fourth in that Games, though the silver medalist — Irina Nekrassova of Kazakhstan — recently tested positive for a banned substance from that competition.
The Canadian Weightlifting Federation also announced that the 2018 Canadian Senior National Championships have been awarded to Mississauga, Ontario – a suburb of Toronto, Ontario, and within a 2 hour drive of Buffalo, NY USA. They were last held in Mississauga in 2015, where Olympian Pascal Plamondon won an epic competition in the 85KG category over junior aged weightlifting prodigy Boady Santavy of Sarnia, Ontario.
This past month Plamondon set new Canadian Weightlifting Records at the Olympic Games in Rio. Santavy set a new Commonwealth Junior Record in the snatch with 152KG (334 lbs) at the 2016 Pan American Championships in Colombia earlier this year.
Featured image: @boady_champ on Instagram