Dymatize is a popular sports nutrition company and while they produce an enormous variety of workout supplements, they're probably best known for their surprisingly cheap hydrolyzed whey protein powder, ISO 100.
They also have several different amino acid supplements but we wanted to try their pills, called BCAA Complex 2200. (So called because one serving has 2.2 grams of BCAAs.) They're a little unusual in that the BCAAs deliver a nice suite of vitamins that make the product more nutritious than most competitors.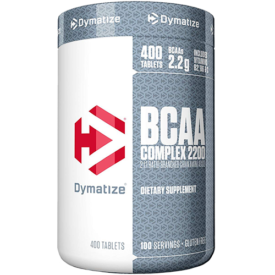 A supplement with over 400 BCAA capsules containing 2.2 grams of BCAAs per serving.
Dymatize Nutrition BCAA Complex 2200 Nutrition and Ingredients
There's no calorie information, but in one serving of four caplets, you'll get 2.2 grams of branch chain amino acids. The BCAAs come in a 2:1:1 ratio of leucine, isoleucine, and valine, which is pretty normal.
A serving also contains 17 percent of your daily Vitamin C, 100 percent of your Vitamin B2 (a.k.a. riboflavin), and 75 percent of the daily Vitamin B6.
There are quite a few "other ingredients" as well, like the fillers maltodextrin and microcrystalline cellulose, but most of the ingredients — like crospovidone, croscarmellose sodium, and hypromellose — are used to help with absorption.
It's worth pointing out that unlike many BCAA pills, these are not encased in gelatin capsules, so they're friendlier to vegetarians than the average cap.
[Check out our best BCAA roundup HERE]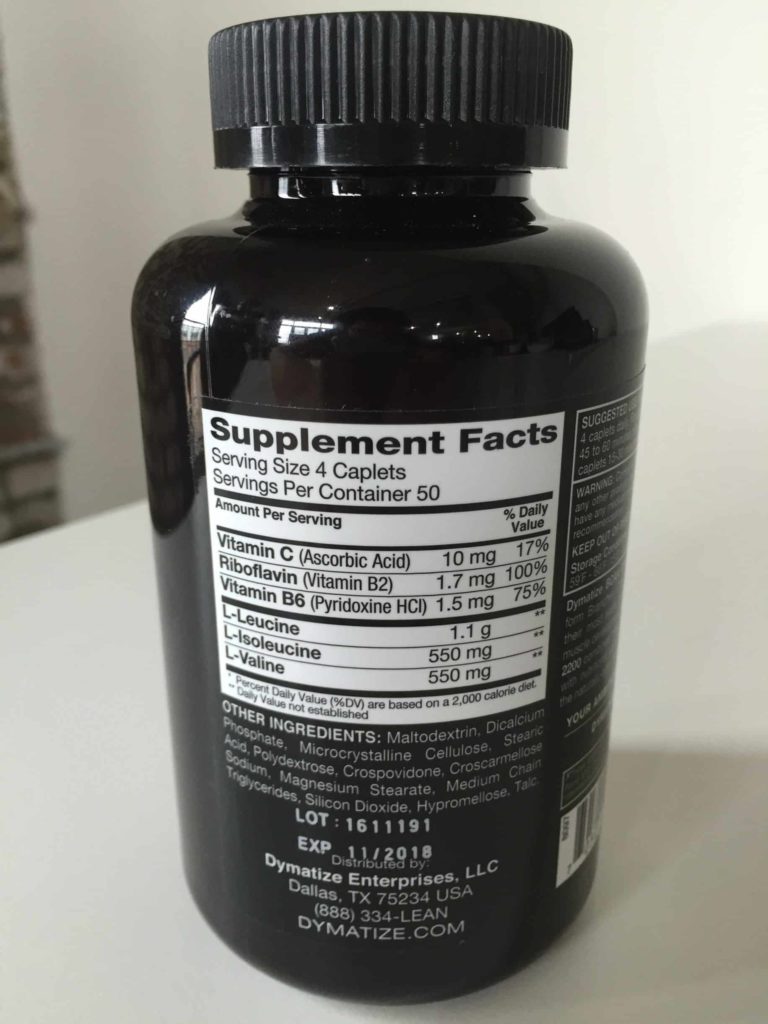 Dymatize Nutrition BCAA Complex 2200 Benefits and Effectiveness
The product's copy focuses a lot on the fact that these extra ingredients help the product to absorb more effectively, and indeed it's not unusual for them to appear in prescription medications for this purpose.
The extra vitamins are a nice touch. While they won't work as stimulants, the B-vitamins can help with energy production.(1) The Vitamin C, meanwhile, can reduce the cell damage that occurs during exercise, so taking it around a workout isn't a bad idea.(2)
The BCAAs themselves have been linked to improved endurance, muscle protein synthesis, and focus during workouts.
Caplets are more portable than BCAA powder, but the main issue with this product is that the serving size is so small: you have to take four caplets to get just 2.2 grams of BCAAs. While there may be some benefit to taking one or two grams of BCAAs with a meal, I've found that most people use them before, during, and/or after a workout to help with muscle synthesis — and when they do this, they're aiming for at least 7 grams of BCAAs per serving.
That would be more than twelve caplets of BCAA Complex 2200 at a time. More than anything else, it's just an awkward amount of pills to keep consuming.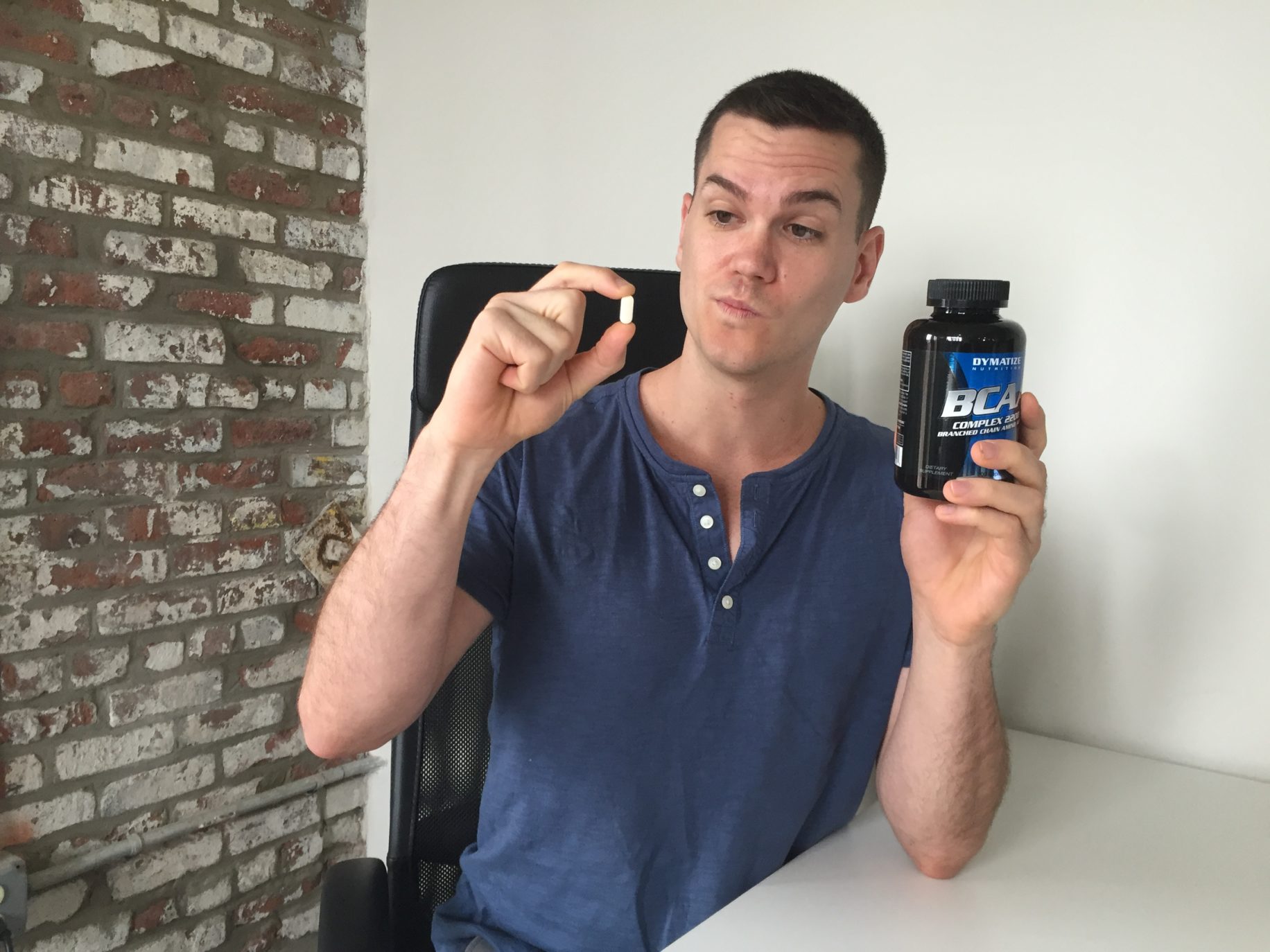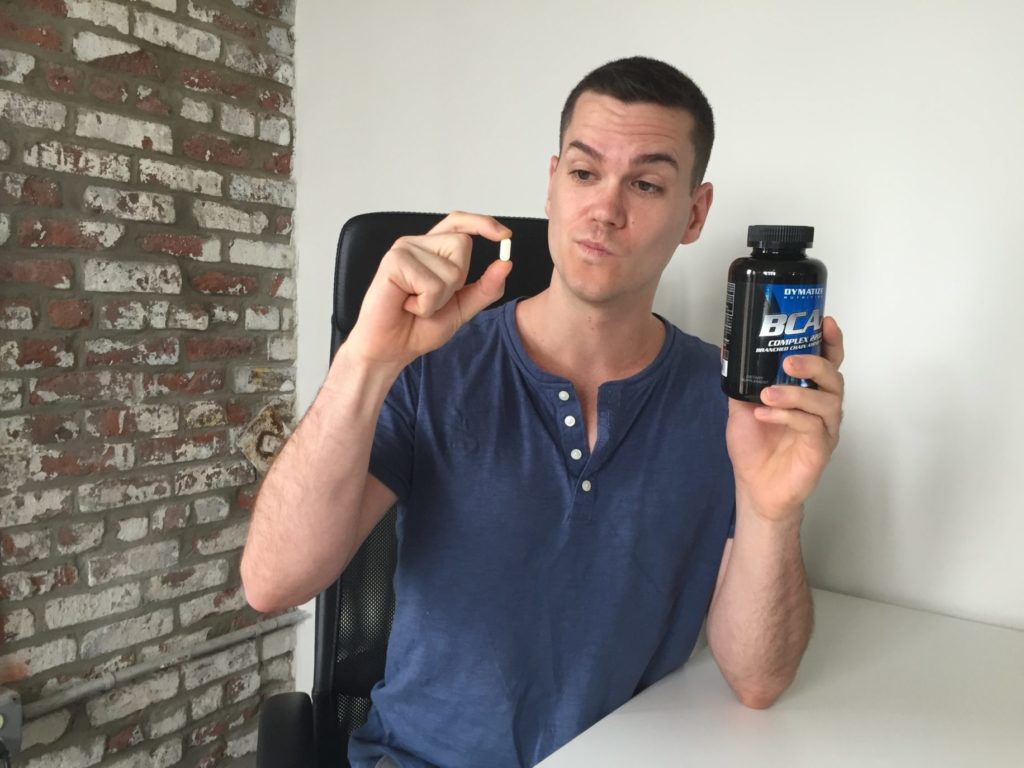 Dymatize Nutrition BCAA Complex 2200 Price
You can pick up a bottle of 200 caplets for $15, which comes to 30 cents for a 2.2 gram serving or 13.6 cents per gram of BCAA. This isn't actually that cheap. In addition to their portability, one of the main benefits of BCAA pills is they tend to be cheaper than BCAA powder. However, on a per-gram basis, these are more expensive than many popular BCAA powders like Scivation's Xtend or MusclePharm's BCAA 3:1:2.
The Takeaway
The best things about this product are the portability, the vitamins, and the fact that it has a solid 2:1:1 ratio of leucine, isoleucine, and valine. The extra ingredients to help absorption are a nice touch too, and I've never seen them in other supplements — this probably means they're not 100 percent necessary, but a nice touch nonetheless.
If you're looking for an easy to carry BCAA supplement that will allow you to take a couple of grams with your meals, this is a good pick. If you're after a workout supplement, you may find that there are too many pills to swallow.
References
1. Kennedy DO. B Vitamins and the Brain: Mechanisms, Dose and Efficacy–A Review. Nutrients. 2016 Jan 27;8(2):68.
2. Bryer SC, et al. Effect of high dose vitamin C supplementation on muscle soreness, damage, function, and oxidative stress to eccentric exercise. Int J Sport Nutr Exerc Metab. 2006 Jun;16(3):270-80.
Dymatize Nutrition BCAA Complex 2200
Per Serving: $0.30