Strongman is very much unlike two other contests designed to test strength: powerlifting and weightlifting. When you participate in one of the aforementioned meets, you know what you should be capable of and how you should place compared to the other athletes . This helps you understand your place in the endeavor and how much you need to improv. This is not even remotely true of the absolute, endurance, and varying tests in strongman contests. I've found that this uncertainty can lead many competitors to set unrealistic goals and actually believe in game day magic.
"He's got a 33rd place car. He should stop racing like it's a top ten car."
Watching a NASCAR race last month fed me that bit of genius from an announcer. It is a point that (by realists) should be well heeded. It applies directly to strongman athletes when planning out their days outcome if they want the best possible result. Prior to many contests that I've reported on I have asked many contestants:
"How are you going to do tomorrow?"
Let's first discuss the most common answer I get:
"I'm going to win, I'm the one to beat," or some similar thought.
Don't misunderstand, I am all for having a positive attitude but most often these people are flat out wrong. There can be only one victor and there may be ten people assuming they will have the same outcome. By saying this massive singular goal aloud they often give themselves a validation that may work against them (as I wrote here). There is a second and more important way this statement and belief can work against them.
If your only goal is to win the show and you have a poor first or second event, I would wager that the rest of your performance will be negatively impacted. While most people think they will pick themselves up and game harder, the opposite is more likely true. Often, that disappointment will make you feel like you've already lost, so why keep pushing? Fear and doubt will begin to creep in, along with being overwhelmed. Seeing that you have so much ground to make up can play on your subconscious making it difficult for you to go the extra mile later in the show.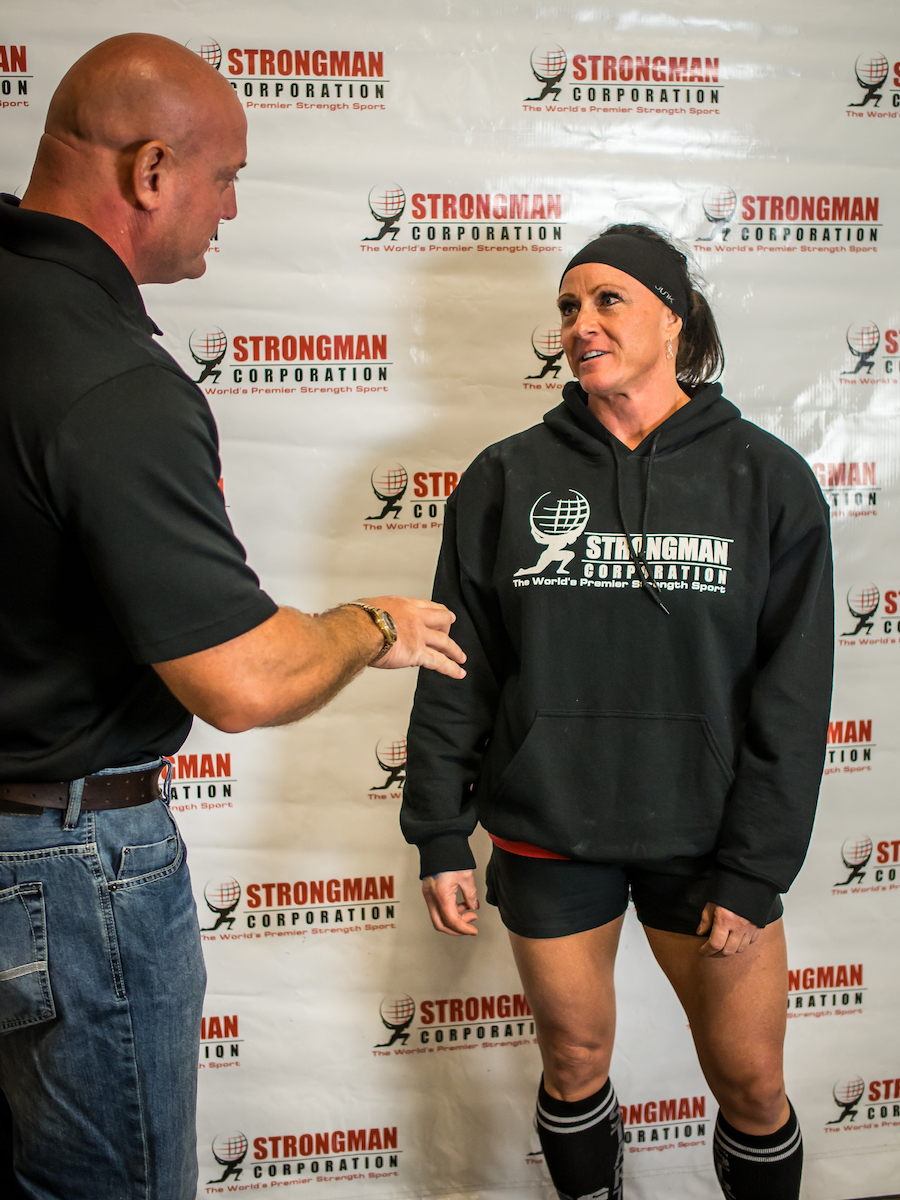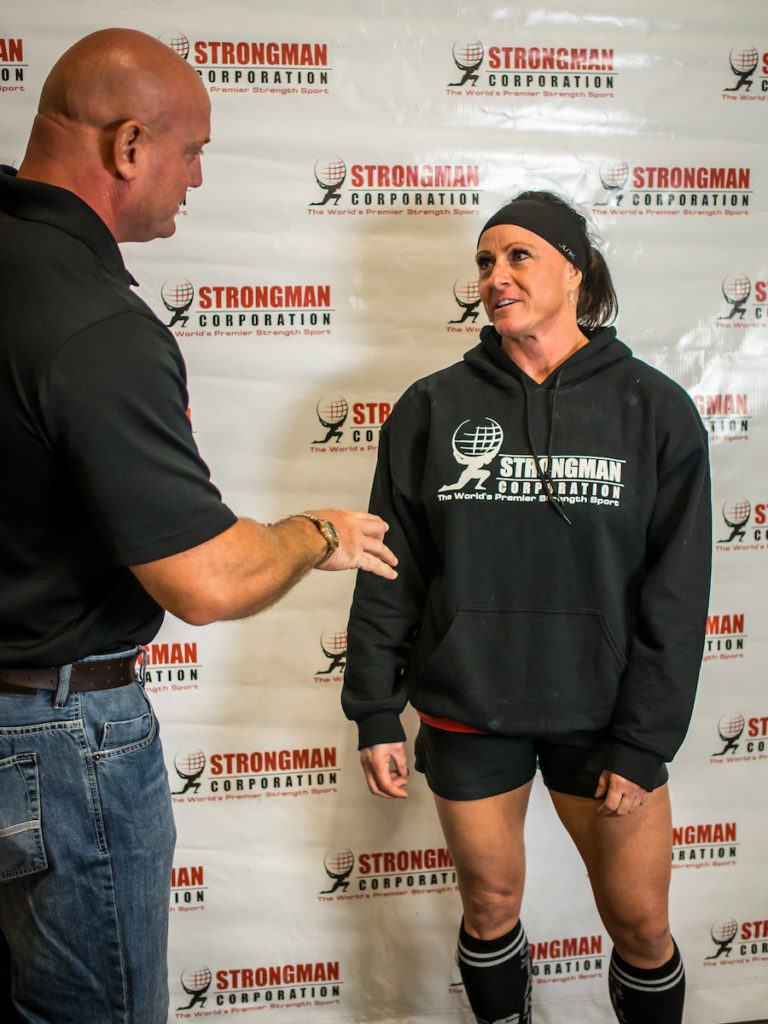 The author speaks to a competitor before a strongman event
The second second answer I receive is is the polar opposite of the fist:
"I just want to do my best."
My initial thought when I hear this is:
"Way to set yourself up for success." (Sarcasm implied.)
Having such an open ended goal lowers all expectations on yourself and your fans. You basically just said whatever happens is sufficient. This is never an acceptable mindset for a true competitor. This line of thinking will have you leaving too many points on the table. There is a better way to think about your contests and here are the key points:
Know your events inside and out

: Flawless technique, your trial runs properly weighted and being comfortable are going to go a long way to understanding how you stack up on an event. This will allow you to know how you can place on an event. If you find that a certain event is a weakness and you know this ahead of time, you will be OK with your placement on it and it guide you when it comes to how much better you need to do on your good events.
Remember, magic is only an illusion:

While a novice might not understand their true ability someone with a few contests under their belt and properly prepared should. If you are constantly missing a weight in training and you must do it during a contest don't count on an adrenaline surge to get the weight to where it needs to be. Adjust your training accordingly or pick a better contest for your abilities.
First places on events isn't as important as your overall score:

This is a points game so it's important to accumulate as many of them as possible. Always going for the win on events can work against winning the overall. You must decide if expending high amounts of your endurance will work against you on the strength events or vice versa. If you know you can beat the field on your best event (or events) consider pacing your lesser events and look for a solid finish as opposed to an outright win.
Study your competitors:

Most of your competitors will have a social media account where you can check on how their training is coming along. If that isn't the case you can often check their past contest scores to see how they do on similar events coming up. Remember, you aren't just competing against the weights in the contest, but against yourself and others as well.
Now, having looked at the contest in this light and having studied it a bit, you can help to articulate your goals for yourself (and your audience a bit better). This correct verbalization can help you be more successful and hold you accountable to actual measurable goals. Here is how the revised conversation would go:
"How do you plan on doing this weekend?"
Enthusiastic athlete: "Well, last year I placed eighth at this event but made a few technical errors. I am looking for the top three this year with the log being something I can take outright. If I win that, I know I can hold my own with the best in class on the farmer's walk and deadlift for reps. The yoke may hold me back a bit as I've not been that strong on it but I have done extra work to get more comfortable with and make less mistakes. That will take us to the stones, my best event. If I have a flawless run with them, I will see you at awards!"
An elite competitor will always have a strong set of goals and have the ability to explain them. With a solid knowledge of how the day would play out perfectly in your head, you can help erase some jitters and increase your confidence and marketability. Now get focused and game plan like you should!
Photos courtesy Michele Wozniak