We asked it before, and we're going to ask it again — can Hafthor Bjornsson be stopped?
At the 2019 Arnold Sports Festival, the highly anticipated Arnold Strongman Classic wrapped up Saturday night with Icelandic strongman Hafthor Bjornsson taking home the title once again.
The reigning Arnold Strongman Classic Champion put on a commanding performance all weekend, and has now earned himself the accolade of 2-time, and back-to-back Arnold Strongman Classic Champion — a feat very few have accomplished in the sport of professional strongman. More on his strong performance below!
Day One Events
To kick off his strong weekend, Bjornsson put on an incredible performance at the first event, the Rogue Elephant Bar Deadlift. Not only did he take home first place in the event, but he broke his previous Elephant Bar world record of 472kg/1,042 lbs on his second deadlift attempt after he pulled an easy 474k/1,046 lbs. This world record breaking lift also earned him a $5,000 USD prize.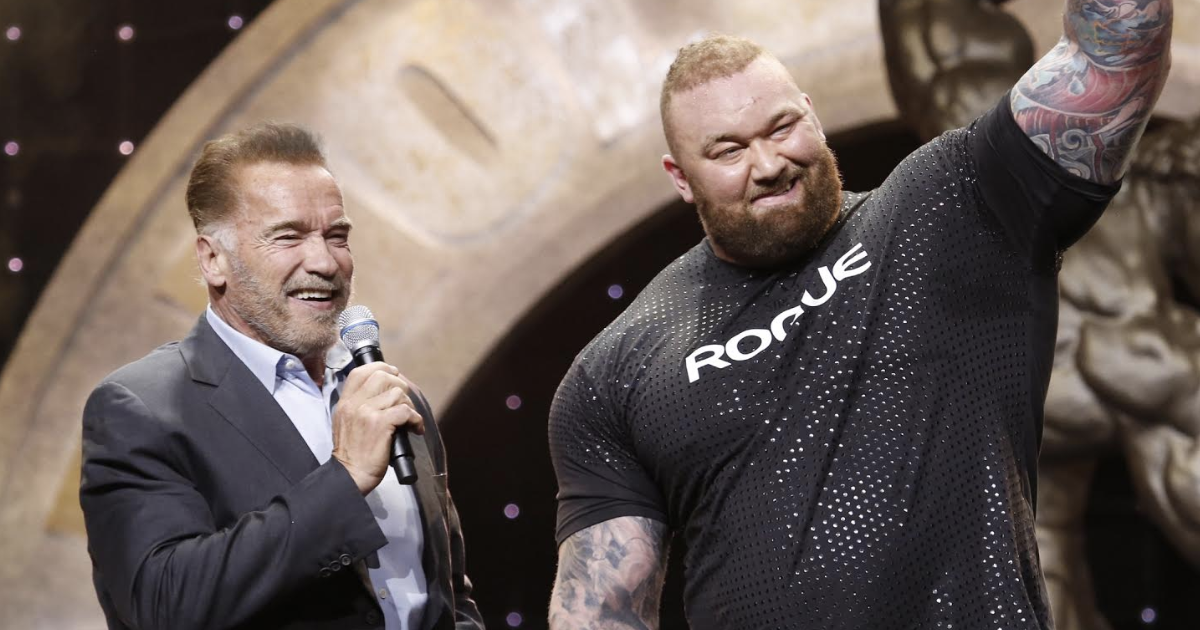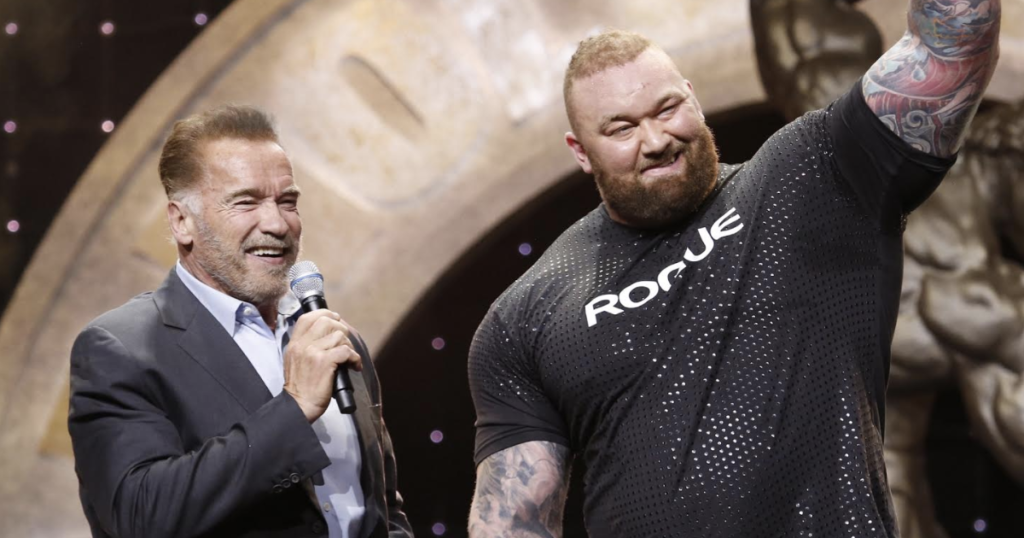 After his world record, Bjornsson also attempted to pull 501kg/1,105 lbs for the $50,000 USD prize on his third attempt, but unfortunately fell just shy. After the deadlifts, Bjornsson went into the second event the Husafell Stone Carry with momentum, and finished with 218′ 11″ to earn himself another first place event finish.
Day Two Events
At the highly anticipated third event Conan's Wheel of Pain, Bjornsson finished second behind Martins Licis by a mere 6″, and actually collapsed from exhaustion after his attempt. This event was a custom built implement by Rogue Fitness that replicated the same piece of equipment used in the movie Conan the Barbarian.
Heading into the Austrian Oak, which is a massive 430 lb log press for reps event, Bjornsson had positioned himself comfortably at the top of the leaderboard. On the Austrian Oak, Bjornsson finished the event hitting two successful reps, which tied for first place with Licis and Mateusz Kieliszkowski.
After the first four events, Bjornsson had totaled 37.5 points, which put him a strong 6 points over second place Licis. At the Stone to Shoulder final event, Bjornsson finished in third place with the successful completion of one-rep.
To conclude his performance, Bjornsson earned a total of 45 points and walked away with another Arnold Strongman Classic title, Louis Cyr Trophy, and $72,000 in prize money. 
2019 Arnold Strongman Classic Results
Outside of Bjornsson's performance, this year's Arnold Strongman Classic saw its fair share of injuries. JF Caron, Jerry Pritchett, and Brian Shaw all experienced injuries to various degrees during the Rogue Elephant Bar Deadlift first event. If you're curious  about how the rest of the field played out and who took home which prize, we've included the final leaderboard below!
2019 Arnold Pro Strongman Final Results
1 st place (45 points): Hafthor Bjornsson of Iceland, $72,000
2 nd place (40.5): Martins Licis of Los Angeles, Calif., $22,000
3 rd place (31.5): Mateusz Kieliszkowski of Poland, $17,000
4 th place (30.5): Mikhail Shivlyakov of Russia, $12,000
 5 th place (28): Matjaz Belsak of Slovenia, $10,000.
6 th place (27): Rauno Heinla of Estonia, $7,000
7 th place (25): Oleksii Novikov of Ukraine, $6,000
8 th place (21): Brian Shaw of Fort Lupton, Colo., $4,000.
9 th place (14.5): Jerry Pritchett of Phoenix. Ariz., $3,000.
10 th place (1): Jean-Francois Caron of Canada, $2,000.
Feature image courtesy Arnold Sports Festival media team.