Lifting gloves are a supportive piece of strength equipment that are designed to protect an athlete's hands from general wear and tear. There are multiple types of gloves designed for various activities and athletes. A majority of glove users tend to be functional fitness athletes, calisthenic athletes, and bodybuilders.
In addition to hand protection, gloves can provide an athlete with a little extra grip and wrist support. For this article, we're going to assess how the Harbinger BioForm™ Wristwrap Gloves Review perform in a variety of tests. 
In our battery of five tests, we assessed how these gloves performed with: Grip, versatility, feeling & fit, construction, and price.
Shop Harbinger Wristwrap Gloves HERE.
Grip
To fairly assess this glove's grip we performed three in-gym tests. In our tests, we performed a rope climb for the functional fitness athlete, a pull-up for the calisthenic athlete, and a dumbbell row for the bodybuilder, or general fitness goer.
In our rope climb test, I wasn't the biggest fan of these gloves. Gloves are often pretty tough to use on ropes due to the material actually creating a slicker surface to grab. Similar to other leather surfaced gloves, these created a similar effect. I thought they made the reaching and climbing movement a little tougher.
[Love this style glove, but need a pair with better grip? Check out this glove to find your perfect pair!]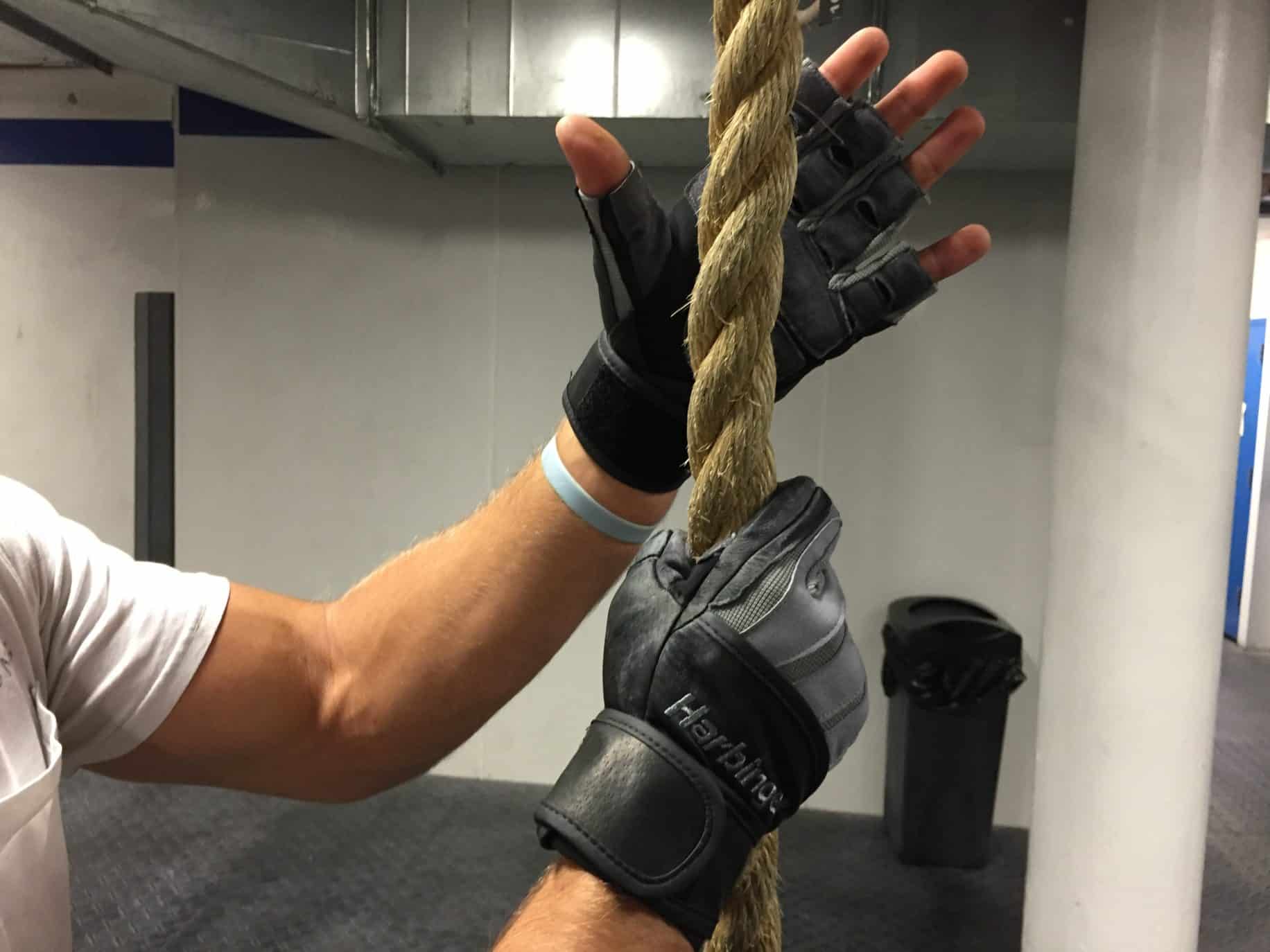 I thought these gloves felt pretty good for the pull-up. For starters, I liked how the leather felt on the metal, and how it provided the hand with a somewhat attached feeling. Additionally, I liked the wrist wrap, which provided the hand and wrist ample support.
The dumbbell row was somewhat of an in-between feeling of exceptional and slick. I could see sweating being an issue with maintaining a strong grip with the glove. Yet, the glove held the knurling fairly well for having such a thick leather grip, which I liked.
Versatility
Personally, I thought these gloves performed like most gloves do in terms of versatility. They didn't wow or shock me, but they also didn't perform consistently poorly. Often times, gloves that feel great on metal struggle with the rope climb, which these held true to. Their leather hugs metal decently well, but it didn't provide me with the most security when doing the rope climb.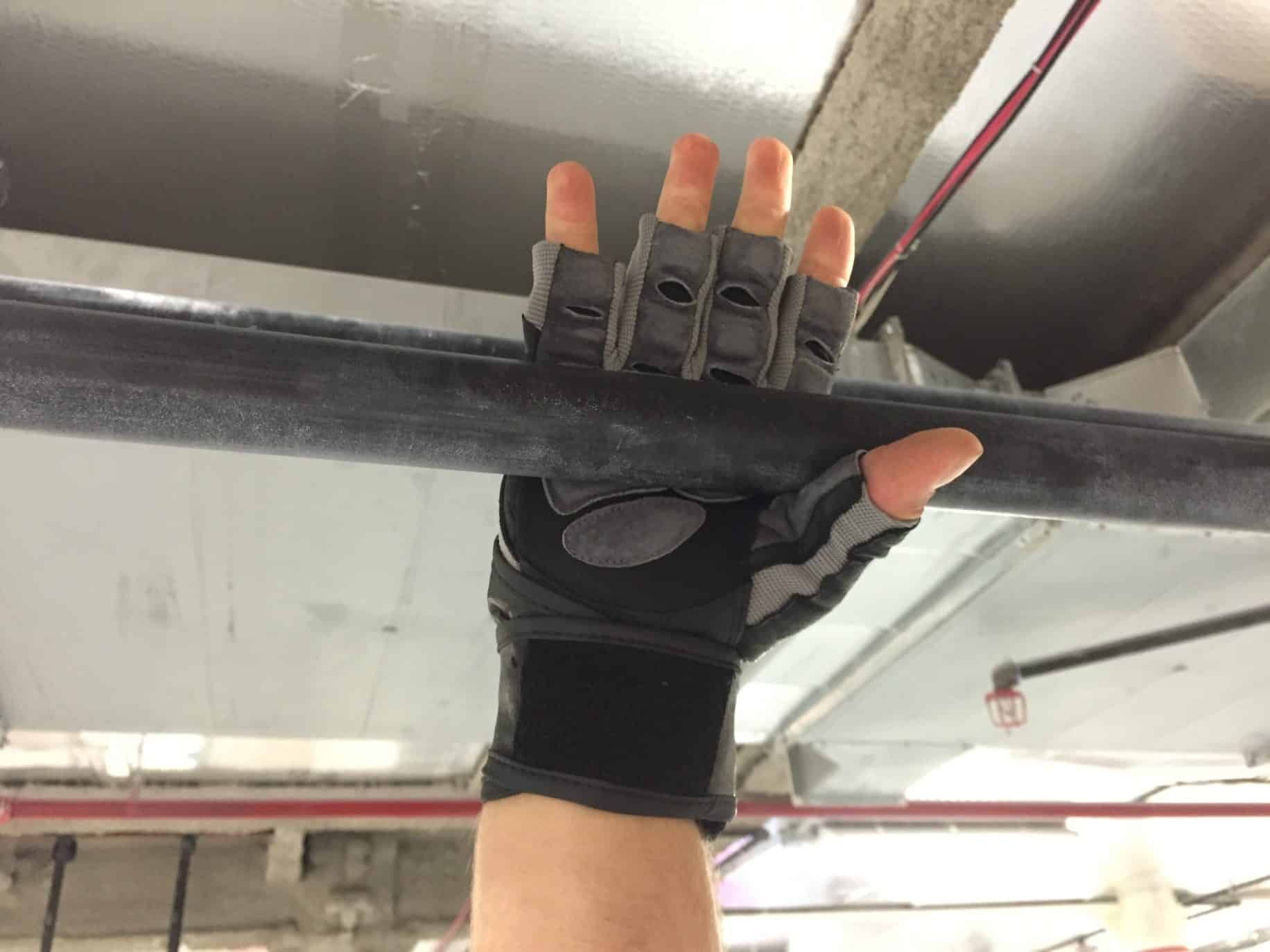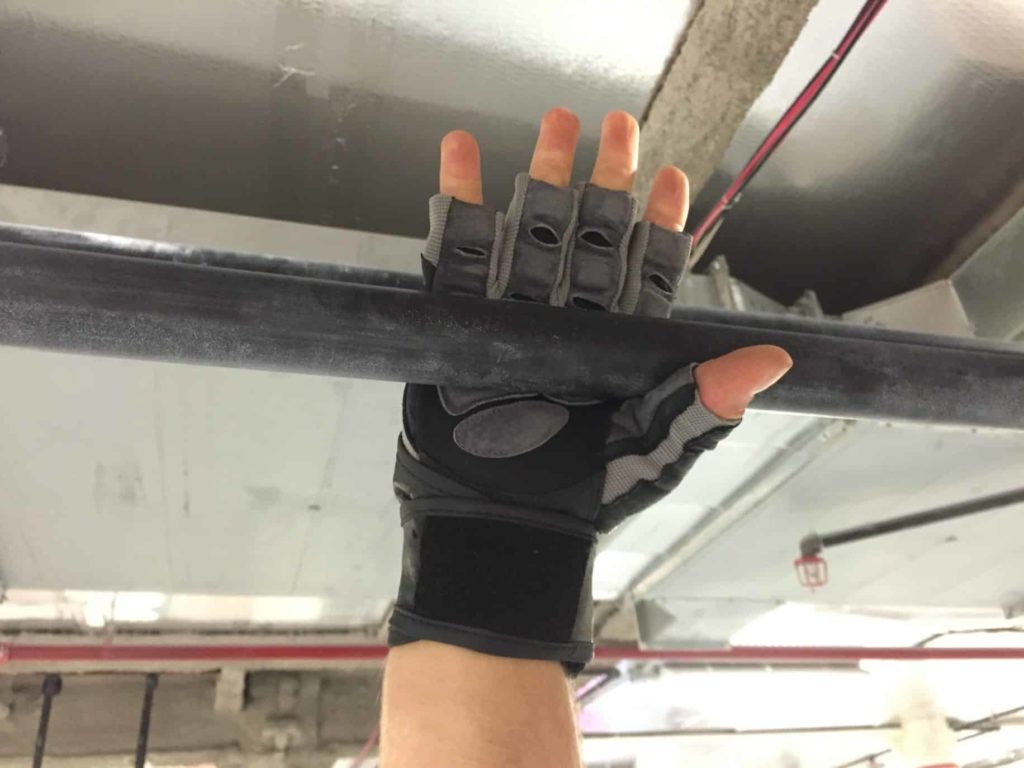 I think if the glove had a light rubber covering any areas on the palm or thumb, then they'd be better equipped for versatility. In addition, this glove is fairly heavy, so someone who wants a light glove and to feel like there's nothing on their hand may have a hard time doing so with this model. 
Feeling & Fit
While this glove wasn't the most versatile, I liked how it felt and fit on the hand. It's a heavier glove, but it didn't make the hand feel slower, or bogged down by a big piece of material. This glove was a size large made for a 8-8.5″ hand, and I'm an 8″ hand. It hugged my hand as a whole fairly well, and I never experienced an issue with it sliding around.
One of the best feelings this glove provides involves the wrist wrap. This wrap has two places for velcro, so you're provided with a very firm fit. This additional support could be beneficial for those with weaker, or skinnier wrists.
Construction
This glove's construction had a few aspects that make it slightly different from others I've used and seen. First, the BioForm Harbinger uses is supposed to mold with the hand and grip as the body gets hotter. I didn't notice this to a large extent, but I could tell that the grip was getting softer and hugging slightly tighter. Second, the wrist wrap has double areas of velcro, which was a unique feature to providing a firm fit.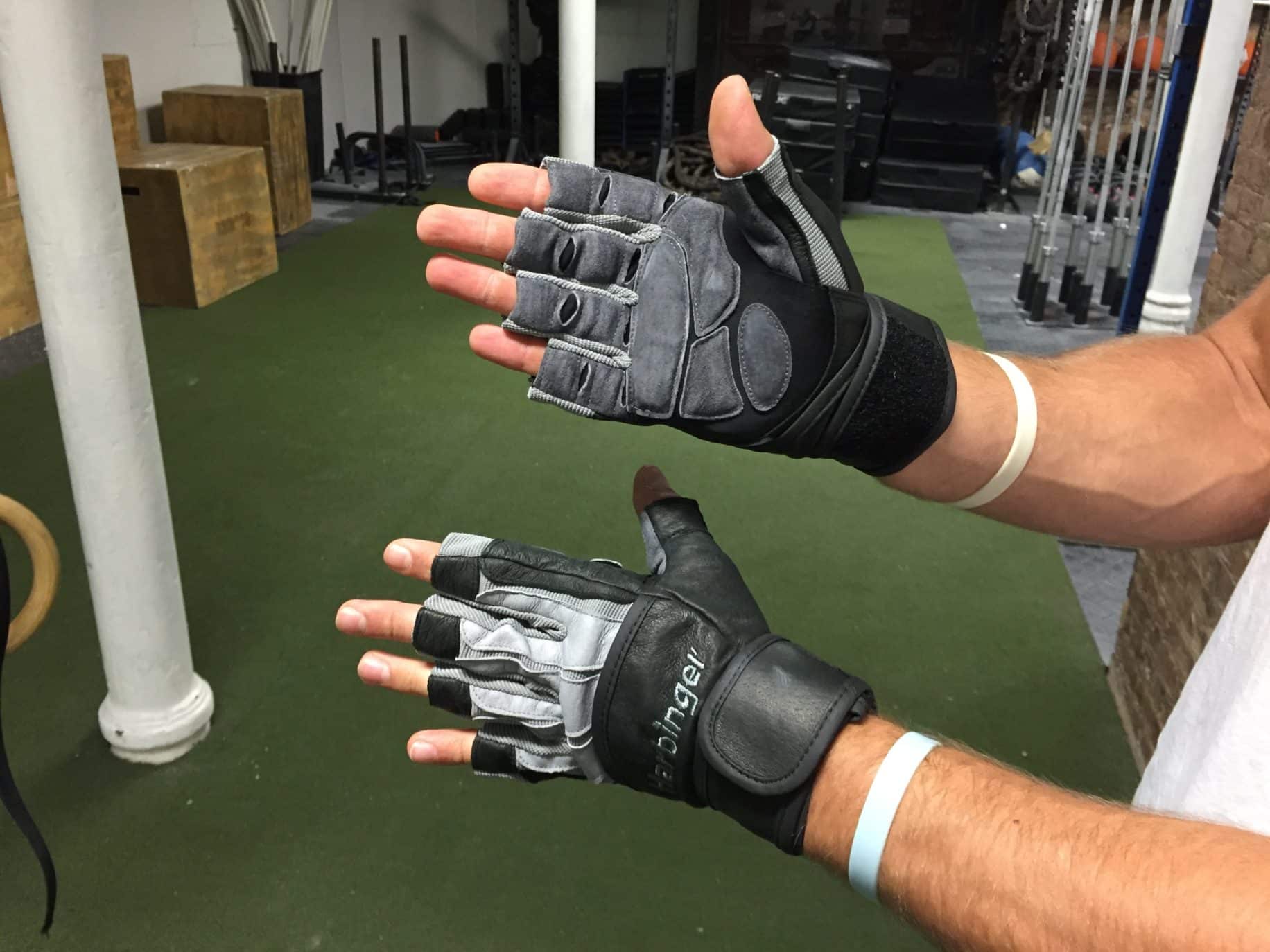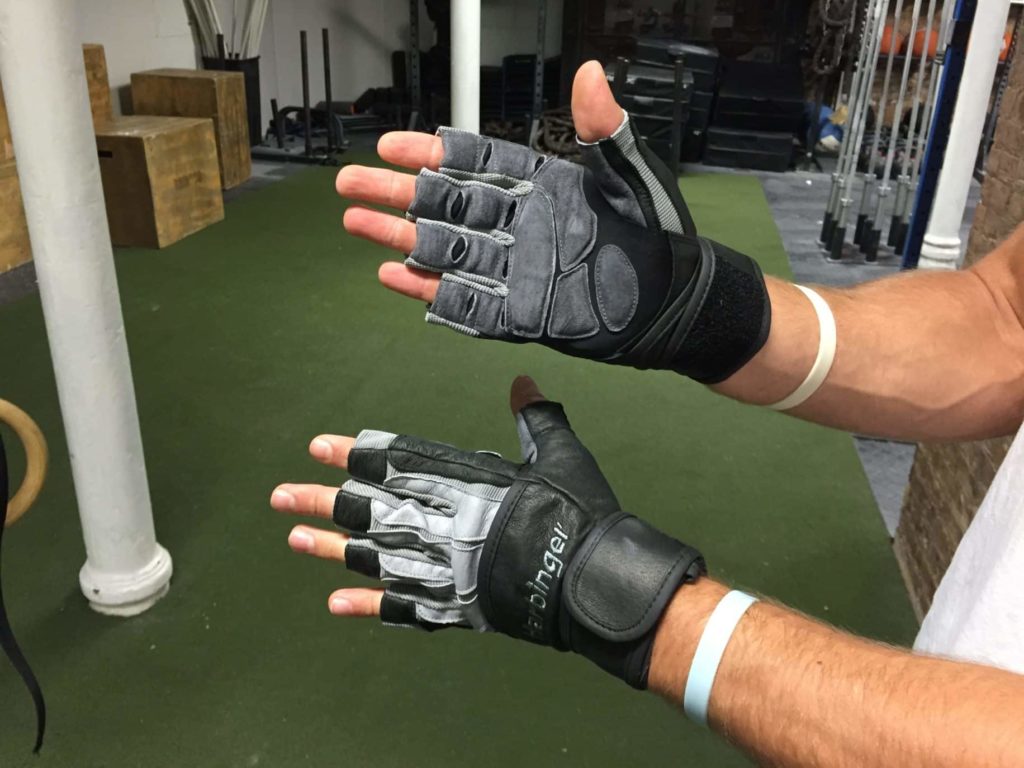 Third, Harbinger says they utilize a spider grip leather on the palm, which is designed to give the leather a better grip. I think this glove could be very useful for someone needing a thick glove over a long lifting bout. 
Price
The price for these gloves sit at around $49.99. For a glove, I think this is fairly expensive, but the durability and construction could justify that price. It's a heavy, durable glove, so long-term durability isn't a huge concern of mine. On top of that, the glove has a few unique design features to ensure solid performance.
Wrapping Up
The best way I could describe this glove in terms of performance is by the middle of the road. It performed as I expected it would and was exceptional in some areas — especially when it comes to wrist support — but wasn't the grippiest when it came to things like rope climbs.
If you're not too worried about the price and need a long-lasting glove, then the Harbinger BioForm Wristwrap Gloves may be a good fit for you.