The small island nation of Iceland is a country with an international reputation of strength and tenacity. It's a land of Norse gods, towering vikings, and a people molded by its harsh terrain. This reputation of strength is far from unfounded. Throughout its history, Iceland has achieved remarkable success in global strength sports.
While Iceland punches above its weight in many sports, it's in the competition of strongman in which the country truly shines. Iceland has developed an unparalleled reputation in the World's Strongest Man competition, a reputation that is truly exceptional given the size and population of the nation.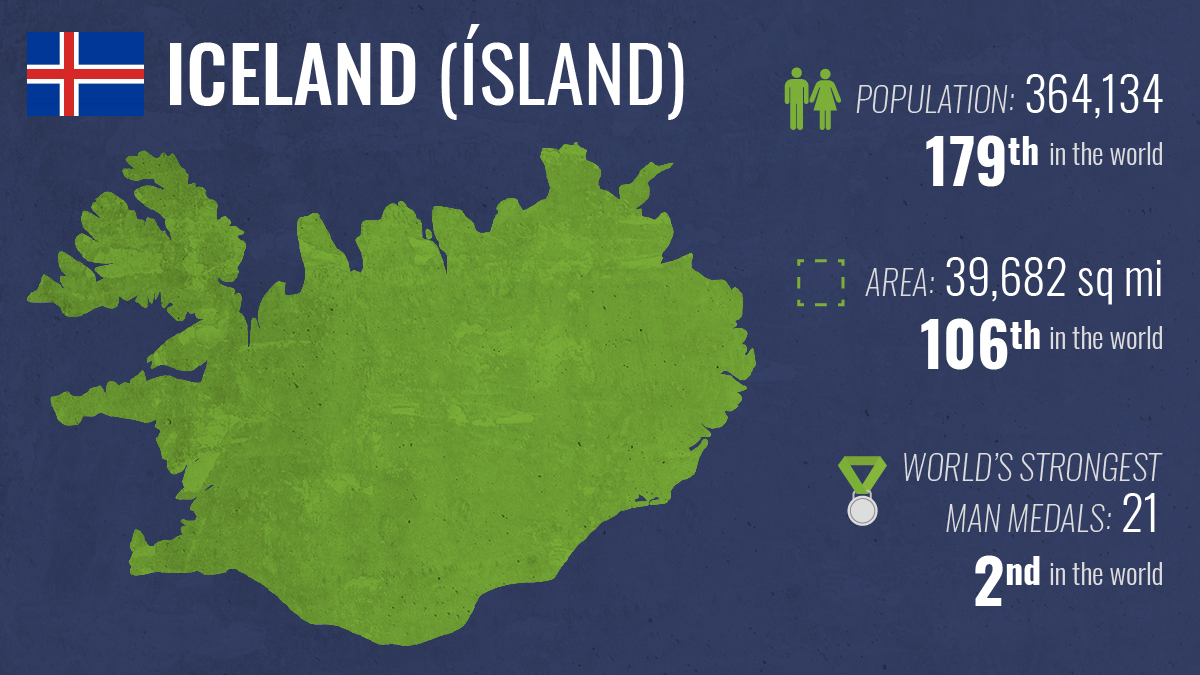 The explanation to how this small island nation in the Atlantic Ocean became the 'Nest of Giants' is multifaceted, and begins before the country's inception.
Mythology of Strength
The tradition of strength in Iceland can be traced back to the Viking Era (793–1066 AD) and the Vikings' Norse mythology. This vibrant theology was full of fantastic stories of mighty and powerful gods and goddesses like Odin, Thor, Freya, and Loki. Thor, the warrior god, is the Norse god with the biggest cultural importance [1]. He is known as a pillar of power and fertility and his mythology is filled with stories of achievements in battle and awesome feats of strength. Thor famously wielded his hammer, Mjöllnir ("Lightning"), which he would use on his many exploits of slaying giants and mythical beasts. After the Vikings' conversion to Christianity, the old gods gave way to a new theology, but the reverence towards strength and power remained.
[Related: Check our our surprising history of the kettlebell]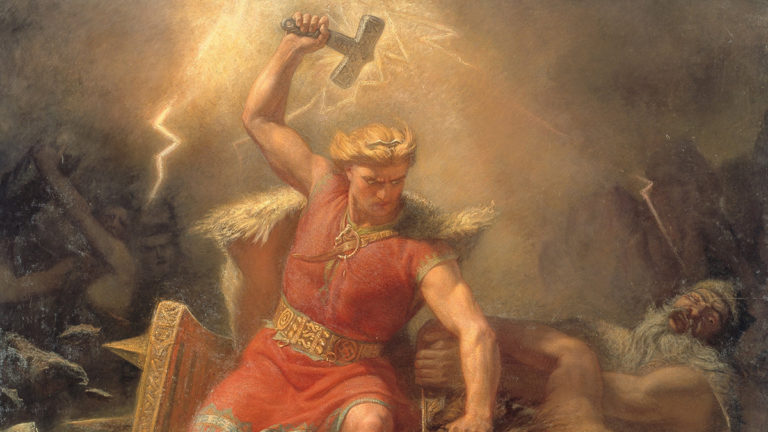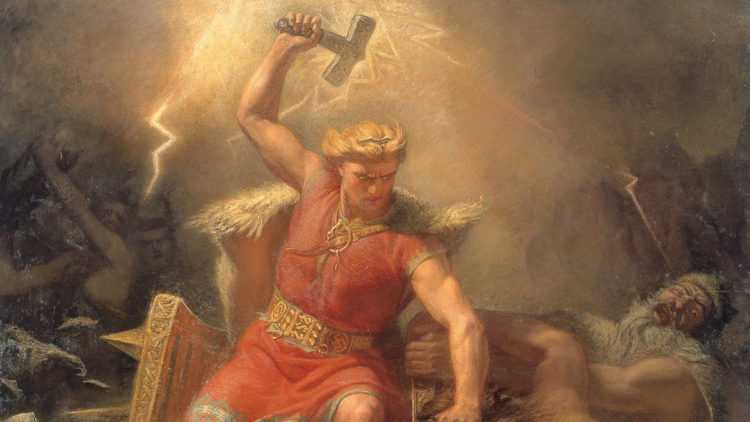 Iceland's identity is also shaped by the Sagas of Icelanders, the Icelandic historical narratives passed along first by oral tradition, and eventually recorded in the 13th and 14th century [2]. These sagas cover historical events of the 9th, 10th, and 11th century and are filled with grandiose tales of mental and physical strength. Unlike the legends of the past, the sagas are filled with stories of human strength and achievement.
One of the most popular sagas is of Grettir the Strong, a notorious Icelandic outlaw who was known for his immense physical strength. In Iceland today, a large rock or stone that appears out of place is said to have been carried by Grettir himself, and is called a Grettistök ('Grettir's Burden'). From the powerful Norse gods and the heroes of the Icelandic sagas, there is a through line of strength in Icelandic history.
[Learn the quintessential strongman exercise, The Atlas Stone]
Iceland's Culture of Strength
The mythology of strength made way for a culture of strength that is still prevalent in Icelandic society today. Iceland's geography is a harsh terrain of glaciers, geysers, and fjords and the winters are notoriously brutal. In the recent past this rough environment meant only the strongest of mind and body could survive and thrive. Daily life in Iceland was filled with feats of strength, like the women of Reykjavík hauling loads of laundry 5km to hot springs and then 5km back, a tradition that existed well into the 20th century [3]. For the men, home construction often involved hauling large rocks from fields and the common trade of fishing required incredible strength and endurance.
The importance of strength and fitness can still be seen in many different ways in present day Iceland. Take Skólahreysti for example, an obstacle course competition for Icelandic youth, created by former strongman Andrés Guðmundsson and his wife Lára. Skólahreysti tests the competitors strength and aerobic fitness with obstacles like a tire agility walk and an army crawl. The competition has risen so much in popularity that the finals of the event are nationally televised.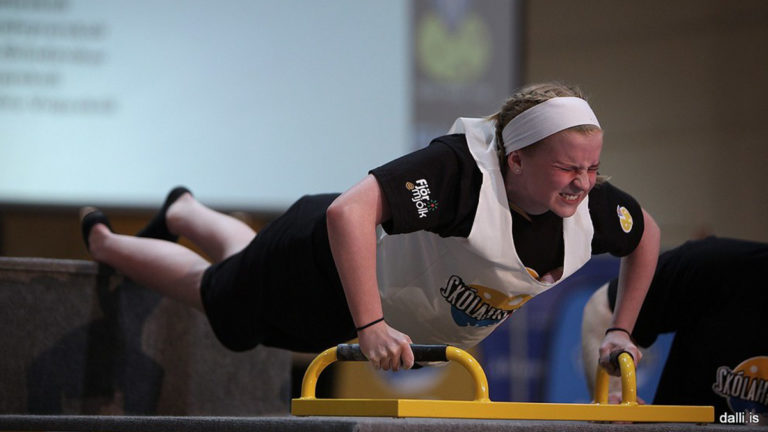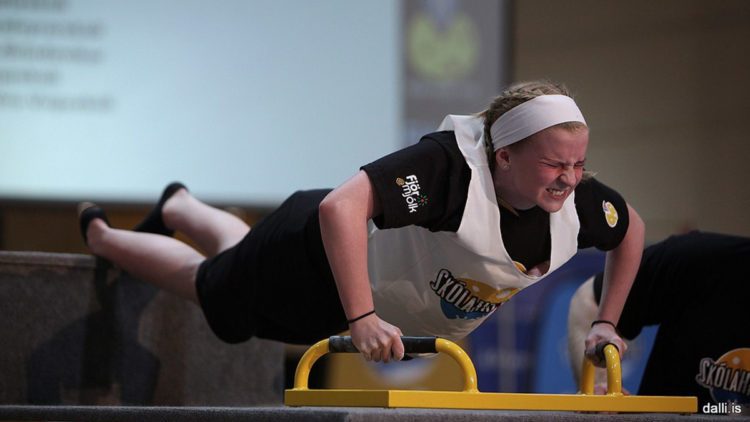 Credit: Dagur Brynjólfsson, licensed under CC 2.0
The Father of Icelandic Strongmen
Jón Páll Sigmarsson (born 28 April 1960) was in many ways the father of the modern day Icelandic strongman. He single handedly inspired a generation of Icelanders with his incredible feats of strength and his larger-than-life personality. Sigmarsson first came onto the Strongman scene in 1983, winning a Silver medal in his first appearance. The following year he got the gold medal, and would later go on to be the first to win 4 WSM titles.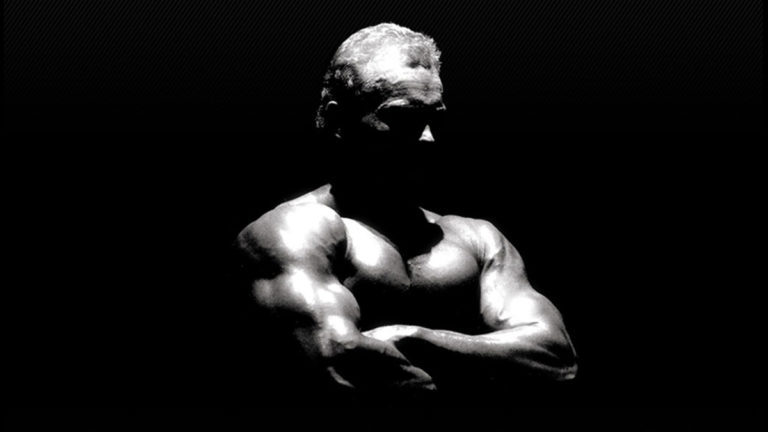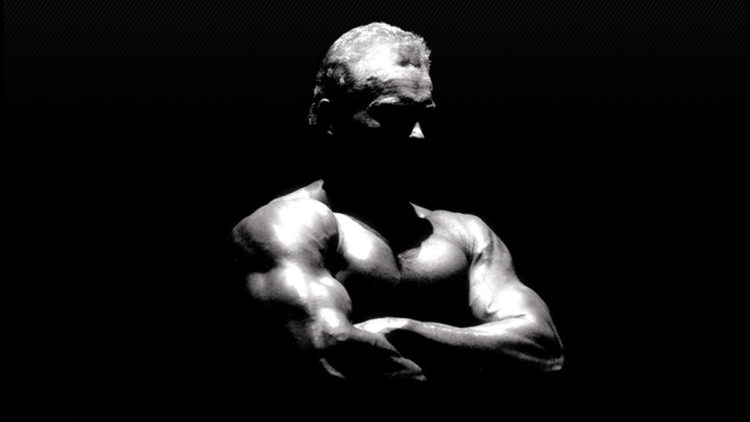 Credit: Jose Lu, licensed under CC 4.0
Jón Páll was known for his playful attitude when competing in WSM, often interacting with the crowd and jabbing back at hecklers. He famously shouted, "There is no reason to be alive if you can't do deadlift," at the top of his lift during a 1,005lb deadlift challenge . As one of only 4 members of the World's Strongest Man Hall of Fame, he's one of the best athletes to ever compete in the competition, and his legacy in Iceland is incomparable.
Jón Páll tragically died of an aortic rupture at the age of 32 while deadlifting in his gym, Gym 80, in Reykjavík. His death looms large over the sport of strongman, and has brought to the forefront questions of the long-term health effects of strongman training, diets, and the use of anabolic steroids.
Jón Páll Sigmarsson
4-Time World's Strongest Man
2-Time Europe's Strongest Man
5-Time Iceland's Strongest Man
[Inspired? Here's what strongmen need to know about deadlifts]
Magnús Ver Magnússon and Jokaból
Magnús Ver Magnússon (born 23 April 1963) followed in Jón Páll's footsteps immediately, winning the title of World's Strongest Man in his first ever appearance in 1991. He went on to win three more times, matching Páll's total, and dominated the sport for much of the 90s. After Magnússon's years of success, the reputation of Icelandic strongmen was cemented for good.
Magnússon also took over Jón Páll's gym following his death and still runs it to this day. The gym is now known as Jokaból, which translates to 'Nest of Giants.' Jokaból is a strongman-oriented gym and is the home base for many World's Strongest Man hopefuls. Magnússon, like Páll before him, is a massive name in the world of strongman, and is doing his part to inspire and train a new generation of Icelandic strongmen.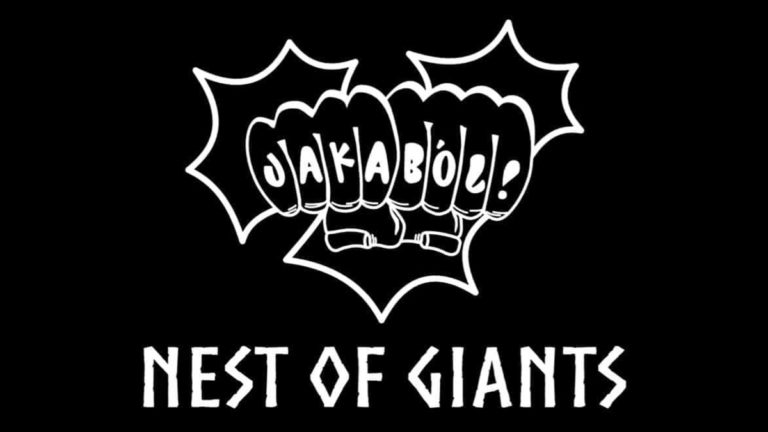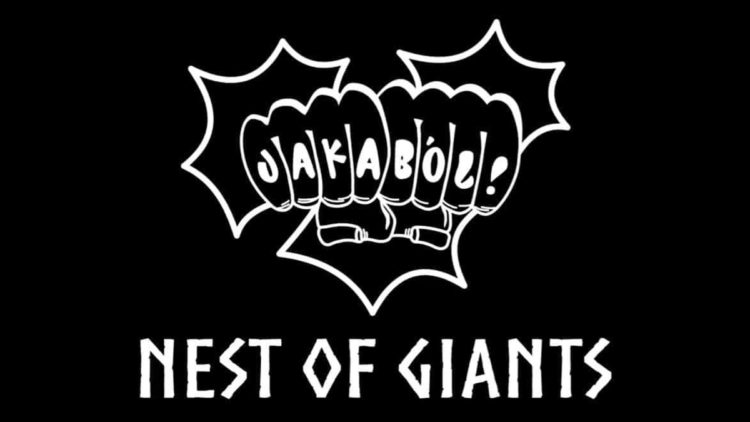 Image via Jokaból's Instagram page: @jakabol.is
Magnús Ver Magnússon
4-Time World's Strongest Man
2-Time Europe's Strongest Man
8-Time Iceland's Strongest Man
The Mountain: Hafþór Júlíus Björnsson
After a brief drought of elite Icelandic strongmen, Hafþór Júlíus Björnsson (born November 26th, 1988) burst onto the strongman scene in 2008. Standing at 6 feet 9 inches, Thor's athletic career started as a basketball player. He played for Icelandic national and club teams until the age of 20 but had his basketball career cut short due to injuries. In 2008 Thor was discovered by Magnús Ver Magnússon, who launched him into a new and more prosperous career as a strongman.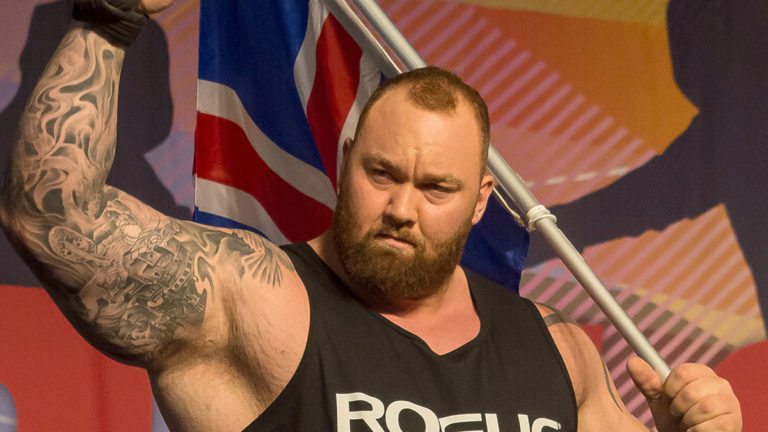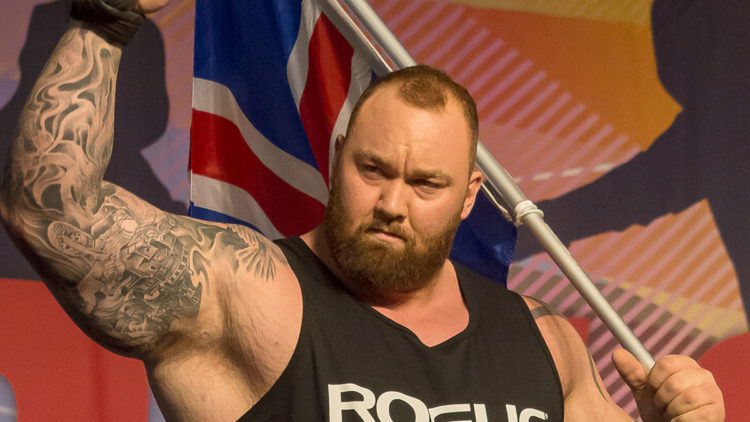 Credit: Paula R. Lively, licensed under CC 2.0
Björnsson didn't earn his first World's Strongest Man title until 2018, but he is an eight time WSM medal winner, which is an incredibly impressive feat. He's also leveraged his strongman career into an acting career; Thor is possibly most famous for portraying Gregor Clegane, nicknamed ' The Mountain', on seasons 4-8 of HBO's Game of Thrones.
Thor is the most recent iteration of Icelandic strongman dominance, but he has respected the history of Iceland with a few of his numerous tattoos. Included on his massive frame are depictions of Norse gods, Viking culture, and even a portrait of Jón Páll Sigmarsson on his calf.
Hafþór Júlíus Björnsson
1-Time World's Strongest Man
3-Time Arnold Strongman Classic Winner
5-Time Europe's Strongest Man
10-Time Iceland's Strongest Man
[Related: 10 Strength Athletes You Didn't Realize Were in Movies]
What's Next?
Following his 10th straight Iceland's Strongest Man title, Björnsson announced his retirement from the sport, putting the future of Icelandic strongmen in question. Will there be a new giant to take the torch from The Mountain and continue the legacy of Icelandic strength? Or possibly Icelanders will look to other strength sports to assert their physical prowess. In the relatively new sport of CrossFit, Icelandic athletes have already made their mark. Two Icelandic women, Katrín Davíðsdóttir and Anníe Mist Þórisdóttir, hold two CrossFit Games titles each.
With their history and culture of strength and fitness, one would expect to continue to see Icelandic athletes standing on podiums for years to come.
References:
[1]McCoy, D. (2012, November 15). Norse Mythology for Smart People. https://norse-mythology.org/gods-and-creatures/the-aesir-gods-and-goddesses/thor/
[2]Gunnlaugsson, P. (2019, February 26). The Icelandic Sagas. Iceland Travel. https://www.icelandtravel.is/exploring-the-icelandic-sagas/
[3]Chapman, R. (2014, May 8). The Giants of Iceland | Strength Beyond Measure. Guide to Iceland. https://guidetoiceland.is/history-culture/iceland-strongest-men-in-the-world