When you think about strength athletes that act, you probably think of the reigning World's Strongest Man™ Hafthor Bjornsson's role as The Mountain on Game of Thrones. Beyond that, well… athletes who make the leap to movies are typically bodybuilders or super well-known in mainstream circles, like when J.J. Watt cameoed in Bad Moms.
It's not all that common for strength athletes, but after spotting not one but two World's Strongest Men in the latest Kickboxer movie, we decided to do some digging and find the cameos you may have missed.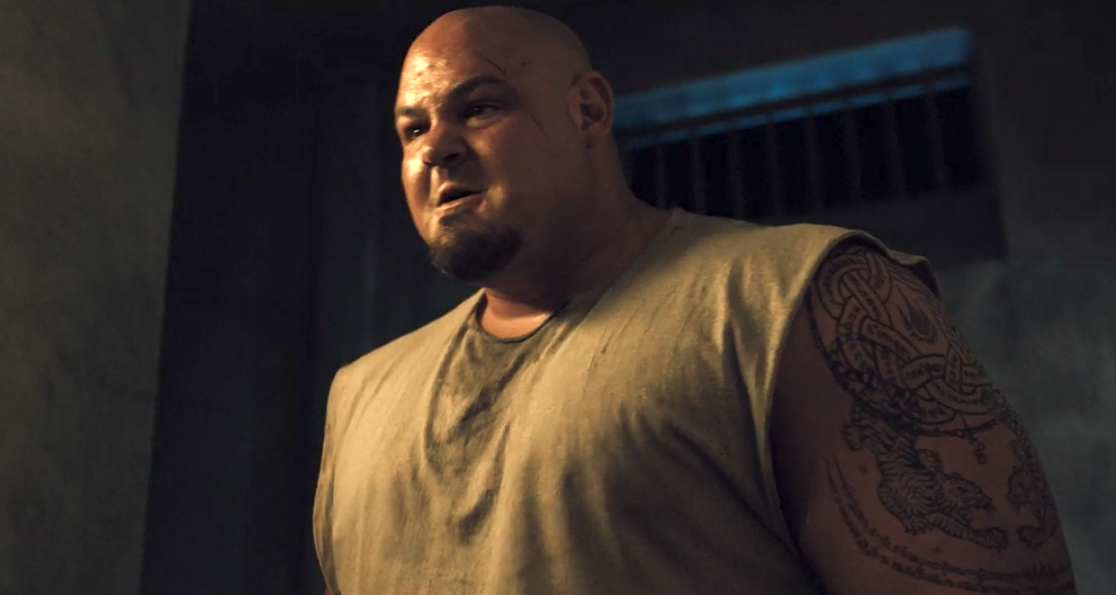 Image via Netflix/Acme Rocket Fuel/Our House Films
1. Brian Shaw – Kickboxer: Retaliation
The surprisingly well-received Kickboxer: Retaliation got a lot of hype in the strength community after Hafthor Bjornsson was cast as the main antagonist, but even we missed the small role that four-time World's Strongest Man Brian Shaw had as a kind-of-villainous training partner of the protagonist Kurt Sloane.
Shaw gives him a quick beatdown about 39 minutes into the film, and nine minutes later he reappears for Sloane to kick his butt in order to show the audience how well he's been trained. Interestingly, he appears right after coach Mike Tyson tells Sloane, "The strongest man doesn't always win, but the smartest one does."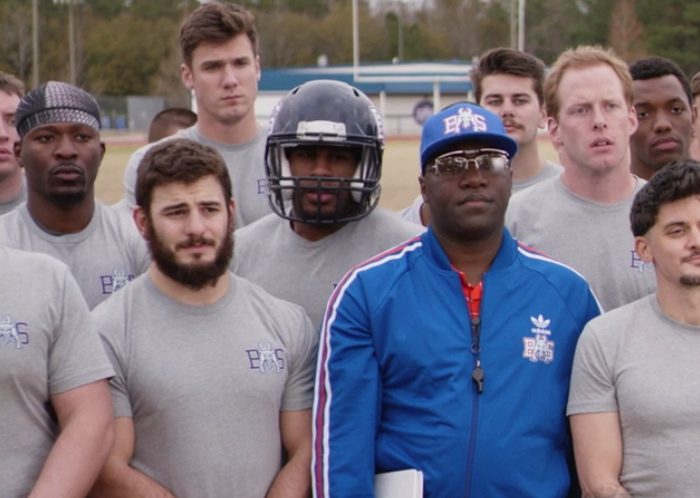 Image via Netflix/ AllyCat Entertainment/BMS Brands/Dead Fish Films/Falconer /Romanski Union Entertainment Group (II)
2. Mat Fraser – Blue Mountain State: The Rise of Thadland
After its cancellation, the creators of Spike TV's Blue Mountain State, a comedy about a fictitious college football team, launched a Kickstarter campaign for a potential movie and promised speaking roles for the biggest donations.
So when we saw that three-time World's Fittest Man™ Mat Fraser has a line in the 2016 film (around the 9-minute mark), we figured that either he was responsible for a big contribution or the producers were just big CrossFit fans. After the football coach gives an angry cheerleading routine about how much his team sucks, Fraser remarks, "Kinda catchy!"
3. Harold Sakata – Goldfinger
The third and arguably best James Bond film, Goldfinger has many claims to fame. It was the first Bond film to be nominated for an Oscar, it was Roger Ebert's favorite of the series, and it had maybe the weirdest henchman gimmick yet: Oddjob, the man with the ability to throw a deadly, razor-rimmed hat.
He was played by Harold Sakata, a Hawaiian-born pro wrestler who actually started out as a successful Olympic weightlifter. He won a silver medal for the United States at the 1948 London Olympics, lifting a total of 410kg in the light-heavyweight division. (Back then the total was comprised of your snatch, clean & jerk, and overhead press.)
https://www.instagram.com/p/BU-phmBBVGf/
4. Brooke Ence – Wonder Woman
Brooke Ence has probably had the highest profile film appearance for a CrossFit® athlete, landing a role as an Amazonian warrior in Wonder Woman and its follow up, Justice League.
When her second movie came out there was a little controversy over her costume reaching a level of skimpiness that would inconvenience an actual warrior but in any case Ence spoke very positively about her experience, though she later said on Instagram that she was "super bummed" that almost all of her scenes were cut from the final film.
5. Mark Henry – MacGruber
Appearing at the 1-minute mark in this "MacGruber recruits an all-star team of badasses for his team of mercenaries" — most of whom are WWE wrestlers — Henry's appearance in this criminally underrated 2010 comedy is pretty brief, but it was a great surprise when we were watching it.
Henry, who also has IMDb credits in other movies as "Tough Voice Guy" and "Bouncer #2", isn't just a wrestler. The man still holds the all-time superheavyweight raw deadlift world record from a 903-pound lift he made in 1995, plus he was a three-time U.S. National Weightlifting Champion and Olympic athlete in the mid-90s, setting multiple records in the process.
[Related: Mark Henry Tells How He Won the First Arnold Strongman Classic]
6. Eddie Hall – Transformers: The Last Knight
The most recent and worst-reviewed Transformers movie opens with an expensive-looking battle between King Arthur's knights and a barbaric horde of Saxons. Front and center in the crowd of whooping savages? 2017's World's Strongest Man™ Eddie Hall in a blink-and-you'll-miss-it cameo at the 36-second mark above.
In an interview with BarBend, Hall told us that he receives "loads of film offers" but "it's all been shit," noting he'd rather not do background work and instead have a meatier role as a villain. We wouldn't be surprised if that's just because it's one more arena in which he wants to beat Hafthor Bjornsson. Hey, he's still got that deadlift… for now.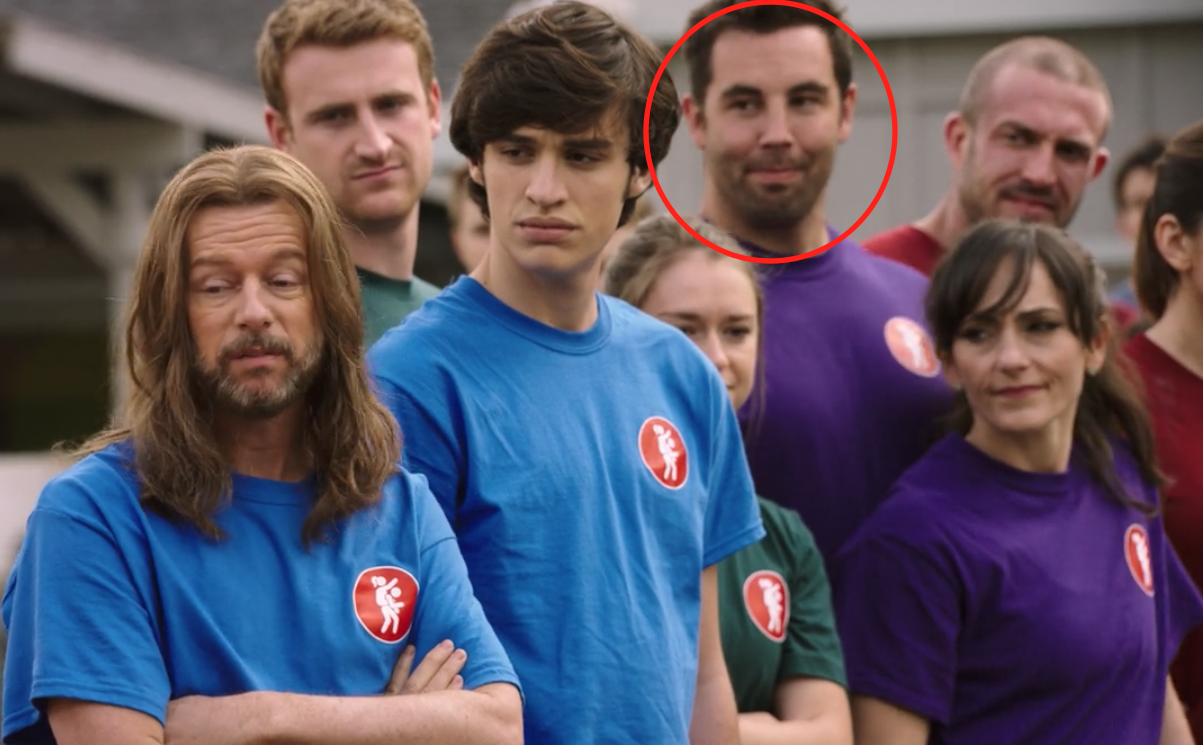 Image via Netflix/Happy Madison Productions
7. Elliot Storey – Father of the Year
While they both earned a rare 0 percent on Rotten Tomatoes, this 2018 David Spade vehicle wasn't quite as big a hit for Netflix as its previous Happy Madison collaboration The Ridiculous 6. But we have to say we were delighted when, while absentmindedly watching Father of the Year one rainy Saturday afternoon, we saw David Spade compete in a New England wife-carrying competition.
It wasn't until later we realized the race featured BarBend contributor, strongman, and winner of the of 2016 North American Wife Carrying Championship Elliot Storey with his wife Giana. They appear alongside Spade before and during the race at around the 50-minute mark — check out Storey's article on training for the bizarre strength event here.
8. Aleksey Lovchev – Heavyweight
After testing positive for banned substances and being served with a multi-year ban from international competition, Russian weightlifter Aleksey Lovchev kept busy by starring in a movie about a down-on-his-luck weightlifter who dreamt of becoming world champion.
The movie became responsible for the widely disseminated footage above of his character hitting a world record clean & jerk of 270 kilograms (which many mistook as real) and it's currently available to watch on YouTube — but without subtitles.
9. Rick Zumwalt – Over the Top
Also one of our favorite strength sports movies of all time, this corny Sylvester Stallone classic revolves around a gold hearted trucker who just wants to get custody of his son, which requires money that can only be earned by winning an all-star arm wrestling competition.
Former arm wrestling world champion Rick Zumwalt, who was also the first strongman to perform in Cirque du Soleil, had enough clout in the sport and acting experience to be offered a role as the main antagonist Bull Hurley. Scott Norton, John Brzenk, and other pro arm wrestlers also make cameos during the climactic competition.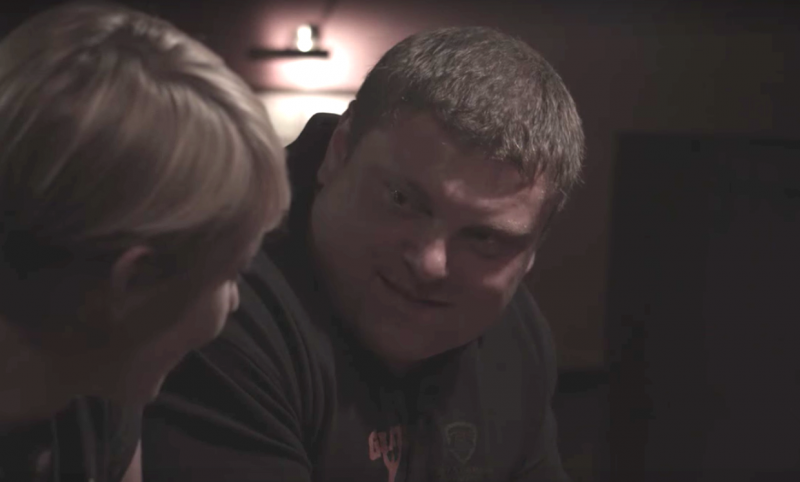 Image via Eric Fulcher
10. Zydrunas Savickas – Chasing Solace
Described as "a dramatic comedy filmed in Lithuania following a journey shared by an American traveler and Lithuanian native," IMDb estimates this very obscure and not very well-lit movie had a teeny budget of $25,000. And it's pretty much impossible to find much more information about it.
Credited as "Šiauliai Bar Guy," Savickas appears in a tavern in the northern Lithuanian city at the 17-minute mark. (The director uploaded the whole movie to YouTube.) There the four-time World's Strongest Man and eight-time winner of the Arnold Strongman Classic exchanges words with the diminutive female protagonist, who punches him in the stomach and he keels over in pain. Presumably the woman has superhuman strength — we wouldn't know, since the copy we saw didn't have any subtitles.
Did we miss any cameos or acting roles from your favorite strength athlete? Let us know in the comments!
Featured image via Acme Rocket Fuel/Our House Films