We receive free products and receive commissions through our links. See
disclosures page
.
When it comes to cross-training, multiple shoe companies try to create shoe renditions that embody the perfect mixture of versatility and comfort. For those who cross-train and like Reebok, then often times the Reebok Nano models are the first shoes that come to mind, although, they're not the only cross-training shoes Reebok offers.
For example, there are shoes like the Reebok Speed TRs, which offer similar Nano attributes, but come in a lower price and different construction. Then there are shoes like the Reebok JJ Watt II, a shoe that's designed to assist those in the gym and on the field.
Being a normal Reebok Nano and Speed TR user, I was pumped to put the JJ Watt II's to the test, after all, there's no denying Watt is a powerhouse on the field, so how does his shoe fair? In this review, I assessed the JJ Watt II's performance, stability, durability, price, and versatility.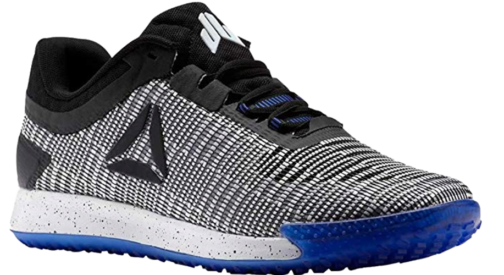 A versatile training shoe that offers a multi-functional outer construction, a dynamic outsole, and reactive heel.
Construction
Upper Shoe Material
The upper construction of the Reebok JJ Watt II is deigned with Reebok's Flexweave™ material. This material is similar to what Reebok uses in the Reebok Nano 8 Flexweave™, so more than likely most Reebok fans will have an idea of what this entails. For those that don't, the Flexweave™ material is a cross-weave synthetic-esque material that provides durability and breathability to shoes. 
On the heel, the material is a bit thicker and low cut to limit the shoe having a higher booted feeling or have excessive rubbing. The material itself is thicker and made of a mesh material that seems to have a bit of padding in them, so there's a decent difference in contrast between the mid-foot, toe, and heel material.
Heel Support Construction
The heel of the JJ Watt II has a couple standout features worth noting. First, the stability the shoe [tries] to provide. On the midsole there are support pillars, or a stiffer layer of material that comes to prevent collapsing of the heel. The pillars themselves are pretty stiff and definitely can't be bent easy with the hand, so in terms of lateral support, I think this heel's construction does a pretty good job.
Second, there's a LiquidFoam layer in the heel, which was a shoe technology released by Reebok in October 2016. Reebok has stated that this material is meant to provide a natural reaction feeling on multiple surfaces. On the shoe itself, you can't really see the LiquidFoam except for a tiny spot on the heel, and you can't notice when jumping, but I did feel some slight compression under heavy weight. 
Midsole and Outsole
The midsole is interesting on this model and has a few areas that vary in construction. On the whole outside of the shoe, the midsole extends about the same length up, but slightly comes up a bit more on the heel. This is pretty standard with most cross-training or athletic focused shoes, as the heel often needs more support. On the very far side of the heel, there's a little section where you can see the LiquidFoam insert. The midsole itself is a slightly stiffer foam material.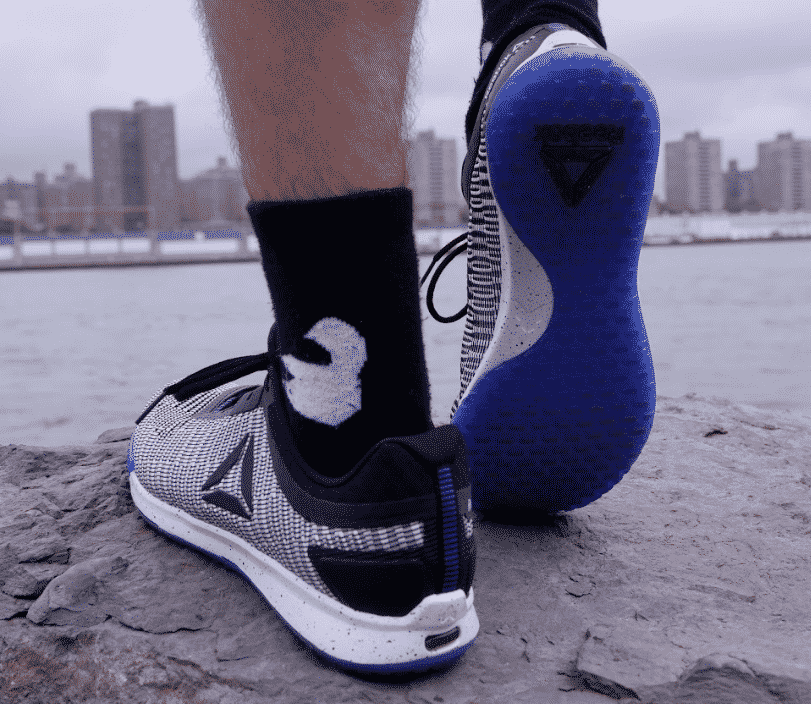 For the outsole, it's pretty simple in design, but does vary slightly on the toe. The outsole material wraps up on the outside of the shoe's toe to about the base of the medial and lateral metatarsals. The material itself on the extended toe wrap has smaller bumps than the ground facing outsole itself. The bottom outsole is made up of multiple rectangular surfaces that extend a few millimeters. The heel-toe drop drop for the shoe is 7mm.
Reebok JJ Watt II Performance
For this review, I put the Reebok JJ Watt II through a series of tests focused on multiple areas of fitness someone might want this shoe for. First, I tested the shoe with compound movements, then dynamic movements like jumps, and lastly sprints and paced running.
Below I've detailed a few areas that I really focused on with the shoe's performance test. Full disclosure, I didn't load this shoe as heavy as I have with some of the other cross-training focused shoes, as I was most interested in seeing the versatility of this shoe in an athletic setting (think football off-season, or hockey dryland training).
| | |
| --- | --- |
| Performance Test | Score 1-10 |
| Back Squat (185-275 lbs) | 7.8 |
| Power Clean (135-205 lbs) | 8 |
| Box Jump Burpees | 8.4 |
| Skater Strides | 7.6 |
| Sprints | 8.4 |
All-in-all, this shoe did a decent job in all of the tests, and that's the best way to describe it; decent. I went into my tests with the acknowledgement that this shoe is designed for athletes and not the serious strength athlete, so it performed decently well in all of its criteria, but wasn't the most stable for heavy lifts. Below, I describe a few areas that this shoe excelled in, and in my opinion, fell a bit short in.
Where the Reebok JJ Watt II Excelled
Decent at providing cushion and firmness for jumping movements. 
Flexweave provided breathability and good feeling of durability. 
Reinforced laces provided a little extra mid-foot stability. 
Where the JJ Watt II Fell Short
Providing a lot of support with lateral movements.
A little too much action on the heel when trying to ground myself in power cleans and squats. 
Medial mid-foot outsole dip, which somewhat made the shoe unstable in various lifts.  
Stability
When it comes to all around stability, I was a little letdown by this shoe. Before testing, the shoe had a lot of construction attributes going for it. For example, the Flexweave construction, reinforced heel pillars, and additional lace loops were all good signs of providing a stable fit on the foot when going through workouts. In respects to these features, the shoe did well with stability in performance, but these are not where the shoe fell short.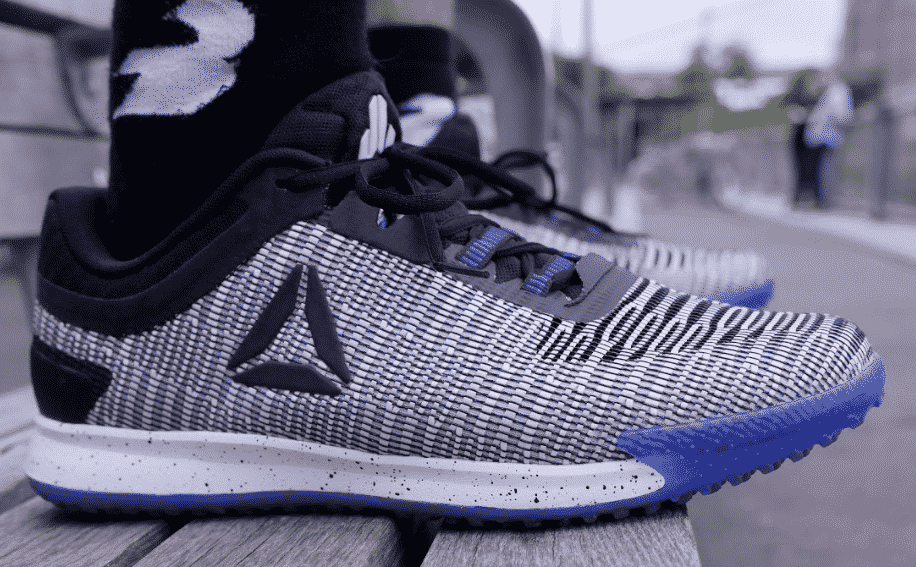 This model fell short with the outsole, but I'm trying to keep an open mind with it. I'm not a fan of the somewhat rounded heel and medial dip in the mid-foot. For me, as a strength athlete, these were both synonymous with an unstable foot in the squat, power clean, and deadlift. I enjoy screwing my feet in the ground on compound movements, so these attributes made it tough to do so. On the flip side, if your goal is more running, jumping, and light lifting (athletic training), then these issues probably won't be as apparent.
Durability
Throughout all of my tests, I didn't have any immediate issues with this shoe's durability. The construction of the shoe provides a good idea of how I think it would hold up over time, and in my opinion, I think it's a pretty solid model. The Flexweave won't break down incredibly fast, and the midsole is pretty standard, so I don't think there will be any peeling on the lateral sides or the heel.
My only concern with this shoe's long term durability concerns the outsole, aka the same area that bothered me in the performance section. I worry that the mid-foot dip may corrode over time if someone is more prone to putting excess weight on the medial side of their feet. Also, the heel isn't completely flat, so I could see there being wear and tear on specific sides quicker than a full flat heel.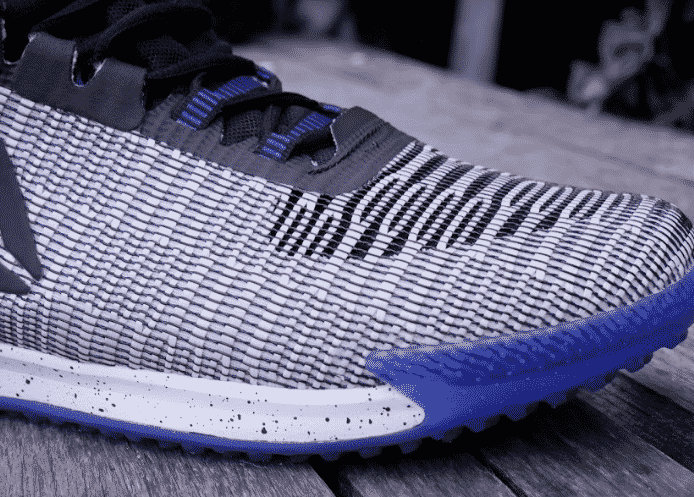 Price
If you're interested in the Reebok JJ Watt II shoe, then you can expect to pay around $89.95. For an athletic focused shoe with some decent features, I think this is a pretty fair price. It's lower than some of Reebok's cross-training models, and it's $40.00 less than the newest Reebok Nano 8 Flexweave.
Wrapping Up
If you're reading this review looking for a shoe to support heavy lifting, then the Reebok JJ Watt II won't be your best option. But, if you need a shoe to support some light lifting with more versatile training, this shoe could be a great fit for you. It's designed by professional football player JJ Watt, so it definitely matches the needs for an off-season athletic shoe, yet I'd definitely keep in mind that that's its initial intention.
For those doing light lifting, a lot of sprinting, and jumping, then the Reebok JJ Watt II should be a good shoe to support your workouts.