Ice Age Meals is a paleo driven food delivery service based in Reno, Nevada. Their head chef, Paleo Nick, is the coordinator behind their meal's composition. CrossFit® athletes may recognize Paleo Nick as Nick Massie, who previously had a video segment with CrossFit HQ involving nutrition.
Every meal Ice Age makes is focused on delivering fresh and mostly organic ingredients. Their meals are all GMO, dairy, gluten, and preservative free. Health conscious food delivery services are great, especially for the busy strength athlete. When we received our box from Ice Age, I was excited to put their meals through our variety of meal tests including: taste, appearance, nutrition, convenience, customizability, and price.
Taste
Ice Age Meals come in a single container like a few other food delivery services we've tried. Some of the meals were completely frozen upon arrival, so I'm always a little worrisome of their taste. Frozen meals can often lose a little bit of their taste due to the thawing process. Also, the way you prep them, whether it be microwave or stove top can play a role in their taste. To keep consistent as to what most folks will be doing with their on-the-go meals we used a microwave to prep out meals.
The first meal I tried was the Chipotle Chicken Tinga, which is a Mexican dish made with shredded chicken. I liked the chicken in Ice Age's dish; I found it was a good balance of dry, yet moist so it was easily chewable. Some shredded chicken can get dried out, but Ice Age did an exceptional job at providing you with a tasty protein with some bite to it. I also liked the sauce they used on top of the chicken. It wasn't overly seasoned, so it didn't take away from the chicken's taste.
[Want to check out more paleo meal delivery options before making your choice? Check out our in-depth round-up!]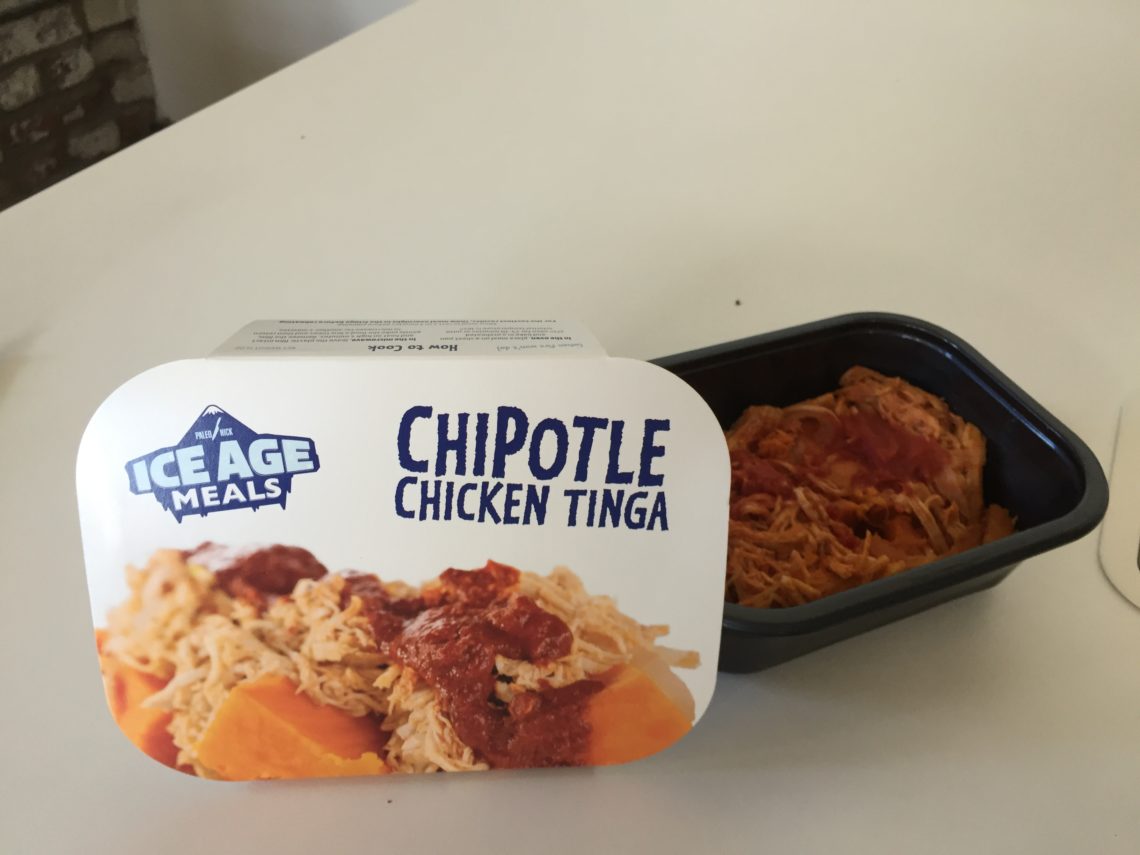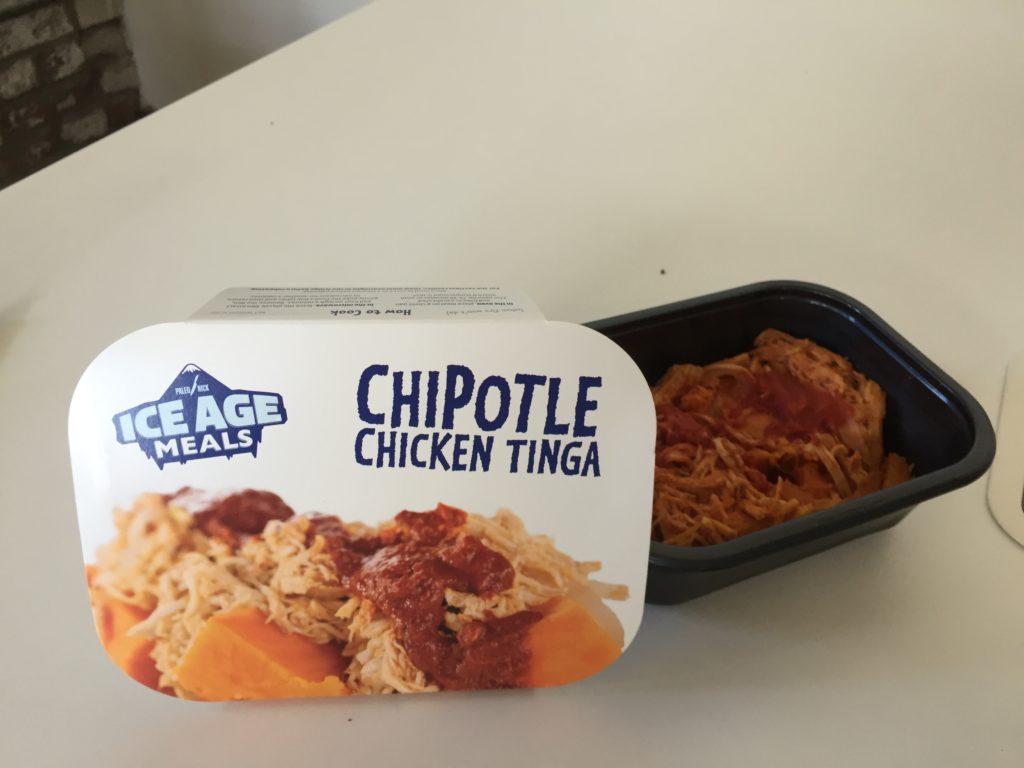 The only issue I had with the Tinga dish had to do with the carbohydrate element. I thought the yams were good, but a little on the bland side. You could tell they were previously frozen and had a little bit of a watery taste. This wasn't a huge issue because the dish mixed well together and the chicken actually worked to absorb and displace some of the watery taste.
The Lemon Pepper Chicken and Rice dish was similar to the Chipotle Chicken Tinga meal. The meat was well flavored. One immediate callout from this meal was that the chicken came on bones. I like chicken on bones (drumsticks, breasts, thighs, and so forth), I feel that the meat is able to maintain its flavor better while attached to the bone. I was pleasantly surprised with how well the chicken thawed out and kept its seasoned taste upon preparation.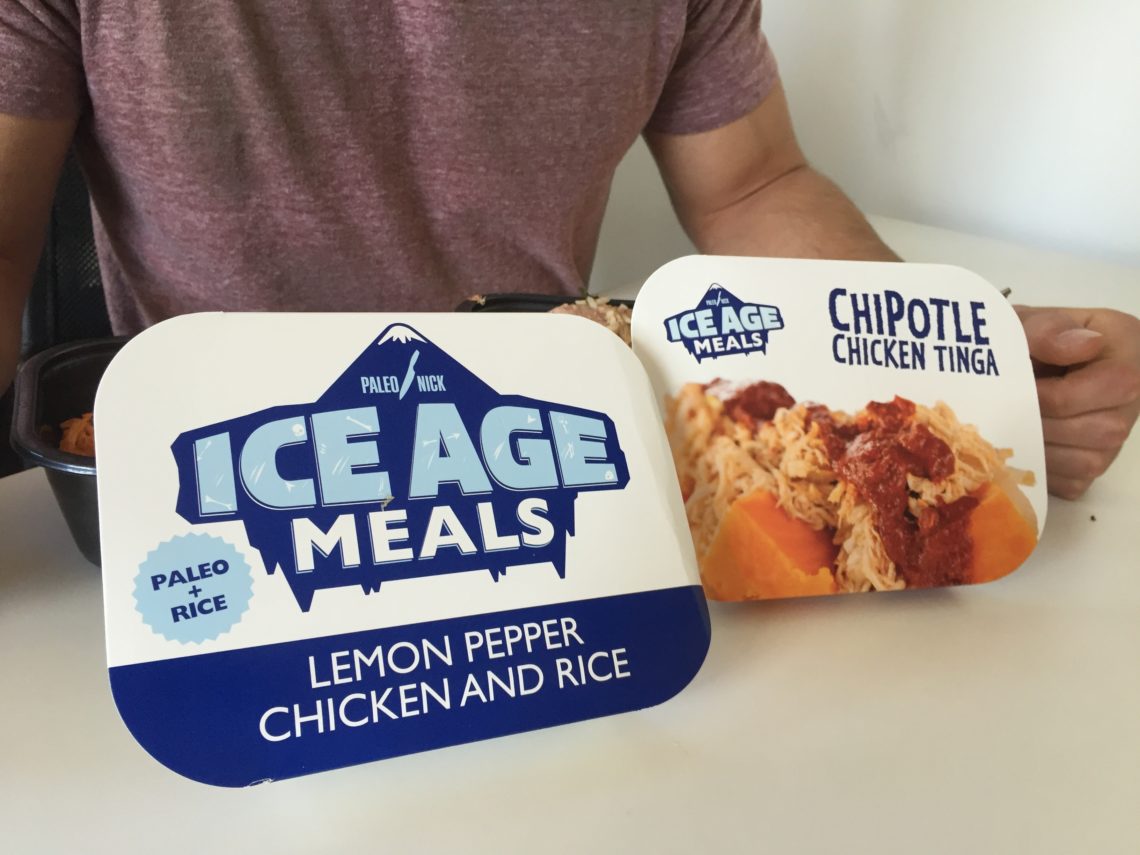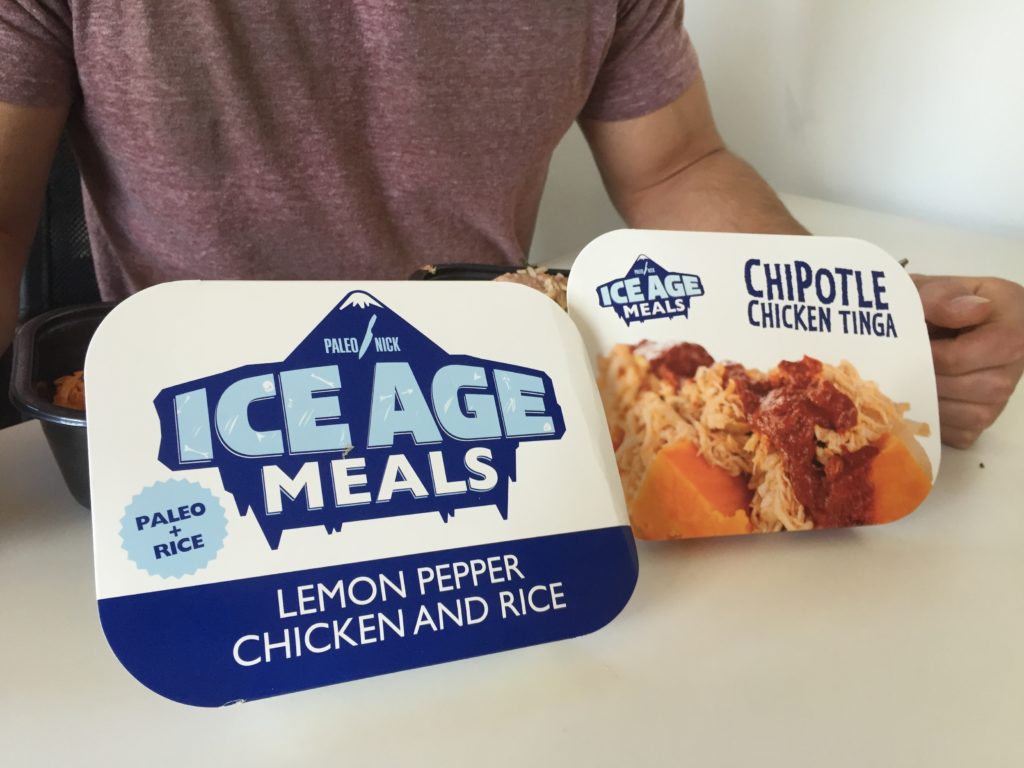 The rice, similar to the yams, was a little on the bland side. I noticed if you don't heat up the meal long enough, then the rice didn't absorb the previously frozen water well. I'd recommend heating up the rice a tad bit longer than the chicken if you want rice without the watery taste. Both meals were good, but since they come packaged in the same container you may need to experiment with how you heat and prep them.
Ice Age Meals Appearance
Meals like Ice Age that come in one container can sometimes be hit or miss in appearance. This can be due to rough shipping, or ingredients that don't mix well. I found that their meals prepped pretty well for being in one container. Their meals tend to be designed so the ingredients mix well together. This is good because even if meals get tossed around in something like a bag while traveling, they still present themselves well.
One issue I could see someone having with the format of their meals is with picky eaters. If you're very particular of not having ingredients mix, or come in the same container, then you may not like how Ice Age Meals appear when plated. If you don't mind ingredients mixing, then I think you'll be pleasantly surprised with how their previously frozen meals appear plated. There was never a point when I found the mixed ingredient appearance to be unappetizing.
Ice Age Meals Nutrition
Ice Age Meals nutrition was easy-to-read and clearly defined. Each meal includes caloric totals, macronutrient breakdown, and even sodium content. This makes it easy for someone to understand if they're a little newer to reading nutrition labels. Plus, you know exactly what you're getting so you can choose a meal's composition that fits best with your goals. I also like that they list all of the ingredients clearly on the package.
In addition, I like that Ice Age aims to provide you with fresh and mostly organic ingredients. Their site references that they're always searching for the freshest ingredients and reaching for organic when resources are available. There was one issue I found with their labels, and that was some labels missing caloric totals. This isn't a huge issue because Ice Age offers their full nutrition breakdown on their site, so the information is available. Yet, this can be a hassle, especially for someone on-the-go, or without access to the internet.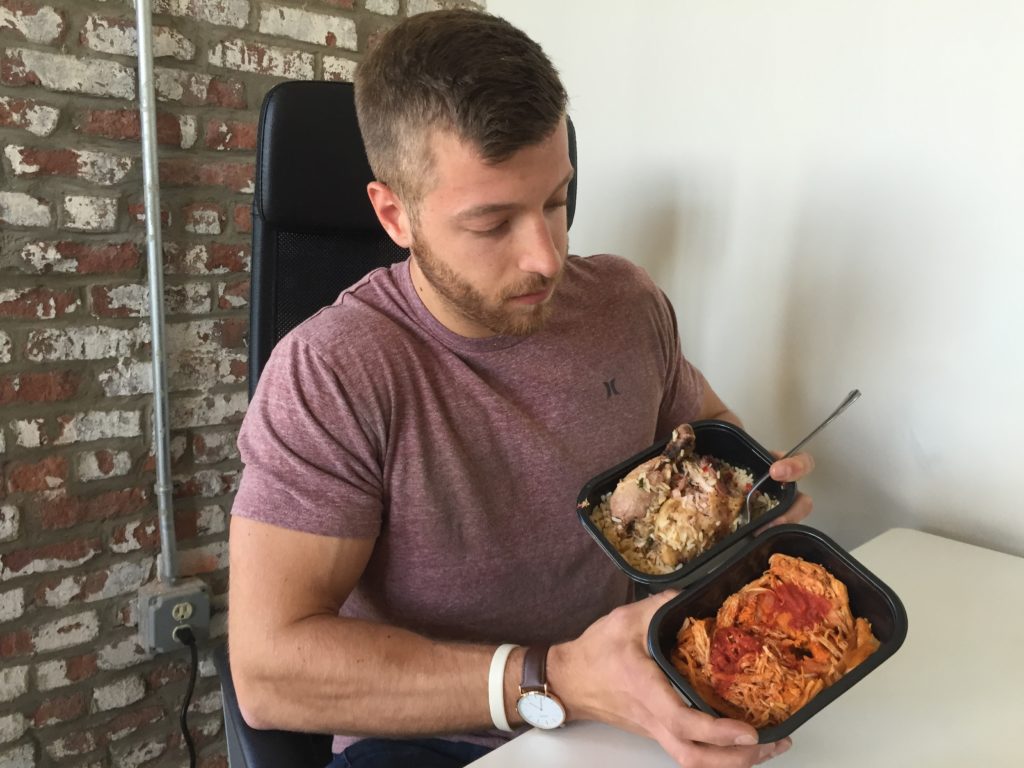 Ice Age Meals Calories
The caloric totals within the meals were both a positive and negative aspect of their service. Ranges in meals varied, which can be beneficial, yet troublesome for someone's consistency. From the meals we received, I noticed caloric totals ranged from 910 (ribs) to around 400 (chicken and rice). If you're someone aiming to consume a similar amount of calories at each meal, then I'd recommend looking at a meal's nutrition before building your own box.
Price
Below is an example of the prices you can expect to see with their Build-A-Box and Sampler options.
| | |
| --- | --- |
| Type of Box | Price |
| 14-Meals | $164.99 |
| 24-Meals | $274.99 |
| 48-Meals | $529.99 |
| 14-Meal Sampler Pack | Prices range $139.99-159.99 |
I thought Ice Age Meal's prices are pretty fair for the amount of food you get. For example, the 14-meal option is a little over $12.00 a meal, which is a standard meal in larger cities. It's definitely more expensive than cooking your own meals, but for a Paleo delivery service I think it's fair. The issue I had with their price had to do with the lowest meal amount. 14-meals may be a little daunting for new consumers who are unsure if they want to commit. Although, the 14-meal minimum is how Ice Age can afford to ship their boxes for free.
Convenience
To order Ice Age Meals, it's pretty simple. If you want to build your own box, then you go to their site, choose a box size (14, 24, 48) and select the meals you'd like to be included. If you want a themed box, then you'd look into ordering a sampler, which are basically meals catered to one theme like the, "Cinco De Mayo Sampler." The samplers range from 14, 24, and 48 meals as well. They have a fixed menu, which is limiting, but they give you the option to choose your consistent favorites.
They ship to all fifty states and there's no additional shipping fee, which is nice at keeping the price a little lower. If you want to expedite, or rush your shipping, then you can expect to pay an additional shipping fee pendent on your location. When you place your order it will be prepped within the following 2-3 days. Ice Age then says, once your meal leaves their kitchen, it takes about 2-3 days to arrive. They also offer a Sampler Meal Program, which allows you to place an order with multiple people to have their box shipped to a gym (or other location). This will spread out the cost and everyone will get a couple meals instead of a minimal fourteen.
Overall, I thought the ordering experience was pretty simple and straight forward. Yet, if you're new to ordering, then I'd suggest reading into their FAQ page about ordering. The build a box feature may confuse new Ice Age consumers. Also, I could see the sampler platters being an issue for someone who may find out they don't like the themed meal's tastes, and now have a large volume of meals in their hands.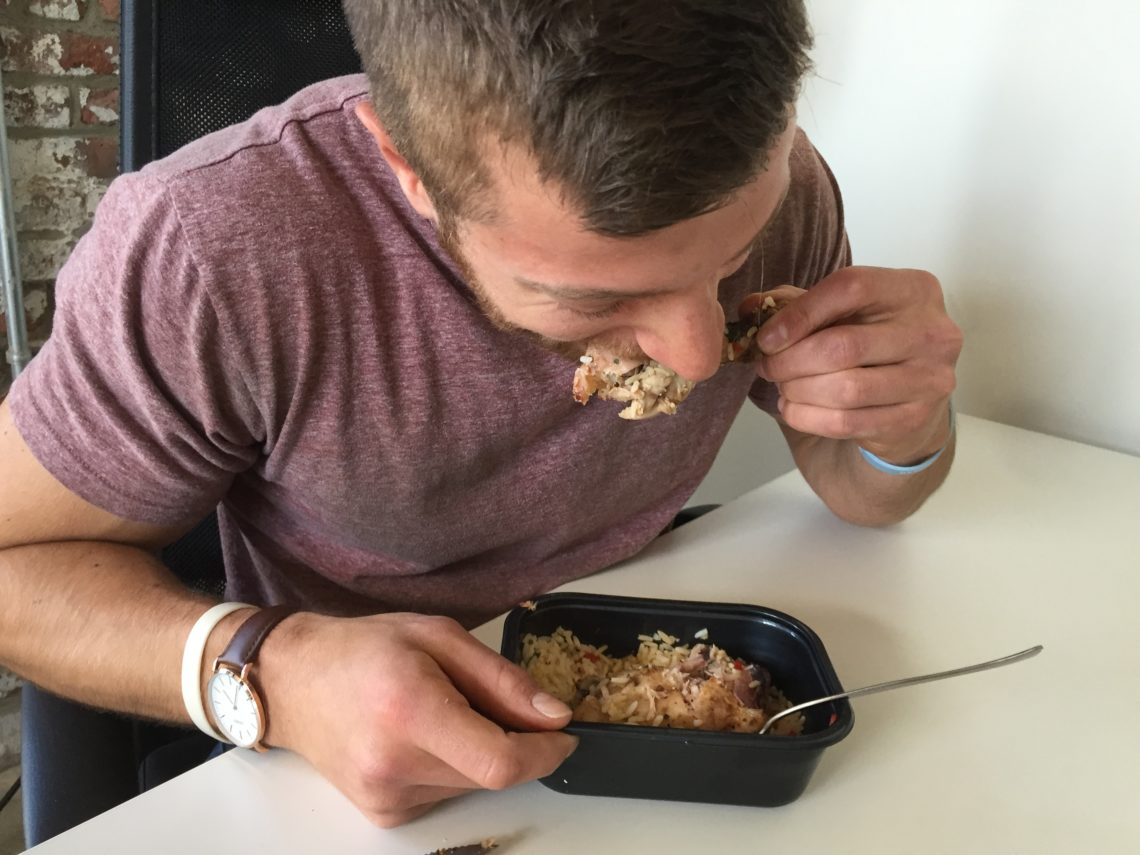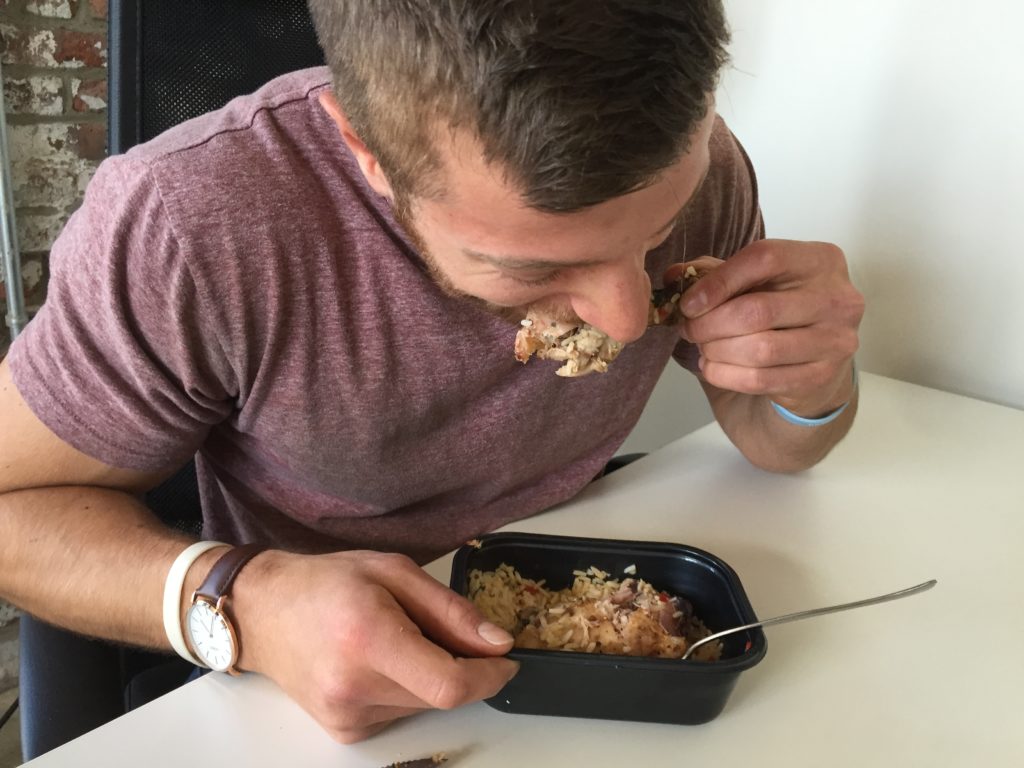 Vegetarian
Unfortunately Ice Age Meals doesn't offer many vegetarian options, if any at all. From their menu page, I couldn't find any vegetarian options. Also, you don't have the ability to delete or substitute ingredients, so if you're vegetarian, then Ice Age may not be the best choice for you. Their meals are centered around their meat (protein) element, which would make sense, as these were the tastiest parts of the meals I tried.
Customizability
As mentioned above, Ice Age does offer you the ability to build your own box. This allows you to choose your favorite meals in the amounts you want. This is both good and bad. It's great for those who really enjoy a certain meal and want a lot of it. It can be bad if you find yourself hard pressed to find meals you really enjoy. Their menu changes or swaps meals out around every quarter, so meals remain pretty consistent.
Their sampler platters come with a pre-set amount of meals, so there isn't much customizability there, other than the meal amount. Currently, they have 18 meals to select from, so chances are you'll find selections that match your tastes. Yet, picky eaters beware, you may have a tougher time picking meals that fit your tastes at the high volume that comes with Ice Age's boxes.
Is Ice Age Good for Weight Loss?
This aspect will be completely dependent on your goals, but I think Ice Age can be beneficial for weight loss. They provide easy to find and read nutrition labels, so you'll be able to select meals that best fit your goals. You can build a box with meals with caloric totals that fit your daily needs best. If you're new to Ice Age and are curious about losing weight, then look into their nutrition page first.
Final Word
Ice Age Meals can be a good option for someone wanting health conscious, paleo focused pre-made meals. I liked their food's taste and how each ingredient is tailored to be the freshest option readily available, whether it be organic, or locally grown. I also liked how easy it was to find and read their nutrition labels.
On the downside, the amount of meals may be daunting for the new consumer, as they start at 14-meals for $164.99. Plus, Ice Age lacks vegetarian options, so consumers may be limited if they avoid meat regularly in their diet. Also, picky eaters who don't enjoy mixing ingredients may not like the all-in-one containers.
If you're looking for a healthy paleo meal option, then I think Ice Age Meals can be a good option for you.