To get 14% off your first order of IdealRaw supplements via their site, CLICK HERE and use code BARBENDRAW14. This discount code/coupon is special for BarBend readers.
IdealRaw is a brand from IdealShape, which makes a variety of nutritional supplements. We're big fans of their IdealRaw Organic Protein Shake. Every ingredient in this vegan product is organic, and we were especially impressed by the taste, which stood head and shoulders above many other vegan/vegetarian protein shakes on the market. (Check out our full IdealRaw video review below!)
Save 14%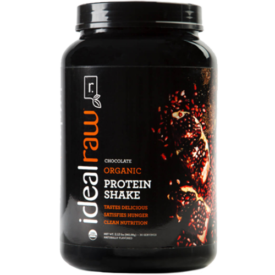 This protein powder is vegan friendly, gluten, soy, and dairy free. Use code "BARBENDRAW14" for 14% off your order.
If you're looking to save 10% off your first order from IdealRaw:
1. Visit their site HERE.
2. Shop for your preferred products and add them to your cart.
3. During the checkout process, use promotional code BARBENDRAW14 to receive 14% off your first order.
The 3 Best Things About IdealRaw
The Flavor. Typically, vegan products wind up tasting too nutty or too earthy, but IdealRaw's Chocolate Peanut Butter flavor used this to their advantage by combining dark chocolate and peanut flavors — and the first ingredient is actually powdered peanut butter in the ingredients.
It's All Natural. There are no artificial flavors, sweeteners, or preservatives here. If you're someone who tries to avoid sucralose, food dye, or other not-so-natural ingredients you'll be delighted by the contents.
The Antioxidants. The natural ingredients rice, pea, coconut, chia, sunflower, golden flax, and pumpkin all come with their own polyphenols, but IdealRaw also added a SuperFruits blend of berries, wheatgrass, beet powder, and broccoli to up the healthful ingredients.