IdealRaw is part of IdealShape, a nutrition company based in Utah that has several different branches with different foci, including IdealShake, IdealBar, IdealLean, IdealBoost, and so on.
IdealRaw is a little different in that it focuses on organic supplements including teas, greens powders, and digestive supplements, and they've got an informative blog on their site that's full of recipes and informative articles.
Not everything is organic, but everything in the vegan protein shake I'm looking at here is. It comes in six flavors: chocolate, vanilla, superberry, mocha, banana almond, and the one I'm trying out today, chocolate peanut butter. I found it to be remarkably tasty, very high in iron, and to deliver a nice hit of antioxidants to boot.
Save 14%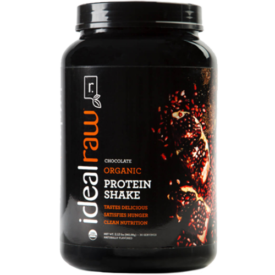 This protein powder is vegan friendly, gluten, soy, and dairy free. Use code "BARBENDRAW14" for 14% off your order.
IdealRaw Organic Protein Shake Nutrition
One scoop has:
130 calories
15 grams of protein
10 grams of carbohydrates (4 grams of fiber, 1 gram of sugar)
3 grams of fat (1 gram of saturated fat).
Regarding micronutrients, there aren't any vitamins listed here: 0 percent of your daily Vitamin A and Vitamin C. Minerals are a different story. There's 13 percent of the recommended daily intake of sodium (320 milligrams), 2 percent of your calcium, and the most remarkable component, 80 percent of the RDI of iron.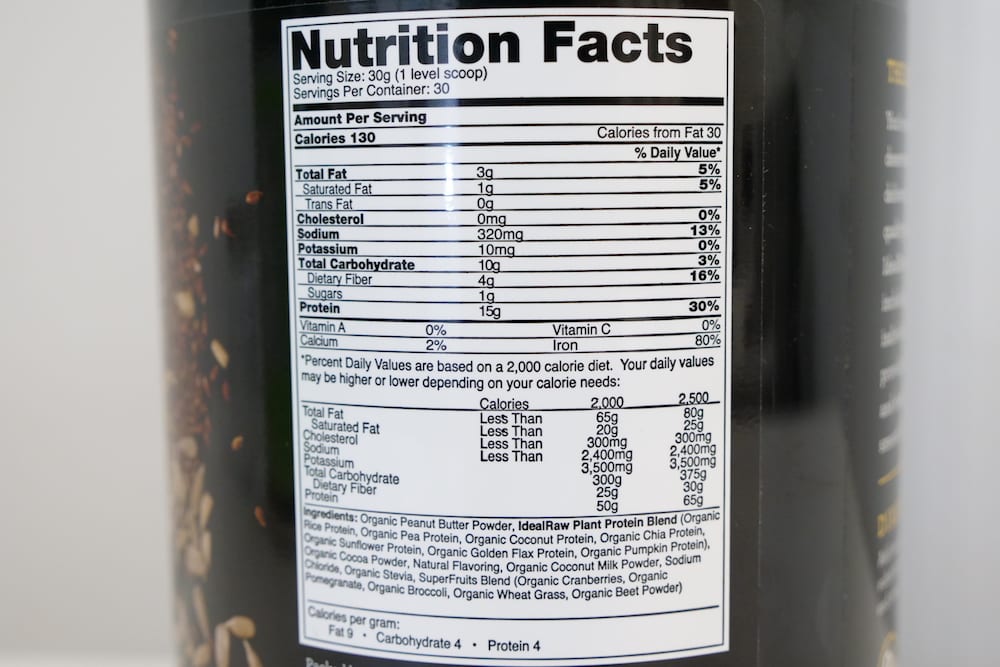 IdealRaw Organic Protein Shake Ingredients
Everything is organic. The first ingredient is peanut butter powder, then there's the IdealRaw Plant Protein Blend. That's comprised of protein from rice, pea, coconut, chia, sunflower, golden flax, and pumpkin.
Then there's cocoa, natural flavoring (which isn't labeled organic, though I'm not sure it could be), coconut milk powder, sodium chloride, and stevia.
Finally, there's a SuperFruits blend of cranberries, pomegranate, broccoli, wheat grass, and beet powder.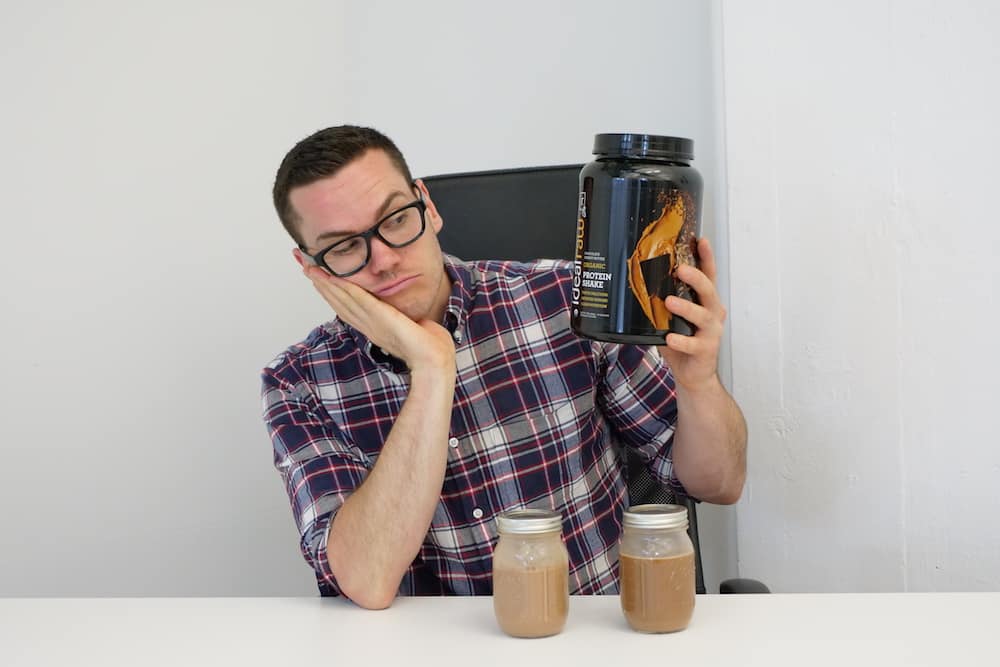 IdealRaw Organic Protein Shake Benefits & Effectiveness
For starters, let's talk about that iron. There doesn't appear to be any added iron, so I believe it comes mostly from the legumes and seeds in the ingredients list. The other IdealRaw Organic Protein Shakes vary in their content: Vanilla has 120 percent of the daily iron, Superberry has "just" 20 percent.
Eighty percent is a huge amount and it could be particularly useful for vegan consumers since iron can sometimes be a little tough to get without supplements unless you're paying careful attention to nutrient intake.(1)
Speaking of which, this is a vegan product, but it may be worth noting that it's made in a facility that also process shellfish and dairy, along with soy, nuts, and wheat. If you have sensitive allergies or if you just don't like your vegan protein to be anywhere near animal products, that might give you pause.
While some might not be crazy about the 10 grams of carbs for 15 grams of protein, the 4 grams of fiber is a nice hit and it reduces the net carbs of the overall serving.
The main thing that puzzled me about this product was the vitamins. Many consumers might like the fact that there's a "SuperFruits Blend" of cranberries, pomegranate, broccoli, wheat grass, and beet powder. But there are zerovitamins listed on the label and practically no calcium; only the iron is impressive. Presumably, the SuperFruits confer some antioxidants, which might help with inflammation.(2)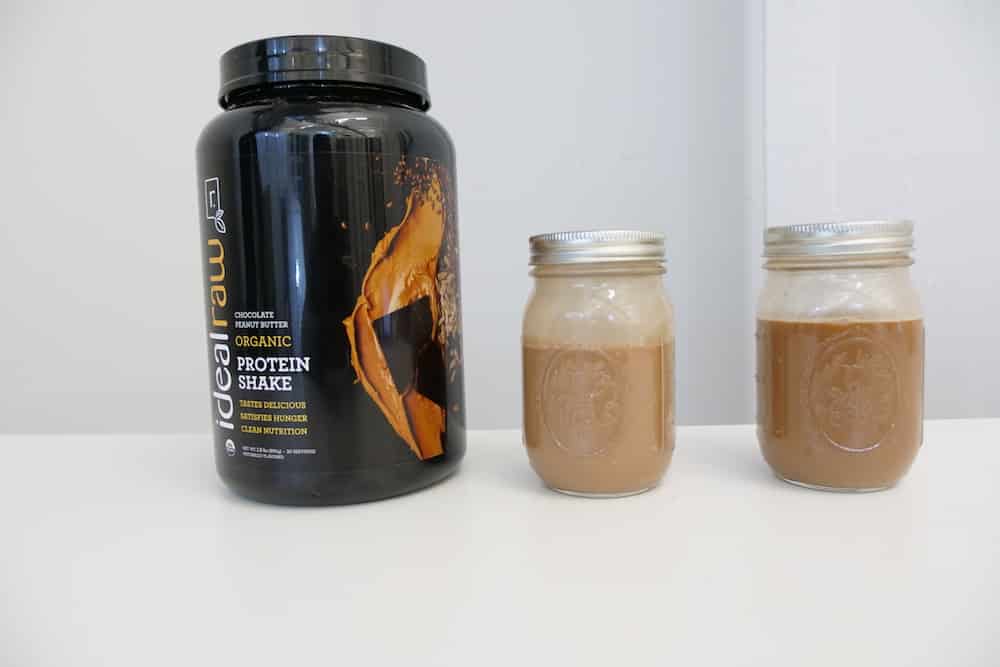 IdealRaw Organic Protein Shake Price
You can pick up 30 servings for $45, which comes to $1.14 per serving or 7.6 cents per gram of protein. That's a pretty reasonable price. Organic vegan proteins are between 5.5 and 7.5 cents per gram of protein so while it's a tiny bit high, it's a perfectly acceptable cost.
IdealRaw Organic Protein Shake Taste
I was crazy about the Chocolate Peanut Butter. In my experience, vegan protein powders can be too earthy or too nutty, and Chocolate Peanut Butter really plays to those strengths. It tasted like a dark chocolate peanut butter cup, not too sweet but very satisfying.
The Takeaway
Don't expect any vitamins from those fruits, but this is a pretty reasonably priced, unusually tasty protein powder that has an incredible hit of iron and a nice dose of fiber. I'm a fan.
References
1. Haider LM, et al. The effect of vegetarian diets on iron status in adults: A systematic review and meta-analysis. Crit Rev Food Sci Nutr. 2018 May 24;58(8):1359-1374.
2. Arulselvan P, et al. Role of Antioxidants and Natural Products in Inflammation. Oxid Med Cell Longev. 2016;2016:5276130.