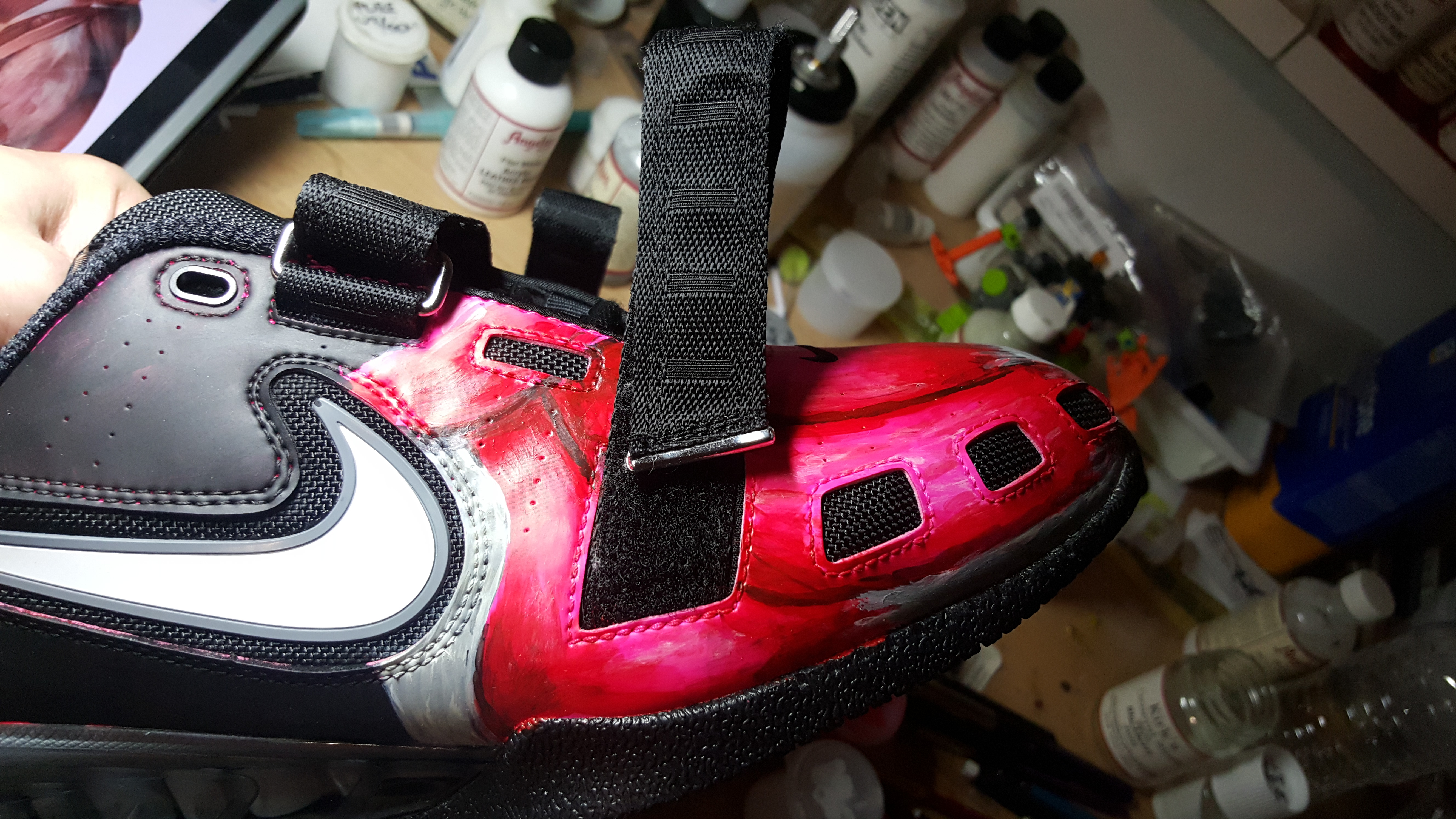 For nearly 20 years, Josh Peters has pursued dual passions: art and weightlifting. That's led the Hawaii-raised Peters to travel the world and explore numerous outlets in athletics and creativity. Now calling New York City home, Peters splits his time between the two pursuits, training himself and clients in the gym when he's not in his home studio creating original works or commissions for collectors and celebrities.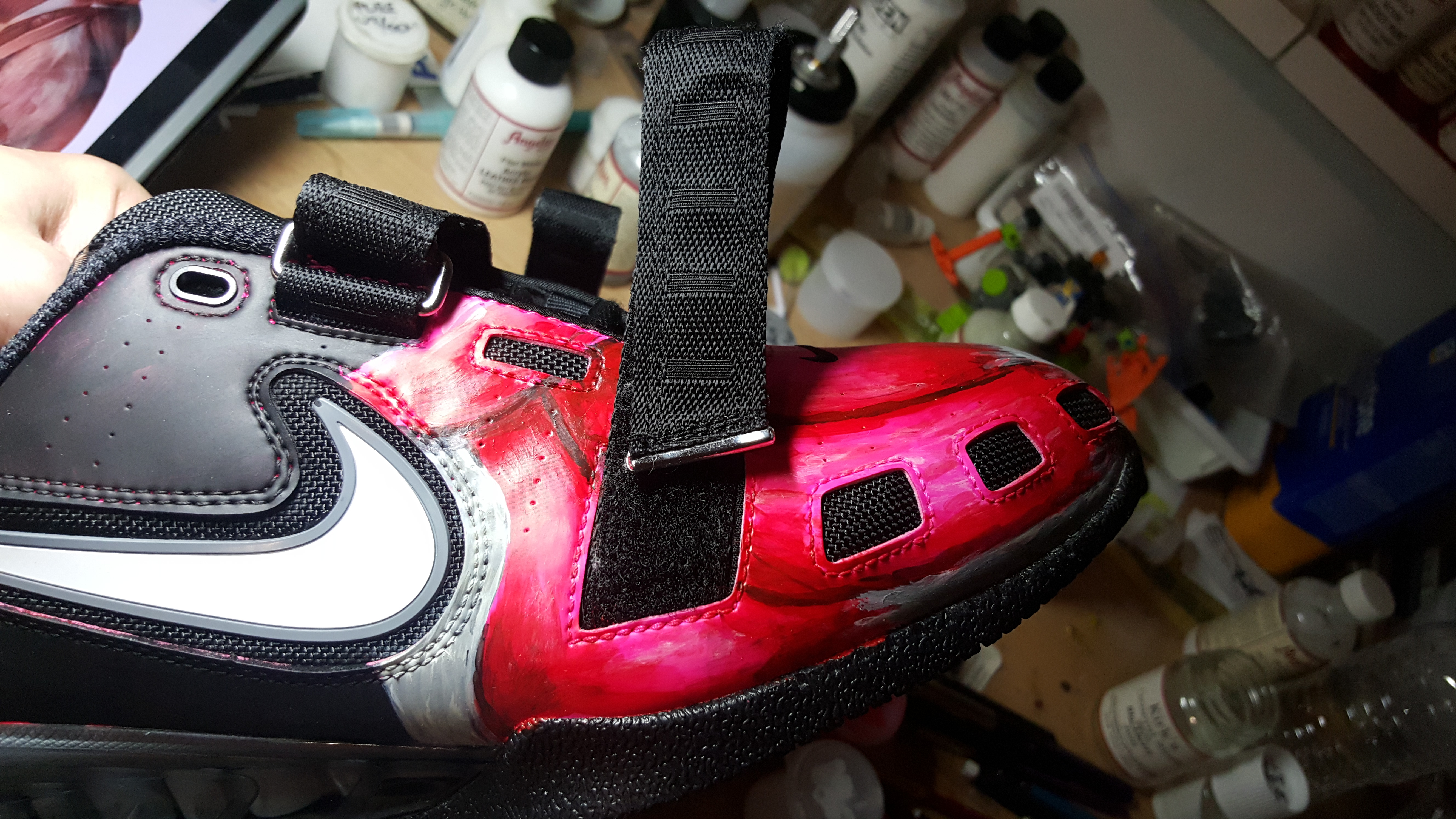 In weightlifting and fitness circles, he's perhaps best known for customizing shoes in eye-popping, original designs where each element is hand-painted in intricate detail. Read through and see below for a gallery of Peters' recently customized Nike Romaleos, which he documented at every step exclusively for BarBend.
Tell us about your career in strength sports. When did you get started, who sparked your passion, and where has it taken you?
Always a runt, I started lifting weights at 11 years old in the hopes of not getting picked on. In college I started my transition from Volleyball & Bodybuilding (sets of 385Lbs x10 low bar squats and 315Lbs x10 straight leg deadlifts) to Olympic Lifting via a job with the strength department of the University of Arizona in 1996. There, Dan Wirth & Carla Garrett got me started with the Snatch and Clean & Jerk. I've turned that into a 115kg Snatch, a 175kg High Bar Squat, & a successful business coaching strength athletes and CrossFitters. I've had the honor of assisting & being coached by Artie Drechsler since 2002.
How has strength training influenced your career as an artist, and vice versa? Do they compliment or hinder each other?
I see my physical output in the studio & gym as the same thing: Reps and sets accumulated toward a goal. There are times that one wears me out to where on a given day it's hard to produce in the other. I find inspiration in the gym all the time & many of my models come from there.
You're a mutli-media artist. What appealed to you about shoes?
In 2004 I started painting sneakers as an attempt to marry my two worlds — art & sport. I actually got the idea from a guy that used to Olympic Lift with our crew at Lost Battalion Hall in Queens. That spark he lit has paid for my entire art practice for years. Not everyone has the space or can afford a portrait. But almost everyone (even New Yorkers) have room for a pair of custom painted kicks.
What're of the three most memorable custom shoe projects you've done?
1. Thor Reebok Hi Tops I did for and got to hand deliver to Chris Hemsworth.
2. A Graffiti Geobasket Rick Owens boot/sneaker.
3. My latest project which consisted of a run of three pairs of AMC the Walking Dead Nike Foamposites. I called this project the UNDEADFOAMS.
What shoe models for CrossFit or lifting do you like working with most? How durable is the art when the footwear gets such heavy use?
Before the Nike Metcon came out, I did my CrossFit in the Nike Air Trainer 1 (with the "free" bottom). I did Captain America, Hulk, & even a C3PO themed pair. I really love painting the Nike Romaleos now, though. That shoe has been my preference for years as my primary lifting shoe. I'm really hopeful that I might get to help design a version one day for Nike & our American Team.
The process I use actually dyes the leather a few layers deep. That means it is usually is as sturdy & colorfast as deadstock "out of box" shoes – sometimes better!
That said. Rope climbs kill all shoes!
Anything in footwear art and customization you'd like to experiment with but haven't had the chance yet?
I'm branching out into sole swapping & really see there is a whole world of cobbling skills I need! Reconstructing a shoe & making my own sole molds is the eventual goal. It's like I just wanted to clean 115kg, then I did and then I just wanted to clean 125, 135, 145. There's always room to grow, learn & refine your skills. It's NEVER over. There's always more.
If you've ever wanted to see what goes into customizing one of the coolest pairs of weightlifting shoes you'll ever see, there's no better opportunity — scroll below! And for more from Josh — including his latest designs and how to commission your own pair — follow him on Tumblr and Instagram.