Kettlebells are a great way to add movement, variation, and cardiovascular fitness into a training program. In this article we have conjured up an 18-minute workout that combines total body kettlebell exercises and steady-state cardiovascular intervals to help improve strength, movement, and fat loss.
The Workout
Th below workout combines four (4) fundamental kettlebell exercises and steady state cardiovascular intervals to deliver a body fat blasting kettlebell workout in under 20 minutes.
The workout consists of two (2), 3-minute segments. The first is done with the kettlebells, and the second is done with a cardiovascular modality of your choose.
Rest occurs within the 3-minute segments, meaning that the remaining time you have within the segments you can take as rest.
For example, the kettlebell portion was broken up, taking a total of two minutes, therefore the remaining one minute was rest. If however, it took 2 minutes and 37 seconds, the rest period would only be 23 seconds.
Segment One (0:00-3:00 minutes)
Double Kettlebell Swings x 8

Double Kettlebell Clean x 8

Double Kettlebell Squat x 8

Double Kettlebell Alternating Overhead Press x 8 (4 per arm)
Segment Two (3:00-6:00 minutes)
In this segment you can choose from the below steady-state modalities. The below are suggestions for most fitness athletes.
Air Bike x 30-40 calories

Row x 500m

Run x 400m
The Kettlebell Movements
The four (4) kettlebell exercises below are essential to kettlebell training. Be sure to brief yourself with these movements to ensure proper technique. Together, these kettlebell exercises can be an effective total body fat loss routine. Note, keep the weights moderate, as the key is to move consistently for 60-90 seconds.
Double Kettlebell Swings
The double kettlebell swing is a dynamic movement that targets the glutes, hamstrings, back, and core.
Double Kettlebell Clean
The doubles kettlebell clean takes the swing to the next level, further targeting the upper body, core, and total body power.  
Double Kettlebell Squat
The double kettlebell squat targets the legs, core, and upper back, and is a movement that is highly beneficial to all athletes and fitness enthusiasts.
Kettlebell Alternating Overhead Press
The kettlebell alternating overhead press challenges the shoulders, triceps, and upper body. Adding this into the kettlebell routine can also increase heart rates simply by placing the load overhead.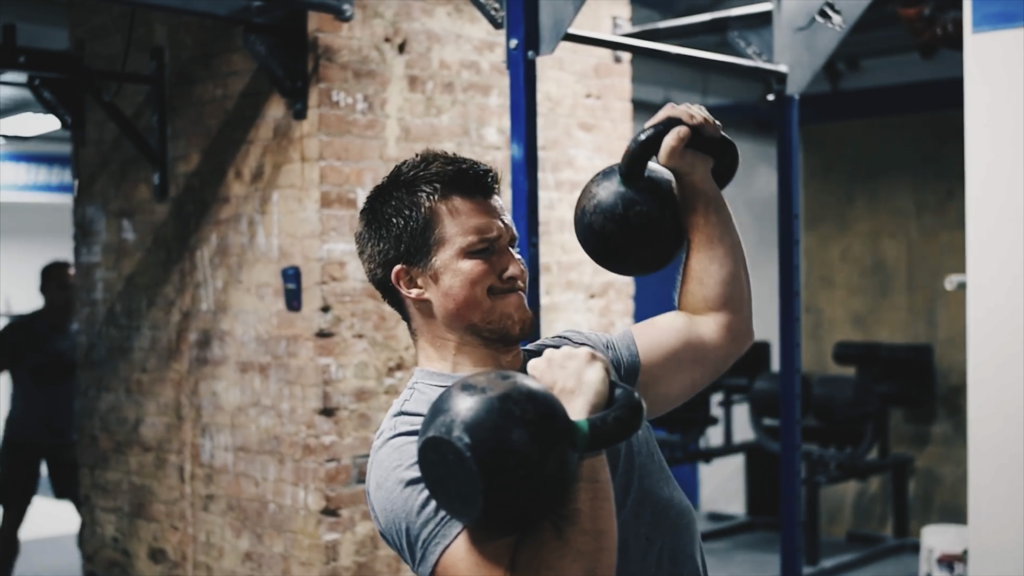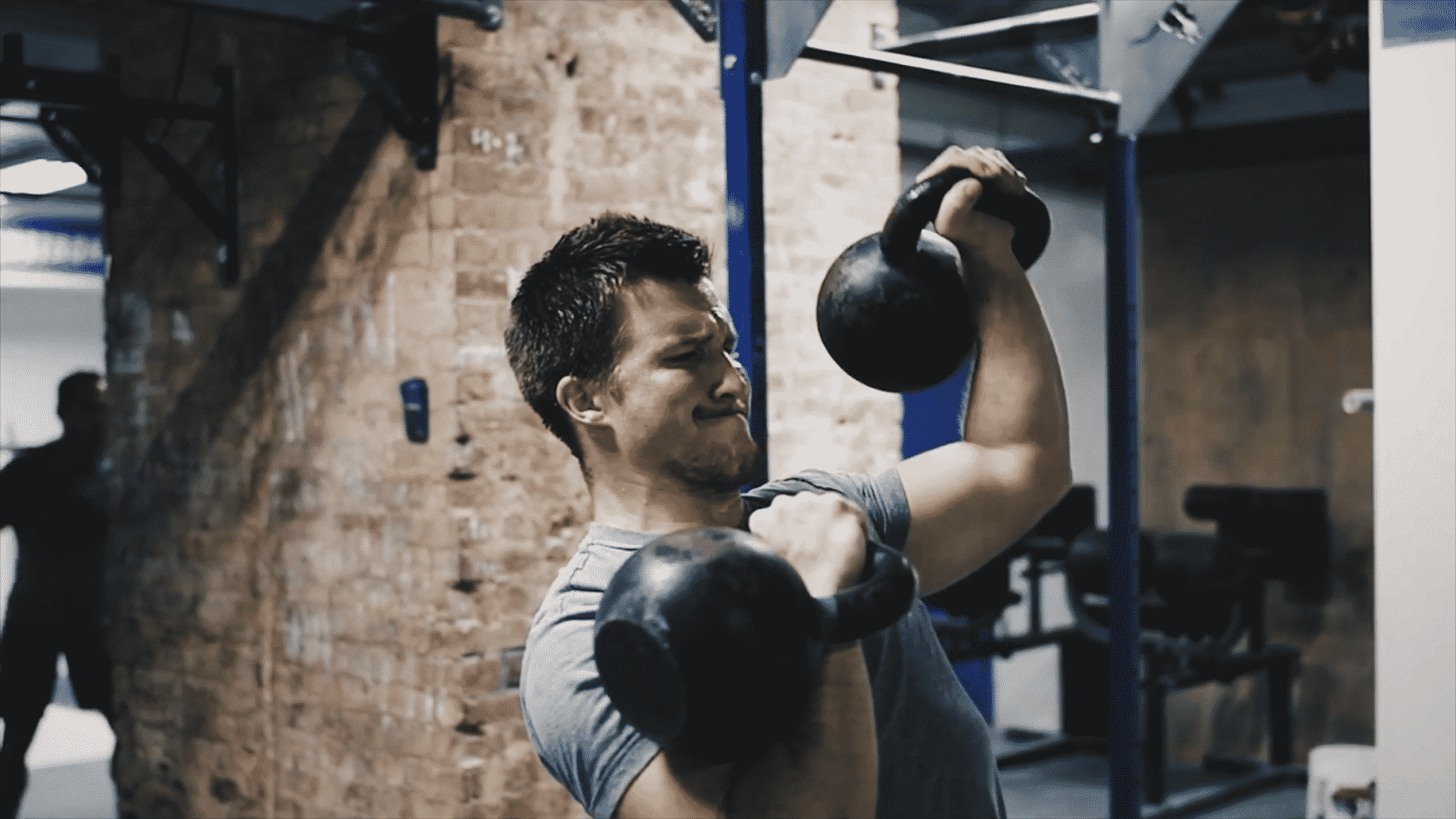 Steady-State Cardio
The second part of the workout consists of a three (3) minute window. At least 2-2:30 minutes of that time should be spent moving at a steady pace, whatever that means for you. The heart rate should be help below the ventilatory threshold, often around 65-75% of HR max. By staying at a elevated yet controlled heart rate, we are able to keep caloric expenditure high, metabolize body fat stores, and be able to buffer metabolic byproducts of fatigue (which in turn will allow you to sustain a moderate to high-intensity for longer).
The modality that can be used for this section is really up to the individual, their abilities, and what they have access too. Below are four common modalities that can be used, with some general benchmarks to shoot for in the 3-minute window.
Run
Kettlebells are versatile and can be taken anywhere, such as a track or simply outdoors. If you don't have that availability you can also use a treadmill. A good starting point is to choose a distance that is challenging yet not soul-crushing.
Start with running 400m in that time frame (¼ mile), which should take anywhere from 90 seconds to a little over 2 minutes based on how hard you want to go. The key is to have the heart rate steady (yet still elevated) when it is time to go back to the kettlebells.
Bike
The air bike is a good option to use as it is low impact, making it a good pairing for his complex if a lifter is looking for a workout that won't bang them up too much. Be fair-warned, that the legs will get s pretty good pump.
Start with biking at a moderate to aggressive pace, something that you can hold for at least 5-minutes at a time. I chose to shoot for 40 calories in the 3-minute window, which took me about 2 ½ minutes at a moderate intensity.
Row
Rowing can be done and is often seen in most gyms. Start with rowing 500m, which for most people will take about 2 minutes at a steady pace.
Swim
Swimming is by no means cardio for individuals who do not swim often. If this is true in your case, I would opt to not swim during the workout, but rather build up your swimming capacity, technique, and breathing by adding swimming specifics training.
If however, you are more advanced and can swim for longer durations, try swimming for 2-2 ½ minutes at a time.
I suggest having a towel ready to dry your hands off after each swim and some chalk for the kettlebells.
More About Kettlebell Training
Take a look below at some of our top kettlebell exercise guides and more!
Featured Image: @mikejdewar on Instagram, by @martsromero