We receive free products and receive commissions through our links. See
disclosures page
.
Quick, healthy, on-the-go meals have become increasingly popular in the strength athlete demographic. Kettlebell Kitchen makes an effort to provide ready-made meals for the goal oriented, health conscious individual. They're based in Brooklyn, New York, and do gym pick-ups and delivery nationwide.
Kettlebell Kitchen offers a wide variety of options when selecting to use their service. They offer meal plans that you can customize entirely based on your goals and meal preference. Some of the goal based meal plans they offer include: fat loss, athlete, paleo, and muscle gain. You can also purchase individual entrees, breakfasts, sides, and desserts. To gain a better understanding of Kettlebell Kitchen's vast options we put one of their entree and breakfast meals through a taste, appearance, nutrition, convenience, customizability, and price test.
What We Like About Kettlebell Kitchen
Customizable nutrition based on needs and exercise levels when selecting preferred meal plan.
Nationwide shipping with meal prices comparable to urban lunches and dinners. 
Diverse meal options with quality tastes and textures. 
Taste
A big concern that I'm always weary about when ordering ready-made meals is how they taste. You're spending a little extra than you would at the grocery store, so in my eyes, the food's taste should live up to the price. Kettlebell Kitchen preps their meals in the same container, which is different than some services that individually pack each ingredient.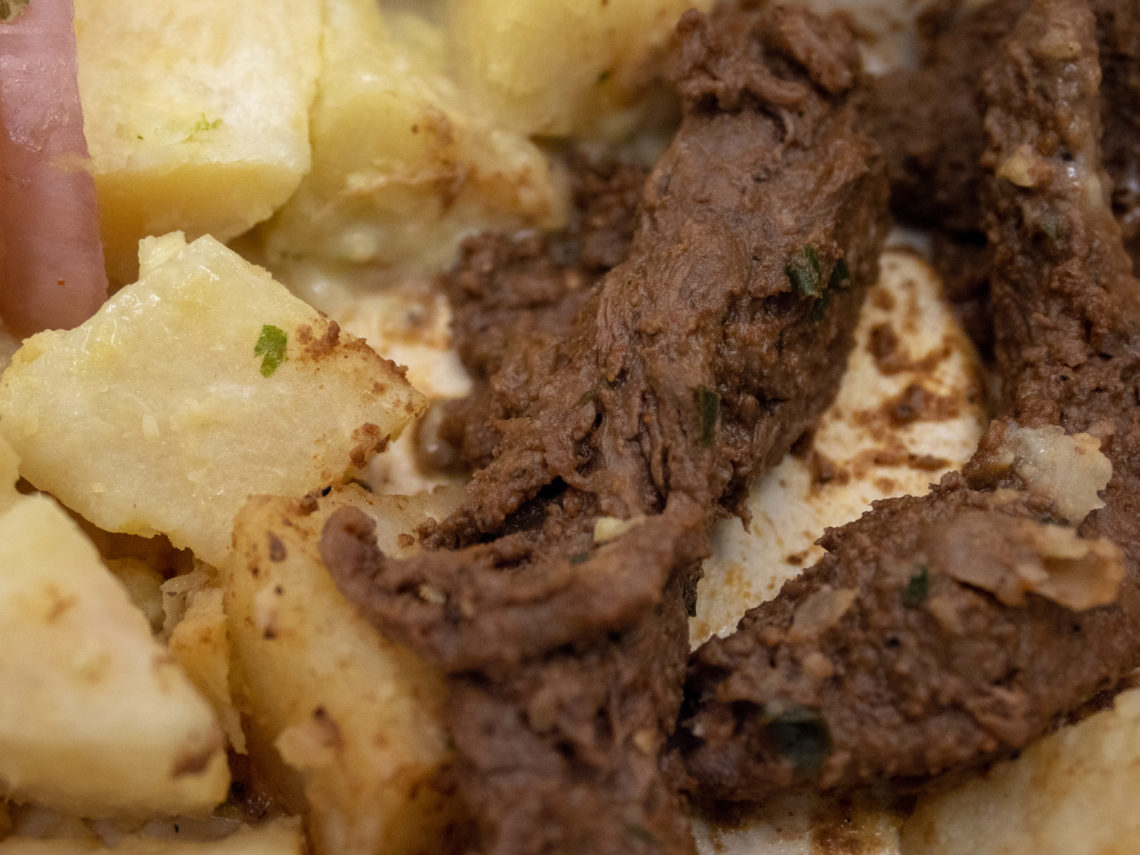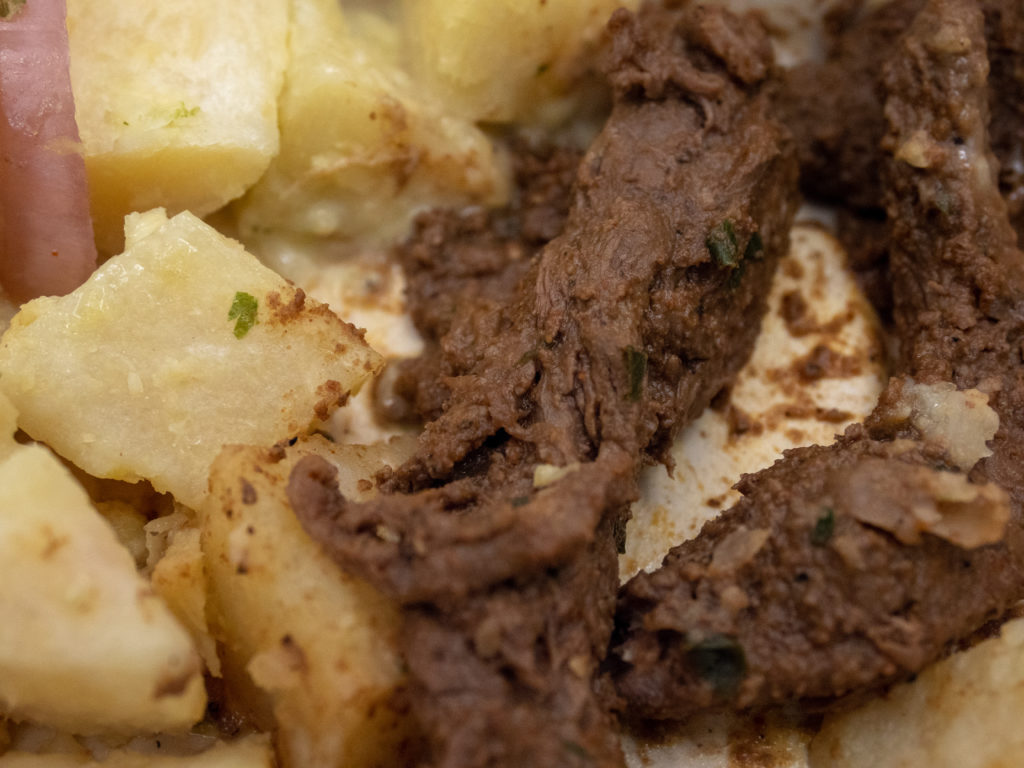 In our review, we tried the Grass Fed Steak and Yuca Med. This meal was exceptionally good for what it had to offer. Steak can sometimes get very dry in containers meal delivery services offer, but the Kettlebell Kitchen steak held its juicy texture pretty well. In my opinion, it was a good balance of chewy and firm, so you could easily cut it with a knife, yet you wouldn't have to put too much effort into it.
I think the star player in the meal was the yuca. Normally, yuca is somewhat on the bland side of flavor, but Kettlebell Kitchen did a fine job at making this normally bland food enjoyable to eat. My favorite part of this meal addition was that I never cook yuca, so it was a nice change up from my rice, potato, and whole wheat bread norm.
Appearance
I mentioned this in the section above, but Kettlebell Kitchen provide their meals in one Tupperware and don't separate ingredients. Our meals looked pretty good upon pick-up, and their appearance didn't falter incredibly much over the course of our review.
I think a lot of the meal's appearance is going to come down to what it's composed of. For example, if ingredients mix well when presented together, then a meal's appearance will be better. On the flip side, if the Tupperware gets tossed around in a bag or during delivery, then you may find ingredients that you don't want mixed mushed together.
If you're someone who doesn't mind a meal's appearance, then Kettlebell Kitchen's ready-made meals are a good choice for you. On the opposing side, those who don't like to mix ingredients will be hard pressed to find presentable meals that are well separated.
Kettlebell Kitchen Nutrition
My favorite part of Kettlebell Kitchen is the nutritional information they provide. Every meal they provide includes easy to read and understand nutritional information on the front label. If you lack nutritional knowledge, then you'll find that they make it incredibly easy to understand what you're consuming. On top of the easy to read and find nutritional information, they list every ingredient.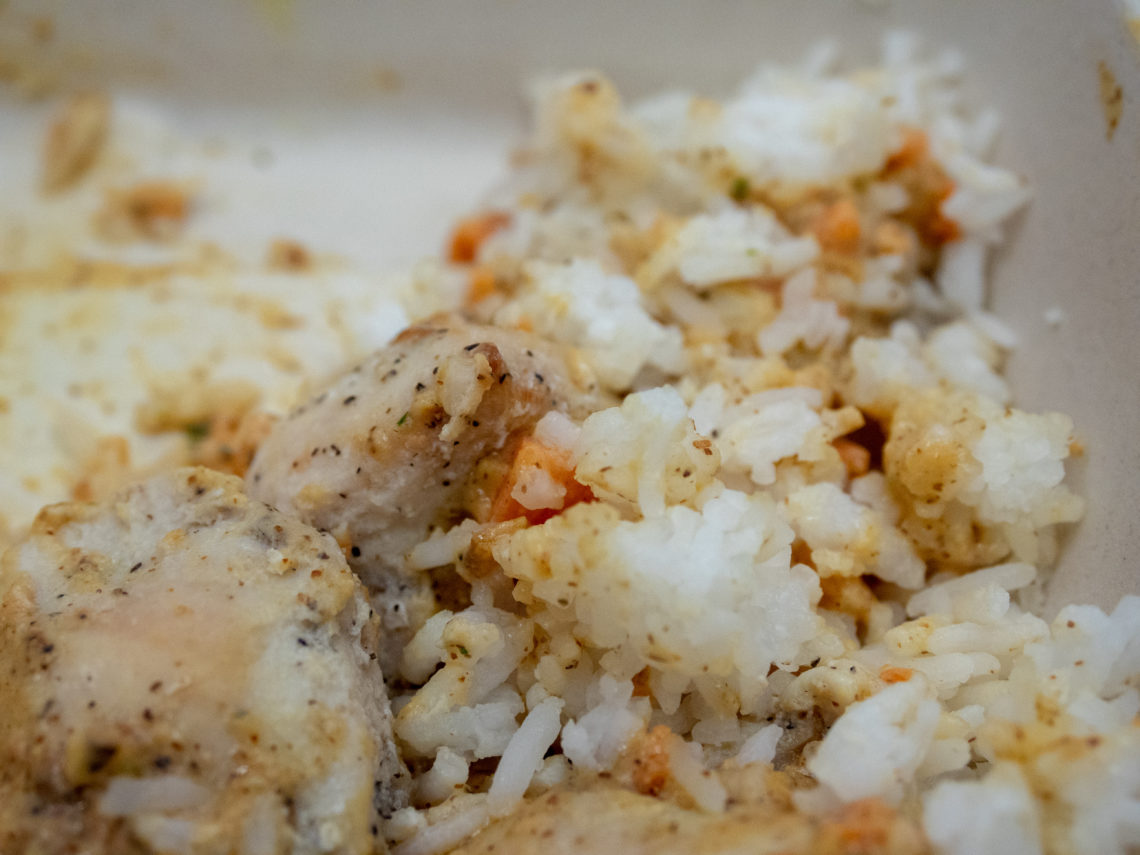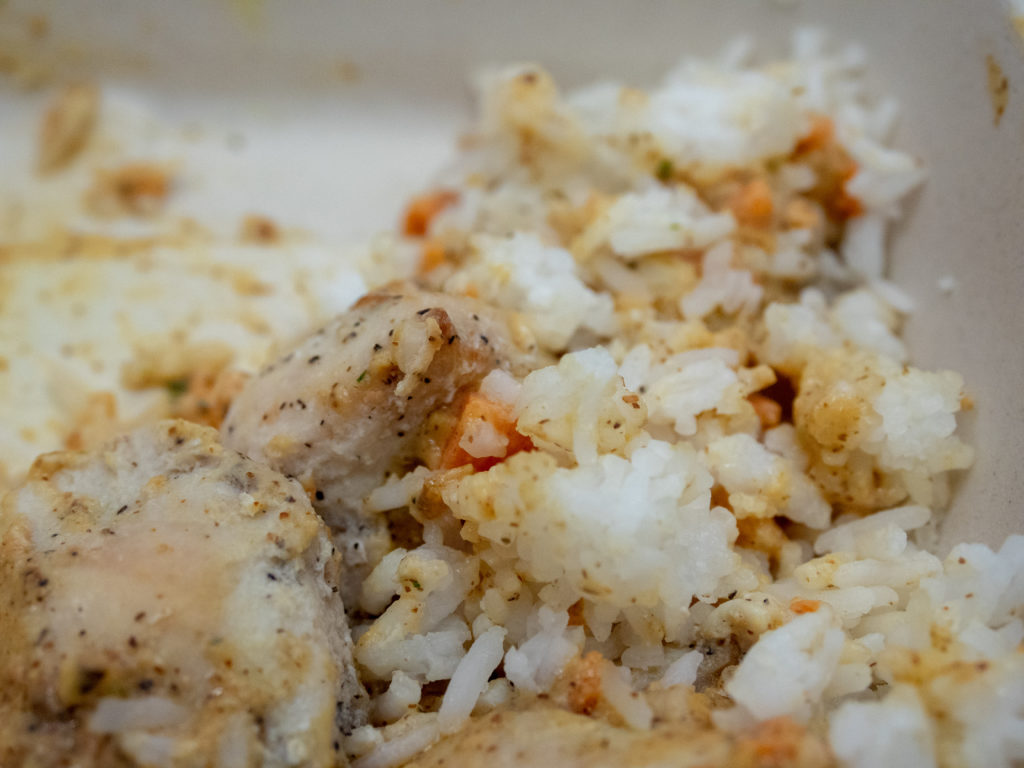 I also liked that meals didn't vary very often, but there's still a decent amount of variety. Some food delivery services have meals that vary widely due to weekly changing menus, which is both good and bad.
For Kettlebell Kitchen, when you select your goals whether it be fat loss, muscle building, or something like paleo, then you'll be presented with meals that contain nutrition designed to fit your goals and needs. For example, if you want a fat loss meal you can find options that fit your needs through their service of proposed questions, like your weight, activity level, and others.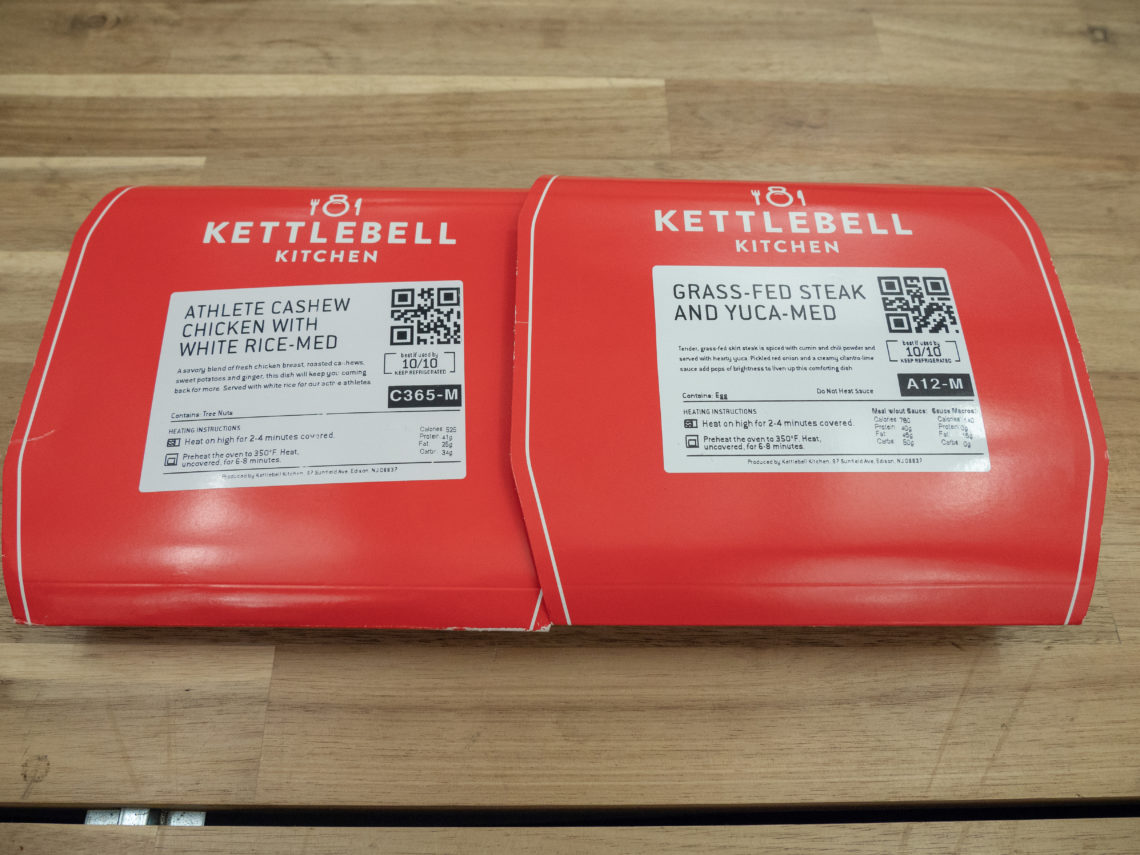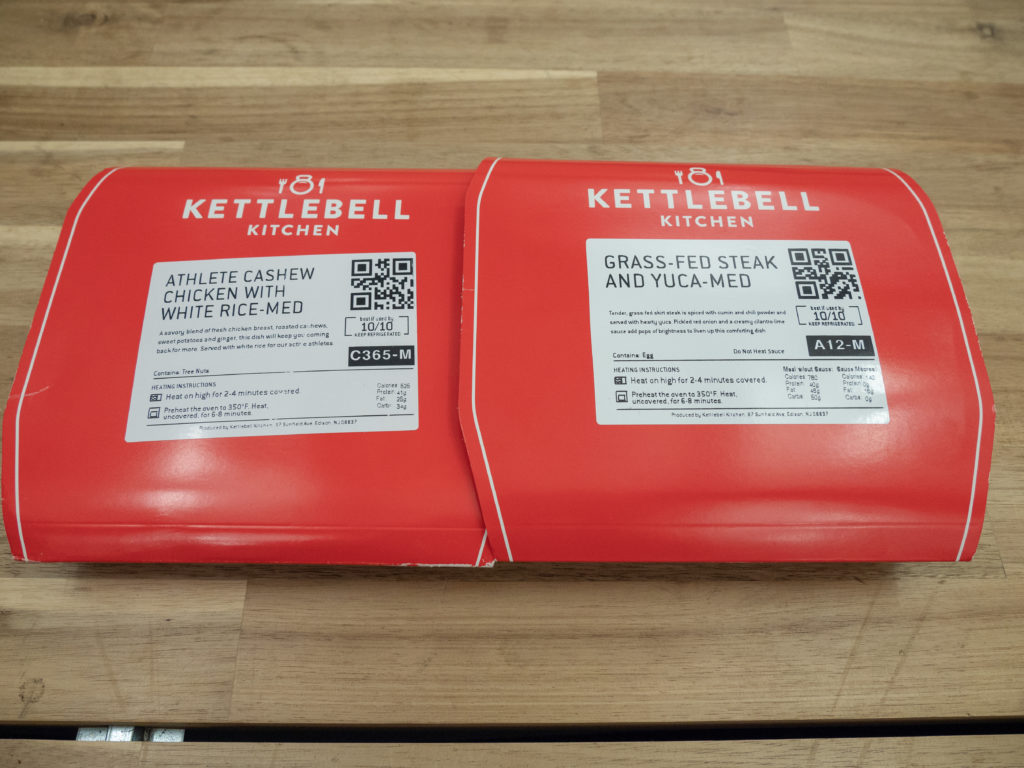 Kettlebell Kitchen Calories
This was touched upon in the above section, but I liked how Kettlebell Kitchen kept their calories consistent in meals tailored towards your needs. A lot of the calories you'll consume in their meals will be dependent on the information you provide about yourself. They have nutritionists who have formulated and designed meals to match each person's goals. Also, if you're interested in consuming larger portions, they also offer a "large" meal option. This increases a meal's size without change in the meal composition.
Kettlebell Kitchen Price
Kettlebell Kitchen's prices are pretty fair for the amount of meals you can receive. Individual meals can be a little costly, averaging between $10.95 (regular sized) to $13.95 (large sized) for entrees. Breakfasts are priced at $8.95. The catch with their meals is they'll decrease when you order a higher volume. You get your money's worth when you order meal plans in bulk. The more meals you order the more you bring the price down, which is good for those using this service for multiple meals.


If you're selecting a meal plan, then you'll be presented with four pre-selected options, or the ability to choose your own breakfast, lunch, and dinners.
Convenience
The convenience of Kettlebell Kitchen can be completely dependent on how you choose to get your meals. Something different about their service is that they deliver meals to local gyms who are partnered with them. Basically, when you order meals online, you'll select your gym, or a local gym that's close to you. They drop-off meals to these partnered gyms twice a week on Monday and Wednesday, and your meals will be stored in the gym's refrigerator (with your name on them).
You'll then have a day or two (based on when you order) to pick them up, otherwise, they may get thrown out for safety reasons. When ordering meals to pick-up, they recommend ordering five days in advance for a Monday pick-up (Wednesday of week prior), and four days for a Wednesday pick-up (Saturday of week prior).
This is a cool aspect that's convenient for those who will be working out at their local gym anyways. Yet, if you don't use a gym that is partnered with their service, then you may find it frustrating to add another trip into your weekly commuting. If you choose not to pick-up meals, then you can have them dropped off to your home.
The only catch is that the ordering time is a little different and there's a shipping fee. For at-home deliveries they recommend placing your order the week prior, and these will be delivered on Sunday/Wednesday evenings. You can also select to do a recurring order, if you're interested in re-ordering each week.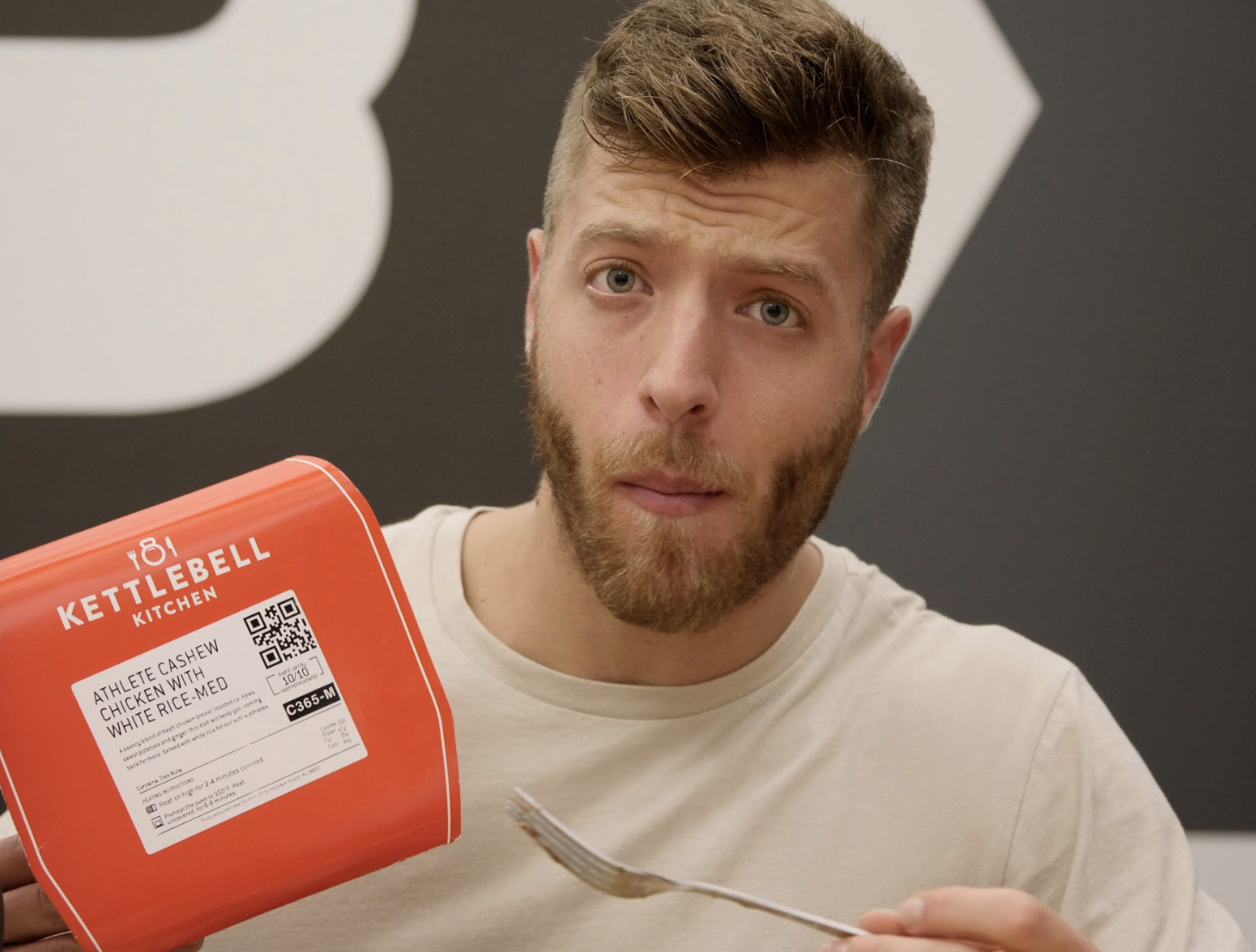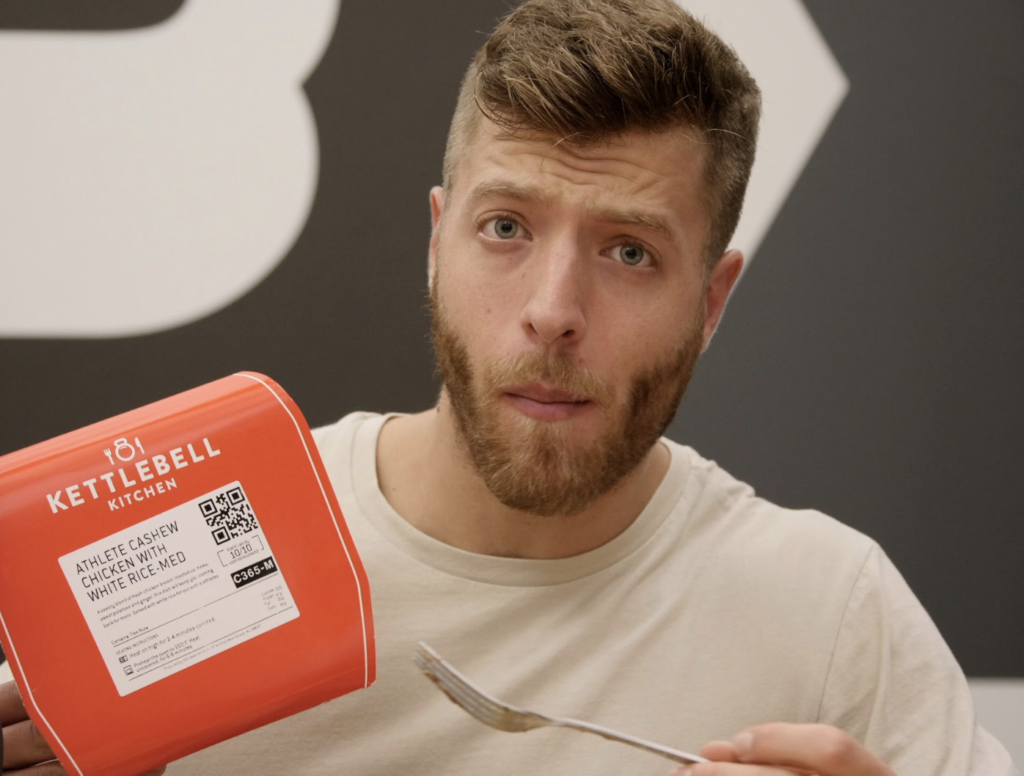 Vegetarian
Kettlebell Kitchen doesn't market directly to vegetarians, but they have plenty of options that match a vegetarian's needs within their meals. They have a wide variety of options, so you can pick and choose meals that meet your needs. Keep in mind, if you're choosing a meal plan for a vegetarian diet, then you can customize your tastes and exclude meat.
Customizability
Customizability was another factor I liked about Kettlebell Kitchen. When selecting a meal plan they'll walk you through a variety of pages. These include things like picking your goals, setting your weight, activity level, and tastes. This allows you to design a plan that matches all of your needs while also staying in the caloric parameters that work for you. Meals change somewhat frequently, not weekly like some services, but there is some variability between choices.
Is Kettlebell Kitchen a Good Choice for Paleo?
Kettlebell Kitchen offers an option for people interested in consuming only paleo based foods. These foods will include ingredients that fit within the spectrum of paleo, and the site specifies the meals that fall into this category. You can choose paleo based meal plans, or order individual paleo meals.
Is Kettlebell Kitchen Good for Weight Loss?
This factor is completely dependent on your goals, but from the options they provide with their certified nutritionists, this could be a viable service for weight loss. They offer meal plan options for weight loss, which is a cool factor. Plus, with the customizability of their plan options, you can add in your activity level and current weight. These are all factors that will help dial in the daily caloric totals you require. In addition, if you order three meals from them a day, then it becomes even easier to achieve your daily goals. This will take the thinking out of your diet.
Final Word
Kettlebell Kitchen offers a wide variety of meals plans, individual meals, and even desserts for the health conscious individual. I liked how you can choose to pick-up meals to save on a shipping cost. Also, I liked how in-depth their questions got when designing the perfect meal plan for your goals.